Top Labels (total votes over 100)

#1 - Criterion (1984)
#2 - Arrow Video (717)
#3 - Kino Lorber (548)
#4 - Eureka - including MoC (416)
#5 - Indicator (402)
#6 - Warner (298)
#7 - BFI (297)
#8 - Second Run (264)
#9 + #10 - Flicker Alley and Synapse - tied (206)
Once again Criterion just have so many strong releases, but congratulations should go to Kino who have jumped up a few spots from last year and Second Run (solely on the strength of their Blu-ray releases). Honorable mention (in no order): Lionsgate, Twilight Time, Vinegar Syndrome, Olive, Studio Canal (UK), Severin, Artificial Eye, Signal One, Oscilloscope, Network, Shout! Factory, Vinegar Syndrome, Universal, Sony and Cohen Media...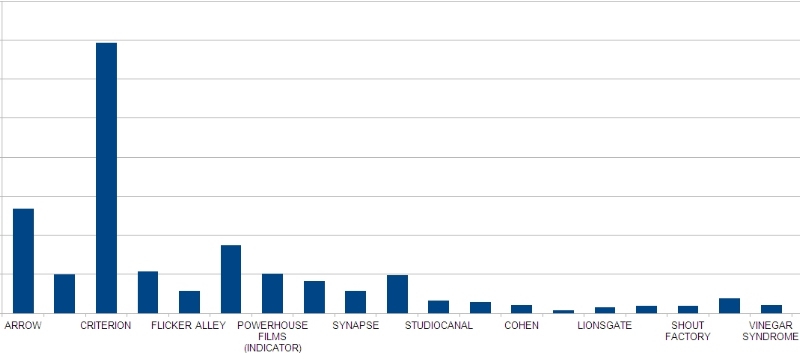 Film Noir on Blu-ray
Alfred Hitchcock, Fritz Lang, Anthony Mann, Orson Welles, Nicholas Ray, Michael Curtiz, Joseph H. Lewis, Robert Aldrich, Samuel Fuller are just a few of heavy-hitters of film noir who saw their films upgraded to blu-ray format last year, sometimes for the first time, sometime in superior edition. There were a few hiccups - disappointing upgrade of The Stranger from Olive Films and a missing minute of The Big Knife from Arrow Academy (first reported in a DVDBeaver review that, thankfully, was acknowledged and a replacement program been promised). But there have been more good news. We have 2 new studios joining film noir market - Powerhouse Films in UK with their outstanding presentation of Columbia Pictures movies (hopefully, more studios will join) and ClassicFlix in US providing us with remastered editions of neglected classics, often with nice supplements. The Criterion Collection added a number of film noirs to their lineup, including one of Gary's favorite They Live by Night and one of my favorites, little seen and underrated until now The Breaking Point. Looking back, it's been a great year for "dark cinema" in HD, so here is the list of titles released in 2017 (don't forget to check out our Essential noir on blu page that debuted in 2017). We include a few titles that may not be classified as film noir, but would be interesting to seek by noir aficionados.
-Gregory Meshman


The term "giallo" (translated literally as "yellow") refers to a particular cinematic form of, mostly, Italian-produced murder mystery films that can blur the line between art and exploitation. There are new Giallo Blu-ray releases this year from Shameless, Shout! Factory, Cult Epics, X-Rated Kult Video, 88 Films, Arrow UK / US , Dorado Films, Synapse US, Code Red, Blue Underground of films by Sergio Martino, Dario Argento, Lamberto Bava, Fernando Di Leo, Luciano Ercoli, Lucio Fulci, Umberto Lenzi, Emilio Miraglia, Francesco Barilli, Sergio Martino and others.
NOTE: Death Walks / Red Queen are for standalone editions that were released in 2017. Initially they were released in sets in 2016.
All the Colors of the Dark [Blu-ray] (Sergio Martino, 1972) RB UK Shameless
Amuck [Blu-ray] (Silvio Amadio, 1972) RB UK 88 Films
The Bird with the Crystal Plumage (Limited Edition) [Blu-ray] (Dario Argento, 1970) Arrow UK / US
Bitterer Whiskey (aka Two Males for Alexa) [Blu-ray] (Juan Logar, 1971) RB DE VZ-Handelsgesellschaft
Blue Eyes of the Broken Doll (in The Paul Naschy Collection) [Blu-ray] (Carlos Aured, 1974) Shout! Factory
Body Puzzle [Blu-ray] (Lamberto Bava, 1992) RB UK 88 Films
Cold-Blooded Beast (aka Slaughter Hotel) [Blu-ray] (Fernando Di Leo, 1971) RB UK 88 Films
Death Laid an Egg [Blu-ray] (Giulio Questi, 1968) Cult Epics (no review for this edition)
Death Walks at Midnight [Blu-ray] (Luciano Ercoli, 1972) Arrow Video UK / US
Death Walks on High Heels [Blu-ray] (Luciano Ercoli, 1971) Arrow Video UK / US
Delirium [Blu-ray] (Lamberto Bava, 1987) RB UK 88 Films / Code Red US
Don't Torture a Duckling [Blu-ray] (Lucio Fulci, 1972) Arrow Video UK / US
A Dragonfly for Each Corpse (in The Paul Naschy Collection II) [Blu-ray] (León Klimovsky, 1975) Shout! Factory
Eyeball [Blu-ray] (Umberto Lenzi, 1975) RB DE X-Rated Kult Video
The Fox with a Velvet Tail (aka In the Eye of the Hurricane) [Blu-ray] (José María Forqué, 1971) Mondo Macabro US / RB UK 88 Films
The Night Evelyn Came Out Of The Grave [Blu-ray] (Emilio Miraglia, 1971) Arrow UK / US
The Night of the Scorpion [Blu-ray] (Alfonso Balcázar, 1972) Dorado Films
The Perfume of the Lady in Black [Blu-ray] (Francesco Barilli, 1974) RB UK 88 Films
Phenomena [Blu-ray] (Dario Argento, 1985) Synapse US / Arrow Video UK
The Red Queen Kills Seven Times [Blu-ray] (Emilio Miraglia, 1972) Arrow UK / US
The Slasher ...Is the Sex Maniac! (aka So Sweet, So Dead) [Blu-ray] (Roberto Bianchi Montero, 1972) Code Red
The Stendhal Syndrome [Blu-ray] (Dario Argento, 1996) Blue Underground
The Strange Vice Of Mrs Wardh [Blu-ray] (Sergio Martino, 1971) RB UK Shameless
The Suspicious Death of a Minor [Blu-ray] (Sergio Martino, 1975) Arrow UK / US
Suspiria Three disc (2 Blu-rays + 1 CD) LE [Blu-ray] (Dario Argento, 1977) Synapse Films
Torso [Blu-ray] (Sergio Martino, 1973) RB UK Shameless
Tropic of Cancer [Blu-ray] (Gian Paolo Lomi, Edoardo Mulargia, 1972) RB FR Le chat qui fume
Watch Me When I Kill [Blu-ray] (Antonio Bido, 1977) RB UK 88 Films




The new 4K UHD format requires both a 4K TV and 4K UHD Player. Ultra HD Blu-ray discs are incompatible with existing Blu-ray players, although the 4K UHD Players are backwards compatible (The Oppo Digital UDP-203 will play 4K UHD Blu-ray, Blu-ray, Blu-ray 3D, DVD, DVD-Audio, SACD, and CD.) The format currently supports three disc capacities, each with their own data rate: 50 GB with 82 Mbit/s, 66 GB with 108 Mbit/s, and 100 GB with 128 Mbit/s. There is content available from Sony, Lionsgate, Warner Bros. 20th Century Fox, Paramount Home Media Distribution, and Walt Disney Studios. It destroys streaming in terms of quality, this format is Region FREE playable worldwide plus more broadcast is going the 4K route - notably for live sports. This is different from 4K restored Blu-ray transfers which are becoming more common from Criterion, Arrow and others. As stated above, DVDBeaver has purchased a OLED65 LG TV with Dolby Vision + HDR (increasing the color depth to 10-bit per color) plus a versatile Oppo Digital UDP-203 4K Ultra HD Blu-ray player. But we have not reviewed any UHD titles to date. Predictably this format is superior to Blu-ray (3,840 x 2,160 resolution) and has initially gravitated to releasing popular, modern, action and visually dynamic film in this disc format (see the majority below). But David Lean's 1957 The Bridge on the River Kwai coming to 4K UHD is encouraging (I have not see the quality) as a precursor that we will see more older, respected and even vintage cinema getting upgraded for superior home theatre presentations. Imagine Michelangelo Antonioni, Stanley Kubrick, Akira Kurosawa or Terrence Malick in 4K UHD - it's, no doubt, coming! Many of the Christopher Nolan films were shot in 65mm and are reported to benefit greatly from their new 4K UHD disc transfers. We hope to see some of our favorite labels bring great films to this format in the near future.
Michael B, tells us in FaceBook: "I haven't had much chance to have a proper investigation yet, but I can unreservedly recommend 'The Revenant', 'Blade Runner' and 'Planet Earth II'. And 'Billy Lynn's Long Halftime Walk' is fascinating for technical reasons, as it's 4K HDR mastered at 60fps - I'm not convinced that it works very well as a dramatic medium for cinema, but it could be incredible for capturing live music/theatre."
and thanks to Monty B. for our OLED65 LG TV purchase recommendation where he tell us:
"You will get addicted to TV all over again. I have never witnessed a TV image more beautiful than what an LG OLED can give." He, of course, was right.
Here are only some of the 4K UHD tiles that came out in 2017:
3:10 to Yuma [4K Ultra Blu-ray] (James Mangold, 2007) Lionsgate
Alien: Covenant [4K UHD Blu-ray] (Ridley Scott, 2017) Fox Home Entertainment UK
Apollo 13 [4K UHD Blu-ray] (Ron Howard, 1995) Universal Studios
Baby Driver [4K UHD Blu-ray] (Edgar Wright, 2017) Sony Pictures UK
Billy Lynn's Long Halftime Walk [4K Ultra HD Blu-ray] (Ang Lee, 2016) Sony Pictures
Blade Runner: The Final Cut [4K UHD Blu-ray] (Ridley Scott, 1982) Warner
The Bridge on the River Kwai [4K UHD Blu-ray] (David Lean, 1957) Sony Pictures
A Charlie Brown Christmas [4K UHD Blu-ray] (Bill Melendez, 1965) Warner
Christopher Nolan Collection [4K UHD Blu-ray] (Dunkirk, Batman Begins, The Dark Knight, Inception, The Prestige, The Dark Knight Rises and Interstellar) Warner
Close Encounters of the Third Kind (40th Anniversary Edition) [4K UHD Blu-ray] (Steven Spielberg, 1977) Sony Pictures
Dawn of the Planet of the Apes [4K Ultra Blu-ray] (Matt Reeves, 2014) Fox Home Entertainment
Dunkirk [4K UHD Blu-ray] (Christopher Nolan, 2017) Warner
E.T. the Extra-Terrestrial [4K UHD Blu-ray] (Steven Spielberg, 1982) Universal Studios
Ex Machina [4K Ultra Blu-ray] (Alex Garland, 2014) Lionsgate
Fantastic Beasts and Where to Find Them [4K UHD Blu-ray] (David Yates, 2016) Warner
Hacksaw Ridge [4K UHD Blu-ray] (Mel Gibson, 2016) Lionsgate
It's the Great Pumpkin, Charlie Brown [4K UHD Blu-ray] (Bill Melendez, 1966) Warner
Jack Reacher: Never Go Back [4K UHD Blu-ray] (Edward Zwick, 2016) Universal Pictures UK
John Wick [4K UHD Blu-ray] (Chad Stahelski, David Leitch. 2014) Lionsgate
John Wick: Chapter 2 [4K Ultra Blu-ray] (Chad Stahelski, 2017) Lionsgate
King Kong - Ultimate Edition (4K Ultra HD Blu-ray) (Peter Jackson, 2005) Universal
Kong: Skull Island (4K Ultra HD Blu-ray) (Jordan Vogt-Roberts, 2017) Universal
La La Land Steelbook [4K Ultra Blu-ray] (Damien Chazelle, 2016) RB UK Lionsgate
Moonlight [4K UHD Blu-ray] (Barry Jenkins, 2016) Lionsgate
The Mummy Ultimate Trilogy [4K Ultra Blu-ray] (The Mummy (1999) / The Mummy Returns / The Mummy: Tomb of the Dragon Emperor) - Universal
Planet Earth II [4K UHD Blu-ray] - BBC UK Home Entertainment
Planet of the Apes Trilogy [4K UHD Blu-ray] Fox Home Entertainment
RED [4K UHD Blu-ray] (Robert Schwentke, 2010) - Lionsgate
RED 2 [4K UHD Blu-ray] (Dean Parisot, 2013) - Lionsgate
Rise of the Planet of the Apes [4K Ultra Blu-ray] (Rupert Wyatt, 2011) Fox Home Entertainment
Serenity [4K UHD Blu-ray] (Joss Whedon, 2005) Universal Studios
Spider-Man: Homecoming [4K UHD Blu-ray] (Jon Watts, 2017) Sony Pictures UK
Starship Troopers [4K UHD Blu-ray] (Paul Verhoeven, 1997) Sony Pictures
Suspiria [4K UHD Blu-ray] (Dario Argento, 1977) RB IT Videa
Terminator 2: Judgment Day [4K UHD Blu-ray] (James Cameron, 1991) - Lionsgate
The Unforgiven [4K Ultra Blu-ray] (Clint Eastwood, 1992) Warner
Van Helsing [4K UHD Blu-ray] (Stephen Sommers, 2004) Universal Studios
Westworld: The Complete First Season [4K UHD Blu-ray] - Warner
Wonder Woman [4K UHD Blu-ray] (Patty Jenkins, 2017) Warner Home Video UK
Here are a small sampling of the more lauded releases (CLICK COVERS for more information):
Coming in early 2018 (CLICK COVERS for more information):

Best Cover Designs: Another year for unique, interesting and artistic covers! Arrow and Kino seem to be the fan favorites with Criterion, Masters of Cinema and a few smaller labels getting a a fair share of votes. So many inventive covers, often chosen from extensive, artistic, old poster designs. Many are collectable in their own right. NOTE: In alphabetical order! (each received 2 or more votes!)

Notable Rants and Praise
DVDBeaver-ites have a significant voice both with our requests for films to Blu-ray and our complaints of transfer and authoring errors. Here are short comments from a variety of balloters, in no order:

Frequent comments:
Many have asked when Arrow will institute their replacement program for The Big Knife with its initial Blu-ray missing a short scene around 1:35:30 into the film, when Nat Danziger (Everett Sloane) is sitting on the couch - he talks with Charles Castle (Jack Palance) and Marion Castle (Ida Lupino) for about 1-minute on the MGM DVD - on the Blu-ray he just departs.
Warner Archive Collection's constant use of all 'shouting' uppercase-letters (and sometimes bright yellow and located higher than usual) subtitles are a constant frustration for many.
Overwhelming kudos to Adrian Martin, Tim Lucas and newcomer Kat Ellinger for their excellent commentaries and analysis. NOTE: All three are also members of DVDBeaver's Facebook group! Come join us!
Teal-leaning Blu-ray colors still seem to surface although with less frequency than in previous years.

Bouquets
Extra-thick booklets: Indicator and Masters of Cinema do their research, and it shows, beautifully.
Digibook BD editions: They're handsome, collector-friendly and durable; just wish there were more.
Feature-length extras: Kudos to Criterion for Filming Othello. Now, how about some Oja Kodar films?
'Dynamation': Bravo to Indicator for the three Ray Harryhausen sets (Sinbad et al).
Czech classics on BD: Second Run did Slavophiles another favour with Cremator and Baron Munchausen.
Regular re-issues of Woody Allen on BD: 1 per month! (via Twilight Time), and 1 region-free (Indicator's The Front).
4K restorations: Sid and Nancy, Cover Girl and others got well-timed makeovers on BD.
All-region BDs: Hey everyone, Second Run and Indicator do it, and so should you. R0 is the way to go.
Negative reviews: So they didn't 'get' The 5,000 Fingers of Dr. T. in 1953? Interesting. Give us the bad with the good.
Billy Wilder on BD: 2017 was a very good year (Love in the Afternoon, Fortune Cookie, Fedora, Avanti!).
Max Ophuls on BD: Madame de ... and Letter from an Unknown Woman are both simply luminous.
Max von Sydow on BD: Bravo, Film Movement, for the newly restored Pelle the Conqueror.
Julie Kirgo: I love the symmetry and sound of that name (and her essays for Twilight Time).

Brickbats
Burned-in subtitles on DVDs: Yes, it still happens (hello, First Run).
Region-coding: Really, everyone (mostly), what's the point anymore?
Foldout inserts: Please, Criterion, do more real booklets.
Barebone BDs: Nice transfers, Olive, but The Miracle Worker and others begged for more.
Dual-format editions: Time to retire the DVDs, BFI and Eureka! (Disney, you're excused; everyone should see Pinocchio.)
Problematic transfers: The Stranger (Olive), Rebecca (Criterion), Blow-Up (Criterion), and re-issues are unlikely.
"New" BD editions that aren't really: Bambi (Disney), The Godfather trilogy, Saturday Night Fever (Paramount).
Watermarks: Powerhouse watermarks their PDFs (a big green diagnonal "SAMPLE" on every page of every Indicator booklet sent in advance to reviewers). Bit of a pain.

Wishes
Scratch-'n'-sniff booklets: Might have made scents for Tampopo and Peppermint Soda, just saying.

This year more than any before I have had extreme trouble choosing a top 10, and it's also the first year where I've had the most trouble keeping up with the flow of quality, must-have titles, and I'm a region-locked UK collector!

ARROW have had yet another exemplary slate this year with some even more renowned classics and a scattering of unexpected gems. Titles such as CARRIE, THE DAY OF THE JACKAL, RAISING CAIN,
PULSE, RONIN, A FISH CALLED WANDA and THE INCREDIBLE SHRINKING MAN from their Arrow Video arm, and ONE-EYED JACKS, THE TAISHO TRILOGY, AQUARIUS, LE PLAISIR, THE TREE OF WOODEN CLOGS, SPOTLIGHT ON A MURDERER and THE 4 MARX BROTHERS AT PARAMOUNT under their Arrow Academy banner. Way too many to mention, really, especially as I can't seem to find the time to watch many of the ones I already have!

Not that other UK labels have been slacking though; EUREKA have also given us a lot of diversity this year. Masters of Cinema have delivered handfuls of classics once again, such as THE SAGA OF ANATAHAN, DEATH IN THE GARDEN, DRUNKEN MASTER, HARD TIMES, DER MÜDE TOD and A MAN FOR ALL SEASONS. And beyond their flagship MoC label, they have also given us several cult classics this year such as THE VIKINGS, Osamu Tezuka's METROPOLIS, JOURNEY TO THE CENTER OF THE EARTH and FRIGHT NIGHT. Still a label constantly changing and surprising, they have also managed to launch a new label - Montage Pictures - to concentrate on lesser-known contemporary foreign-language cinema. Exciting stuff!

Of course, BFI also didn't disappoint in 2017 either, giving us a flurry of long awaited titles in good quality editions; TWO FILMS BY LINO BROCKA, MADAME DE..., EL SUR, GERMAN CONCENTRATION CAMPS FACTUAL SURVEY, THE CRYING GAME, DAUGHTERS OF THE DUST, MY BEAUTIFUL LAUNDRETTE, CÉLINE AND JULIE GO BOATING and LIFE IS SWEET being some of those. SECOND RUN once again deserve recognition for their commitments to home video, releasing more and more in HD as well as SD (e.g. THE CREMATOR, MY 20TH CENTURY). CRITERION deserve a nod for giving the UK some of their great releases of the year (JABBERWOCKY, MILDRED PIERCE, TAMPOPO,
HIS GIRL FRIDAY) as well as porting some from previous years (THE FISHER KING, A BRIGHTER SUMMER DAY, CARNIVAL OF SOULS, THE LIFE OF OHARU).

And it wouldn't be 2017 without mentioning Powerhouse's INDICATOR, who have gone from strength to strength and released a number of this year's best releases: HARDCORE, FAT CITY, THE BIG HEAT, HOUSEKEEPING, THE LADY FROM SHANGHAI, THE CHASE, EXPERIMENT IN TERROR, THE PUMPKIN EATER, THE NEW CENTURIONS, BUNNY LAKE IS MISSING, SEE NO EVIL, MICKEY ONE, THE DEADLY AFFAIR, EYES OF LAURA MARS, CASTLE KEEP and THE WONDERFUL WORLDS OF RAY HARRYHAUSEN. Consistency is strong, design is impeccable, extras are plentiful and stronger transfers than anywhere else. I look forward to the coming months, with a few very exciting titles rumoured for the new year!

Other shout-outs go to THIRD WINDOW for releasing Takeshi Kitano's little-seen GETTING ANY?; AX1 for finally revisiting the work of Wim Wenders, starting with ALICE IN THE CITIES and moving onto his others in the new year; SIGNAL ONE for great titles like MAN HUNT, PANIC IN THE STREETS, RAWHIDE and THE IRON CURTAIN; SECOND SIGHT for THE AMITYVILLE HORROR, DREAMSCAPE, THE ENDLESS SUMMER, and for taking on a brave upcoming slate for 2018; STUDIOCANAL for putting out competent releases of BLOOD SIMPLE, MULHOLLAND DRIVE, THE GRADUATE, THE MAN BETWEEN, LA STRADA, THE HOWLING, and a whole host of Melville and Becker titles I will have to eventually get my hands on; CURZON ARTIFICIAL EYE for going that extra mile on THE HANDMAIDEN, NOTES ON BLINDNESS and THE AKI KAURISMÄKI COLLECTION; CULT FILMS for their release of SUSPIRIA; NETWORK for HELL DRIVERS in particular; and lastly to ENTERTAINMENT ONE for finally porting over Friedkin's SORCERER.

Looking forward to 2018, there are plenty of things we already know are coming as I type this, but will only mention the most exciting so far. EUREKA have plenty of additions to Masters of Cinema including LEGEND OF THE MOUNTAIN, THE OLD DARK HOUSE and a box set of early films from Hou Hsiao-hsien, as well as upgrades of both MICHAEL and HOUSE; BFI have announced a string of exciting titles as diverse as AN ACTOR'S REVENGE, WHEN THE WIND BLOWS, LA BELLE ET LA BÊTE and THE TOUCH; SECOND SIGHT step things up with an ambitious slate including THE COLOUR OF POMEGRANATES, TAKE SHELTER, HEIMAT, ONCE WERE WARRIORS, BERLIN ALEXANDERPLATZ and Jim McBride's version of BREATHLESS; ARROW start of 2018 with some intriguing titles including IMAGES, HOUNDS OF LOVE, RAMROD, and box sets of works by Koreeda, Jia, Guitry, Suzuki, and Godard/Gorin; AX1 continue to release Wim Wenders' catalogue in pristine transfers, crammed with extras; CRITERION bring us brand new restorations of NIGHT OF THE LIVING DEAD and THE AGE OF INNOCENCE as well as reissues of SOMETHING WILD and YI YI for their UK audience; and INDICATOR start off the year with BLUE COLLAR and CHARLEY VARRICK, moving on to titles such as NIGHT OF THE DEMON and BIRDY in subsequent months.

Once again, thanks to Gary and co. for continuing to be one of the most consistent review sites as well as being a communicative element of the online community.
Onwards and upwards!

Best packaging: "Stranger Things: Season 1" Blu-ray (Netflix) / "Stranger Things: Season 1" UHD (Netflix), The VHS inspired box and artwork.

Worst packaging: "Stranger Things: Season 1" Blu-ray (Netflix) / "Stranger Things: Season 1" UHD (Netflix.) The Blu-ray has an unskippable trailer for "Season 2" to spoil people who haven't seen Season 1. The UHD has 4K picture but lossy Dolby Digital audio, while the standard Blu-ray has lossless Dolby TrueHD audio.

Best commentary: Adrian Martin on "Wages of Fear" BFI Blu-ray (RB)

Positives of 2017: Can't keep up with all the incredible releases from the independents - Criterion, Arrow, BFI, Eureka, Indicator, Shout! Factory outdoing themselves. Studios are increasingly licensing out their catalog titles to the independent labels. "The Simpsons" season sets returning to DVD.

Negatives of 2017: Korean Film Archive are starting to get selective on English subtitling of their extras, Sony Choice Collection BD-Rs are too expensive. "The Simpsons" season sets not being released on Blu-ray but DVD only.

I tend to avoid streaming content, preferring a hands-on approach to my movie library. That said, there are two shows that first came to my attention via the Net, both of which can also be found on disc with a little effort:

RAKE (Peter Duncan, Andrew Knight & Richard Roxburgh, 2010-2015), ABC, R2+?
I have it on good authority that RAKE, little known on this side of the pond (the Pacific, that is, since the show comes from Australia), gets better as it goes along. I mention this because I found the first season to be about the smartest comedy I've ever seen on television. Ever. Richard Roxburgh? Does that name ring any bells? Baz Luhrman's Moulin Rouge - does that help? No? The Duke? Ah. Oh, yes, that amazing cuckold whose whole reason for existence - and a bloody good job he made of it, too - was to ensure the future success of Ewan McGregor, as if Trainspotting was not enough.

So here is Roxburgh, 10 years later, playing the choicest role of any career, but few could bring off: Cleaver Greene, a barrister with a cocaine habit exceeded only by his gambling debts. Between snorts and the occasional beatings he suffers at the hands of his creditor, he finds time to defend the most bizarre collection of offenders from bigamist to bestialatist. Cleave is nothing if not an utter arsehole, and, like the best arseholes, utterly charming and brilliant. When not in court or suffering the incumbent slings and arrows, etc, he is madly in love with his prostitute of several years (Adrienne Pickering) who gives up her job only to find herself in a relationship with Cleave's legal nemesis, "Harry, no, David" Potter (Matt Day). Cleave has a son and an ex-wife, who, against all common sense, but brilliantly, functions as his therapist. There's more. See for yourself. Available streaming via Netflix or on DVD Region 2 or 4 and Blu-ray, over there someplace.

VALKYRIEN (Erik Richter Strand, 2017) "Walter Presents"
I first heard about VALKYRIEN in an article alerting readers to the coming wave of TV fare from Norway. It mentioned ACQUITTED as well, one of those Broadchurch/Killing rip-offs that hits every cliche in the book, insulting its audience at every turn. I bristled at the prospect of another train wreck when I took on VALKYRIEN. Though before watching ACQUITTED I was prepared to purchase it outright on Blu-ray, I could not locate one with English subs, so I settled for "Walter Presents" - an on-line subscription service like Netflix, whose foreign language titles (with English subtitles) are chosen by Walter Iuzzolino and presented more or less in HD. Since ACQUITTED is one of his titles, I can't speak to what the others promise, but I can speak to VALKYRIEN, a truly unique invention.

The central character is Leif (Pål Sverre Hagen) a security inspector by day and a survivalist, all the time. Circumstances bring him in contact with four people around whom much of the action takes place in an abandoned subway tunnel under Oslo. Ravn (Sven Nordin) is a doctor whose wife (Pia Halvorsen), a medical researcher has succumbed to the disease she was trying to cure. She committed suicide - viking-style, minus the fire - to avoid becoming a burden on her family. . . or so the good doctor would have everyone believe. The truth is that he has taken her comatose body to a kind of cell prepared by Leif. Teo (Mikkel Bratt Silset) is a novice bank robber who becomes the only member of the gang not apprehended by police. Frightened out of his wits, such as they are, and on the verge of death, Teo, too, also becomes a patient of Ravn. It occurs to Leif that there are untold numbers of people out there who would be willing to pay handsomely for competent medical treatment outside the system.

VALKYRIEN's beautifully designed credit sequence is a study of bees, which is a real head-scratcher until we learn what bees have to do this story. The performances are all first rate as is the insightful, probing script by Erik Richter Strand. Special kudos to Mikkel Bratt Silset for his layered characterization of a none-too-bright young man who has gotten in way over his head. Also to Pål Sverre Hagen's complex paranoid, sociopathic, bullying Leif - a philosopher out of his time - or perhaps all too much in it. Leif's end of episode soliloquies would make Ted Kaczynski weep with joy.

So many great releases this year with many labels stepping up to the plate. Besides breaking into the giallo genre with THE FOX WITH THE VELVET TAIL and giving us our Naschy fix with INQUISITION while upgrading THE JESS FRANCO TRIPLE BILL, Mondo Macabro has also remained true to exploring the "wild side of cinema" with SUDDENLY IN THE DARK and THE SPIDER. The Film Detective is still doing their high definition releaes as BD-Rs but their standards have definitely improved with fine encodes of rescue jobs THE VAMPIRE BAT and VOODOO BLACK EXORCIST. Vinegar Syndrome has given the red carpet treatment to the obscure (SWEET SUGAR, DEMON WIND), the wierd (ORGY OF THE DEAD, BLOOD MANIA/POINT OF TERROR), and the not-always-deserving (BLOOD BEAT, PRIME EVIL/LURKERS) while Kino Lorber has brought us the classics (BEGGARS OF LIFE, SINCE YOU WENT AWAY, VARIETE) while not neglecting them-NIGHT ANGEL and KILLER BARBYS among others. Similarly, Arrow continued to cover all bases from the arthouse (LUDWIG, THE ASSASSIN, PROPERTY IS NO LONGER A THEFT) to the grindhouse (THE SLAYER, THE BIRD WITH THE CRYSTAL PLUMAGE). Film Movement followed up their introductory Joseph Sarno duo of VAMPIRE ECSTASY and SIN YOU SINNERS from last year with ALL THE SINS OF SODOM/VIBRATIONS (the latter supplemented compared to Vinegar Syndrome's exquisite-looking barebones limited edition). Severin Films bested UK rival 88 Films with their Blu-ray upgrade of BEYOND THE DARKNESS, Blu'd a long unavailable Jess Franco in TWO SPIES WITH FLOWERED PANTIES (in both its French and Spanish cuts) and an atypical Lucio Fulci in THE DEVIL'S HONEY, and brought THE AMICUS COLLECTION home for the holidays (and their Intervision line gave us the cult classic SOV films BEYOND THE 7TH DOOR and the PROJECT NIGHTMARE half of MURDERLUST). The brothers Olsen also upped their Code Red and Scorpion Releasing Blu-ray output, including the HD rescue job of HUMONGOUS (which Scorpion originally put out on DVD utilizing a tape master in the absence of film material for the unrated version) and a sumptuously-supplemented edition of ONE DARK NIGHT. Blue Underground gave us Blu-rays of some much-wanted films from DEATH LINE to DEATHDREAM, Masters of Cinema blu'd LUBITSCH IN BERLIN, and let's not forget that LionsGate's new Vestron Video line started the year and finished strong with LAIR OF THE WHITE WORM and SLAUGHTER HIGH respectively.


Best year for publisher – I'd tie it between Indicator for such a consistent slate of terrific films, beautifully packaged with original artwork and enlightening extras and Arrow for beefing up their Academy range. Both these companies have excelled themselves in releasing some truly mammoth box sets, so much so that my top 10 could have just played out with their titanic releases. Both are going from strength to strength and its quite startling to consider that the breadth of the Indicator catalogue, given they've been in existence for little over a year.

Kudos too for Second Run with their continued foray into Blu Ray this year. I'm very excited to read that The Cremator is going to be the first of a series of upgrades to their back catalogue. I've been blind buying their titles since their inception and they have released some truly revelatory movies by artists I would never have heard from without their skilful guidance. In a very strong year, Zeman's Munchausen is their crowning glory. It's a magical romp of a film presented in a package generously equipped to introduce all-comers to the imaginative genius of this filmmaker.

Best Commentary: Eddie Muller, Big Combo (Indicator)

Best Cover Art/Packaging: Many of the 88 Films limited slip cases for their Asia line have been fabulous, but Mighty Peking Man & The Oily Maniac win for sheer outlandishness.

Best Newcomer: Classicflix

Under the radar: Australia's Umbrella Entertainment. Case in point their own upgrade of Mark Hartley's Not Quite Hollywood arrived packed with over 9 hours of special features, many freshly minted for this release.
Best New Development: Indicator rising to the challenge and creating 4 definitive box sets in less than 5 months.

The return of BFI's Flipside, Olive's Signature collection & the arrival of the 88Films Vault series.
Best Studio Catalogue Release: The Complete Universal (Horror) Legacy Collections.
Worst Transfer: Kino's Good the Bad and the Ugly. I still prefer that buttery remaster from MGM.

Biggest Home Media Gripes:
First one is the same as last year: The misplaced sense of self entitlement on forums and social media around releases that don't include a title from their parochial wish list.
Crowdfunding titles to realization that can sap the patience. Particularly if the contributors copy arrives just before a general release or appears as an extra on another publisher's title (Eureka's Fright Night being a case in point).
The timidity of the major studios in releasing classic movies on Ultra HD 4k format. If Wizard of Oz & Gone with the Wind can't get a ticket, what hope for anything else.
Criterion's lukewarm presence in the UK market (although I heartily approve of their appearance in regular retail sales).

Looking forward to:

• Not reading the annual articles on the death of physical media.
• Getting my hands-on Indicator's superb January & February slate. What a start to the year.
• Second Sight's stimulating quartet of titles: The Colour of Pomegranates, Heimat, Berlin Alexanderplatz and Xtro.
• Imagining the heft of another pair of imposing BFI opuses, with two forthcoming releases dedicated to the work of Derek Jarman.
• The 15th day of a month (or thereabouts) for the regular Criterion announcement. Despite them having some serious international competition these days, it is still a great monthly feature. Other companies enthusiastically announce their titles, but this regular appointment still stirs the senses.


Once again, Adrian Martin has provided some of the best commentaries of the year, in a variety of genres. I have enjoyed his thoughts since an Australian edition of The Exterminating Angel a few years ago and I look forward to many other future contributions from him.

- Several very interesting books on cinema came out during the year, but I will mention one that may have received less notice than others, i.e. an anthology of symposiums and interviews which originally appeared in Cineaste, edited by Cynthia Lucia and Rahu Hamid and published by the University of Texas Press.
- Masters of Cinema put together a "definitive special edition" of Lang's Metropolis, gathering 3 versions of the movie including the most recent one with the rediscovered footage, as well as the Moroder edit (unpalatable to my ears) as well as the digital and written documentary material they have published over the years. Now, should a few more frames of the movie be located in some dusty film archives, will someone come out with a "truly definitive absolutely complete, we are not kidding this time," edition of the movie?

Have a fabulous 2018!