NOTE: The below Blu-ray captures were obtained directly from the Blu-ray disc.
ADDITION: Shout! Factory - Region FREE - Blu-ray
March 2021':
This is a vastly superior image from Shout! Factory that came out a year and a half after the weak Retromedia 1080P. The Shout! Factory is described as a "
NEW 2K Scan Of An Archival Fine Grain Print Of The Theatrical Version And The Additional Television Footage
". It is in the proper 1.85:1 aspect ratio - losing the superfluous information on the bottom/top of the frame and adding marginally to the side edges. It is much cleaner (still a few minor speckles) and doesn't have the waxy, video qualities of the Retromedia
Blu-ray
. This looks like film on a dual-layered disc with a very high bitrate. The 'Extended' version looks as strong as the theatrical with a couple of instances of light, frame-specific, damage marks. Overall this is a highly remarkable upgrade.
NOTE: We have added 46 more large resolution Blu-ray captures (in lossless PNG format) for DVDBeaver Patrons HERE
Blowing Retromedia's lossy Dolby audio away is Shout! Factory's DTS-HD Master 2.0 channel (24-bit) and it sounds very clear with some depth in modest effects and the, often dramatic, score by Fred Katz (A Bucket of Blood, 1960's The Little Shop of Horrors) adding notably to the Drive-In 'feel' of the film. There are optional English subtitles, for both version, on Shout! Factory's Region 'A' Blu-ray.
For supplements, Shout! Factory include two commentaries - both on the theatrical version. We get a stellar commentary from Troy Howarth (author of The Haunted World of Mario Bava and many other books) discussing Jack Hill, economical (cheap) Corman, recognizable Michael Mark, composer Fred Katz, Lynn Cartwright (writer/actor Leo Gordon's wife), the sad end of Susan Cabot's life, spotting Roger Corman playing the Doctor in one scene of The Wasp Woman etc. He's great. Covering similar ground via the second commentary, but in his own way, is Tom Weaver having informative fun that adds in a section with Dr. Robert J. Kiss (together they co-wrote The Atomic Submarine.) These commentarists are very much appreciated for a film of this nature with an abundance of behind the scenes details exposed. Lastly, we have a trailer for the film.
Invasion of the Bee Girls was likewise 'saved' from pitiful digital PD transfers by a Proper Shout! Factory Blu-ray edition. In Roger Corman's The Wasp Woman, we don't get Monte Hellman's first feature Beast from Haunted Cave (found on the Retromedia) but maybe a future Blu-ray, Shout! Factory? We don't want to look a gift-horse in the mouth - this is a fine package of a highly desirable, infectious, Corman 'B' gem, looking and sounding significantly improved plus we get both versions and two stellar commentaries! We consider it a must-own for any cinema fan's digital library.
*
**
ADDITION: Retromedia Entertainment Group - Region FREE - Blu-ray April 17': This also includes Beast from Haunted Cave (1959) with commentary - and about the same technical transfer (10 Gig, 20 Mbps, Dolby audio and running 1:05:47.860) and I have added a few captures at the bottom of this review.
After listening to the commentary I believe that the DVD is the 'TV version' (hence the time differential) and those scenes are included as an extra in the Blu-ray package with this statement: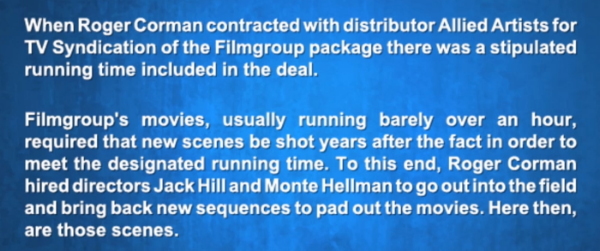 The image, no matter the film, is subject to the caliber of the source material. While this is far from perfect, it's a big advancement over any of the SDs I've seen. It's still waxy, overly bright and has some compression artifacts, but I wasn't deterred and enjoyed my viewing in the odd 1.43:1 aspect ratio (?). Like Fred Olen Ray, I am keen because of the film's impact on me when I saw it as a young boy - great title, great concept, great posters! I'd be very thankful if it was released again, with a more robust transfer. It's reasonably priced in that it also includes Monte Hellman's first feature Beast from Haunted Cave and the supplements.
Audio is only lossy Dolby and is imperfect but the dialogue is cloudy but audible and I could discern everything easily. There are no optional subtitles and this Blu-ray disc is region FREE.
What gives this even more value are the two commentaries, both relaxed and fun with plenty of details about Corman, the interesting life - and death of star Susan Cabot. This gives it super value. I don't mind seeing the film looking bad - since the film is bad and a pristine transfer wouldn't feel appropriate. For the price on Amazon - this is almost essential in my mind - thank you Fred! (who is also in the remake!) Recommended!
***
ON THE DVD: Wow - is this ever bad. I love these type of grassroots cheapo sci-fi films but this DVD package is the pits. Aside from the transfer being interlaced (see 'combing' capture below), hazy, frayed edges, damage, and filled with artifacts - it only takes up 1.7 Gig on a single-layered disc with no extras and a pitiful 4 chapter stops. Is Synergy Entertainment aware that people own HD TVs now? I wouldn't recommend this disc for a CRT. Like other Corman 50's efforts of the same genre - Not of This Earth, and the lesser film It Conquered the World, on DVD - it is barely watchable - even for the less a/v discerning.
Also it is cropped (should be 1.66-1.85) - Thanks Marvin!
NOTE: I am interested in the upcoming Roger Corman's Sci-Fi Classics - with Attack Of The Crab Monsters, War Of The Satellites and Not Of This Earth - from the reliable Shout!Factory.
For the exorbitant price Synergy are flogging The Wasp Woman here you do get a TEE shirt, large size, with the film's poster on it. But seeing this is a PD flic - for a fraction of the price you can pick up a number of equally poor DVDs that actually include another film (like Attack of the Giant Leeches or The Giant Gila Monster). I apologize for putting this on our release calendar. The Wasp Woman is great fun but this package is a rip-off.