---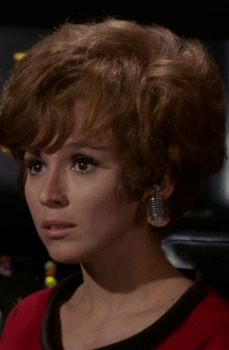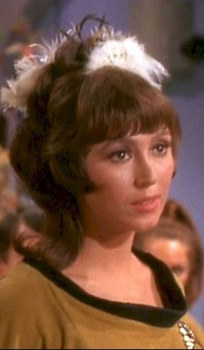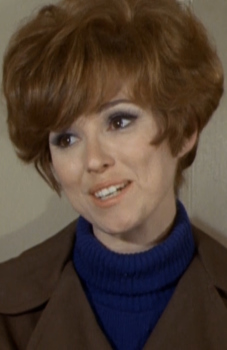 Barbara Baldavin had a reasonably extensive career in television appearing in many shows from 1964's Rawhide to 1980's Vega$. Along the way she was in three TOS episodes as a Communications Officer, as Angela Teller and as Angela Martine respectively in Turnabout Intruder (1969), Shore Leave (1966) and Balance of Terror (1966). She kinda had a Jill St. John thing going on. Yeah.
---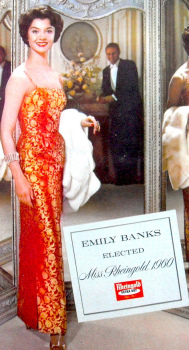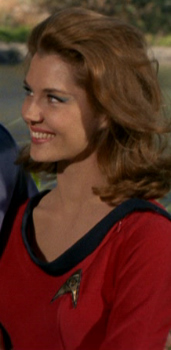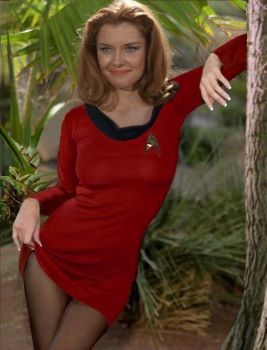 Slim and naturalistic Emily Banks (born 23 January 1933) played the part of Yeoman Tonia Barrows in "Shore Leave", the only real character that was sexually assaulted (by Don Juan, no less). She wouldn't have made the list until I saw the third picture above - an obvious fake spread widely on the web. I, then, noticed that she has multiple strong links to another TOS beauty on this very list. Banks got her start in 1960 when she was elected 'Miss Rheingold', appearing in advertisements and promotions for Rheingold Beer. So did Celeste Yarnall (Yeoman Martha Landon in "The Apple"). She got her first movie role in 1968, in Live a Little, Love a Little, an Elvis Presley movie that also starred Yarnall! Some obsessed fan has even done a video of some of her "Shore Leave" Trek-moments HERE.
---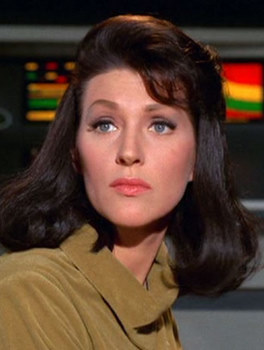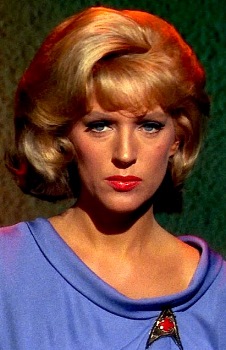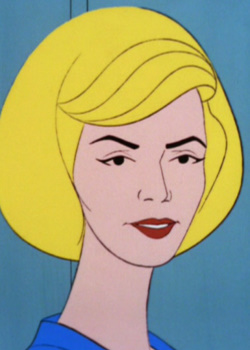 All Trekkies are aware of stalwart, attractive, Nurse Christine Chapel played by Majel Barrett (Roddenberry). She appeared in all three seasons of the original series, as well as Star Trek: The Animated Series and the films Star Trek: The Motion Picture and Star Trek IV: The Voyage Home. She also played 'Number One' in the first pilot for TOS, "The Cage", and in a later episode displayed repressed feelings for Mr. Spock (Leonard Nimoy.) She dyed her hair blonde softening her appearance for the episode "What Are Little Girls Made Of?" and it, pleasingly, remained the character's 'look'.
---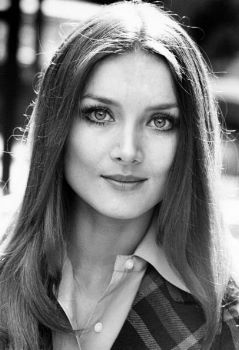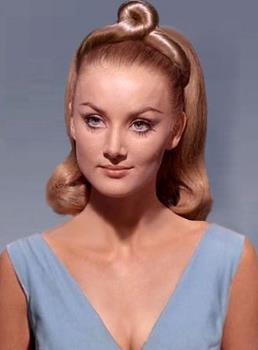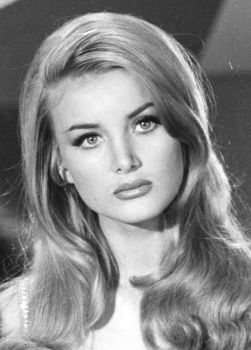 Stunningly photogenic
Barbara Bouchet
is a German-American actress who appeared in more than 80 film and television roles including Kelinda in the
Season 2
, 20th TOS episode "
By Any Other Name
". The title is taken from a line spoken by Juliet in Shakespeare's play
Romeo and Juliet
: "
that which we call a rose / by any other name would smell as sweet
", and quoted by Captain Kirk within the 50-minute episode. During the show, in attempting to escape, Mr. Spock uses his Vulcan telepathic ability to lure the naive Kelvan, Kelinda, closer to him, obtaining her control belt. Bouchet's abundant beauty and frequent nudity in film developed a huge following for her work which included many Italian genre films like
The Red Queen Kills Seven Times
,
Amuck
(with a vaunted lesbian love scene), the poliziotteschi
Milano Calibro 9
, Lucio Fulci's
Don't Torture a Duckling,
and other works like
Stoney
, and the, James Bond spoof,
Casino Royale (1967)
where she took the role of
Miss Moneypenny
. She appeared, semi-clothed, in two editions of Playboy magazine: the May 1965 issue using stills from
In Harm's Way
and the February 1967 layout entitled "
The Girls of Casino Royale
".
---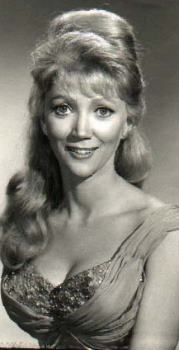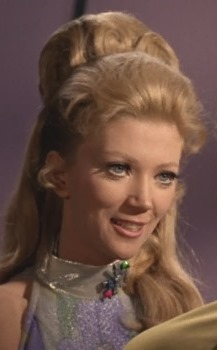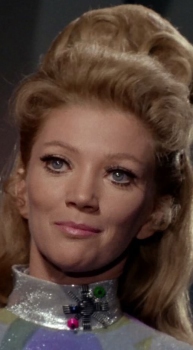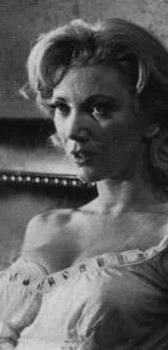 Kathie Browne appeared in TV series for over 25 years including The Alfred Hitchcock Hour, Perry Mason and also Kolchak: The Night Stalker with her husband Darren McGavin (whom she was married for 33 years till her death in 2003 at 72 years of age.) The blonde haired, blue-eyed Kathie played mainly 'sweet ingénue' parts throughout the majority of her television career. Some may also recall her parts in the three Noir efforts Murder by Contract and City of Fear - both released in 1958 and Brainstorm (1965) starring Jeffrey Hunter, Anne Francis and Dana Andrews. Kathie played beautiful Thalosian 'Deela' in the Season 3, 86th Episode "Wink of an Eye"
wearing a revealing, lavender chiffon, outfit that accentuated her radiant beauty.
---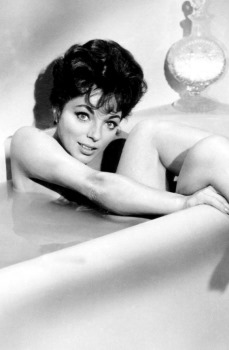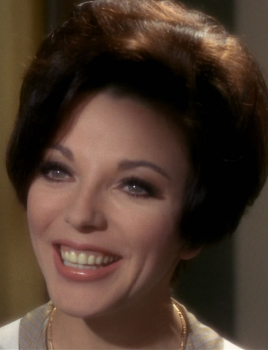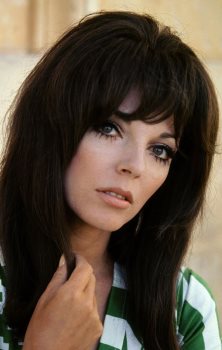 Joan Collins spread her wings much further than her memorable role as Edith Keeler in the Season 1, 28th episode "The City on the Edge of Forever". She was eventually awarded the title 'Dame Joan Henrietta Collins, DBE'. The, time-travel hindered, unrequited love of Jim Kirk, remains one of the best shows of the entire series. Not only was her film career extensive but she kept her charm and come-hither smile throughout in varied movies like Revenge, Quest For Love, Esther and the King, Empire of the Ants, The Devil Within Her, The Virgin Queen, The Slasher, Tales That Witness Madness, The Bitch, and there was even a DVD boxset of her work; The Joan Collins Collection released in 2007. Trekkies love Edith Keeler.
---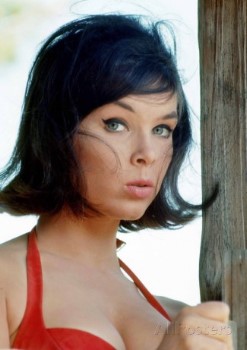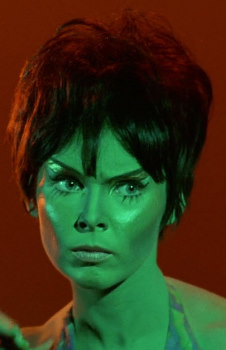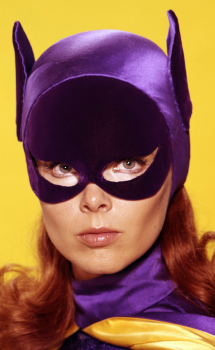 Green eyed beauty Yvonne Craig played Marta in the Season 3, 14th episode: "Whom Gods Destroy". She was a ballet dancer and actress best known for her role as 'Batgirl' in the 1960s television series Batman also playing her alter ego Barbara Gordon - the librarian daughter of Commissioner Gordon. However, Trekkies love her for her desirous role as the green-skinned Orion, seductress, slave girl, Marta. She had a unique sexuality that 'Costume-Play' fans emulated for year. She also appeared as a contestant on the show The Dating Game (1967) and was in a number of feature films. She penned her biography From Ballet to the Batcave and Beyond, in 2000. Yvonne Craig died in Los Angeles, on August 17th, 2015, age 78.
---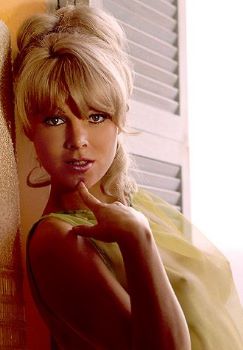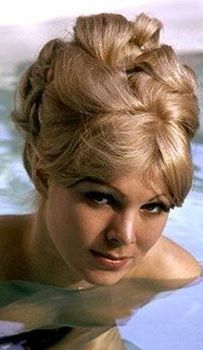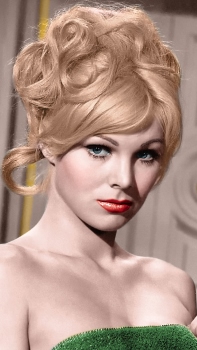 German-Austrian, platinum blonde, model and chorus dancer Susan Denberg was featured as 'Playmate of the Month' for Playboy magazine's August 1966 issue. As well as playing Magda Kovacs in the Season 1 TOS episode 6, "Mudd's Women" (1966), Denberg's most notable performance was in Hammer Studio's 1967 Frankenstein Created Woman playing Christina, opposite Peter Cushing's Baron Victor Frankenstein. However, her voice in the film was post-dubbed by Jane Hands, as Denberg's Austrian accent made her English difficult to comprehend. At the height of her fame, she attended parties thrown by Elvis Presley and Frank Sinatra - at the latter, performing a poolside striptease to the hosts disapproval. She dated Sammy Davis, Jr., Charles Bronson, Trini Lopez, Hugh O'Brien, Sidney Poitier, director Roman Polanski and had an affair with Jim Brown, while he was filming The Dirty Dozen at Elstree Studios. Some of this period is documented in Tom Lisanti's book Glamour Girls of Sixties Hollywood: Seventy-Five Profiles. Sources cite her becoming disenchanted after indulging in the trappings of celebrity life; casual sex and abusing drugs (partaking of marijuana and LSD daily) and she spent ten days at a mental asylum in Klagenfurt, Carinthia after attempting suicide. This followed a stint performing nude in clubs throughout Europe. After only a handful of acting roles Denberg returned home to Austria where she resides today, under her real name, Dietlinde Zechner. She isn't the most tragic story on this list - read on.
---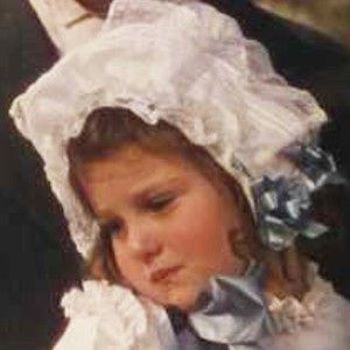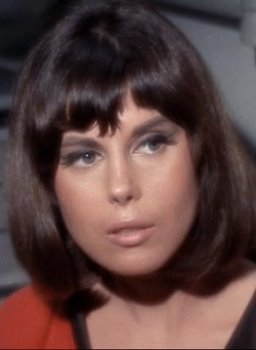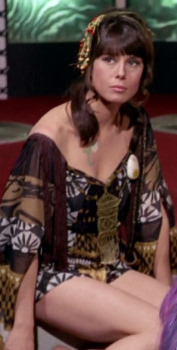 Born as Phyllis Callow, she was the daughter of Ridgeway Callow - assistant director for a number of highly regarded films (The Andromeda Strain, The Sand Pebbles, The Sound of Music, 1962's Mutiny on the Bounty, The Swan etc.) including the Noirs; A Lady Without Passport (1950), Walk a Crooked Mile (1948), The Amazing Mr. X (1948), Raw Deal (1948), and Railroaded! (1947). Credited as Phyllis Douglas - she was one of the last surviving cast members of Gone with the Wind, in which she appeared, at the age of two, as Bonnie Blue Butler. It should be noted that at the writing of this article Olivia de Havilland is still with us from Gone with the Wind and is turning 101 in July, 2017! Phyllis also appeared in two episodes of TOS: "The Galileo Seven" (Season 1, episode 16) as Yeoman Mears (who unusually leaps to the floor on her hands and knees - what was she planning in her, supposed, final minutes alive?) and "The Way to Eden" (Season 3, episode 20) simply as 'Girl #2'. She had an uncredited role in the excellent Anthony Mann western Cimarron (1960.)Phyllis spent the last 33 years of her life as a Real Estate Broker in Grass Valley, Calif. and Palm Springs. She died on May 12th, 2010.
---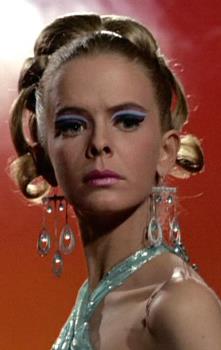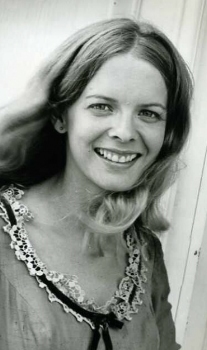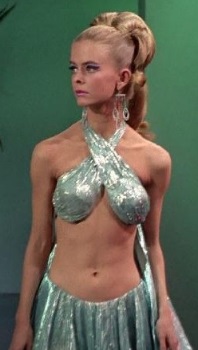 Natural, and graceful, Diana Ewing was a ten year veteran of TV series work including The Mod Squad (1968) Mission: Impossible (1969), The F.B.I. (1970), Harry O (1974), The Rockford Files (1977) and many others. However, she is best known for her role as Droxine in the third-season TOS episode "The Cloud Minders". Her inclusion in the list is a testament to both her exceptional beauty and, debatably, the sexiest, and most revealing, costume in the show's 3 year history with a double sling, impressively, supporting her breasts while laying bare her attractive midriff and shoulders. The tied-back hair, frequent for TOS beauties, left her elegant face, also unencumbered. Stunning indeed.
---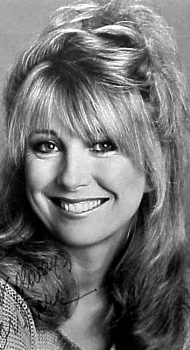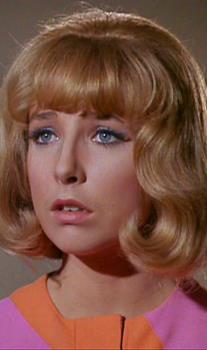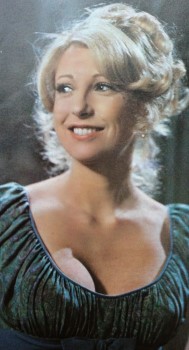 Terry Ann Garr was born December 11, 1947 —known as Teri Garr— her maternal grandparents were Austrian, and her father was of Irish descent. She almost exclusively played a, friendly, infectious, bubbly blonde with various quirky emotions. Among other TV appearances, she became a regular on The Sonny and Cher Show (1976) as Cher's friend, Olivia and later as voice characterizations in Batman Beyond, King of the Hill and other shows getting initial exposure in the Elvis film Viva Las Vegas. She was nominated for an Academy Award for Best Supporting Actress for the 1982 film, Tootsie but worked with many lauded directors' including Robert Altman in The Player, Martin Scorsese's After Hours, Stephen Spielberg's Close Encounters of the Third Kind, Mel Brooks' Young Frankenstein, and in Francis Ford Coppola's The Conversation. She had a starring guest appearance in the 1968, Season 2, 26th TOS episode, "Assignment: Earth", playing Roberta Lincoln, the secretary of Gary Seven (Robert Lansing.)
---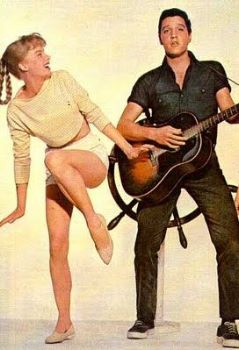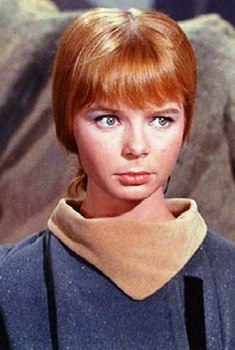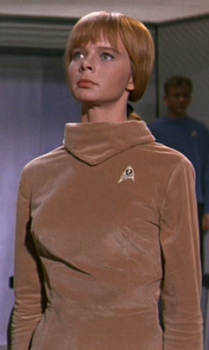 Pretty and discreetly shapely Laurel Goodwin played Yeoman JM Colt in the Star Trek pilot episode "The Cage" which was incorporated into the Season 1 two-part, iconic, episode entitled "The Menagerie". Her screen debut was as the love interest of Elvis Presley in the film, Girls! Girls! Girls! (1962), as well as appearing in the comedy, Papa's Delicate Condition (1963), playing Jack's (Jackie Gleason) daughter. She also played the role of Phoebe, The Chief's niece in the TV show Get Smart. Star Trek had not established its mini-skirt uniforms and the female crew's clothing was less than flattering. However, to give Captain Pike data on choosing a mate, one of the chief Talosians described Colt's attributes as having 'youth, strength, and unusually strong female drives' - to her obvious embarrassment. Trekkies can only imagine the implications of that inference.

---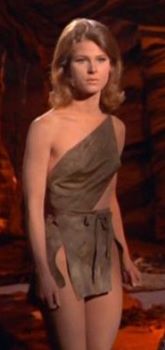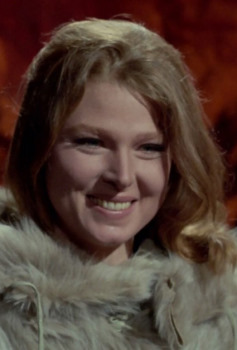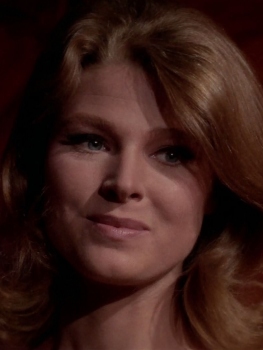 With her distinctively smooth voice and girl-next-door visage Mariette Hartley's film career began with Sam Peckinpah's Ride the High Country (1962), and notably she had a supporting role as Susan Clabon in Alfred Hitchcock's Marnie in 1964. She appeared in the television series The Twilight Zone, The Rockford Files, Columbo, and in the western film Barquero. In 1969, she played Zarabeth in the Season 3, 23rd TOS episode "All Our Yesterdays" where the Atavachron time machine stranded her in a past ice age, 5,000 years hence as a response to her being a 'political prisoner'. It was one of the highest rated episodes of the series with Spock reverting to the ways of his barbaric Vulcan ancestors while falling for Zarabeth and threatening Dr. McCoy with physical violence. Hartley appeared in several science fiction films, including the pilot for the post-apocalyptic TV film Genesis II (1973), also a Gene Roddenberry production. While censors disallowed showing her belly button in the TOS episode - in Genesis II she made up for it by showing her character possessed two belly buttons. Take that.
---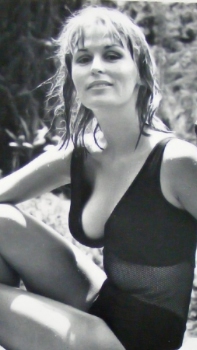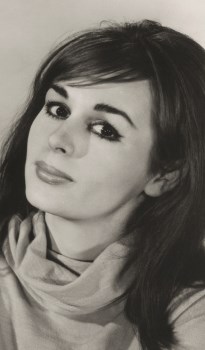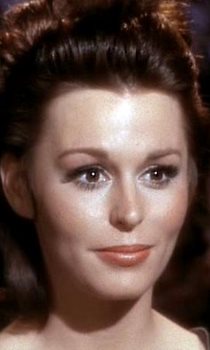 Fulfilling roles of Irish, Italian, Greek or Hawaiian beauties, complete with the accents and dialects, Marianna Hill from Santa Barbara, California, of Spanish-German heritage, was an established television actress in the 1960s and 1970s. She had from multiple roles in 77 Sunset Strip, Perry Mason, Gunsmoke, Bonanza, The Outer Limits, Batman, Mission: Impossible and others, also playing a number of film roles, notably co-starring in the Elvis Presley films Roustabout (1964) and Paradise, Hawaiian Style (1966), Clint Eastwood's western High Plains Drifter (1973), Haskell Wexler's Medium Cool and Francis Ford Coppola's The Godfather: Part II (1974) as Deanna Corleone. Trekkies may remember her as Dr. Helen Noel in Season 1, episode 9, "Dagger of the Mind" being one of nineteen women William Shatner (Captain Kirk) kissed on TOS.
---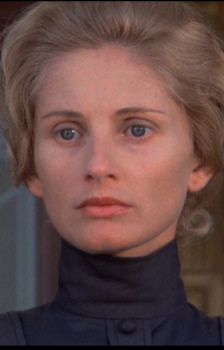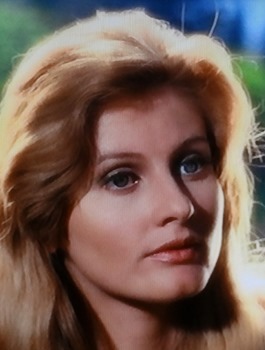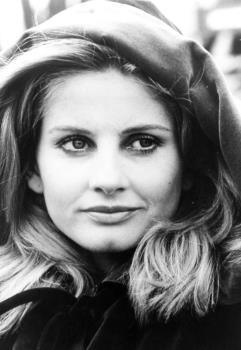 Best remembered for her role as Leila Kalomi in the first season episode of the Season 1, TOS 24th episode This Side of Paradise (1967) as, uniquely, the only woman Mr. Spock ever loved, Jill Ireland's natural wholesome beauty shone on camera. In 1957, Ireland married actor David McCallum after the couple met while working on the film Hell Drivers (1957). Later they appeared together in five episodes of The Man From U.N.C.L.E. and had three sons (2 biological, one adopted). After divorcing him, in 1967 - a year later Ireland married Charles Bronson. They starred in 13 films together in the next 17 years including Villa Rides (1968), The Mechanic (1972), Breakout (1975), Breakheart Pass (1975), From Noon to Three (1976), and Walter Hill's iconic Hard Times (1975). They remained married until Ireland's death of Breast Cancer in 1990.
---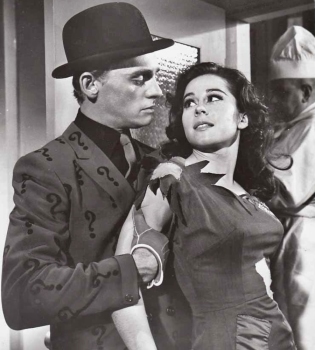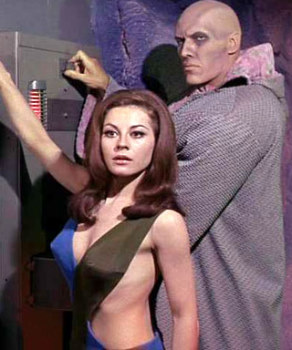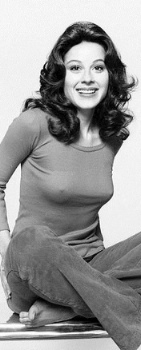 Brunette Sherry Jackson began her career as an affable child actress in many projects - notable were, Joseph Losey's 1951 M, and John Farrow's incredibly stylistic Noir Where Danger Lives, as the uncredited girl in an Iron Lung. Although establishing herself as a regular as the coquettish daughter on Make Room for Daddy, she would eventually guest starring in TV series like 77 Sunset Strip, Perry Mason, Wagon Train, Gomer Pyle, U.S.M.C., Lost in Space, My Three Sons, The Rockford Files, The Wild Wild West, Batman and others. Notably, Sherry had her first screen test, for The Snake Pit with Olivia De Havilland eventually appearing in The Breaking Point, with John Garfield - one of his most memorable roles. She had a lauded portrayal as the emotionally unstable Jacinta Marto in The Miracle of Our Lady of Fatima. Sherry made one of her more memorable appearances as the android "Andrea" in the Season 2, 7th episode "What Are Little Girls Made Of?" wearing another of the more revealing, TOS-style, outfits. When Blake Edwards remade the Peter Gunn television series as a feature film (entitled Gunn) in 1967, Jackson was filmed in a nude scene that appeared only in the international version. However it was censored, and still not available, including the naked scene, in North America. Still images of those nude scenes appeared in the August 1967 issue of Playboy magazine, in a pictorial entitled "Make Room For Sherry". Gotta pick that up.
---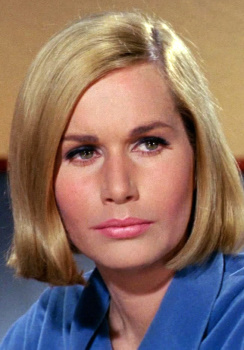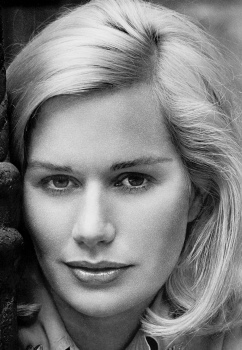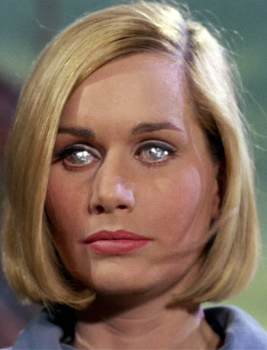 Playing psychiatrist Elizabeth Dehner in the second pilot, Season 1, TOS 1st episode, "Where No Man Has Gone Before" was very minor in Sally Kellerman's career which has lasted nearly 60 years. She may be best remembered as Major Margaret "Hot Lips" Houlihan in Robert Altman's film M*A*S*H (1970) which earned her an Oscar nomination for 'Best Actress in a Supporting Role'. She appeared in a number of the director's films: including Brewster McCloud (1970), and The Player (1992). She was also in many television series such as Coronet Blue, The Outer Limits (1965), The Invaders (1967), Mannix (1969), Hawaii Five-O (1969), Bonanza (1966, 1970). She also played the severely beaten, and only surviving, victim of Albert DeSalvo (Tony Curtis) in Richard Fleischer's The Boston Strangler (1968) but Trekkies can never for get her 'diamond eyes' in the first episode to feature William Shatner as Captain James Kirk, James Doohan as Chief Engineer Montgomery Scott ("Scotty"), and George Takei as Lt. Sulu. In her 2013 book, Read My Lips: Stories of a Hollywood Life, Kellerman recounts her life as an up-and-coming actress in the early 60s.
---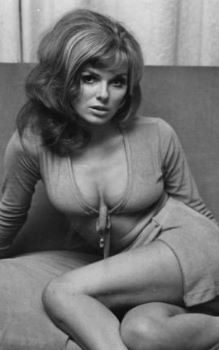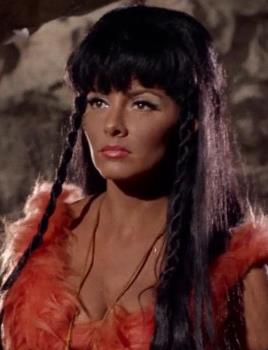 Always looking gorgeous, and holder of eight beauty titles by age 20, Nancy Kovack appeared on a number of TV series including Bewitched, Batman, I Dream of Jeannie, Get Smart, Perry Mason, 12 O'Clock High, The Man From U.N.C.L.E., The Invaders (1967) and in 1969 she was nominated for an Emmy award for her role on Mannix. Perhaps her most remembered performance in film was as the high priestess Medea in Jason and the Argonauts (1963). She also had parts in Diary of a Madman (1963) with Vincent Price, The Silencers (1966) with Dean Martin as Matt Helm, and Frankie and Johnny (1966) with Elvis Presley, among other film roles. For Trekkies she was Nona, in the Season 2, episode 19 "A Private Little War", playing a healing witch woman of the friendly 'Hill People' tribe on the 3rd planet in the Zeta Boötis System. In the show she casts an erotic spell on Kirk seducing him with her healing herbs. Nona hoped that the USS Enterprise Captain would be unable to refuse her anything once he recovered from his illness. The show's premise was intended as a loose allegory about America's involvement in the Vietnam War. Kovack became the wife of world-renowned maestro Zubin Mehta of New York Philharmonic.
---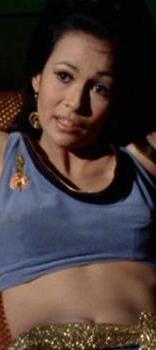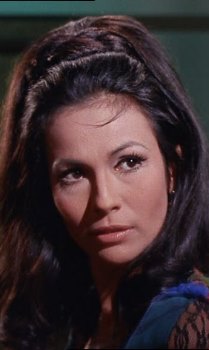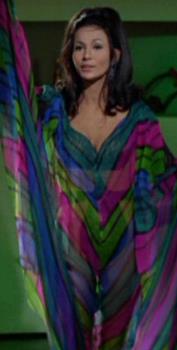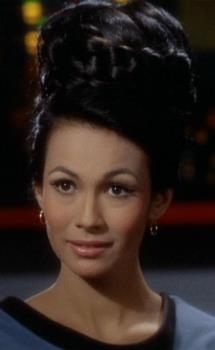 From a mixture of Italian, Hungarian, Spanish, Portuguese and Filipino backgrounds Barbara Luna has guest-starred on approaching 500 television programs from 1951-2017 including Kung Fu, Marcus Welby, M.D., Love American Style, Mission: Impossible, The Invaders, Perry Mason, Mike Hammer, and many others. Her film career was less advanced but I do recall her as as an uncredited prostitute in Richard Brooks' Elmer Gantry (1960) with Burt Lancaster. On the Season 2, 4th episode, Mirror, Mirror (1967) she played cunning Lieutenant Marlena Moreau who, in a parallel barbaric universe mirroring their previous reality, is know as the "Captain's Woman" who is able to use the devious 'Tantalus Field' weapon to silently eliminate political enemies. This episode allowed the regular cast the opportunity to deviate form their usual characterizations and it became a huge fan favorite of the series. Upon returning to their own universe - we see a new transferred crew member - Lieutenant Marlena Moreau - still looking breathtaking with lustrous hair piled almost absurdly high on her head. In the early 1960's, Luna was briefly married to actor Doug McClure and is still working today at age 79. You GO, girl! She runs a website HERE.
---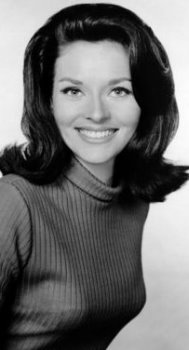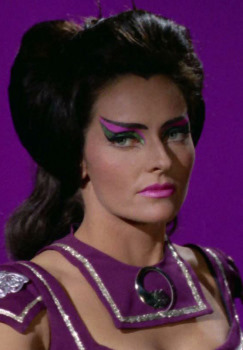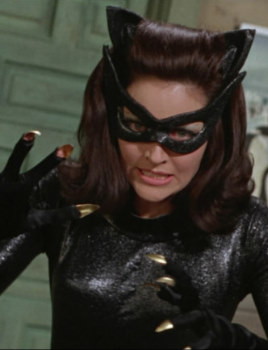 Lee Ann Meriwether was the winner of the 1955 Miss America pageant, although she may be best known for her role as Betty Jones, Buddy Ebsen's secretary and daughter-in-law in the 1970s crime drama Barnaby Jones. Others fondly recall her 1966 portrayal of Catwoman in the film version of Batman and a co-starring role in 30 TV episodes of The Time Tunnel. She had guest starring appearances in The Fugitive, Mannix, 8 episodes of Mission: Impossible, after Barbara Bain's departure, Perry Mason, Land of the Giants (1968) and many others. Trekkies recall her from the Season 3, 17th episode entitled "That Which Survives" (1969) playing the station commander Losira, a redundant computer projection who is found guarding a deserted outpost and who can replicate herself and also kill with a mere touch.
---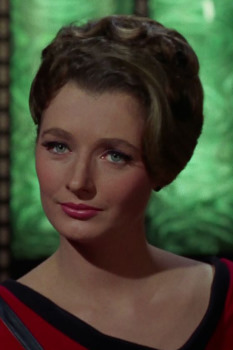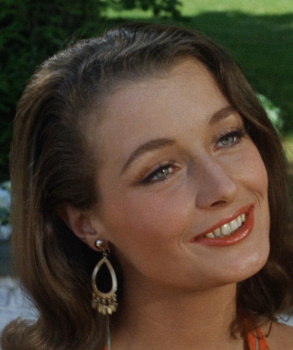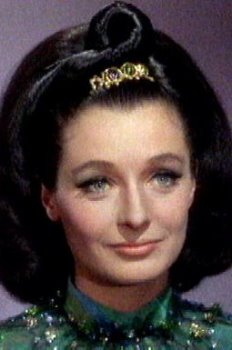 Another of my favorites on this list. With piercing blue eyes, grace and imbuing the qualities of confidence, intelligence and sophistication, Diana Muldaur played physician roles in TOS as Dr. Ann Mullhall in Return to Tomorrow (1968) and as Dr. Miranda Jones in Is There in Truth No Beauty? (1968). Not surprisingly she also played a third female McCoy as "Dr. Katherine Pulaski" in season two of Star Trek: The Next Generation (1987.) She described immense respect and friendship for creator Gene Roddenberry stating, in 2006, "He discovered me, in many ways, when I was a kid in Hollywood, and he put me in two different segments of the original Star Trek, which were a total joy to do. I cannot tell you how inventive and how creative everybody was who worked on that show, from the actors, the makeup, the hair, the camera ... I will never forget it as long as I live". Roddenberry also cast Muldaur in his television movie Planet Earth (1974) with John Saxon. Her films included the psychological thriller The Other (1972) and Sydney Pollack's introspective drama The Swimmer (1968) with Burt Lancaster. She was in many TV parts in shows like I Spy, The Courtship of Eddie's Father, The Invaders, Mannix, Mod Squad, Hawaii Five-O, The F.B.I., The Virginian, and Run for Your Life to name only a few.
---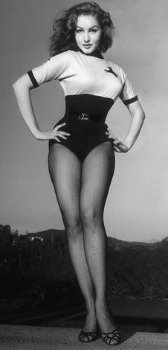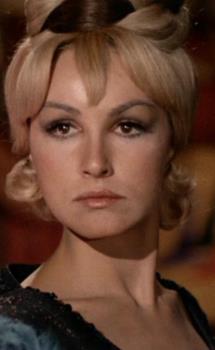 Statuesque Julie Newmar was perfectly cast as both, dazzlingly leggy, Stupefyin' Jones in the musical Li'l Abner in 1956 (which also starred TOS babe, Leslie Parrish as 'Daisy Mae') and as '
Catwoman' in 13 episodes of the original 1966-67 TV series
Batman
. Unfortunately, not donning as 'revealing' a costume as most of the gals on the list while she was portraying the pregnant Capellan princess, Eleen, in the
Season 2
, TOS episode 32: "
Friday's Child
". In fact, to remove all sexual connotations, her, prudish, character insisted on only being touched by her husband! Dr. McCoy wasn't putt'in up with that crap.
Newmar was reportedly an eleventh generation American and a Mayflower descendant and her mother, Helen Jesmer, was a Ziegfeld Follies gal. Eddie Cantor stated that Mother Helen had the most beautiful legs in the Follies. Can't beat good genes. She cutely played a horned devil in the 4th Season episode of The Twilight Zone - see an image of her HERE. With an entrepreneurial spirit, Newmar received two US patents in the 70s. One for pantyhose, with "cheeky derriere relief", and another for a "nearly invisible" brassiere. The former promoted under the name "Nudemar".
---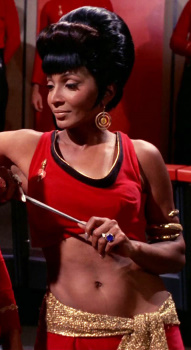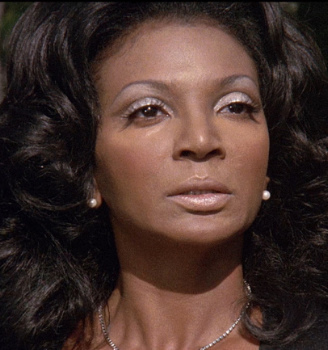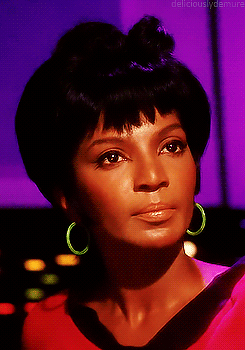 Nichelle Nichols was on stage with Duke Ellington and Lionel Hampton, touring the United States, Canada and Europe, as a Jazz singer before even starting her acting career. But with 69 episodes as communications officer Lieutenant Uhura on TOS she is imbedded in the hearts and minds of Trekkies around the world. Through her singing, modeling and obvious beauty Hugh Hefner booked her for his Chicago Playboy Club. Outside of Star Trek, I only recall seeing her in one film role; playing a nasty madam in Truck Turner (1974) starring Isaac Hayes. It was her only appearance in a blaxploitation film and it didn't suit her charming personality. Nichols was ground breaking in a few areas being the first African American female character on US television not portrayed as a maid or waitress. When she considered leaving TOS, to pursue a Broadway career, she was requested to take a meeting. Nichols states "I thought it was a Trekkie, and so I said, 'Sure.' I looked across the room, and there was Dr. Martin Luther King walking towards me with this big grin on his face. He reached out to me and said, 'Yes, Ms. Nichols, I am your greatest fan." He convinced her to stay on the show stating that she "could not give up" because she was playing a vital role model for black children and young women across the country. Gene Roddenberry cried when she related that story to him. Nichols had sadness in her life as her brother, Thomas, became a member of the infamous 'Heaven's Gate' cult. In their mass suicide, that intentionally coincided with the passing of the Hale-Bopp comet, he died with the cult on March 26th, 1997. She relates many of her fascinating life experiences in her book, Beyond Uhura, Star Trek and Other Memories. A must-read for TOS fans.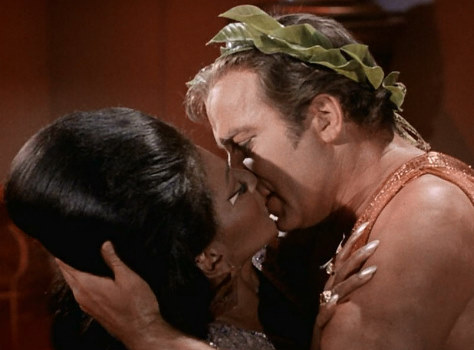 Kirk and Uhura, forced by alien telekinesis, to engage in Television's first interracial kiss in the Season 3, 67th Episode entitled "Plato's Stepchildren"
---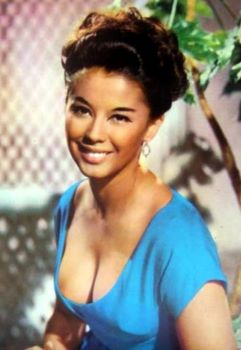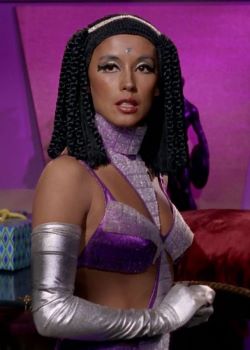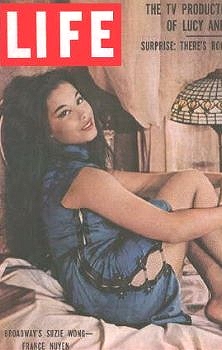 I suppose most women would be spoiled and arrogant if their tears were an irreversible, biochemical, love potion. Kirk's solution? He threatens a spanking. "Elaan of Troyius" was such a gal in the Season 3, TOS episode 13 of the same name. She was played by exotic and beautiful France Nuyen, born in Marseille. She left school at the age of 11, to study art and become a model. In 1955, while working as a seamstress, Nguyen was discovered on the beach by Life Magazine photographer Philippe Halsman. She was then featured on the cover of the October 6th, 1958, issue (see above or in full HERE). She is also known for her roles in The Joy Luck Club (1993), South Pacific (1958) and Battle for the Planet of the Apes (1973.) Marlon Brando, who embraced a proclivity for Asian women, had a brief affair with Nuyen in the early 60s. She was previously married to Robert Culp and is recognized as the second major Asian actress to become a star in Hollywood after Anna May Wong. A highly remarkable life.
---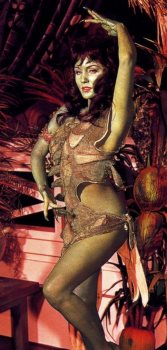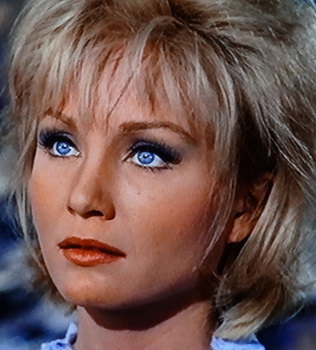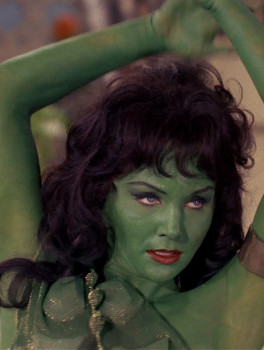 Recognized for her high cheekbones, deep blue eyes, scarlet red lips and a round, innocent, face, Susan Oliver (born Charlotte Gercke on February 13, 1932) found herself working as an actress in shows such as The Twilight Zone, Route 66, Dr. Kildare, The Invaders, Naked City, The Fugitive, Gomer Pyle, U.S.M.C., I Spy, The Virginian and was also a regular for one season (1975-76) on, the soap opera, Days of Our Lives. During her career Oliver appeared in more than 100 TV programs. However, she was branded for life in TOS pilot: "The Cage", with its famous fantasy sequence, in which her character of Vina, as a potential 'Eve' to Captain Pike's 'Adam', appeared as a dancing, green, bedroom-eyed, Orion slave girl looking as seductive as any alien could from the 60's and beyond. In fact, a 2014 documentary about Susan Oliver's life was, appropriately, titled The Green Girl. Footage from the TOS pilot was later woven into the two-part episode, "The Menagerie" to continue the adolescent fantasies that her seductive character established.
She has a particularly harrowing experience as a passenger aboard a commercial flight, on February 3rd, 1959, from Paris to New York City, when the plane dramatically lost altitude. It was the exact same day that Buddy Holly, the Big Bopper, and Ritchie Valens had perished after their plane failed take-off from Clear Lake, Iowa. Oliver avoided flying for the next year, even turning down most job offers if they involved her immediately travelling by plane. She went so far as to undergo hypnosis to overcome her crippling fear. Eventually though, she obtained her pilot's license and became quite a renowned aviatrix. In 1967, piloting her own Aero Commander 200, she became the fourth woman to fly a single-engine aircraft solo across the Atlantic and, only, the second to do it from New York City. In 1970, she co-piloted a Piper Comanche to victory in the 2760-mile transcontinental race known as the "Powder Puff Derby", and it resulted in her being named 'Pilot of the Year'. She chronicled these event in her book Odyssey: A Daring Transatlantic Journey. Unfortunately, her acting (and directing) career never blossomed to the next level, despite a large body of work, and she died from lung cancer on May 10th, 1990 at the age of, only, 58.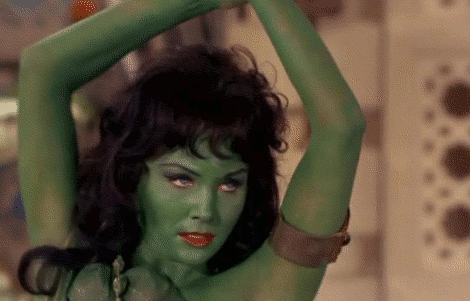 ---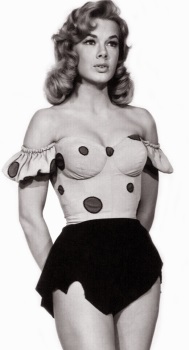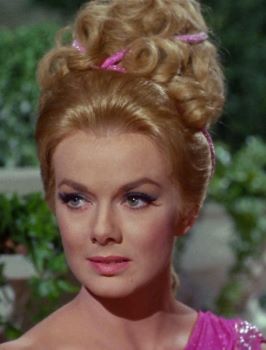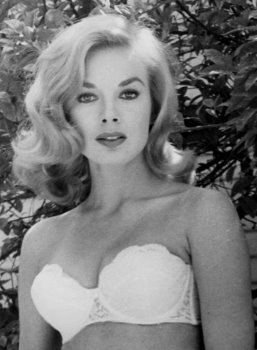 Often considered by fans as THE most beautiful of the TOS women, Leslie Parrish played Lieutenant Carolyn Palamas, archaeology and anthropology expert, in the Season 2 episode "Who Mourns for Adonais?" (everyone thinks it's 'Adonis' - it's not). In the show, a powerful alien who says he is Apollo starts making advances toward the, stunning, Lieutenant Palamas, but Scotty steps in to protect her and the Greek God opens a 'can of whoopass' in the form of a lightening bolt blast knocking the Chief Engineer on his keister. Parrish had starred as Daisy Mae in the 1959 movie version of Li'l Abner, with Julie Newmar, and, among other roles, was also in John Frankenheimer's 1962 The Manchurian Candidate playing Raymond Shaw's (Laurence Harvey) wife, Jocelyn. In 1975, she appeared in the clunker The Giant Spider Invasion. Co-incidentally William Shatner (Kirk) starred in a similar schlocky effort with dangerous arachnoids; Kingdom of the Spiders - two years later. Please no emails citing second or third 'killer spider-links' for cast members post-TOS. I don't doubt they exist. Thanks.
---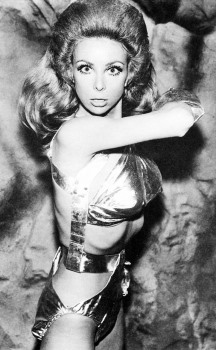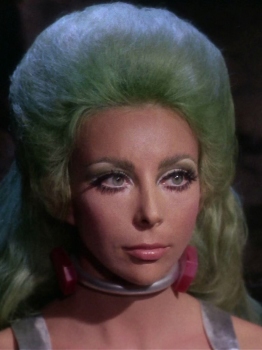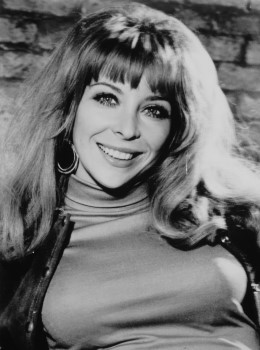 One of the more parodied TOS shows ever was the Season 2 episode The Gamesters of Triskelion (1968) starring Angelique Pettyjohn as the 'Drill Thrall' Shahna competing in gladiatorial contests ("I'll wager 400 quatloos on the newcomer!") with that memorable theme music and wearing the worst costume ever. It was kind of an expanded, Lady Gaga-esque, tinfoil, full-body, diaper. The role would reverberate lucratively through her later career, though. Her big break came in the Elvis Presley film, Clambake in 1967. She also appeared as one the go-go dancers in the opening scene of The Odd Couple (1968). While she tested for the role of Nova in the original Planet of the Apes film (1968) - she did not get the part. Her slender frame and large bosom helped her obtain surface roles - as a saloon girl in the western Heaven with a Gun starring both Glenn Ford and TOS gal Barbara Babcock, as one of the hot models in The Love God with Don Knotts, Repo Man (1984), and a few TV series including The Green Hornet, Batman, Love American Style, The Girl From U.N.C.L.E., and humorously, in two Get Smart episodes as male CONTROL agent Charlie Watkins who was a "master of disguise". Maintaining her undeniably feminine body, she briefly indulged in exotic dancing in Vegas clubs in the 80s, making a few hardcore adult films under the pseudonyms 'Angelique', 'Heaven St. John' or 'Angel St. John' distinctively exposing the tattoo of a small heart on her left buttock. She was photographed for the February 1979 Playboy pictorial entitled "The Girls of Las Vegas" and remained extremely popular at the Trekkie conventions selling posters wearing either her complete Triskelion costume or... totally naked. You can guess which sold out first. Angelique proudly overcame alcoholism and drug abuse that contributed to her misplaced pornographic vocations. She lived, peacefully, in a cabin in the backwoods of Virginia, passing away on Valentines Day 1992, of cervical cancer. She was only 48.
---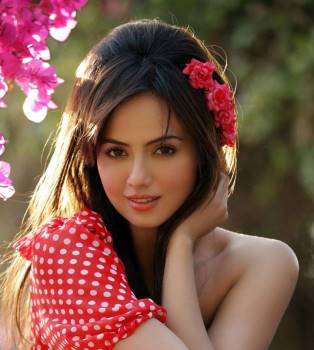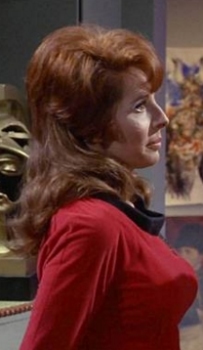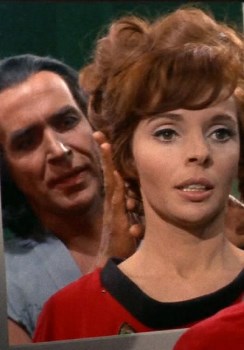 Madlyn Rhue played Lieutenant Marla McIvers in the, highly rated, Season 1, episode 24, "Space Seed" and she fell, pretty hard, for Khan Noonien Singh played by Ricardo Montalbán - who reprised the role in the 1982 film Star Trek II: The Wrath of Khan. Lt. McGivers was fascinated by Khan, a living relic from the 20th century where her academic interests were centered. The plot was again utilized, as the franchise's most creative story arc, in the 2013 film Star Trek Into Darkness. After Khan was defeated in TOS, instead of a court-martial for McGivers, Kirk allows her to go into exile with Khan. Rhue did the usual run of TV shows, was close friends with Suzanne Pleshette (who would have made a great TOS babe!) and I recall her from both Escape From Zahrain and It's a Mad Mad Mad Mad World
(see below.)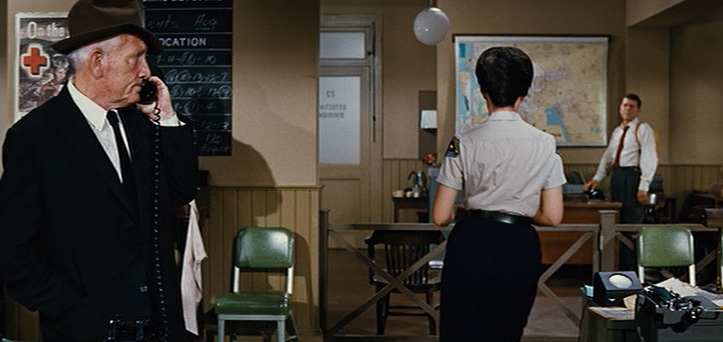 Madlyn played the role of wiggle-walking secretary Schwartz in It's a Mad Mad Mad Mad World. Spencer Tracy says "How 'bout some coffee Schwartz..?" as all the males in the room pay attention.
---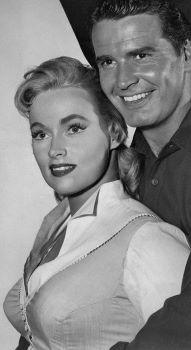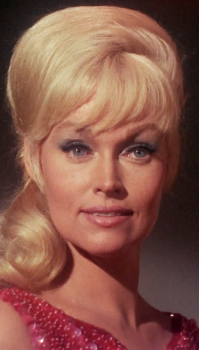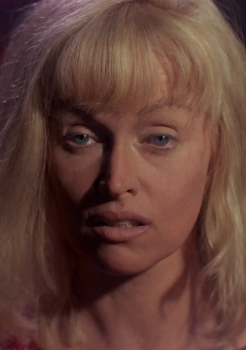 Is it just me, or does the lead gal in Mudd's Women, Season 1 - episode 6, Eve McHuron, played by Karen Steele, look much better with less make-up, tired, hair down and a bit bedraggled - than when she's all dolled-up in a glittering pink gown, viewed through a soft-focus lens? To each his own, I suppose. Steele was born in in Honolulu, Hawaii and worked as a model with more than 60 roles in film and television. Notables include starring as Virginia in the award winning Marty, and appearing in four Budd Boetticher films (whom she was romantically linked); as Mrs. Lane in Ride Lonesome (1959), in Decision at Sundown (1957) as Lucy Summerton, Westbound (1959) as Jeannie Miller, and The Rise and Fall of Legs Diamond playing Alice Scott. Karen was also in the auspicious sci-fi dud Cyborg 2087 with Michael Rennie. She ran the gamut of the usual TV shows with guest appearances in Naked City, Perry Mason, 77 Sunset Strip, Dragnet, Maverick and many others. Later in her career she did television commercials to earn a living, but in 1970, she accepted to go on what was known as 'a handshake tour' of service hospitals in the South Pacific. Since she took that rather than accept work in her field that might have paid her $78,000, her agent quit. She was married to, a psychiatrist, Dr. Maurice Boyd Ruland, until her death from cancer at only 56.
---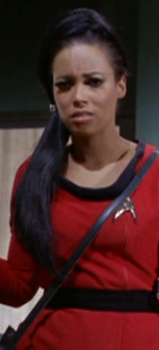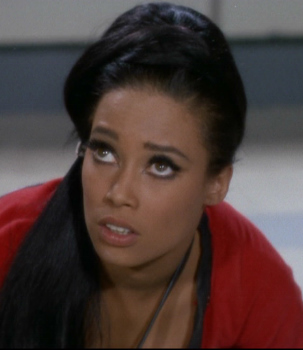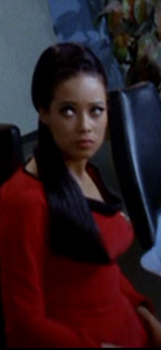 Maurishka Taliaferro is credited in "Operation - Annihilate!" (Season 1, episode 29) by the single name 'Maurishka' playing Yeoman Zahra. She was apparently a model who had a very unremarkable career as an actress. She did have a bit part as an, uncredited, sharecropper in Francis Ford Coppola's Finian's Rainbow. She's definitely exotic with beautiful long hair and light eyes but didn't seem to fit the stereotypical TOS gal appearance (i.e. not being extremely skinny) and had limited screen time while looking her best, on the floor, ducking and dodging the flying fried-eggs of Deneva. Spock wasn't so lucky getting an 'over-easy' stuck to his back.
---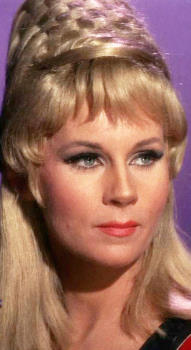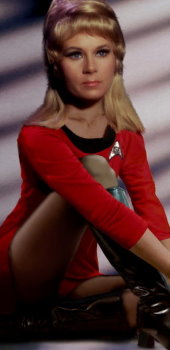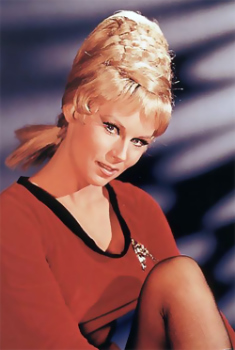 Although appearing in only eight TOS, Season 1, episodes (of the first 13), blonde, beehive-haired, Yeoman Janice Rand is a fan favorite having returned in four of the Star Trek films in the 80s. She was played by Grace Lee Whitney, and first appeared in the episode "The Man Trap", escalating to significant roles in "The Enemy Within", where she fends off the sexual advances of an evil version of Captain Kirk, and, in "Charlie X", as her character deals with the infatuation of a powerful, but immature, alien. Whitney had uncredited bit-parts in many lauded films including André De Toth's House of Wax (1953), Raoul Walsh's The Naked and the Dead (1958), Billy Wilder's Some Like It Hot (1959) as a member of the all-female band, and Frank Capra's Pocketful of Miracles (1961.) She received a featured role in Irma la Douce (1963) also having exposure in a number of TV series with multiple appearances in 77 Sunset Strip, Michael Shayne, and Death Valley Days. In her 1998 autobiography, The Longest Trek: My Tour of the Galaxy, she details her becoming the first 'Chicken of the Sea' mermaid advertisement model. She stated "I was on diet pills trying to stay thin — and I was very thin. They wanted you to fit into the uniforms and I couldn't quite so I went on amphetamines." She recounts a sexual assault on the Star Trek studio lot by "The Executive" as she refers to him. She believes this was the reason she was let go from the show. It devastated her, exacerbating her existing alcohol and substance abuses. Whitney identifies her excessive smoking and sexual relations, in her youth, as early signs of her addictive personality. She credits Leonard Nimoy, who wrote the forward in her book, with helping her through much of this period. When DeForest Kelley (Dr. McCoy) saw her in an unemployment lineup in the mid-70s - he told her that fans at the conventions were always asking about her and he facilitated her return. She reprised her role of Janice Rand, but promoted to Chief Petty Officer, in Star Trek: The Motion Picture (1979) followed by six other entries in the franchise.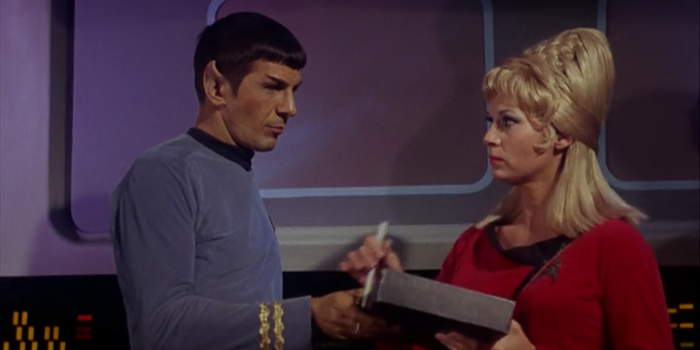 Sexual tension frequently followed Yeoman Rand around the USS Enterprise...
---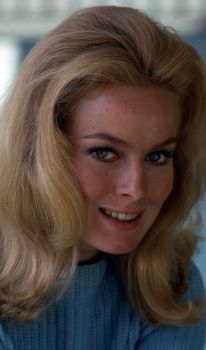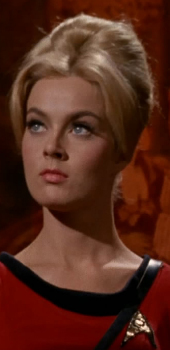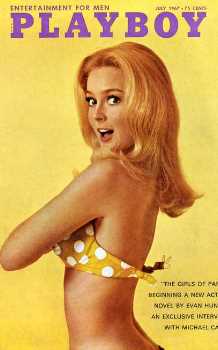 Venita Wolf (September 1, 1945 - November 22, 2014) appeared in the TOS episode "The Squire of Gothos" (1967) as Yeoman Teresa Ross. Other than that, she had only a short career in television from the mid-to-late 60s. These included guest roles in The Flying Nun, The Monkees, Gunsmoke and The Beverly Hillbillies, among others. She appeared uncredited in The Oscar (1966) but her only feature film billing was a supporting role in the, questionable, beach movie Catalina Caper (1967), which also featured Peter Duryea (Noir icon, Dan Duryea's son) and Lyle Waggoner. It is considered a horrible film, eventually lampooned by Mystery Science Theater 3000. A high-demand model and winner of multiple beauty contests, Wolf was chosen queen of the May 1962 Orange Festival, California. Later in the year, she was named Miss Orange County. In 1967, she appeared on the cover of the July issue of Playboy magazine.
---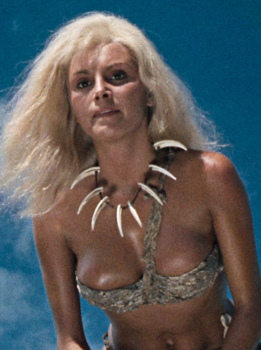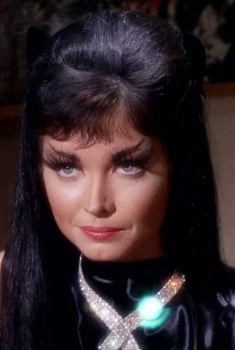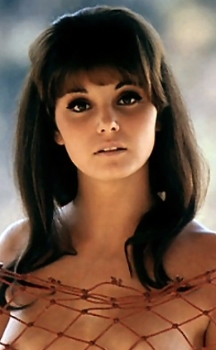 The heights and the depths. Quite probably, the sexiest, most tragic, and interesting story of this list, Victoria Vetri had a brief, uncredited, non-speaking, part as the human form of Isis, the black cat, (NOTE this is now proven to be uncredited actress April Tatro) in the Season 2, 26th TOS episode Assignment: Earth (1968). Things seemed to be going swimmingly for Victoria - often credited as Angela Dorian. Yes, she took her stage name from the ill-fated cruise liner The Andrea Doria (Danger Will Robinson, Danger!) She was both Playboy Playmate of the Month for September 1967, and Playboy Playmate of the Year in 1968. Vetri was in strong contention for the titular nubile in Stanley Kubrick's Lolita (1962). As an accomplished singer and dancer, she rejected the role of the voice dub for Natalie Wood in West Side Story (1961), and she was in Roman Polanski's horror classic Rosemary's Baby in 1968. In one scene of the film, Rosemary (Mia Farrow) ironically remarks of her neighbor, Terry Gionoffrio, that she resembles the actress Victoria Vetri. She sure did.
Not always making the best choice of acting jobs, Vetri, frequently seemed to find roles of scantily clad, beautiful, women - shamelessly, unafraid to show her gorgeous figure while definitely adhering to the adage "If you've got it, flaunt it." She was in When Dinosaurs Ruled (1970) as a barely clothed naked primitive. Her second last film, Invasion of the Bee Girls (1973) was about a force that was turning females into queen bees who kill men with sexual exhaustion. Kinda the other end of the spectrum to West Side Story... No? So what's Vicky Vetri up to lately?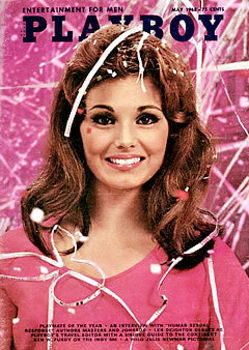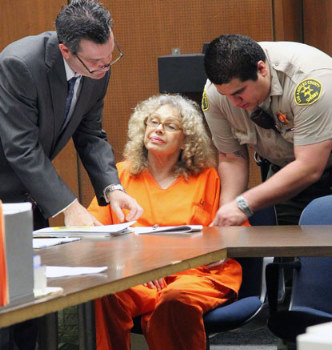 Vetri was charged with attempted murder, after she allegedly shot her husband of 25 years, Bruce Rathgeb, at close range in their Hollywood apartment on October 16th, 2010. They had an argument - sounds like he lost. She could not afford bail set by the judge at $1.53 million USD. Hefner refused to help. Over a year in jail, on September 7th, 2011, after pleading no contest to charges of attempted voluntary manslaughter, she was sentenced to nine years in prison. She now resides in the Central California Women's Facility (CCWF) in Chowchilla, California. She will not get out of prison until after her 70th birthday. There is an interesting article about her incarceration HERE, entitled From Playmate to Inmate.
---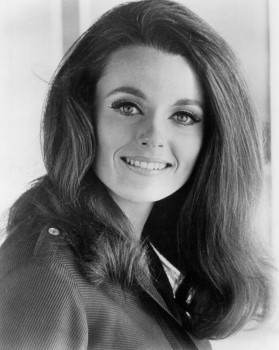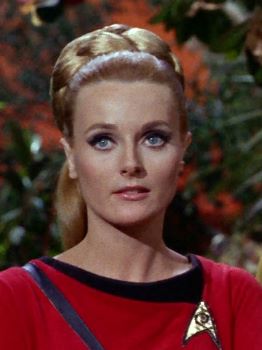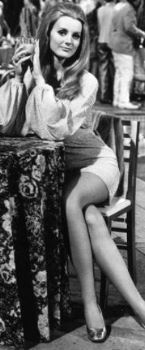 The epitome of health, and with an actual PhD in Nutrition, actress, author, producer and speaker Celeste Yarnall played Yeoman Martha Landon in the TOS, Season 2, episode 38 entitled "The Apple". In 1964, at the age of 19, Miss Yarnall was voted "Miss Rheingold," the winner of an annual beauty contest voted on by buyers of New York-based Rheingold beer. She happened to be the very last elected winner of a contest that had been held since 1942, giving her the opportunity to represent Rheingold at its pavilion at the 1964 World's Fair in NYC. She was in Michael Winner's spy adventure Scorpio (1973) starring Burt Lancaster and the same director helming the Charles Bronson, action thriller, The Mechanic (yes, with Jill Ireland) the year before.
---