Review by Gary Tooze
Production:
Theatrical: West Films
Video:
88 Films
Disc:
Region: 'B' (as verified by the Oppo Blu-ray player)
Runtime: 1:40:38.032
Disc Size: 43,413,924,018 bytes
Feature Size: 31,390,218,240 bytes
Video Bitrate: 35.00 Mbps
Chapters: 12
Case: Transparent Blu-ray case
Release date: February 27th, 2017
Video:
Aspect ratio: 2.35:1
Resolution: 1080p / 23.976 fps
Video codec: MPEG-4 AVC Video
Audio:
LPCM Audio English 2304 kbps 2.0 / 48 kHz / 2304 kbps / 24-bit
LPCM Audio Italian 2304 kbps 2.0 / 48 kHz / 2304 kbps / 24-bit
Subtitles:
English (SDH), English, none
Extras:
•
An Icon Amuck - Barbara Bouchet (20:47)

•
Barbara Bouchet Q&A - From the Festival of Fantastic Films, Manchester (23:08)
• Death in Venice - An Interview with Rosalba Neri (15:54 - English subtitled)
• 4-page liner notes essay by Dr. Calum Waddell
Reversible Sleeve
Bitrate:
Description: Her role as Miss Moneypenny in the lamentable James Bond spoof CASINO ROYALE may have set hearts a flutter, but it was for her part in classic Italian shockers like BLACK BELLY OF THE TARANTULA and DON'T TORTURE A DUCKLING that cemented Barbara Bouchet's status as one of the most libidinous icons of Euro-cult cinema. Happily, Silvio Amadio s saucy thriller AMUCK! fits snugly into this Giallo-centric category too, and here Bouchet stars as Greta; a nubile young secretary under the recent employment of the cravat-wearing Richard (Farley Granger ROPE). Partial to the occasional bout of swinging along with his wanton wife Eleanora (Rosalba Neri SLAUGHTER HOTEL), Richard also seems to harbour a dark secret: the mysterious whereabouts of his missing former assistant, Sally, whom Greta knows very intimately indeed... With its blend of leeringly-lensed slow motion sex scenes and slick spectacle, AMUCK! is an erotically charged masterclass in murder and deception, brought lovingly to life in high definition thanks to those lovable deviants at 88 Films!
The Film:
Winsome young Greta (Bouchet) takes a job as a secretary to novelist Richard Stuart (Granger), who lives on a secluded island off the Italian coast near Venice.
But the job is just a front. Greta's really there to investigate the disappearance of her friend Sally, another blond beauty who worked for Stuart previously, and has now gone missing.

However, uncovering the truth will be more difficult than Greta could have imagined. First, she'll have to get by Richard's wife Eleanora (Neri), a wily thing who seems intent on engaging everyone in bizarre sex games.
Excerpt from TheTerrorTrap located HERE
The lovely Barbara Bouchet plays Greta, a secretary hired by the wealthy author Richard Stuart (Farley Granger). He lives with his wife Eleanora (Rosalba Neri) on an island with just a few locals living on the other side. A perfect place for an author who needs peace and quiet to write his masterpieces. But Greta is not only there because she needs a job, her best friend Sally (Patrizia Viotti) worked for Richard earlier, but has now disappeared without a trace and Greta wants to find out what's happen to her. She slowly realizes that Richard and Eleanora lives a special life, a very "open-minded" sexual life, and when she sees Sally in an home made porno she understands that something has happen on the island, but who is behind the crime?

Amuck is a perfect example of a simple yet very effective storyline. With the concept director and writer Silvio Amadio gets the opportunity to show us an effective chamber play with everything from mysterious flashbacks, home made sex movies, the always reliable idea of what's fact and what's fiction, murder and paranoia. It's not a bloody movie by any means and the body count is very low, but the impact of the story is so good that it's impossible to stop watching it. Intelligent use of red herrings makes the movie good and not absurd and in the end it unfolds in a very satisfying way.
Excerpt from NinjaDixon located HERE

Image : NOTE: The below Blu-ray captures were taken directly from the Blu-ray disc.
Amuck gets an impressive transfer to Blu-ray from 88 Films, cited as "Restored in 2K From the Original 35mm Negative". It is dual-layered territory with a max'ed out bitrate for the 1 hour 40-minute feature. It offers both the English and Italian versions - seamless (exact same transfer.) The 1080P supports excellent contrast with deep, rich colors and minor depth in the 2.35:1 frame. It's quite clean with only a few speckles and the grain textures are fine and consistent. This Blu-ray exports an exceptional HD presentation.
CLICK EACH BLU-RAY CAPTURE TO SEE ALL IMAGES IN FULL 1920X1080 RESOLUTION
Slight variation on Italian language - subtitle translation
Audio :
Both English and Italian tracks on the
Blu-ray
of
Amuck
offer uncompressed liner PCM transfers. The DUB'ing mismatches are at the usual level of Italian cinema. The effects seem modest for such a film but there is some piercing screams and an exaggerative-ly serene score by Teo Usuelli occasionally erupting into high drama hen called upon. The high-end is quite tight - which we would assume is 'original'. There are optional English subtitles, for both language tracks (SDH on the English language), with slight translations differences (see sample) and my
Oppo
has identified it as being a region 'B'-locked.
Extras :
There are some excellent supplements - 88 Films add An Icon Amuck which is a 21-minute interview with Barbara Bouchet looking as lovely as ever and being very frank about her career and Amuck. There is also a 23-minute Barbara Bouchet Q&A from the Festival of Fantastic Films in Manchester where she fields questions. Death in Venice is a 1/4 hour, subtitled, interview with Rosalba Neri discussing working in Silvio Amadio's film. The package has a 4-page liner notes essay by Dr. Calum Waddell and offers a reversible sleeve.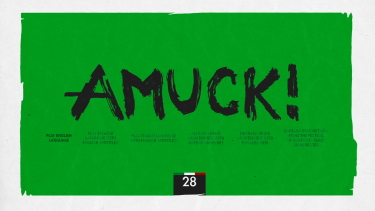 BOTTOM LINE:
Amuck is superior Giallo. It has the strong appeal of stunning Barbara Bouchet and a curiously surprising Farley Granger portrayal. It was the second of three Giallos Granger consecutively appeared in - bookended by Something Creeping in the Dark and The Red Headed Corpse. It's a darn effective mystery-murder with some sexploitation thrown in. The 88 Films Blu-ray provides an excellent, and accurate, a/v presentation with appreciated and worthwhile supplements. This is easy to put in the 'must-own' category for Giallo lovers everywhere. Very strongly recommended!
Gary Tooze
March 28th, 2017