(Robert Aldrich, 1967)
Warner Home Video
Review by Gary W. Tooze
Video:
Video codec: VC-1
Video resolution: 1080p
Aspect ratio: 1.78:1
REGION-FREE
Feature: 2:29:37

Audio:
English: Dolby Digital 5.1, DUBs: French: Dolby Digital 5.1, Spanish: Dolby Digital Mono

Subtitles
English SDH, English, French, Spanish , none

Disc
50GB Blu-ray Disc
Supplements:
1985 TV sequel, The Dirty Dozen: The Next Mission (4:3 1:35:32)
Ernest Borgnine Introduction
Commentary track featuring E.M. Nathanson, David J. Schow, and Capt. Dale Dye, Jim Brown, Trini Lopez, Kenneth Hyman, Stuart Cooper, and Colin Maitland.
Featurette: Armed and Deadly: The Making of The Dirty Dozen (30:56)
Featurette: Operation Dirty Dozen (9:13)
Featurette: The Filthy Thirteen: Real Stories From Behind the Lines
Featurette: Marine Corps. Combat Leadership Skills (29:41)
Trailer (3:30)

Disc: 50GB (dual-layered) Blu-ray Disc
Released: April 17th, 2007
Standard Blu-ray case
32 chapters
Product Description:
They are convicts, psychos, lunkheads, losers - and champs at the box office and in movie lore. Decades after it burst onto the scene, "The Dirty Dozen" remains a milestone among ensemble action flicks. Lee Marvin portrays a tough-as-nails major volunteered in the Army way to command a squad of misfits on a suicide mission against Nazi brass. Charles Bronson, Jim Brown, John Cassavetes, Trini Lopez, Telly Savalas, Donald Sutherland and Clint Walker are among the 12 jailbirds who will earn their freedom if they survive. And Robert Aldrich directs, blending anti-authority gibes with explosive excitement....
****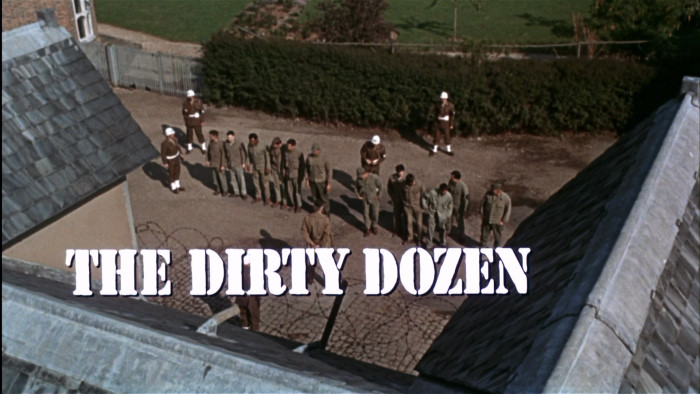 The Film:
The Dirty Dozen
(1967) has been continually popular since it first exploded in 1967 as one of that year's biggest hits. Four Oscar nominations (with one win for Best Sound Effects by John Poyner) certainly didn't hurt and it's so critically respected that the film has even been shown at the Museum of Modern Art. In fact it's captured imaginations across the world: there's even a Hong Kong remake starring Haing S. Ngor (
The Killing Fields
, 1984) and Samo Hung! One reason for the success is that despite its superficial appearance as yet another film about soldiers sent on a desperate mission behind enemy lines,
The Dirty Dozen
strikes the perfect balance between taut action and artistic integrity. Director Robert Aldrich said of this film, "
The nature of war is dehumanizing. There's no such thing as a nice war.
"
The premise is pretty simple: During World War II, the Allies need to destroy a chateau hosting a Nazi conference. The catch is that it's so far behind enemy lines and so well guarded that few soldiers making the attempt can be expected to survive. The solution is to recruit twelve prisoners and misfits with an unspecific promise of pardons if they survive. Since the twelve are a nasty assortment of murderers, psychopaths and other cultural offenders the mission isn't likely to be an easy or pleasant one.
[...]

The cast apparently enjoyed England, spending a lot of time in what was then swinging London though Lee Marvin would occasionally disappear on one of his motorcycle outings. Clint Walker (who plays Posey) had an unusual experience. He was a well-known TV star for Cheyenne with some film roles under his belt. Walker visited Buckingham Palace and marveled at the famously immobile guards but as he started to walk away, one asked for an autograph out of the side of his mouth! Walker's role was originally meant to be an Indian and include a rain dance. However, some characters were scaled back and others built up such as the part of Robert T. Jefferson. When Cleveland Browns' fullback Jim Brown signed on as Jefferson, director Aldrich beefed up his part because he was such a big football fan. In fact, it was while making The Dirty Dozen that Brown announced his retirement from football. One of the biggest beneficiaries from the film was John Cassavetes who nabbed a Best Supporting Actor nomination. The fame helped him bankroll films as a director just as he was embarking on perhaps his most productive period. In 1998, Joe Dante made his sharp attack on militarism Small Soldiers and for voices of his model-animated characters reunited The Dirty Dozen actors Ernest Borgnine, Jim Brown, George Kennedy and Clint Walker.
Excerpt from Turner Classic Movies located HERE.
Video: NOTE: The below Blu-ray captures were taken directly from the Blu-ray disc.
The presentation suffers not from a poor transfer, but from the inconsistencies that arise from the elements used (which we can presume are the best available). So although it looks better than it ever has - some scenes are decidedly weaker than others with some light scratches/speckles and haziness - most probably inherent in the print itself. Without my undue complaining it really does look pretty strong with the infrequent weaknesses bringing you back to earth and reminding you that the film is 40 years old. Warner's VC-1 encode makes the most of the image just don't expect perfection. Detail can have some exquisite moments and colors may be a shade washed. It is - what it is... and for me that is good enough. Black levels show fair contrast and grain, or fine noise is thankfully visible at times. I appreciated the consistency in outdoor scenes. Overall, it is a very satisfying image presentation that excels over the past SDs have owned. The feature film on the Blu-ray takes up 22.6 Gig of the dual-layered disc.
Screen Captures
CLICK EACH BLU-RAY CAPTURE TO SEE ALL IMAGES IN FULL 1920X1080 RESOLUTION
Audio: An unremarkable 5.1 bump is the only original language track included. It gives very little support to the rear channels (especially notable by their absences in the final scenes explosions). The soundtrack with selections like Les Brown's "Don't Sit Under The Apple Tree With Anyone Else But Me" and Frank De Vol's main theme are fairly flat but export consistency - as does the dialogue and that's about all we can hope for, I suppose. There are also optional English, French, or Spanish subtitles available.
Extras: Some might get excited by the inclusion of the1985 TV sequel, The Dirty Dozen: The Next Mission (4:3 1:35:32) but truly it is quite poor in comparison to the original. We are given a decent, group infused commentary track featuring the likes of E.M. Nathanson, David J. Schow, and Capt. Dale Dye, Jim Brown, Kenneth Hyman, Trini Lopez, and Colin Maitland. It was a bit helter-skelter but had some fine moments of camaraderie. Tack onto this 4 reasonable featurettes: Armed and Deadly: The Making of The Dirty Dozen (30:56) - fairly good with input from the now aged stars, Operation Dirty Dozen (9:13), The Filthy Thirteen: Real Stories From Behind the Lines and Marine Corps. Combat Leadership Skills running about 30 minutes. There is also a trailer - but nothing in HD. Quite stacked overall with almost 2 hours of viable supplements.
Extras
BOTTOM LINE:
I'm kind of one the fence about this Blu-ray - when maybe I shouldn't be. Perhaps it stems from my ambivalence about the film - which is really a solid and hard-edged war expose. I can't see how Warner could do much more for this package. The image is probably as good as could be provided without an extensive restoration and the extras are rife and relate well to the film itself. If you are fan of The Dirty Dozen or haven't seen it before - THIS Blu-ray is definitely the way to go. For those expecting the 1080 to ingratiate you to the film after many years - it may not happen. Of course the performances are another issue - Bronson is at his near best - and Marvin is always strong - I like Ryan and Borgnine even in their limited capacities - Cassavetes, Jim Brown, Salvalas and Sutherland, plus a hunky Clint Walker - from that standpoint you've got one of the ultimate macho films indeed.
Gary Tooze
July 11th, 2008