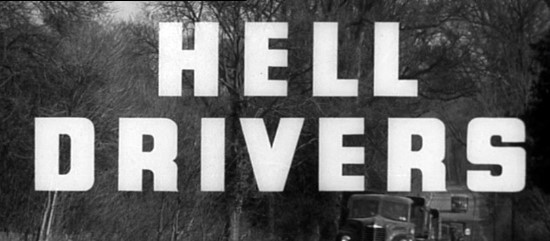 Directed by Cy Endfield
UK 1957
Energetic and violent trucking thriller marked by the raw, angry edge of the best of blacklist victim Endfield's Hollywood work, and by his appreciation (shared, oddly enough, by fellow exile Joseph Losey) of the markedly out-of-the-mainstream talent of Stanley Baker. Playing an ex-con hired as one of a team of drivers forced to drive at dangerous speeds in rattletrap lorries over rugged roads to meet the daily quota of loads to be delivered (a touch of The Wages of Fear here), Baker further becomes involved in a deadly duel with a sadistic rival (McGoohan) on his way to smashing the haulage company's racket. Baker and Endfield eventually formed their own production company for Zulu.
Excerpt from TimeOut Film Guide located HERE
***
When ex-con Tom (Stanley Baker - Zulu, The Guns of Navarone) signs up as a driver for a dodgy road-haulage company, he uncovers shady dealings going on between Red, the viciously ambitious foreman (Patrick McGoohan - The Prisoner, Danger Man) and Cartley, the sly, devious manager (William Hartnell - Doctor Who, The Army Game). The drivers are paid per job, a situation which encourages reckless and dangerous driving, and the stakes are raised when a fatal accident has Tom vowing revenge.

A gritty classic, HELL DRIVERS was directed with verve by Cy Endfield (Zulu) who also co-wrote the BAFTA-nominated screenplay with John Kruse (The Saint). As well as top-flight performances from both Baker and McGoohan, the leads are ably supported by Herbert Lom (The Pink Panther), Peggy Cummins (Night of the Demon), Sid James (Carry On), Gordon Jackson (The Professionals), David McCallum (Sapphire and Steel) and Sean Connery (James Bond).
***
An ex-con clashes with his manager and co-workers while working for a haulage company. Thriller starring Stanley Baker, Patrick McGoohan and a host of familiar faces...

So how's that for a cast? Yep, just about everyone in the British film industry appears in Hell Drivers, a hugely exciting road thriller from Cy Endfield, the blackballed American writer-director who'd go on to create that most British of films, Zulu.

Like that acclaimed war movie, Hell Drivers stars Stanley Baker, a man whose rugged looks and Valleys upbringing led to his being nicknamed "The Welsh Sean Connery". And speaking of Edinburgh's most famous milkman, young Sean is here playing one of a number of truck drivers who turn upon Baker's Tom Yately when a light is shone upon his shadowy past. Foremost amongst Yately's tormentors are haulage manager Cartley (Hartnell, still some six years away from taking up residence in the TARDIS) and barking mad foreman 'Red' Redman (McGoohan, at his eyeball-rolling best).
Excerpt from Channel 4 located HERE
Posters
Theatrical Release: July 23rd, 1957
Reviews More Reviews DVD Reviews
DVD Review: Network (2-disc Special Edition) - Region 2 - PAL
DVD Box Cover

CLICK to order from:

NOTE: the cover currently on Amazon.UK is not correct. The image to the left IS.

Distribution
Network - Region 2 - PAL
Runtime
1:43:28
Video
1.78:1 Aspect Ratio
Average Bitrate: 7.51 mb/s
PAL 720x576 25.00 f/s

NOTE: The Vertical axis represents the bits transferred per second. The Horizontal is the time in minutes.

Bitrate: Disc 1

Bitrate: Disc 2

Audio
English (Dolby Digital mono)
Subtitles
None
Features

Release Information:
Studio: Network

Aspect Ratio:
Original Aspect Ratio 1.78:1

Edition Details:

• Audio commentary with sound assistant Harry Fairbairn and journalist Andrew Robertson

• Location report – Looking in on Hell Drivers (13:48)
• Interview with Stanley Baker – The Stanley Baker Story (15:41)
• Slideshow Stills gallery (38 images)
• Comic Strip gallery (19 panels)
• Theatrical Trailer (1:35)
• Who Killed Lamb? A Thriller starring Stanley Baker (1:05:04)
• Danger Man episode: Loyalty Always Pays (48:58)
• Mute news footage of Stanley Baker unveiling a plaque at his birthplace (:48)
• Bruce Lewis 1960's interview Stanley Baker about the violence in his films (4:44)

• Return to the Rhondda – a 1965 documentary featuring Stanley Baker (36:56)

• 24-page booklet with essay and photos

DVD Release Date: March 19th, 2007
Keep Case
Chapters: 12
Comments:

Firstly, this is a damn fine film - although we have it on our Film Noir page - I, personally, don't know that it enters into that style listing... but I'm sure someone could create an argument to support its inclusion. The comparisons to The Wages of Fear are appropriate - although this might be considered a super Anglo version with just about every important name in the UK actor's guild appearing. Like the Clouzot classic it has its own seething intensity - gripping and harsh with male bonding (and betrayal) at its crux. Wow...

This

DVD edition follows another poorer one from ITV that came out in 2004 and promptly went out-of-print in the UK very quickly. I can see that the film itself is the reason for the popularity. This Network DVD is a Special Edition - 2 disc effort - anamorphic, progressive and dual-layered. The image quality is very strong and although it borders on showing some moiring it never really achieves that negative attribute. I suspect this may be as good as you see this film look outside of a theatre showing. There are speckles but looked quite crisp on my plasma. Audio is unremarkable but close, I'll wager, to the way it was produced. Unlike the weaker single-disc ITV edition there are no subtitles offered.

There was a lot of effort put into the supplements of this DVD package. There is an audio commentary with sound assistant Harry Fairbairn and journalist Andrew Robertson. Robertson has quite the strong Scottish accent but after a few sentences most will get used to it. It is not totally off-the-cuff but miles away from a Criterion commentary - still some interesting details are imparted and there are some gaps where the narrative is left to run. It is not a bad effort at all really. There is a 15 minute Interview with Stanley Baker - actually entitled The Stanley Baker Story. A good overview of the man and some of his work. There is also a featurette on Disc one entitled Looking in on Hell Drivers. It runs almost 15 minutes - is archival - a bit of promo on the film and some talk with real 'Hell drivers". Disc one concludes with a healthy slideshow stills gallery with 38 images, including some posters, another gallery from the comic strip that closely resembles the film - 19 panels worth and there is an un-restored theatrical trailer.

Disc 2 offers some unrelated TV work of some of the stars of the film. An hour long thriller starring Stanley Baker called Who Killed Lamb? - and a Danger Man episode called Loyalty Always Pays with McGoohan. Also less than a minute of silent footage of Stanley Baker unveiling a plaque at his birthplace. There is a 1960's Bruce Lewis interview of Stanley Baker about the violence in his films - it runs less than 5 minutes. Finally on the digital front there is an hour long 1965 documentary featuring Stanley Baker called Return to the Rhondda. Also included in the package is a nicely appointed 24-page booklet with an essay and some photos. Great job Network - probably the most complete DVD package I can recall seeing from them after their Black Narcissus.

I was very impressed by the film - really seems to have carved out a niche following for itself and is a genuine piece of grassroots history now. Strongly recommended!
---

DVD Menus
Disc 2 Menus
---
Screen Captures
---
---
---
---
DVD Box Cover

CLICK to order from:

NOTE: the cover currently on Amazon.UK is not correct. The image to the left IS.

Distribution
Network - Region 2 - PAL