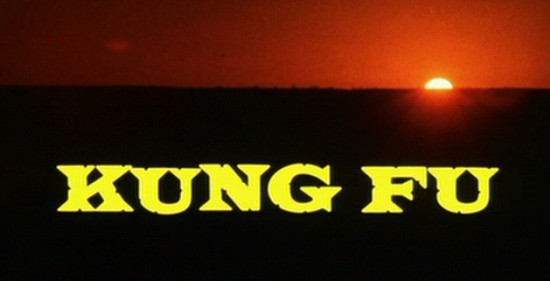 produced by Jerry Thorpe
USA 1972-75
The 70's Television series 'Kung Fu' is not really about martial arts and flying acrobatic violence. It is about philosophy and cultural understanding... learning to appreciate people for who they are.
Kwai Chang Caine's parents (an American father and Chinese mother) are both dead and he is brought up as a Shoalin Monk. After his years of training are complete, he is caught in a situation: defending himself and his master, he kills the Chinese Emperor's nephew, and now is on the run. He flees to the U.S. both to escape retaliation and to search for his family roots. His travels in the turn of the century frontier west allow him to meet and interact with many individuals - some understanding and some bigoted. He imparts his own passive and unselfish manner of life to whoever crosses his path. His training as a Shaolin Monk has made his hands and feet dangerous weapons, but he only resorts to violence if there is no other solution. Constant flashbacks to his childhood and training detail to us the real Caine. This helps us understand and appreciate his gentle demeanor and reveal part of his Asian mystique. As far as I am concerned, one of the better shows to come out of the 70's.

out of

TV Premiere: October 14th, 1972
DVD Review: Warner (3 X DVD18) - Region 1- NTSC
DVD Box Cover

CLICK to order from:

NOTE: Purchases through DVDBeaver's links to Amazon help keep us afloat and advertisement free!

Distribution
Warner - Region 1- NTSC
Runtime
Approx. 17 hours
Video
1.78:1 Original Aspect Ratio
Average Bitrate: 5.9 mb/s
NTSC 720x480 29.97 f/s

NOTE: The Vertical axis represents the bits transferred per second. The Horizontal is the time in minutes

Bitrate:

.

Audio
English (Dolby Digital 2.0 Mono)
Subtitles
English, Spanish, French, None
Features
Release Information:
Studio: Warner Home Video

Aspect Ratio:
Widescreen anamorphic - 1.77:1 (Cropped!)


Edition Details:
• Contains all 15 episodes plus the 90-minute pilot episode all re-mastered in a never-before-seen widescreen format
• "From Grasshopper to Caine: Creating Kung Fu"
• "The Tao of Kwai Chang Caine: Production and Beyond"

DVD Release Date: March 16, 2004
Digipak with slipcase
Chapters: 6 X 15 episodes
Comments:

Okay, before I discuss the cropping of the image, let me just say I have really enjoyed watching these 3 double sided DVDs. They are very well done by Warner. Now the cropping:

The image has been cropped... yes. Originally broadcast at 1.33:1 it is being shown on this DVD at roughly 1.78 (more like about 1.74 of image). Why? I suspect that Warner is trying to get those with widescreen TV's interested. I don't think it is a good idea to adjust the way any film or television image was originally broadcast, BUT let me state something else: The biggest difference for me between seeing these originally at 1.33 is that now I have a DVD player that can zoom in to eliminate overscan. Was "Kung Fu" shot with normal television overscan in mind? As all TV is, It probably was, so they have bonus material outside the frame that you didn't see originally. I never noticed any excessive head chopping (although there is some below) on any of these episodes. I'm still dead set against manipulating any original image, but in this case, I think the adjustment was much smaller than most people may think. It's ridiculously silly for Warner to have made this decision... I don't know who is giving them advice, but after saying all that I still enjoyed watching these episodes.

The image is quite clean and clear, better than most TV I have seen put to DVD. The colors are not saturated. I like that there are subtitles, and there are some great Extra Features. Aside from the cropping ( don't let it wreck the set for you! ) this is a great Boxset at a pretty reasonable price. out of
---

DVD Menus

---
Screen Captures
---
DVD Box Cover

CLICK to order from:

NOTE: Purchases through DVDBeaver's links to Amazon help keep us afloat and advertisement free!

Distribution
Warner - Region 1- NTSC
---




DONATIONS Keep DVDBeaver alive and advertisement free:
Mail cheques, money orders, cash to: or CLICK PayPal logo to donate!
Many Thanks...