Review by Gary Tooze
Production:
Theatrical: Columbia Pictures Corporation
Video: Twilight Time
Disc:
Region: FREE (as verified by the Oppo Blu-ray player)
Runtime: 1:54:15.890
Disc Size: 31,503,664,669 bytes
Feature Size: 30,743,261,184 bytes
Video Bitrate: 29.99 Mbps
Chapters: 24
Case: Transparent Blu-ray case
Release date: August, 2016
Video:
Aspect ratio: 1,85:1
Resolution: 1080p / 23.976 fps
Video codec: MPEG-4 AVC Video
Audio:
DTS-HD Master Audio English 1912 kbps 2.0 / 48 kHz / 1912 kbps / 24-bit (DTS Core: 2.0 / 48 kHz / 1509 kbps / 24-bit)
Isolated Score:
DTS-HD Master Audio English 1869 kbps 2.0 / 48 kHz / 1869 kbps / 24-bit (DTS Core: 2.0 / 48 kHz / 1509 kbps / 24-bit)
Subtitles:
• English (SDH), None
Extras:
• Isolated Music Track
• Original Theatrical Trailer (2:51)
• Liner notes by Julie Kirgo
Limited to 3,000 Copies!
Bitrate:
Description: Joseph L. Mankiewicz directs this 1959 adaptation by Gore Vidal and Tennessee Williams of Williams' provocative play, Suddenly, Last Summer. Elizabeth Taylor stars as a young woman who knows such terrible truths about the death of her cousin Sebastian that his mother (Katharine Hepburn) is determined to have her lobotomized; Montgomery Clift is the psychiatrist brought in to evaluate the lovely, profoundly disturbed patient. Both Taylor and Hepburn received Best Actress Oscar® nominations; the film, denounced as obscene, was a hit at the box office.
***
In this adaptation of Tennessee Williams' play, young socialite Catherine Holly (Elizabeth Taylor) is traumatized and committed after witnessing her cousin's violent death on a trip to Europe. Her aunt, Violet Venable (Katharine Hepburn), wants to hide the events of her son's death and attempts to bribe young surgeon Dr. John Cukrowicz (Montgomery Clift) to perform a lobotomy on Catherine. But John vows to find out the truth about Catherine's state before taking any action.
The Film:
Since the 1930s, the MPAA - the film industry's self-censorship organization - had been strictly enforcing its production code, which stipulated what could and could not be shown on the screen. But by the late '50s, public standards of morality were loosening, and filmmakers were pushing the boundaries of the code by dealing more frankly with once-taboo topics such as sex and drugs. One of the most daring productions was Suddenly, Last Summer (1959), which came at the end of the decade and served as a harbinger of things to come in the films of the '60s.

Based on a one-act play by Tennessee Williams, the film deals with then-shocking themes. Homosexuality, incest, lobotomy, even cannibalism are discussed or implied. The son of Mrs. Violet Venable (Katharine Hepburn) has died while on vacation in Europe with his cousin, Catherine (Elizabeth Taylor). Catherine knows what happened, and the knowledge has traumatized her. But what Mrs. Venable wants Dr. Cukrowicz (Montgomery Clift) to do to Catherine is just as unspeakable. As was the custom at the time, Producer Sam Spiegel submitted Gore Vidal's screenplay to the MPAA's review board before production began. But when the board expressed objections, Spiegel told them that he preferred to let director Joseph Mankiewicz shoot the film as written, and deal with the objections later. Although the board at first refused its seal of approval to the completed film, it was eventually granted after only a few minor changes were made.
Excerpt from TCM located HERE
From a Tennessee Williams play, an outrageous, melodramatic shocker touching on madness, homosexual prostitution, incest, disease and cannibalism, replete with enough imagery to sustain an American Lit seminar for months.
Excerpt from Timeout located HERE

Image : NOTE: The below Blu-ray captures were taken directly from the Blu-ray disc.
Suddenly, Last Summer comes to Twilight Time Blu-ray in a, beautiful, dual-layered, 1080P transfer with their usual high bitrate. The black and white visuals are gorgeous. I saw one minor bit of compression (background), although it could have been a slow dissolve. The detail and contrast-layering in this HD image are remarkable. Jack Hildyard 's probing cinematography is exquisite. The image is clean with plenty of depth and crisp sharpness in close-ups. This Blu-ray gives a superb, film-like, presentation in the 1.85:1 aspect ratio - and in-motion, it looks just as impressive - see the screen captures for verification.
CLICK EACH BLU-RAY CAPTURE TO SEE ALL IMAGES IN FULL 1920X1080 RESOLUTION
Audio :
We get a DTS-HD Master 2.0 channel track at 1912 kbps (24-bit
.) The film has a few effects but nothing aggressive and dialogue is
clean and easily audible. The score was
composed by Malcolm Arnold (
The Forbidden Street
,
The Inn of the Sixth Happiness, The Bridge On the River Kwai
,
Island in the Sun
,
Stolen Face, Hobson's Choice
) and conducted by Buxton Orr (
Fiend Without a Face
). The film has emotional outburst and the orchestral score plays gently running beside the film. It is also available as a isolated track.
There are optional English subtitles (sample above) and m
y
Oppo
has identified it as being a region FREE.

Extras :
Nothing but the aforementioned isolated music track and an original theatrical trailer, but there are liner notes with photos and an essay by Julie Kirgo. This package is limited to 3,000 copies.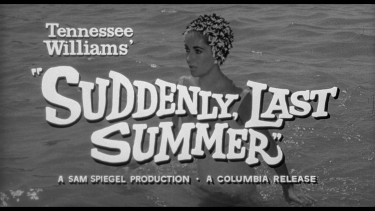 BOTTOM LINE:
Suddenly, Last Summer is a very unusual film - a classic cast - Liz, as stunning as ever, 52-year old Hepburn - capable of looking much older and even Monty with post his 1956 car accident that took away his mojo. The label of a 'Southern Gothic mystery' doesn't seem to do it justice - certainly 'Freudian' may also be inaccurate. I think, solely, based on performances - it merits watching. The, essentially bare-bones, Twilight Time Blu-ray package is very attractive and provides an excellent 1080P a/v transfer for the film although a commentary would certainly have shed some light both on the narrative and disgruntled back-story of the production participants. Williams also told The Village Voice in 1973 that it deviated so far from his original play that it "made him throw up." Certainly, well-worth a spin - and for Liz-fans - many spins. She is hypnotic.
Gary Tooze
August 24th, 2017