Directed by Robert Rossen
USA 1957
Set on a fictitious island in the Carribean during colonial British rule. It focuses on the life of a young charismatic and handsome black male with political aspirations. He finds himself confused on returning home when his romantic liaison with a white female tends to conflict with his political views. As rumor has it an interracial screen kiss caused quite a commotion in the U.S. when the film was released. The plot is further strengthened by a look at the lives of a white ex-pat family also living on the island. The family has to deal with problems of infidelity, racism and murder.
Posters
Theatrical Release: June 12th, 1957
Reviews More Reviews DVD Reviews
DVD Review: 20th Century Fox - Region 1 - NTSC
DVD Box Cover

CLICK to order from:

Distribution
20th Century Fox Home Video - Region 1 - NTSC
Runtime
1:58:48
Video
2.34:1 Original Aspect Ratio
Average Bitrate: 6.4 mb/s
NTSC 720x480 29.97 f/s

NOTE: The Vertical axis represents the bits transferred per second. The Horizontal is the time in minutes.

Bitrate:

Audio
English (Dolby Digital 4.0), DUBs: French (Mono) , Spanish (Mono)
Subtitles
English, Spanish, None
Features

Release Information:
Studio: 20th Century Fox Home Video

Aspect Ratio:
Original aspect Ratio 2.34:1

Edition Details:

• Commentary by John Stanley

Featurette: Dorothy Dandridge: Lost Little Girl (44:00)

Trailer

• Fox Flix

• South Pacific trailer

• Carmen Jones trailer
• 6-page liner notes essay with essay by Sylvia Stoddard

• Envelope with 4 Lobby Card reprints

DVD Release Date: January 10th, 2006
Keep Case inside cardboard slipcase
Chapters: 28
Comments:

Very nice anamorphic and progressive image - tight to the frame - glorious widescreen 'scope' ratio preserved and vibrant colors. Like many Fox's releases I always feel things could be a tad sharper but as they tend to avoid any manipulations this is probably very close to the theatrical appearance. I wouldn't say this is the most worthy film of the trio that are simultaneously 'themed' released DVDs (other 2 being Pinky and Stormy Weather) but it is possibly the best known - if only for the Harry Belafonte/Joan Fontaine canoodling.

I'm quite happy that Fox are bumping up their packaging to include, most recently, commentaries and featurettes and although the reprinted Lobby Cards are a bit useless - its a start towards giving films their proper due, aka Criterion. The cardboard slipcases are quite well-done.
---
---
Subtitle Sample
Screen Captures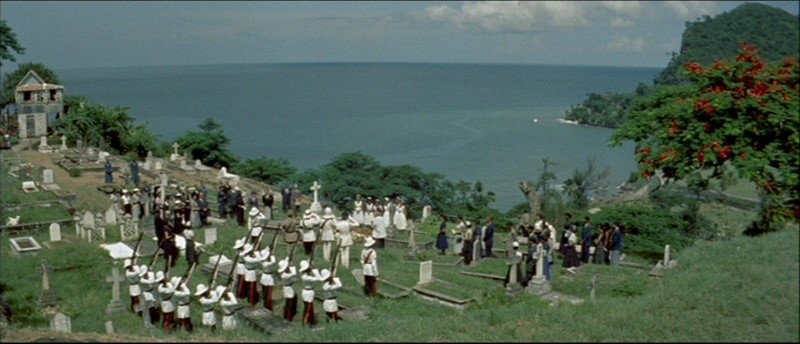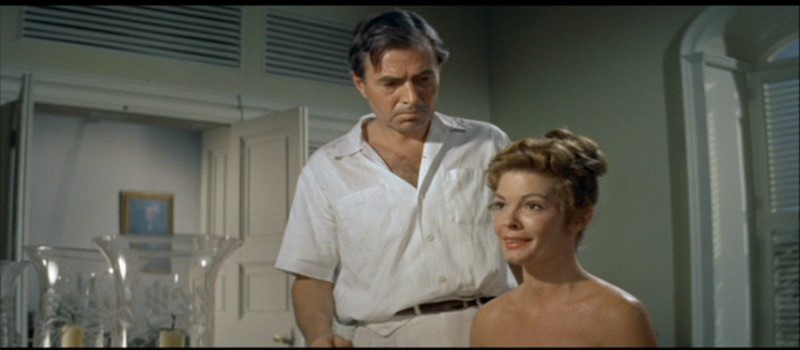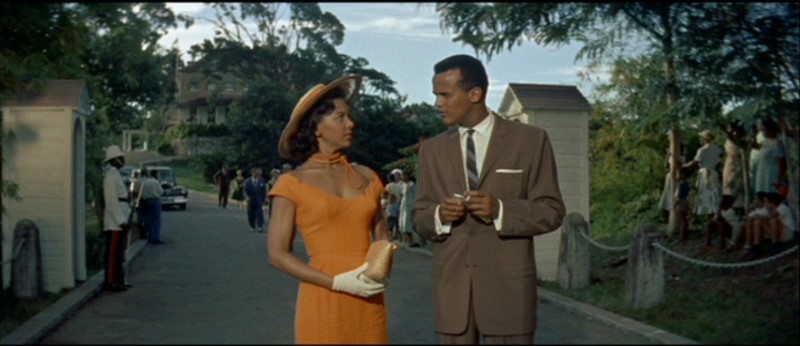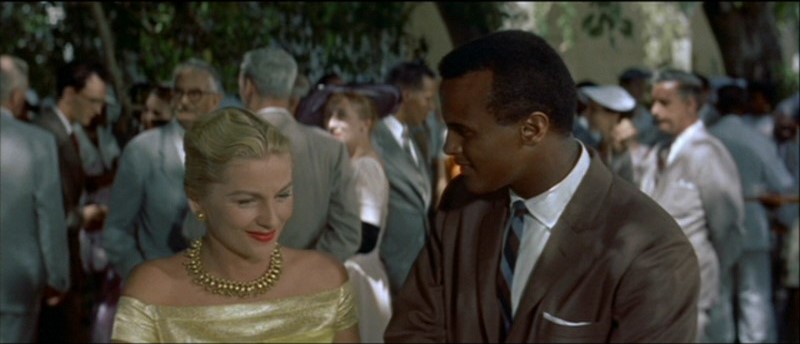 ---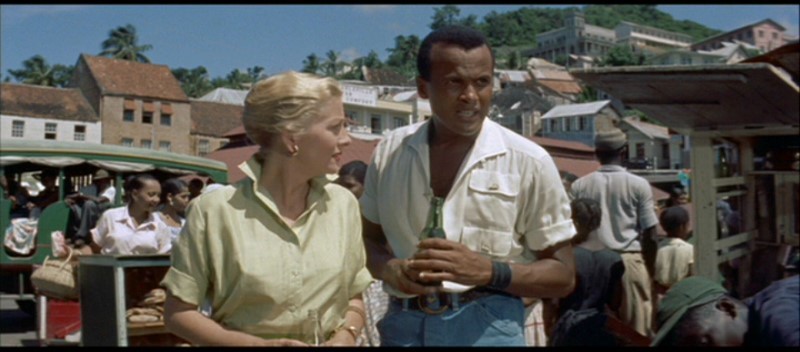 DONATIONS Keep DVDBeaver alive and advertisement free:
Mail cheques, money orders, cash to: or CLICK PayPal logo to donate!
Gary Tooze

Mississauga, Ontario,

CANADA
Thank You!'
Robert Rossen's - Island in the Sun starring James Mason - DVD Review Robert Rossen Island in the Sun James Mason DVD Review Robert Rossen Island in the Sun James Mason DVD Review Robert Rossen Island in the Sun James Mason DVD Review Robert Rossen Island in the Sun James Mason DVD Review Robert Rossen Island in the Sun James Mason DVD Review Robert Rossen Island in the Sun James Mason DVD Review Robert Rossen Island in the Sun James Mason DVD Review Robert Rossen's - Island in the Sun starring James Mason - DVD Review Robert Rossen Island in the Sun James Mason DVD Review Robert Rossen Island in the Sun James Mason DVD Review Robert Rossen Island in the Sun James Mason DVD Review Robert Rossen Island in the Sun James Mason DVD Review Robert Rossen Island in the Sun James Mason DVD Review Robert Rossen Island in the Sun James Mason DVD Review Robert Rossen Island in the Sun James Mason DVD Review Robert Rossen's - Island in the Sun starring James Mason - DVD Review Robert Rossen Island in the Sun James Mason DVD Review Robert Rossen Island in the Sun James Mason DVD Review Robert Rossen Island in the Sun James Mason DVD Review Robert Rossen Island in the Sun James Mason DVD Review Robert Rossen Island in the Sun James Mason DVD Review Robert Rossen Island in the Sun James Mason DVD Review Robert Rossen Island in the Sun James Mason DVD Review Robert Rossen's - Island in the Sun starring James Mason - DVD Review Robert Rossen Island in the Sun James Mason DVD Review Robert Rossen Island in the Sun James Mason DVD Review Robert Rossen Island in the Sun James Mason DVD Review Robert Rossen Island in the Sun James Mason DVD Review Robert Rossen Island in the Sun James Mason DVD Review Robert Rossen Island in the Sun James Mason DVD Review Robert Rossen Island in the Sun James Mason DVD Review Robert Rossen's - Island in the Sun starring James Mason - DVD Review Robert Rossen Island in the Sun James Mason DVD Review Robert Rossen Island in the Sun James Mason DVD Review Robert Rossen Island in the Sun James Mason DVD Review Robert Rossen Island in the Sun James Mason DVD Review Robert Rossen Island in the Sun James Mason DVD Review Robert Rossen Island in the Sun James Mason DVD Review Robert Rossen Island in the Sun James Mason DVD Review Robert Rossen's - Island in the Sun starring James Mason - DVD Review Robert Rossen Island in the Sun James Mason DVD Review Robert Rossen Island in the Sun James Mason DVD Review Robert Rossen Island in the Sun James Mason DVD Review Robert Rossen Island in the Sun James Mason DVD Review Robert Rossen Island in the Sun James Mason DVD Review Robert Rossen Island in the Sun James Mason DVD Review Robert Rossen Island in the Sun James Mason DVD Review Robert Rossen's - Island in the Sun starring James Mason - DVD Review Robert Rossen Island in the Sun James Mason DVD Review Robert Rossen Island in the Sun James Mason DVD Review Robert Rossen Island in the Sun James Mason DVD Review Robert Rossen Island in the Sun James Mason DVD Review Robert Rossen Island in the Sun James Mason DVD Review Robert Rossen Island in the Sun James Mason DVD Review Robert Rossen Island in the Sun James Mason DVD Review Robert Rossen's - Island in the Sun starring James Mason - DVD Review Robert Rossen Island in the Sun James Mason DVD Review Robert Rossen Island in the Sun James Mason DVD Review Robert Rossen Island in the Sun James Mason DVD Review Robert Rossen Island in the Sun James Mason DVD Review Robert Rossen Island in the Sun James Mason DVD Review Robert Rossen Island in the Sun James Mason DVD Review Robert Rossen Island in the Sun James Mason DVD Review Robert Rossen's - Island in the Sun starring James Mason - DVD Review Robert Rossen Island in the Sun James Mason DVD Review Robert Rossen Island in the Sun James Mason DVD Review Robert Rossen Island in the Sun James Mason DVD Review Robert Rossen Island in the Sun James Mason DVD Review Robert Rossen Island in the Sun James Mason DVD Review Robert Rossen Island in the Sun James Mason DVD Review Robert Rossen Island in the Sun James Mason DVD Review Robert Rossen's - Island in the Sun starring James Mason - DVD Review Robert Rossen Island in the Sun James Mason DVD Review Robert Rossen Island in the Sun James Mason DVD Review Robert Rossen Island in the Sun James Mason DVD Review Robert Rossen Island in the Sun James Mason DVD Review Robert Rossen Island in the Sun James Mason DVD Review Robert Rossen Island in the Sun James Mason DVD Review Robert Rossen Island in the Sun James Mason DVD Review Robert Rossen's - Island in the Sun starring James Mason - DVD Review Robert Rossen Island in the Sun James Mason DVD Review Robert Rossen Island in the Sun James Mason DVD Review Robert Rossen Island in the Sun James Mason DVD Review Robert Rossen Island in the Sun James Mason DVD Review Robert Rossen Island in the Sun James Mason DVD Review Robert Rossen Island in the Sun James Mason DVD Review Robert Rossen Island in the Sun James Mason DVD Review Robert Rossen's - Island in the Sun starring James Mason - DVD Review Robert Rossen Island in the Sun James Mason DVD Review Robert Rossen Island in the Sun James Mason DVD Review Robert Rossen Island in the Sun James Mason DVD Review Robert Rossen Island in the Sun James Mason DVD Review Robert Rossen Island in the Sun James Mason DVD Review Robert Rossen Island in the Sun James Mason DVD Review Robert Rossen Island in the Sun James Mason DVD Review Robert Rossen's - Island in the Sun starring James Mason - DVD Review Robert Rossen Island in the Sun James Mason DVD Review Robert Rossen Island in the Sun James Mason DVD Review Robert Rossen Island in the Sun James Mason DVD Review Robert Rossen Island in the Sun James Mason DVD Review Robert Rossen Island in the Sun James Mason DVD Review Robert Rossen Island in the Sun James Mason DVD Review Robert Rossen Island in the Sun James Mason DVD Review