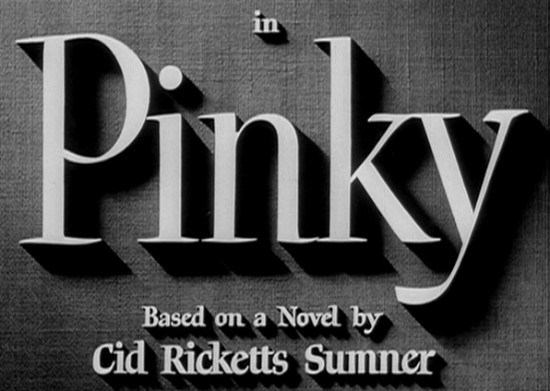 Directed by Elia Kazan
USA 19
49
Pinky, a light skinned black woman, returns to her grandmother's house in the South after graduating from a Northern nursing school. Pinky her grandmother that she has been "passing" for white while at school in the North. In addition, Pinky has fallen in love with a young white doctor, Dr. Thomas Adams, who knows nothing about her black heritage. Pinky says that she will return to the North, but Granny Johnson convinces her to stay and treat an ailing white woman, Miss Em. Meanwhile, Dr. Canady, a black physician from another part of the state, visits Pinky and asks her to train some African American students, but she declines. Pinky nurses Miss Em but is resentful because she seems to feel that she is doing the same thing her grandmother did. Pinky and Miss Em slowly develop a mutual respect for one another. Mrs. Em leaves Pinky her property when she dies, but relatives of the deceased woman contest the new will in court. To raise money for the court fees, Pinky washes clothes by hand with her grandmother. The court rules in Pinky's favor and she keeps the land. Tom wants her to resume her life as a white woman and to marry him, but she refuses. Pinky decides to use the house and land for Miss Em's Clinic and Nursery School.
****
Racial overtones with romantic aspirations - produced at a time when Hollywood was measured in their discrimination efforts. Eli Kazan took over as director after the first day of shooting when John Ford had to be replaced due to illness. Lena Horne initially campaigned to play the title role (she is light enough to photograph "white"), but in the end, the movie studio felt white American audiences would feel more comfortable with a white actress, especially since love scenes with a white actor were involved. The film held my interest from a historical standpoint and its melodramatic flair never seemed to supersede that. We recommend.
Gary Tooze
Posters
Theatrical Release: September 29th, 1949
Reviews More Reviews DVD Reviews
DVD Review: 20th Century Fox - Region 1 - NTSC
DVD Box Cover

CLICK to order from:

Distribution
20th Century Fox Home Video - Region 1 - NTSC
Runtime
1:41:33
Video
1.33:1 Original Aspect Ratio
Average Bitrate: 5.42 mb/s
NTSC 720x480 29.97 f/s

NOTE: The Vertical axis represents the bits transferred per second. The Horizontal is the time in minutes.

Bitrate:

Audio
English (Mono) , English (Dolby Digital 2.0)
Subtitles
English, Spanish, None
Features

Release Information:
Studio: 20th Century Fox Home Video

Aspect Ratio:
Original Aspect Ratio 1.33:1

Edition Details:

• Commentary by Kenneth Geist
• Trailer (2:27)

• 6-page liner notes essay with essay by Sylvia Stoddard

• Envelope with 4 Lobby Card reprints

DVD Release Date: January 10th, 2006
Keep Case inside cardboard slipcase
Chapters: 28
| | |
| --- | --- |
| Comments: | Although image quality is very good, it is not as the highest standards that Fox has shown in the recent past. Contrast is solid, if appearing slightly heavy at times, minimal, if any visible, damage and there is some film grain/digital noise peeking through. Both a mono and stereo track are offered - I only listed to the mono which was very subdued at times. Geist's commentary is keen and informative - if not at the levels of a Tony Rayns. Its nice to see the effort with some high level packaging - cardboard slipcase, liner notes and lobby card etc. Overall this is a strong enough film and package to warrant a purchase. Historically and important part of my collection. |
---



DVD Menus

---
Subtitle Sample
Screen Captures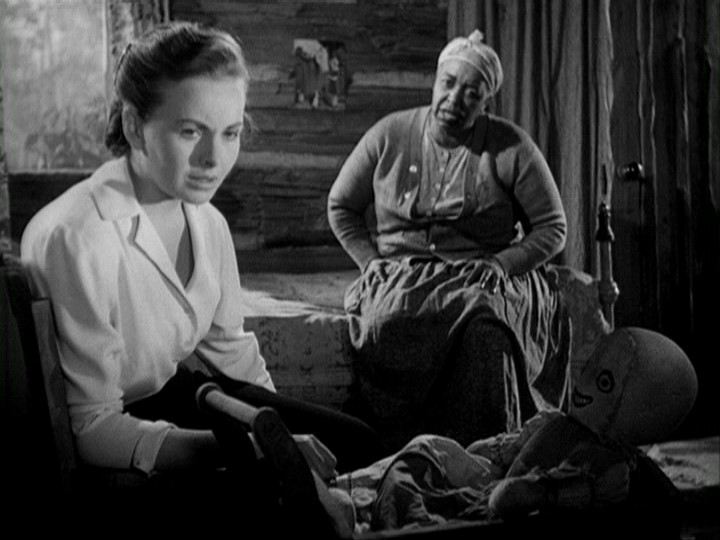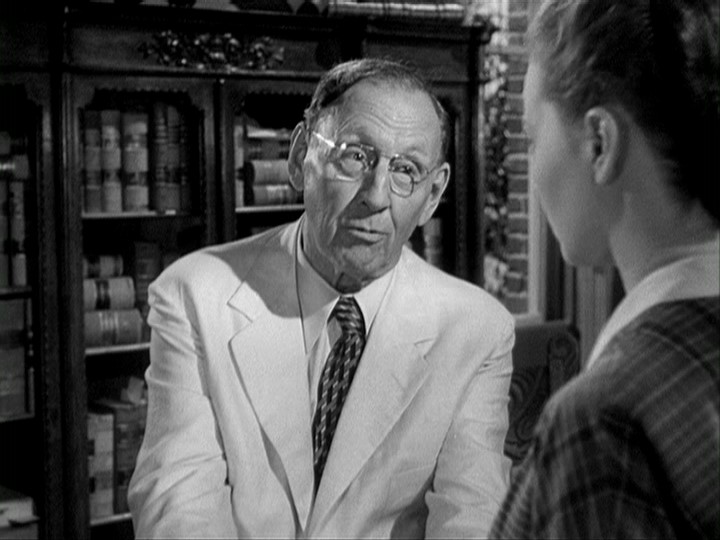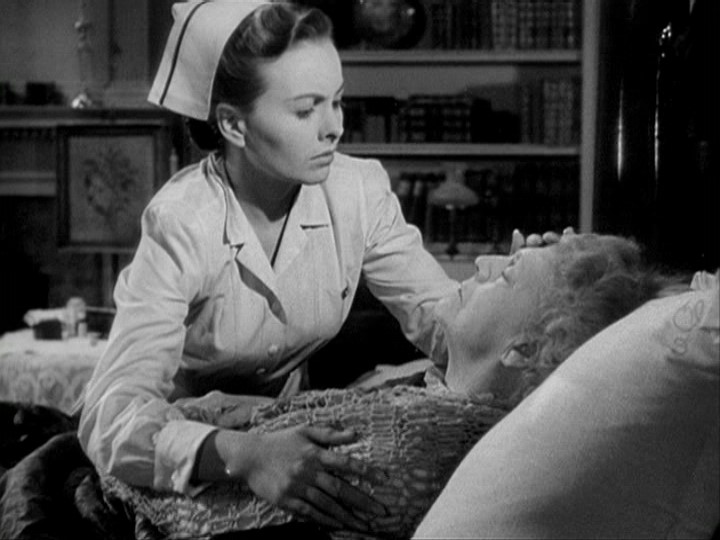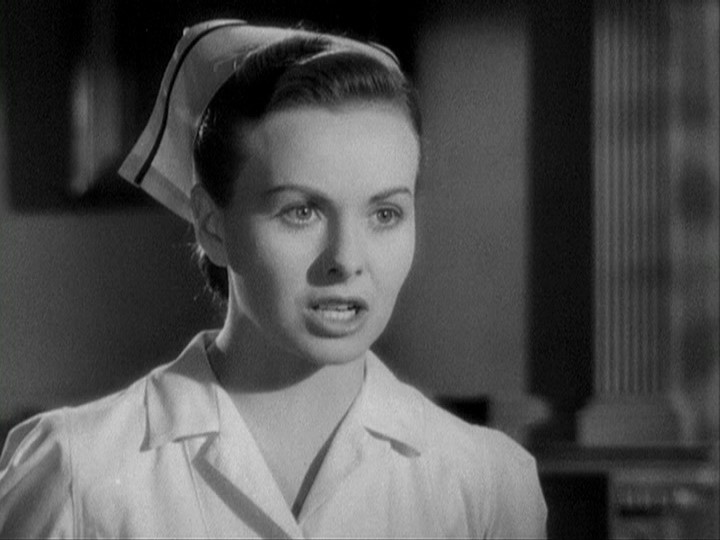 ---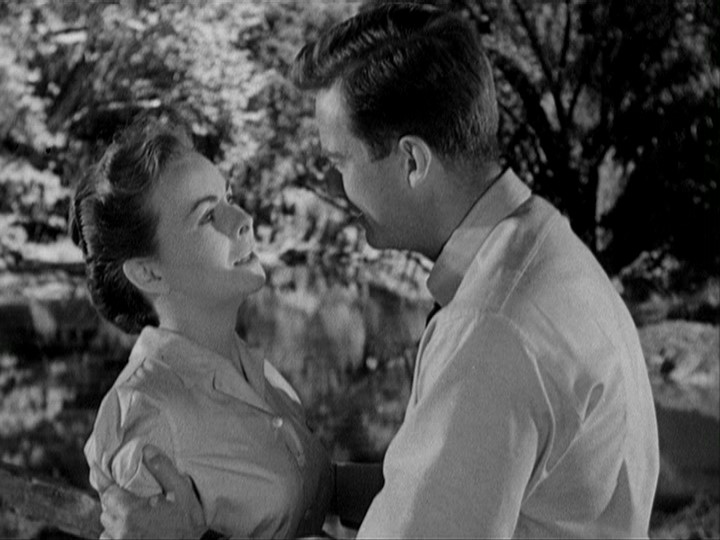 DONATIONS Keep DVDBeaver alive:
Mail cheques, money orders, cash to: or CLICK PayPal logo to donate!
Gary Tooze

Mississauga, Ontario,

CANADA
Thank You!
Elia Kazan's - Pinky starring Jeanne Crain - DVD Review Elia Kazan Pinky Jeanne Crain DVD Review Elia Kazan Pinky Jeanne Crain DVD Review Elia Kazan Pinky Jeanne Crain DVD Review Elia Kazan Pinky Jeanne Crain DVD Review Elia Kazan Pinky Jeanne Crain DVD Review Elia Kazan's - Pinky starring Jeanne Crain - DVD Review Elia Kazan Pinky Jeanne Crain DVD Review Elia Kazan Pinky Jeanne Crain DVD Review Elia Kazan Pinky Jeanne Crain DVD Review Elia Kazan Pinky Jeanne Crain DVD Review Elia Kazan Pinky Jeanne Crain DVD Review Elia Kazan's - Pinky starring Jeanne Crain - DVD Review Elia Kazan Pinky Jeanne Crain DVD Review Elia Kazan Pinky Jeanne Crain DVD Review Elia Kazan Pinky Jeanne Crain DVD Review Elia Kazan Pinky Jeanne Crain DVD Review Elia Kazan Pinky Jeanne Crain DVD Review Elia Kazan's - Pinky starring Jeanne Crain - DVD Review Elia Kazan Pinky Jeanne Crain DVD Review Elia Kazan Pinky Jeanne Crain DVD Review Elia Kazan Pinky Jeanne Crain DVD Review Elia Kazan Pinky Jeanne Crain DVD Review Elia Kazan Pinky Jeanne Crain DVD Review Elia Kazan's - Pinky starring Jeanne Crain - DVD Review Elia Kazan Pinky Jeanne Crain DVD Review Elia Kazan Pinky Jeanne Crain DVD Review Elia Kazan Pinky Jeanne Crain DVD Review Elia Kazan Pinky Jeanne Crain DVD Review Elia Kazan Pinky Jeanne Crain DVD Review Elia Kazan's - Pinky starring Jeanne Crain - DVD Review Elia Kazan Pinky Jeanne Crain DVD Review Elia Kazan Pinky Jeanne Crain DVD Review Elia Kazan Pinky Jeanne Crain DVD Review Elia Kazan Pinky Jeanne Crain DVD Review Elia Kazan Pinky Jeanne Crain DVD Review Elia Kazan's - Pinky starring Jeanne Crain - DVD Review Elia Kazan Pinky Jeanne Crain DVD Review Elia Kazan Pinky Jeanne Crain DVD Review Elia Kazan Pinky Jeanne Crain DVD Review Elia Kazan Pinky Jeanne Crain DVD Review Elia Kazan Pinky Jeanne Crain DVD Review Elia Kazan's - Pinky starring Jeanne Crain - DVD Review Elia Kazan Pinky Jeanne Crain DVD Review Elia Kazan Pinky Jeanne Crain DVD Review Elia Kazan Pinky Jeanne Crain DVD Review Elia Kazan Pinky Jeanne Crain DVD Review Elia Kazan Pinky Jeanne Crain DVD Review Elia Kazan's - Pinky starring Jeanne Crain - DVD Review Elia Kazan Pinky Jeanne Crain DVD Review Elia Kazan Pinky Jeanne Crain DVD Review Elia Kazan Pinky Jeanne Crain DVD Review Elia Kazan Pinky Jeanne Crain DVD Review Elia Kazan Pinky Jeanne Crain DVD Review Elia Kazan's - Pinky starring Jeanne Crain - DVD Review Elia Kazan Pinky Jeanne Crain DVD Review Elia Kazan Pinky Jeanne Crain DVD Review Elia Kazan Pinky Jeanne Crain DVD Review Elia Kazan Pinky Jeanne Crain DVD Review Elia Kazan Pinky Jeanne Crain DVD Review Elia Kazan's - Pinky starring Jeanne Crain - DVD Review Elia Kazan Pinky Jeanne Crain DVD Review Elia Kazan Pinky Jeanne Crain DVD Review Elia Kazan Pinky Jeanne Crain DVD Review Elia Kazan Pinky Jeanne Crain DVD Review Elia Kazan Pinky Jeanne Crain DVD Review Elia Kazan's - Pinky starring Jeanne Crain - DVD Review Elia Kazan Pinky Jeanne Crain DVD Review Elia Kazan Pinky Jeanne Crain DVD Review Elia Kazan Pinky Jeanne Crain DVD Review Elia Kazan Pinky Jeanne Crain DVD Review Elia Kazan Pinky Jeanne Crain DVD Review Elia Kazan's - Pinky starring Jeanne Crain - DVD Review Elia Kazan Pinky Jeanne Crain DVD Review Elia Kazan Pinky Jeanne Crain DVD Review Elia Kazan Pinky Jeanne Crain DVD Review Elia Kazan Pinky Jeanne Crain DVD Review Elia Kazan Pinky Jeanne Crain DVD Review Elia Kazan's - Pinky starring Jeanne Crain - DVD Review Elia Kazan Pinky Jeanne Crain DVD Review Elia Kazan Pinky Jeanne Crain DVD Review Elia Kazan Pinky Jeanne Crain DVD Review Elia Kazan Pinky Jeanne Crain DVD Review Elia Kazan Pinky Jeanne Crain DVD Review Elia Kazan's - Pinky starring Jeanne Crain - DVD Review Elia Kazan Pinky Jeanne Crain DVD Review Elia Kazan Pinky Jeanne Crain DVD Review Elia Kazan Pinky Jeanne Crain DVD Review Elia Kazan Pinky Jeanne Crain DVD Review Elia Kazan Pinky Jeanne Crain DVD Review Elia Kazan's - Pinky starring Jeanne Crain - DVD Review Elia Kazan Pinky Jeanne Crain DVD Review Elia Kazan Pinky Jeanne Crain DVD Review Elia Kazan Pinky Jeanne Crain DVD Review Elia Kazan Pinky Jeanne Crain DVD Review Elia Kazan Pinky Jeanne Crain DVD Review Elia Kazan's - Pinky starring Jeanne Crain - DVD Review Elia Kazan Pinky Jeanne Crain DVD Review Elia Kazan Pinky Jeanne Crain DVD Review Elia Kazan Pinky Jeanne Crain DVD Review Elia Kazan Pinky Jeanne Crain DVD Review Elia Kazan Pinky Jeanne Crain DVD Review