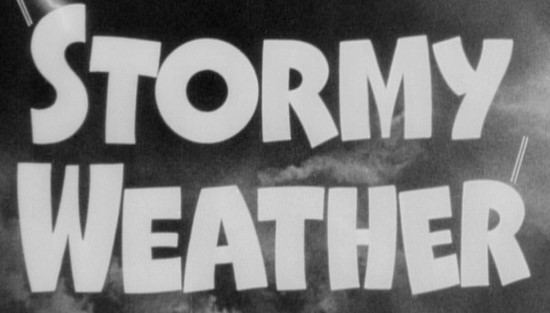 Directed by Andrew L. Stone
USA 1943
Dancing great Bill 'Williamson' sees his face on the cover of Theatre World magazine and reminisces: just back from World War I, he meets lovely singer Selina Rogers at a soldiers' ball and promises to come back to her when he "gets to be somebody." Years go by, and Bill and Selina's rising careers intersect only briefly, since Selina is unwilling to "settle down." Will she ever change her mind? Concludes with a big all-star show hosted by Cab Calloway.
****
Perhaps more of a hyper-paced lavish musical revue with a love story embedded but still an awesome celebration of black musical talent of the era including Robinson, Horne, Fats Waller, and Cab Calloway.
Posters
Theatrical Release: November 17th, 1943
Reviews More Reviews DVD Reviews
DVD Review: 20th Century Fox - Region 1 - NTSC
DVD Box Cover

CLICK to order from:

Distribution
20th Century Fox Home Video - Region 1 - NTSC
Runtime
1:17:36
Video
1.33:1 Original Aspect Ratio
Average Bitrate: 6.75 mb/s
NTSC 720x480 29.97 f/s

NOTE: The Vertical axis represents the bits transferred per second. The Horizontal is the time in minutes.

Bitrate:

Audio
English (Mono) , English (Dolby Digital 2.0)
Subtitles
English, Spanish, None
Features

Release Information:
Studio: 20th Century Fox Home Video

Aspect Ratio:
Original Aspect Ratio 1.33:1

Edition Details:

• Commentary by Todd Boyd
• 6-page liner notes essay with essay by Sylvia Stoddard

• Envelope with 5 Lobby Card reprints

DVD Release Date: January 10th, 2006
Keep Case inside cardboard slipcase
Chapters: 28
| | |
| --- | --- |
| Comments: | Contrast may be a notch below standard for Fox with muddled grey tones, but aside from some lapses of haziness the image is quite sharp and very acceptable. Like Pinky, both a mono and stereo track are offered - I only listed to the mono but sampled the stereo leaning towards the latter with a subsequent viewing. Extras include a Todd Boyd commentary which was informative and his deep baritone voice added to the atmospheric and historical charm . Its nice to see a real effort in the packaging - cardboard slipcase, liner notes and lobby cards etc. This film and DVD have huge appeal capturing a rare time and feeling that may never surface in the same form again. |
---



DVD Menus

---
Subtitle Sample
Screen Captures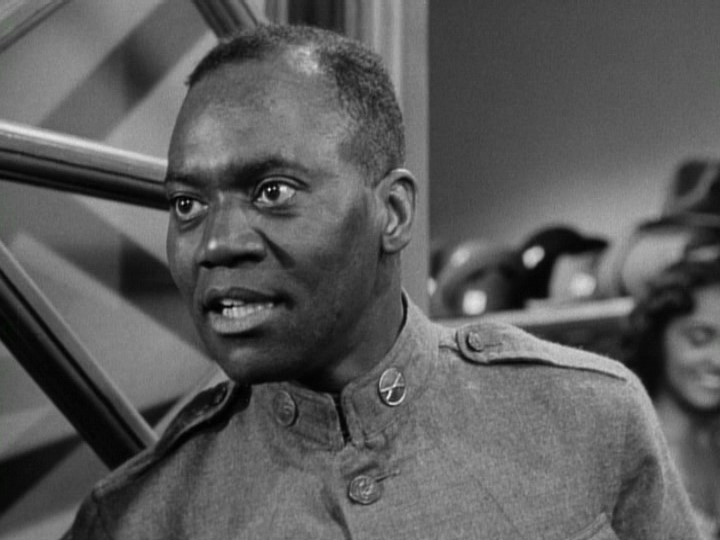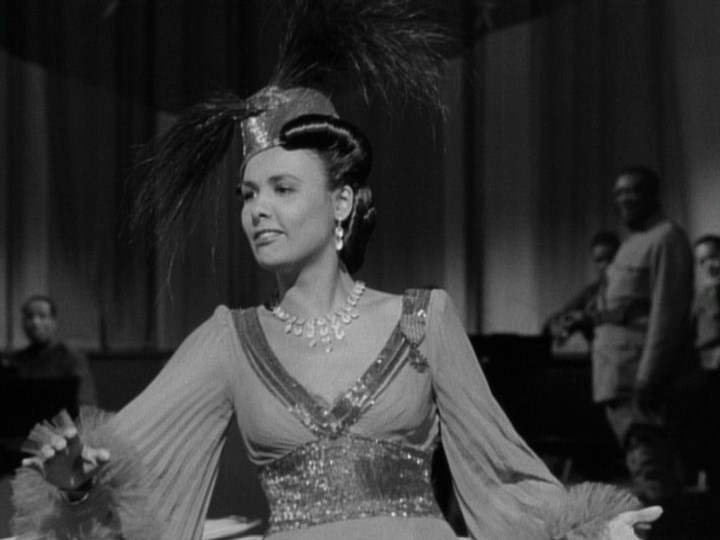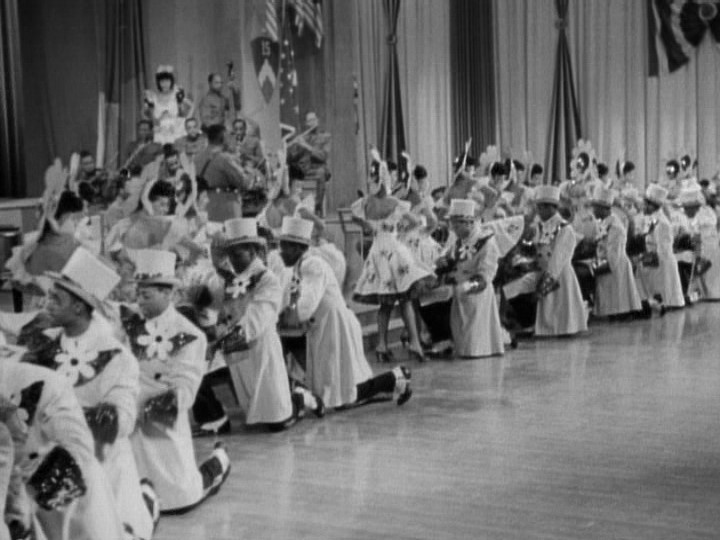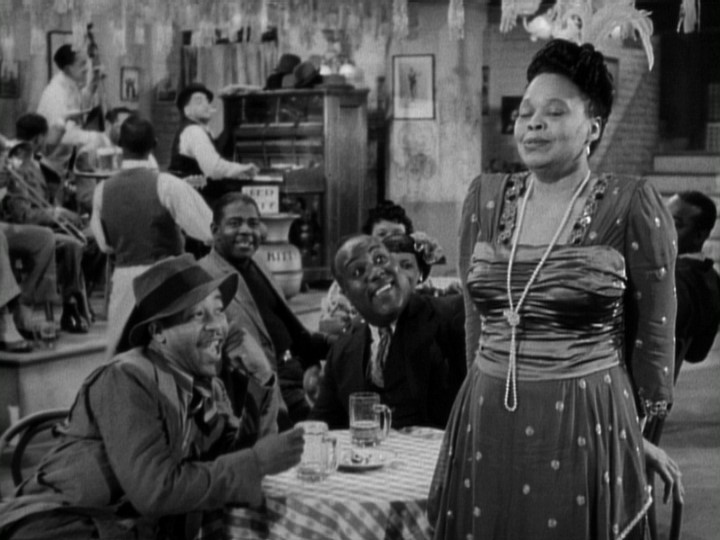 ---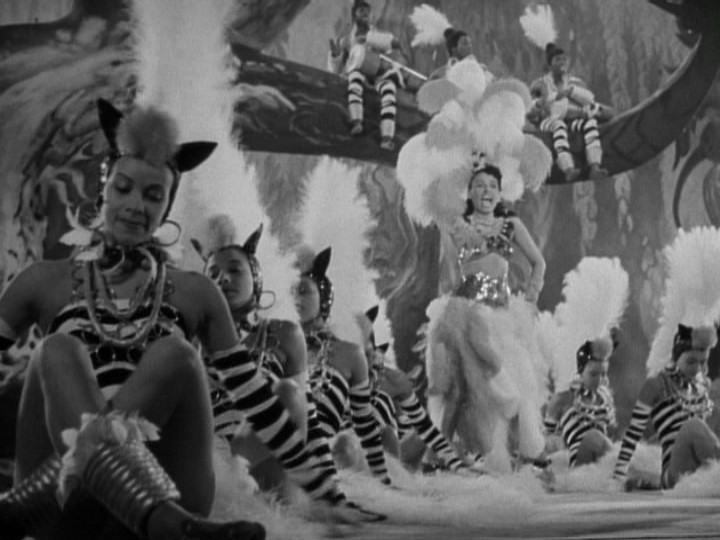 Mail cheques, money orders, cash to: or CLICK PayPal logo to donate!
Gary Tooze

Mississauga, Ontario,

CANADA
Thank You!
Andrew L. Stone's - Stormy Weather starring Lena Horne - DVD Review Andrew L. Stone Stormy Weather Lena Horne DVD Review Andrew L. Stone Stormy Weather Lena Horne DVD Review Andrew L. Stone Stormy Weather Lena Horne DVD Review Andrew L. Stone Stormy Weather Lena Horne DVD Review Andrew L. Stone Stormy Weather Lena Horne DVD Review Andrew L. Stone Stormy Weather Lena Horne DVD Review Andrew L. Stone Stormy Weather Lena Horne DVD Review
Andrew L. Stone's - Stormy Weather starring Lena Horne - DVD Review Andrew L. Stone Stormy Weather Lena Horne DVD Review Andrew L. Stone Stormy Weather Lena Horne DVD Review Andrew L. Stone Stormy Weather Lena Horne DVD Review Andrew L. Stone Stormy Weather Lena Horne DVD Review Andrew L. Stone Stormy Weather Lena Horne DVD Review Andrew L. Stone Stormy Weather Lena Horne DVD Review Andrew L. Stone Stormy Weather Lena Horne DVD Review
Andrew L. Stone's - Stormy Weather starring Lena Horne - DVD Review Andrew L. Stone Stormy Weather Lena Horne DVD Review Andrew L. Stone Stormy Weather Lena Horne DVD Review Andrew L. Stone Stormy Weather Lena Horne DVD Review Andrew L. Stone Stormy Weather Lena Horne DVD Review Andrew L. Stone Stormy Weather Lena Horne DVD Review Andrew L. Stone Stormy Weather Lena Horne DVD Review Andrew L. Stone Stormy Weather Lena Horne DVD Review
Andrew L. Stone's - Stormy Weather starring Lena Horne - DVD Review Andrew L. Stone Stormy Weather Lena Horne DVD Review Andrew L. Stone Stormy Weather Lena Horne DVD Review Andrew L. Stone Stormy Weather Lena Horne DVD Review Andrew L. Stone Stormy Weather Lena Horne DVD Review Andrew L. Stone Stormy Weather Lena Horne DVD Review Andrew L. Stone Stormy Weather Lena Horne DVD Review Andrew L. Stone Stormy Weather Lena Horne DVD Review
Andrew L. Stone's - Stormy Weather starring Lena Horne - DVD Review Andrew L. Stone Stormy Weather Lena Horne DVD Review Andrew L. Stone Stormy Weather Lena Horne DVD Review Andrew L. Stone Stormy Weather Lena Horne DVD Review Andrew L. Stone Stormy Weather Lena Horne DVD Review Andrew L. Stone Stormy Weather Lena Horne DVD Review Andrew L. Stone Stormy Weather Lena Horne DVD Review Andrew L. Stone Stormy Weather Lena Horne DVD Review
Andrew L. Stone's - Stormy Weather starring Lena Horne - DVD Review Andrew L. Stone Stormy Weather Lena Horne DVD Review Andrew L. Stone Stormy Weather Lena Horne DVD Review Andrew L. Stone Stormy Weather Lena Horne DVD Review Andrew L. Stone Stormy Weather Lena Horne DVD Review Andrew L. Stone Stormy Weather Lena Horne DVD Review Andrew L. Stone Stormy Weather Lena Horne DVD Review Andrew L. Stone Stormy Weather Lena Horne DVD Review
Andrew L. Stone's - Stormy Weather starring Lena Horne - DVD Review Andrew L. Stone Stormy Weather Lena Horne DVD Review Andrew L. Stone Stormy Weather Lena Horne DVD Review Andrew L. Stone Stormy Weather Lena Horne DVD Review Andrew L. Stone Stormy Weather Lena Horne DVD Review Andrew L. Stone Stormy Weather Lena Horne DVD Review Andrew L. Stone Stormy Weather Lena Horne DVD Review Andrew L. Stone Stormy Weather Lena Horne DVD Review
Andrew L. Stone's - Stormy Weather starring Lena Horne - DVD Review Andrew L. Stone Stormy Weather Lena Horne DVD Review Andrew L. Stone Stormy Weather Lena Horne DVD Review Andrew L. Stone Stormy Weather Lena Horne DVD Review Andrew L. Stone Stormy Weather Lena Horne DVD Review Andrew L. Stone Stormy Weather Lena Horne DVD Review Andrew L. Stone Stormy Weather Lena Horne DVD Review Andrew L. Stone Stormy Weather Lena Horne DVD Review
Andrew L. Stone's - Stormy Weather starring Lena Horne - DVD Review Andrew L. Stone Stormy Weather Lena Horne DVD Review Andrew L. Stone Stormy Weather Lena Horne DVD Review Andrew L. Stone Stormy Weather Lena Horne DVD Review Andrew L. Stone Stormy Weather Lena Horne DVD Review Andrew L. Stone Stormy Weather Lena Horne DVD Review Andrew L. Stone Stormy Weather Lena Horne DVD Review Andrew L. Stone Stormy Weather Lena Horne DVD Review