Review by Gary Tooze
Production:
Theatrical: First National Pictures
Video:
Flicker Alley
Disc:
Region: FREE! (as verified by the Oppo Blu-ray player)
Runtime: 1:44:13.622
Disc Size: 38,120,669,188 bytes
Feature Size: 30,682,377,792 bytes
Video Bitrate: 34.72 Mbps
Chapters: 13
Case: Transparent Blu-ray case
Release date: September 19th, 2017
Video:
Aspect ratio: 1.33:1
Resolution: 1080p / 23.976 fps
Video codec: MPEG-4 AVC Video
Audio:
LPCM Audio - 2304 kbps 2.0 / 48 kHz / 2304 kbps / 24-bit
Commentary:
Dolby Digital Audio English 448 kbps 2.0 / 48 kHz / 448 kbps
Subtitles:
English, none
Extras:
• Audio Commentary: Feature-length audio essay by Nicolas Ciccone, amateur filmmaker and film historian.
• Deleted Scenes: Restored outtakes from a 1925 original nitrate transfer of The Lost World (9:25)
• R.F.D., 10,000 B.C. (1917): Short film directed by Willis O'Brien for producer Thomas Edison (8:59)
• The Ghost of Slumber Mountain (1918): Short film written and directed by Willis O'Brien in a new 2K restoration by the Dinosaur Museum (13:33)
• Creation (1930): Unfinished film directed by Willis O'Brien that nonetheless convinced Merian C. Cooper to hire O'Brien for King Kong (5:18)
• Image Gallery: Featuring original production, exhibition, and promotional materials (0:32)
Booklet Essay: "The Lost World: Secrets of the Restoration" by Serge Bromberg of Lobster Films
Bitrate:
Description: True to its title, the 1925, 10-reel version of The Lost World effectively disappeared from circulation in 1929 - all known positive prints destroyed - a move by First National Pictures to help clear the way for another "creature film" utilizing special effects and Willis O'Brien's cutting-edge animation techniques: King Kong. For more than 80 years, only abridged editions of The Lost World remained in existence… until now!

Follow Professor Challenger, played by the inimitable Wallace Beery, as he and a crew of curious explorers embark on an expedition in search of a mythical, prehistoric plateau in South America. Along for the adventure are eminent scientist Summerlee (Arthur Hoyt, the director's brother), sportsman Sir John Roxton (Lewis Stone), journalist Ed Malone (Lloyd Hughes) and Paula White (Bessie Love), whose father disappeared on the same plateau. The party is not there long before the "lost world" of the jungle begins to reveal its secrets: a primitive ape-man, a Pterodactyl flying through the air, a massive Brontosaurus feeding upon the trees, the vicious Allosaurus, and many more monstrous beasts of the Jurassic age.

Flicker Alley, Lobster Films, and Blackhawk Films are thrilled to present the world-premiere Blu-ray edition of Arthur Conan Doyle's The Lost World, the most complete version of the film ever released. This visually stunning 2K restoration, accomplished by Lobster Films, features newly-discovered scenes and special effect sequences, incorporating almost all original elements from archives and collections around the world. Renowned Silent film composer Robert Israel contributes a new and ambitious score, performed by a full orchestra in 2016.

This edition is dedicated to David Shepard, and to the collectors, archives, and passionate cinema lovers who help preserve films for future generations.
The Film:
This adventure virtually butchers its source, Sir Arthur Conan Doyle's classic novel. But with stop-motion photography and special effects that were incredibly innovative in 1924 and 1925, who cared? These effects were the whole film, and Wallace Beery's inspired performance was a bonus. The tale opens on reporter Edward Malone (Lloyd Hughes), who wants to marry Gladys Hungerford (Alma Bennett). Gladys, however, only wants to marry a man of great deeds. So Malone, having asked his editor for an adventuresome assignment, is given the task of interviewing Professor Challenger (Beery), who is planning an expedition to a "lost world." Malone accompanies Challenger and his men to South America where, on a great plateau, they find a prehistoric world occupied by dinosaurs and ape-like men. They barely escape with their lives, but they manage to bring a brontosaurus back to London. The beast breaks out and terrorizes the city before crashing through the London bridge and swimming out toward the ocean to freedom. In the midst of all this, Malone has fallen in love with Paula White, the daughter of an explorer (Bessie Love). Since Gladys, it turns out, has married a clerk, Malone is able to wed his new sweetheart.
Excerpt from B+N located HERE

Audiences who enjoyed the latest in dinosaur technology in such films as Jurassic Park (1993), they can thank two men for creating a genre that has become a literary and big-screen bonanza. Sir Arthur Conan Doyle started it all in 1912 with his novella, The Lost World, in which the blustery Prof. Challenger, a character he modeled on himself, leads an expedition to a lost mesa in South America where dinosaurs still rule at least a part of the Earth. But his story might never have made it to the screen - indeed, it had thwarted attempts to film it for over a decade - had it not been for the special-effects wizardry of Willis O'Brien. His work made the 49 model dinosaurs of The Lost World (1925) live and breathe so convincingly that many audience members were convinced the filmmakers had discovered the real thing.
Excerpt from TCM located HERE
| | |
| --- | --- |
| | |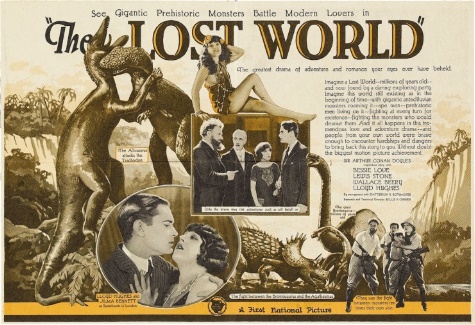 The idea that a film of Arthur Conan Doyle's The Lost World was itself lost seems so apt, you'd almost suspect it was mislaid on purpose - but wait, it was. A pioneering exercise in stop-motion animation effects in its day (1925) courtesy of 'research and technical director' Willis O'Brien, it was withdrawn just four years later, deemed obsolete by the arrival of the talkies. All known prints and export negatives were destroyed in favour of a sound remake. That of course became King Kong, and you can see how not only O'Brien but the latter's dramatic team learnt from the first film's successes and failures. Collated from some eight known sources, including a 35mm print rediscovered in the Czech film archives, this best-possible restored and remastered version shows the drama skewed towards the adventurers' exploratory rumpus in the jungle, with the more startling spectacle of a brontosaurus loose in London almost tacked on as an epilogue (the Blue Posts on Berwick Street really gets it).
Excerpt from TimeOut located HERE

Image : NOTE: The below Blu-ray captures were taken directly from the Blu-ray disc.
Highly anticipated, The Lost World on Blu-ray from Flicker Alley starts with a text screen that states "For decades, The Lost World could only be seen in an abridged version about an hour in length. This new edition, completed in 2016, combine portions of eleven film elements to present the most complete reconstruction believed possible". This looks gorgeous in the new 2K restoration. The tints are stunning and , as Nicolas Ciccone informs us in the commentary, the tinting and toning become more intricate as the film moves into the lost world sequences. This is dual-layered with a max'ed out bitrate and, even with flickering contrast and occasional rain of vertical scratches - a function of the age and best source - this looks absolutely amazing in-motion. There is even depth apparent. This Blu-ray is extremely pleasing in its appearance despite the, acceptable, and less-consistent imperfections. I think most will be blown away by the 1080P - it far exceeded my expectations.
CLICK EACH BLU-RAY CAPTURE TO SEE ALL IMAGES IN FULL 1920X1080 RESOLUTION
Audio :
The score is via a linear PCM 2.0 channel track (24-bit)
. Described as "
Robert Israel contributes a new and ambitious score, performed by a full orchestra in 2016
" and it sounds totally fitting. The quality sounds brilliant in the uncompressed.
There are reconstructed titles, and intertitles (see sample above).
My
Oppo
has identified it as being a region FREE disc playable on
Blu-ray
machines worldwide.
Extras :
Included is an audio commentary as a feature-length audio essay by Nicolas Ciccone, described as an amateur filmmaker and film historian. He give us plenty of historical data, specifics of the reconstruction - including the Czech fragments - tinting and toning combinations, racism, deviations from Doyle's book, comments on the story - and the occasional missteps with subplots cut. He brings up information on Arthur Conan Doyle, Wallace Beery and many others. It's quite good but he rhymes of details so quickly - it's hard to keep up. There is a 9-minute deleted scene from The Lost World (1925) that was "pulled from a nitrate reel found by Peirce Rafferty in 1993 and restored by Scott Macqueen - with support from "friends of the challenged expedition" - These deleted scene represent Willis O'Brien's first animation attempts for The Lost World. This new transfer comes from the original nitrate copy (2016), and was made possible thanks to The Library of Congress." Also an extras is R.F.D., 10,000 B.C. a 9-minute short film from 1917 directed by Willis O'Brien for producer Thomas Edison. The Library of Congress described it as "An animated mannequin comedy (also known as an O'Brien plastic stop-work comedy) set in prehistoric times. Henry Saurus, the mailman, and Johnny Bearskin, the favored suitor, vie for the affections of Winnie Warclub on Valentine's Day." The Ghost of Slumber Mountain is a 13-minute 1918 film, in a new 2K restoration by the Dinosaur Museum, written and directed by Willis O'Brien, produced by Herbert M. Dawley, and starring both. It is regarded as the first film to show live performers and stop-motion creatures together on the screen and is often cited as a trial run for The Lost World. Creation is a 1930's unfinished film directed by Willis O'Brien assisted by Marcel Delgado. The inclusion represents five minutes of the film, presented Silent, that convinced Merian C. Cooper to entrust O'Brien and Delgado with King Kong as he had initially wanted to use a real chimpanzee. Animated frame-by-frame, this film's production was interrupted so that O'Brien could concentrate of the special effects for Kong. There is an image gallery featuring original production, exhibition, and promotional materials. The package has a liner note booklet with an essay: "The Lost World: Secrets of the Restoration" by Serge Bromberg of Lobster Films.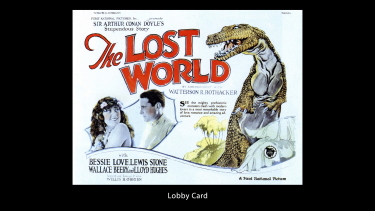 BOTTOM LINE:
Flicker Alley's The Lost World on Blu-ray is both the Silent Era release of the year and will vie for Blu-ray of the year. The efforts of reconstructing the first film adaptation of Sir Arthur Conan Doyle's classic fantasy novel about a land of living prehistoric creatures - one of the most pioneering, and memorable, creature-features from the past. Gotta love Beery and the doe-eyed Bessie Love as Paula White. An absolute masterpiece looking and sounding awesome - commentary, shorts, booklet... Our very strongest recommendation!
Gary Tooze
September 7th, 2017