Review by Gary Tooze
Production:
Theatrical: Hammer Films
Video:
Indicator (Powerhouse)
Disc:
Region: FREE (as verified by the Oppo Blu-ray player)
Runtime: 1:26:22.218
Disc Size: 32,433,036,010 bytes
Feature Size: 25,327,083,072 bytes
Video Bitrate: 35.01 Mbps
Chapters: 10
Case: Transparent Blu-ray case
Release date: October 30th, 2017
Video:
Aspect ratio: 2.35:1
Resolution: 1080p / 23.976 fps
Video codec: MPEG-4 AVC Video
Audio:
LPCM Audio English 1152 kbps 1.0 / 48 kHz / 1152 kbps / 24-bit
Subtitles:
English (SDH), none
Extras:
• White-Hot Terror: Inside 'Maniac' (10:59)
• Hammer's Women: Nadia Gray (2017): horror film expert Lindsay Anne Hallam looks at the fascinating life and work of the Romanian stage and screen actor (7:51)
• Focus Puller Trevor Wrenn and Clapper Loader Ray Andrew on 'Maniac' (2017): original crew members share their memories of working on the film (5:09)
• Trailer (2:28)
• Original Promotional Material (1:04)
• On Set Photography (0:28)
The full package has four box set exclusive booklets with new essays, contemporary reviews, historic articles, and full film credits.
Bitrate:
Description:
Set in the South of France, the story focuses on American artist Geoffrey Farrell (Kerwin Mathews) who is down on his luck and drifting around the country. He soon meets and becomes romantically involved with Eve Beynat (Nadia Gray), who lives with her stepdaughter Annette (Liliane Brousse). Eve's husband, George Beynat, is currently under lock and key in a mental institution for the murder of his daughter's rapist four years earlier. After a visit to see her husband at the asylum, Eve reveals that George will agree to divorce her so she can marry Geoffrey if they both help him escape from his confinement. With the aid of a male nurse at the asylum, Eve and Geoffrey successfully spring George and transport him to the Marseilles pier where he makes his getaway....or does he? After Geoffrey discovers the body of the murdered male nurse in the car trunk, other strange occurrences and sinister incidents indicate that George is still lurking about and that he is not only dangerously unstable but that he may be planning to murder Geoffrey and his unfaithful wife.
Written and produced by Jimmy Sangster, Maniac was the second Hammer feature to be directed by Michael Carreras, whose father James founded Hammer Films. Michael, who would go on to direct
The Curse of the Mummy's Tomb
[1964],
Prehistoric Women
[1967, aka
Slave Girls
] and
The Lost Continent
[1968], boasted in an interview at the time that
Maniac
is "a thriller of thrillers, so ingeniously constructed, so packed with surprises, that we defy anyone to predict correctly what's coming next or to anticipate the startling and unexpected climax."
The Film:
Maniac toes the line between its noir tendencies and its straight-up horror elements. It's both a grisly and slick little crime story that keeps you on your toes until the very end; it's well-written pulp, the type of story that employs cheap tricks and cheaper thrills, but it works.
Excerpt from OhtheHorror located HERE

The story tells of vacationing American artist Jeff Farrell who becomes romantically involved with an older woman named Eve Beynat, in southern France, while harboring some attraction for her teenage stepdaughter Annette. Eve's husband/Annette's father Georges is in an asylum for, four years ago, using a blowtorch to kill a man who had raped Annette. Believing it will help make Eve his for life, Jeff agrees to assist her in springing Georges from the asylum. Of course, Eve has a completely different agenda in mind. Inspector Etienne sets up a plot to help trap the real killer and the climactic scenes are set at Les Baux-de-Provence in the huge stone galleries dug into the rock of the Val-d'Enfer on the road to Maillane.

Image : NOTE: The below Blu-ray captures were taken directly from the Blu-ray disc.
Maniac arrives, for the first time, on Blu-ray from Indicator out of the UK. The image quality shows a pleasing layer of grain and the contrast is impeccably layered. This is dual-layered with a max'ed out bitrate. It is neither glossy nor pristinely sharp but impresses with a beautiful HD presentation - far in advance of the old SD in the Icons of Suspense DVD set from over 7-years ago. The widescreen looks fabulous in-motion. The visuals are very clean, consistent and film-like. This Blu-ray offers an impeccable and authentic presentation in 1080P.
CLICK EACH BLU-RAY CAPTURE TO SEE ALL IMAGES IN FULL 1920X1080 RESOLUTION
1) Sony 'Icons of Suspense' (reviewed HERE) - Region 1 - NTSC TOP
2) Indicator - Region FREE - Blu-ray BOTTOM
Audio :
The audio is transferred via a linear PCM authentically mono at 1152 kbps (24-bit). There is modest depth in the infrequent effects. The film's music is notable for the jazz-filled score by
Stanley Black (
The Day the Earth Caught Fire,
Hammer's
Stop Me Before I Kill!
)
. It supports the film gently with a occasional bold orchestrations. There are optional English (SDH) subtitles and m
y
Oppo
has identified it as being a region FREE - playable world-wide.

Extras :
White-Hot Terror: Inside 'Maniac' is one of the new, matter-of-fact, documentaries exploring aspects of the production. It runs 11-minutes. Another, new, revealing Hammer's Women segment - this one on Nadia Grayby horror film expert Lindsay Anne Hallam running just shy of 8-minutes where she looks at the fascinating life and work of the Romanian stage and screen actor. 'Focus Puller' Trevor Wrenn and 'Clapper Loader' Ray Andrew on 'Maniac' are original crew members who share their memories of working on the film for a brief 5-minutes discussing the locations etc. There is also a trailer and galleries with original promotional material and on set photography. The full package has four box set exclusive booklets with new essays, contemporary reviews, historic articles, and full film credits. This edition is limited to 6,000 copies.
| | |
| --- | --- |
| | |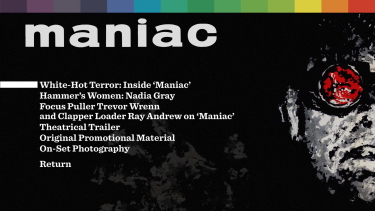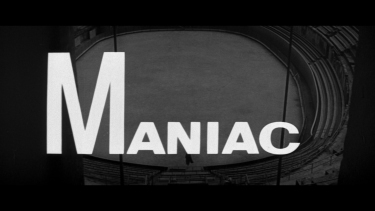 BOTTOM LINE:
Maniac is an interesting UK psycho-noir-crime thriller. I loved it - hokey and a bit contrived - but it's easy to fall into Jimmy Sangster's traps. After seeing him in one of the 0SS 177 films, I realize I love Kerwin Mathews! This is filled with Hammer's 60's charisma and the Indicator Blu-ray presentation is perfect in both audio and video and the package contains plenty of value with the other films and many extras. Another great part of this first Hammer boxset! This underrated film on Blu-ray is VERY strongly recommended!
Gary Tooze
October 30th, 2017
Listed individually in June, 2020:

or buy directly from Indicator: