Review by Gary Tooze
Production:
Theatrical: Columbia Pictures
Video:
Indicator (Powerhouse) Spine #13
Disc:
Region: FREE (as verified by the Oppo Blu-ray player)
Runtime: 1:43:10.809
Disc Size: 39,775,145,579 bytes
Feature Size: 30,266,392,128 bytes
Video Bitrate: 35.01 Mbps
Chapters: 12
Case: Standard Blu-ray case
Release date: January 30th, 2017
Video:
Aspect ratio: 2.35:1
Resolution: 1080p / 23.976 fps
Video codec: MPEG-4 AVC Video
Audio:
LPCM Audio English 1152 kbps 1.0 / 48 kHz / 1152 kbps / 24-bit
Subtitles:
English (SDH), none
Extras:
•
Cop Stories: The Making of "The New Centurians'
(44:06) - featuring interviews with actor Stacy Keach, writer Joseph Wambaugh, technical advisor Richard E. Kalk and assistant cameraman Ronald Vidor.
•
Trailer (2:13)
•
Super 8 Version (16:53)
•
Limited edition exclusive booklet with a new essay by Nick Pinkerton
•
Limited Dual Format Edition of 3,000 copies
DVD included
Bitrate:
Description:
Richard Fleischer's gritty and fateful portrait of LA cops adapted from Joseph Wambaugh's autobiographical bestseller, is anchored by superb performances from George C. Scott as a world-weary older cop who quietly fears becoming obsolete, and Stacy Keach as the young rookie he takes under his wing.
The Film:
Somewhere, not too deep, inside "The New Centurions" is the soul of an old-fashioned B-movie police-force melodrama; the kind with a rookie cop and a kindly old sergeant and perhaps the sergeant's daughter. The traditional roles are much attenuated but they are there in Roy (Stacy Keach), the young patrolman; Kilvinsky (George C. Scott), his philosophic partner, about to retire; and Lorrie (Rosalind Cash), who comes along with the right proportion of sex, warm human values and chicken dinners just as Roy seems ready to go off the deep end because of a divorce, loneliness for Kilvinsky and a lost sense of vocation.

Lorrie happens to be black, and she's not the sergeant's daughter, but she does belong to that particular world of hearth and home, of something to be protected, that has always been the moral anchor of the police movie. That she and what she represents have scarcely more than anecdotal importance in "The New Centurions" suggests a partial rejection of some values; and the film has nothing really to take their place. Between Roy and Kilvinsky there is much talk about the end of law and order (the film's title includes an analogy with the decline of ancient Rome), but no dramatic sense of what that might mean.
Excerpt from the NY Times located HERE
This erratic but nervy film was released at a time when popular portrayals of policemen were mostly limited to extremes—the sanitized, such as the 1968-1975 TV series Adam-12, and the scandalous, such as the 1971 feature Dirty Harry. Based on the first novel by real-life former LAPD cop Joseph Wambaugh, The New Centurions occupies an unsettling place between these approaches. Characterizing policemen as victims of physical and psychological violence who are lucky to reach retirement alive—and sane—the movie is melodramatic and occasionally overwrought. Yet, when viewed as either an intense character drama or as a historical corrective to one-sided narratives about law enforcement, The New Centurions gains a certain degree of validity. It's also quite well made, with excellent long-lens photography by Ralph Woolsey capturing the soulless textures of Los Angeles in a way that accentuates the desensitizing grind of police patrols.
Excerpt fromEvery70sMovie located HERE

Image : NOTE: The below Blu-ray captures were taken directly from the Blu-ray disc.
The New Centurions comes to Blu-ray from Indicator out of the UK. The image quality shows a consistent layer of grain and visuals appear authentic with the night sequences being very dark. The day scenss showcase some bright, true colors. This is dual-layered with a max'ed out bitrate. It is neither glossy nor pristinely sharp but shows a thick film-like presence and black levels are deep and impressive. The 2.35:1 aspect ratio is exported well in the 1080P. This Blu-ray offers as flawless a digital image as we are likely to see for this film.
CLICK EACH BLU-RAY CAPTURE TO SEE ALL IMAGES IN FULL 1920X1080 RESOLUTION
Audio :
The audio is transferred via a linear PCM authentically mono at 1152 kbps (24-bit). There is modest depth in the gunplay. The film's music is notable for the score by Quincy Jones (The Getaway, The Slender Thread, The Pawnbroker, In the Heat of the Night, They Call Me Mr. Tibbs) and it encapsulates a gritty 70's feel sounding quite appealing in the uncompressed. There are optional English (SDH) subtitles and m
y
Oppo
has identified it as being a region FREE - playable world-wide.

Extras :
Extras feature a new 3/4 hour piece from Robert Fischer's Fiction Factory; Cop Stories: The Making of "The New Centurions'. It features interviews with actor Stacy Keach, writer Joseph Wambaugh (who wrote it while still a member of the LA Police Department), technical advisor Richard E. Kalk and assistant cameraman Ronald Vidor. It sheds some light on the production and original story. There is also a trailer and a very poor quality, 3:4, Super 8 version of The New Centurions that runs 17-minutes. The package has a limited edition exclusive booklet with a new essay by Nick Pinkerton, a second disc DVD and is limited to 3,000 copies.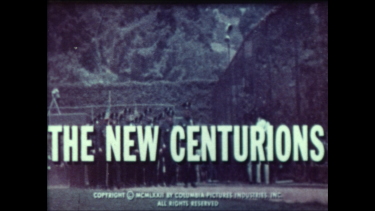 BOTTOM LINE:
The New Centurions is not the most memorable of its genre of 70's, tough and realistic, police dramas but it still has value with George C. Scott giving another fine performance - Keach as well. It tends to meander but I enjoyed the tone and the 'shock' moments. The New Centurions seems a decent choice to bring to Blu-ray. The 1080P presentation isn't going to get more authentic and fans seeking some cop-bonding thrills - this has something to offfer.
Gary Tooze
January 22nd, 2017