Review by Gary Tooze
Production:
Theatrical: El Deseo
Video: Sony
Disc:
Region: 'A' (as verified by the Oppo Blu-ray player)
Runtime: 1:38:51.926
Disc Size: 28,555,651,831 bytes
Feature Size: 22,776,766,464 bytes
Video Bitrate: 24.87 Mbps
Chapters: 16
Case: Standard Blu-ray case
Release date: March 21st, 2017
Video:
Aspect ratio: 1.85:1
Resolution: 1080p / 23.976 fps
Video codec: MPEG-4 AVC Video
Audio:
DTS-HD Master Audio Spanish 3479 kbps 5.1 / 48 kHz / 3479 kbps / 24-bit (DTS Core: 5.1 / 48 kHz / 1509 kbps / 24-bit)
Descriptive Audio:
Dolby Digital Audio English 640 kbps 5.1 / 48 kHz / 640 kbps
Subtitles:
English (SDH), English , French,
none
Extras:
• Portrait of Julieta (8:52)
• Celebrating director Pedro Almodóvar (8:15)
•
Theatrical trailer (1:52)
Bitrate:
Description: In Julieta, critically acclaimed director Pedro Almodovar tells a story about a mother's struggle to survive uncertainty and come to grips with fate. Julieta lives in Madrid with her daughter, Antia. They are both in pain over the loss of Xoan, Antia's father and Julieta's husband. But sometimes grief doesn't bring people closer, it drives them apart. When Antia turns eighteen, she abandons her mother without a word of explanation. Julieta is haunted by the mystery of this loss and it pervades everything in her life. Her struggle and obsession lead to self-discovery and surprising revelations.
The Film:
Suárez and Ugarte don't just play the same woman at different ages; they play the same woman on either side of two family crises that change her forever. We first meet Julieta (Suárez) middle-aged and living in Madrid, preparing to move with her partner (Darío Grandinetti) to Portugal. But a chance meeting with Bea (Michelle Jenner), a childhood friend of her daughter Antía, changes her mind about the move and she starts writing notes about her earlier adult life.

These memories lead us through the film. We meet Julieta as a punky young teacher in the 1980s; we witness a fateful train trip that leads to a death and introduces Julieta to her husband Xoan (Daniel Grao); we see how life gives her a daughter but later changes her in ways she's only now coming to terms with. In many close-ups of his two lead actresses, Almodóvar invites us to read Julieta as an emotional mystery.
Excerpt from TimeOut located HERE
Pedro Almodóvar's 20th film, Julieta, has a magnificent score from his trusty Alberto Iglesias, which cites musical motifs of all sorts and fuses them into a lithe, jazz-inflected suite. There's a respectful variation on Barber's Adagio, when the main character, on the worst day of her life, has to identify a body.

And in the moments when her daughter, Antía, is conceived on a night train, Iglesias brings in a breathy snatch of Debussy's Prélude à l'après-midi d'un faune, accompanying an exquisitely bluesy, twilit image of sex reflected in a compartment window.

Everything changes for Julieta (short-cropped blonde Adriana Ugarte, a terrific near-newcomer) on that train. She's just met this fellow passenger, Xoan (Daniel Grao), a hunky, bearded fisherman whose wife has been in a coma for five years.
Excerpt from The Telegraph located HERE
Image : NOTE: The below Blu-ray captures were taken directly from the Blu-ray disc.
Julieta looks excellent on Blu-ray from Sony. The film was shot with the Arri Alexa XT. It has flourishes of Almodóvar's brilliant pallet of colors. It sneaks into dual-layered territory with a reasonable bitrate and brings his, usual, impressive visuals to the viewing with exuberance and fine detail. It's a modern films and not much to find flaws in the presentation. It's in the original 1.85:1 frame - no noise and decent contrast supporting some depth and pleasing sharpness in close-ups. This Blu-ray looks solid and being an Almodóvar film makes it all the more handsome in 1080P.
CLICK EACH BLU-RAY CAPTURE TO SEE ALL IMAGES IN FULL 1920X1080 RESOLUTION
Audio :
Sony use
a DTS-HD Master 5.1 at
3479 kbps
(24-bit) in the original Spanish language. There are few effects and the robust transfer can handle all the film requires in terms of depth and separation. Alberto Iglesias (Sex and Lucia, Tinker, Tailor Soldier, Spy, Broken Embraces, The Skin I Live In, Che, The Kite Runner etc.) does the score and it's a special one - slowly convening emotion and atmosphere brilliantly. You may also note. Ryuichi Sakamoto's Playing the Piano 2009 and Si no te vas performed by Chavela Vargas. Dialogue was always clear and there are English and French subtitle choices as well as an English descriptive audio option. The
Blu-ray
disc is region 'A'-locked.
Extras :
Not too much in the supplement department - a 9-minute Portrait of Julieta featurette as a standard, brief, making of advert has Almodóvar discussing his interest in the book etc. and a piece on an evening of Celebrating director Pedro Almodóvar running 8-minutes plus there is a theatrical trailer.
| | |
| --- | --- |
| | |
| | |
| | |
| | |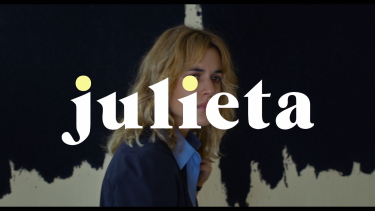 BOTTOM LINE:
Julieta is another masterful examination of Almodóvar's penchant for the depth and compassion of female characters, but less a provocateur, as found in past films, and more probing of the heart and soul. It's complex and layered but it's hard to find another director who can stand beside this auteur in his emotional niche - certainly no one working in Hollywood can compare to his artistry. Julieta is a well-paced, story - multiple characters and a rewarding, if melancholy, effort. Probably his best film in years. It occasionally made me think of Volver. I thoroughly enjoyed the Sony Blu-ray presentation. I think the 1080P does its job well - and we, certainly, give a strong recommendation to see this film - this BD is a great way.
Gary Tooze
March 11th, 2017