Review by Gary Tooze
Production:
Theatrical: Prometheus Enterprises Inc.
Video: Criterion Collection Spine #850
Disc:
Region: 'A' (as verified by the Oppo Blu-ray player)
Runtime: 1:53:23.046
Disc Size: 49,915,069,061 bytes
Feature Size: 33,460,396,032 bytes
Video Bitrate: 35.26 Mbps
Chapters: 18
Case: Transparent Blu-ray case
Release date: January 17th, 2017
Video:
Aspect ratio: 1.66:1
Resolution: 1080p / 23.976 fps
Video codec: MPEG-4 AVC Video
Audio:
LPCM Audio English 1152 kbps 1.0 / 48 kHz / 1152 kbps / 24-bit
Subtitles:
English (SDH), none
Extras:
• New conversation between Garfein and critic Kim Morgan (26:47)

•
New interview with actor Carroll Baker
(15:01)
•
Behind the Method, a new interview with scholar Foster Hirsch on the Actors Studio
(20:56)
•
Master Class with Jack Garfein, excerpts from a 2014 recording of one of the director's world-famous lectures on acting technique
(38:19)
•
PLUS: An essay by critic Sheila O'Malley
Bitrate:
Description: A complex exploration of the physical and emotional effects of trauma, Something Wild stars Carroll Baker, in a layered performance, as a college student who attempts suicide after a brutal sexual assault but is stopped by a mechanic (Ralph Meeker)—whose kindness, however, soon takes an unsettling turn. Startlingly modern in its frankness and psychological realism, the film represents one of the purest on-screen expressions of the sensibility of the intimate community of artists around New York's Actors Studio, which transformed American cinema in the mid-twentieth century. With astonishing location and claustrophobic interior photography by Eugene Schüfftan, an opening-title sequence by the inimitable Saul Bass, and a rhythmic score by Aaron Copland, Jack Garfein's film is a masterwork of independent cinema.
***
When college girl Mary Ann Robinson (Carroll Baker) is attacked and raped, her world is shattered. Unable to carry on a normal routine with her critical mother, Mary Ann takes a room in a New York City hovel and accepts a job at a dime store as she struggles to come to grips with her ordeal. Sinking into isolation, she attempts suicide and is saved by a concerned bystander, lonely auto mechanic Mike (Ralph Meeker). Mary Ann moves in with Mike but soon questions his motives for wanting to help.
The Film:
A rape victim goes through inner turmoil in the days following her suffering the brutal assault. Mary Ann (Carroll Baker) leaves her middle class New York home to wander the mean streets of Manhattan. She is isolated and lonely in spite of being surrounded by people. A kindly garage mechanic befriends the troubled woman on the brink of self destruction - but soon Mary Ann must ask herself if she can really trust him. Musical score provided by American legend Aaron Copeland.
Excerpt from B+N located HERE
Ignored, misunderstood and poorly received by various moviegoers and reviewers at the time of its release in December of 1961, director Jack Garfein's moody, decidedly offbeat Something Wild has belatedly come into its own after more than forty six years. Based on Alex Karmel's 1958 novel Mary Ann, this is the story of a young woman who is brutally raped while returning to her Bronx home. Unable to tell her repressive parents about her plight, she dramatically rejects her former and now despoiled existence and runs away from home, ending up in New York's seedy Lower East Side. There she rents a room and gets a job at a crummy five-and-dime store. Depressed and desperate, Mary Ann prepares to jump off a bridge into the East River when a passing stranger, a garage mechanic named Mike, rescues her and takes her back to his basement apartment to recover. Then things really start to get weird...

Image : NOTE: The below Blu-ray captures were taken directly from the Blu-ray disc.
Something Wild looks excellent on Blu-ray from Criterion and is cited as a "New, restored 2K digital transfer, supervised by director Jack Garfein". The image is clean and the black and white visuals are presented in a rich, impressive, 1080P presentation. Textures are present and the contrast if at Criterion's usual hallmark standards. This dual-layered Blu-ray, with max'ed out bitrate, provides an essentially perfect viewing in the original 1.66:1 aspect ratio.
CLICK EACH BLU-RAY CAPTURE TO SEE ALL IMAGES IN FULL 1920X1080 RESOLUTION
Audio :
Typically flat,
linear PCM mono track at 1152 kbps (24-bit) - that actually sounds crisp and tight with minor depth. The biggest beneficiary may be the score by Aaron Copland (The Red Pony, The Heiress, Armored Attack) - an oft-considered giant of 20th century American music. The score is quite varied shifting from some abrupt, rough rhythms representing the cold isolation of the city to drums and trombone chords with a divergent structure instilling eccentricity and lack of balance. It's interesting and I wish it was offered as an isolated track. There are optional English subtitles and m
y
Oppo
has identified it as being a region 'A' disc.
Extras :
Criterion offer a new, 27-minute, conversation between Jack Garfein and critic Kim Morgan recorded by Criterion in New York in August 2016. In it, Garfein discusses his work with the Actors Studio, the making of Something Wild, and his personal connections to the story of Mary Ann, the film's protagonist. There is also an illustrated audio-only new (2016), 15-minute, interview with actor Carroll Baker and she discusses the challenging role of Mary Ann in Something Wild. Behind the Method, is another 2016 interview recorded by Criterion in New York. It is with scholar Foster Hirsch on the Actors Studio and runs 21-minutes. The historian discusses the roots of Method acting, director Jack Garfein's importance to the Actors Studio, and why Something Wild is one of the most important films to come out of it. We also get a 40-minute Master Class with Jack Garfein - excerpts from a 2014 recording of one of the director's world-famous lectures on acting technique. Garfein was one of the first directors invited to join the Actors Studio, and he studied under founder Elia Kazan and legendary coach Lee Strasberg, and, as a teacher there himself, was responsible for discovering actors Ben Gazzara and Steve McQueen, among others. The package also contains a liner notes booklet with an essay by critic Sheila O'Malley.
| | |
| --- | --- |
| | |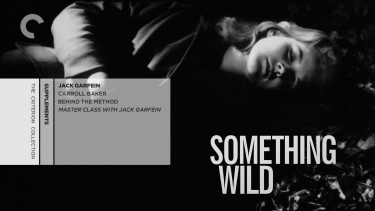 BOTTOM LINE:
Something Wild is highly interesting film. The movie's peculiarities seem a reflection of Mary Ann's psychological disorder and chaos while repressing her emotional pain. It's an amazing performance and a deeply impacting, and often painful, film experience. This Criterion Blu-ray package is an easy recommendation. A film, unjustly panned upon initial release, gets a deservedly stacked and complete home theatre package. Brilliant all-around... it could, certainly, be considered a 'must-own'.
Gary Tooze
December 14th, 2016