Review by Gary Tooze
Production:
Theatrical: Nam-a Pictures
Video: Mondo Macabro
Disc:
Region: FREE! (as verified by the Oppo Blu-ray player)
Runtime: 1:40:21.056
Disc Size: 23,356,029,736 bytes
Feature Size: 19,982,018,112 bytes
Video Bitrate: 23.00 Mbps
Chapters: 10
Case: Transparent Blu-ray case
Release date: February 14th, 2017
Video:
Aspect ratio: 1.85:1
Resolution: 1080p / 23.976 fps
Video codec: MPEG-4 AVC Video
Audio:
LPCM Audio Korean 1152 kbps 1.0 / 48 kHz / 1152 kbps / 24-bit
Subtitles:
English, none
Extras:
• Interview with producer David Suh (12:27)
• Interview with critic Kim Bong-seok on the history of Korean horror films (21:07)
• Korean VHS Cover Art Gallery (4:33)
• Mondo Macabro Promo Reel (11:11)
• Brand New Cover Illustration by Naomi Butterfield
Bitrate:
Description: A woman's idyllic middle-class life is disrupted when her husband brings home a beautiful young orphan to be their maid. At first she welcomes the pretty girl, in fact seems oddly fixated on her, but soon comes to suspect the girl of having an affair with her husband. At the same time odd, unexplained incidents - most involving the maid's mysterious wooden doll - began to make her question her own sanity. Soon it all spirals out of control as the film climaxes in a fever pitch of sexual jealousy, murder, and supernatural vengeance, all set to a pounding synth score.

Almost completely unknown outside of its home country, SUDDENLY IN THE DARK is one of the best examples of pre-millennial K-horror. It was made at a time when censorship law were being liberalized, igniting a boom in both horror and erotic films. Elements of both are present here, directed with bizarre flair by Go Yeong-nam in a style often compared to the wilder Italian films of the 70s and 80s.

Mondo Macabro is proud to present this classic of Korean horror on Blu-ray for the first time anywhere in the world. Our presentation has been restored from the best available elements from the Korean Film Archive, and features brand new extras produced exclusively for this release.
The Film:
Wealthy entomologist / professor Yu-jin (Yun Il-bong) returns home from a long butterfly collecting trip and, as he's watching a slide show of his discoveries with colleagues, notices a slide of a creepy, white-faced wooden doll brandishing a cleaver has somehow made its ways in with all his butterfly pictures. Yu-jin's wife, Seon-hee (Kim Young-ae), sees this and instantly becomes both frightened by and obsessed with the image and keeps have reoccurring visions of it. Yu-jin goes away on another long trip and this time returns with a guest: 19-year-old Mi-ok (Lee Ki-seon). The professor found her wandering the streets and, since they've been unable to find a replacement housekeeper for one who just quit, has decided to bring her home, give her a job, put her up in a room and treat her as part of the family. The couple know next to nothing about the mysterious girl except that she's the daughter of a famous shaman, her mother died in a mysterious fire, she's very protective over a bundle of something she's brought along with her that she keeps wrapped up in a sheet and she doesn't appear to be all that bright. However, once she gets a shower, lets down her hair and gets her hands on some decent clothes, she's rather attractive.
Excerpt from The Bloody Pit of Horror located HERE
Korean horror films from the 70s and 80s can be memorable, fascinating, and at times even cute, but they are rarely frightening. Suddenly At Midnight is an exception. As in Kim Ki-young's The Housemaid (1961) and its subsequent remakings, director Ko Young-nam locates the film's horror within the space of a happy, wealthy family home that is contaminated from the outside, but he takes the film in different directions than that pursued by Kim. The result is a mysterious psychological study built on the wife's suspicions, that beguiles the viewer right up to its bizarre closing image.

Director Ko -- Korea's most prolific director ever with 111 films to his credit -- has a good feel for how to create tension from precise editing and the patient accumulation of evocative details. Actress Kim Young-ae also gives a convincing performance as the panicked wife. Her fears seem plausible, which makes the film all that much more effective. I do get the sense, though, that the final reel (which had modern-day audiences jumping in fright) could have been even scarier if less slow motion had been used.
Excerpt from KoreanFilm.org located HERE

Image : NOTE: The below Blu-ray captures were taken directly from the Blu-ray disc.
Suddenly in the Dark has a reasonably consistent image quality on Blu-ray from Mondo Macabro. What doesn't help the film visually is the awkwardness of the cinematography, although this may have been intentional to keep the viewer uncomfortable and establish suspicion. Colors seem vibrant and, while not an abundance of grain, I thought the visuals looks bright and appealing in-motion. There is no extensive damage of disruptive scratches although you may notice some, inconsequential, frame-specific marks. There are instances of depth, especially in the outdoor, naturally lit, scenes. This 1.85:1 Blu-ray is pleasing in its appearance and I think most will be very appreciative of the clarity of the presentation.
CLICK EACH BLU-RAY CAPTURE TO SEE ALL IMAGES IN FULL 1920X1080 RESOLUTION
Audio :
Mondo Macabro go linear PCM , authentically 1.0 channel mono, with the audio in original Korean (1152 kbps / 24-bit). It, generally, sounds consistent although there may be some sync issues that could well be part of the original presentation. Dialogue can sound a little muffled - it may be an effect - but it's audible and there are optional English subtitles. There is an unusual 70's-like score by Jong-hyeok Choi with some intentional reverb that adds a scary atmosphere - even when the onscreen activity only supports it with with close-ups of inquisitive eyes.
My
Oppo
has identified it as being a region FREE disc playable on
Blu-ray
machines worldwide.
Extras :
Mondo Macabro have included some new extras - we get a 12-minute interview with producer David Suh about Suddenly in the Dark aka "Gipeun bam gabjagi" - he discusses his gratitude about the resurgence of overseas interest in the film and its arrival on Blu-ray, as well as the censors of the era and other tidbits to make the piece quite rewarding. There is also a 21-minute interview with critic Kim Bong-seok on the history of Korean horror films where he discusses the similarities with Suddenly in the Dark to The Housemaid (1961) aka "Hanyo" and a number of other interesting themes and production details. Fans may enjoy the many 'Korean VHS Covers' - mostly of horror films shown in a 5-minute gallery slideshow and there is also an 11-minute Mondo Macabro 'Promo Reel'. The package has a cover illustration by Naomi Butterfield.
| | |
| --- | --- |
| | |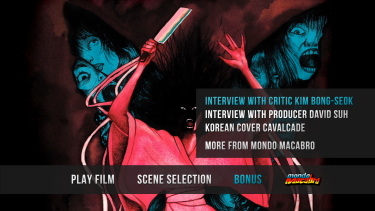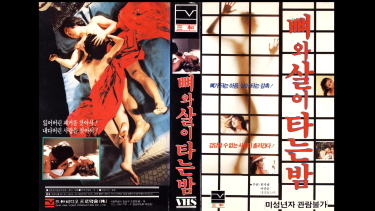 BOTTOM LINE:
I found Suddenly in the Dark a very unusual film - well, at least I found the style to be less fluid and it made me feel the production itself was amateurish. Upon a second viewing I now believe this wasn't a case of cinematographic awkwardness as much as the intentionally erratic manner of filmmaking to convey a mood. I seem to recall other older Korean films having a, relatively, harsh narrative in terms of plot points. Either/or, I do sense less sophistication in the process but that can actually give the viewing some eccentric appeal. I found it, all at once, indiscreet - blatantly salacious, forthright and kinda campy with the horror-related elements buried beneath the established home environment. Mondo Macabro should be commended for bringing this film to Blu-ray. It might acquire a cult following and I, for one, am interested to see more of this genre and this time period from Korea. Recommended to the film-curious.
Gary Tooze
January 27th, 2017