NOTE: The below Blu-ray captures were taken directly from the Blu-ray disc.
ADDITION: Criterion - Region 'A' - Blu-ray - May 17':
The Criterion is not from the same restoration as the 2009 DVD and hence has different, less prominent, tinting (no blue, golden yellows etc.) and the running time is also different. The Criterion has a bump in detail and it looks strong in-motion. Personally, I'm not as keen on tinting for
The Lodger
.
Audio is liner PCM with a new score by Neil Brand, performed by the Orchestra of Saint Paul's. It sounds excellent in the uncompressed and the intertitles are in original English, The Criterion Blu-ray is region 'A'-locked.
Criterion include Downhill, another 1927 feature directed by Alfred Hitchcock and starring Ivor Novello, in also 2K digital restoration and with a new piano score by Neil Brand. We have compared 5 captures and made a few comments in a separate comparison HERE. Criterion add more extras with a new (2017), 32-minute, interview with film scholar William Rothman on Hitchcock's visual motifs and themes evident in The Lodger that would come to define Hitchcock's style. I enjoyed the 17-minute new video essay by art historian Steven Jacobs about Hitchcock's use of architecture, exploring space and setting, in The Lodger. There are excerpts from audio interviews with Hitchcock by filmmakers François Truffaut (1962 - 26:23) and Peter Bogdanovich (1963 - 19:42 and 1972 - 20:58) and a 1/2 hour radio adaptation of The Lodger from 1940, directed by Hitchcock. Criterion also add a new, 22-minute, interview with Brand on the process of composing a new score for The Lodger. The package has a liner notes booklet with essays on The Lodger and Downhill by critic Philip Kemp.
With the inclusion of Downhill, this is a fabulous Blu-ray package. Hitchcock fans shouldn't miss this. Essential Silent era thriller - our highest recommendation!
***
NOTE: This DVD was originally available in MGM's Premiere Collection of Hitchcock films - but extremely poorly packed as described by Lars HERE. MGM still have not made a statement rectifying the faulty packaging and we therefore suggest purchase of this title via a stand alone DVD case as available HERE. This individual DVD seems to be the extract same and we review the lone DVD below.
This MGM DVD starts with the caveat: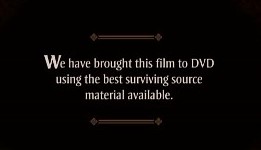 But as far as I am concerned it looks exceptionally good. There is some obvious boosting and the contrast flickers but considering the age this looks quite remarkable. It is tinted for highlighting location effect - a standard practice. While there is some haziness I don't doubt that this is the best rendition of this Silent classic (Hitch regarded it his first 'real film!) presently available. It gives a marvelous presentation - along with the audio options discussed below.
We are given choices of two music scores. Ashley Irwin has one composition played in 5.0 channel and there is a newer piece by Paul Zaza in mono. I preferred the latter but have no qualms with either. Quality was quite strong - a super bonus to the viewing.
Extras give us a factual, professional commentary by Peter MgGilligan, a 23 minute historical 'Making of...' with a lot of individual input, audio only segments from Hitchcock interviews by Peter Bogdanovich, and Francois Truffaut - plus Hitchcock's granddaughter, Mary Stone hosts a short Hitchcock 101 piece. Augmenting the DVD supplements are also an audio only 1940 radio play of The Lodger story, a stills gallery and a restoration comparison. These comprise an excellent selection of addition features for this release.
Check out the price on this - $13 - giving it incredible value. For those who didn't get rooked with the Premiere Collection this is an essential DVD for Hitchcock fans, Silent era fans and anyone else who loves film. Immensely recommended!