NOTE: The below Blu-ray captures were taken directly from the Blu-ray disc.
ADDITION: Kino - Region 'A' - Blu-ray (April 2019): This is very similar to the Koch - skin tones are slightly warmer and the image minutely darker but it is not enough to pick-and-choose. It has the same minor color bleeding (see Simon's comments below) and same marks indicating it is from the same source. Technically both transfers are simple-layered with similar bitrates.
Kino has a slight edge in audio with a more roust DTS-HD Master 2.0 channel mono track. But it isn't very consequential. The Kino also offers English subtitles but is region 'A'-locked.
The big difference is that Kino add another excellent commentary by Toby Roan - who shares his extensive knowledge of westerns and the tinniest of details regarding the background of the production. He is always impressive. There is also a trailer.
Well, not a significant advancement in a/v but the commentary sells it. The Kino is warmly recommended for this classic Anthony Mann / Jimmy Stewart western genre effort.
***
ADDITION: Koch Media - Region FREE - Blu-ray (October 2017):
The 1080P can, for the most part, look quite pleasing but it has instances of color bleeding although it was minimal.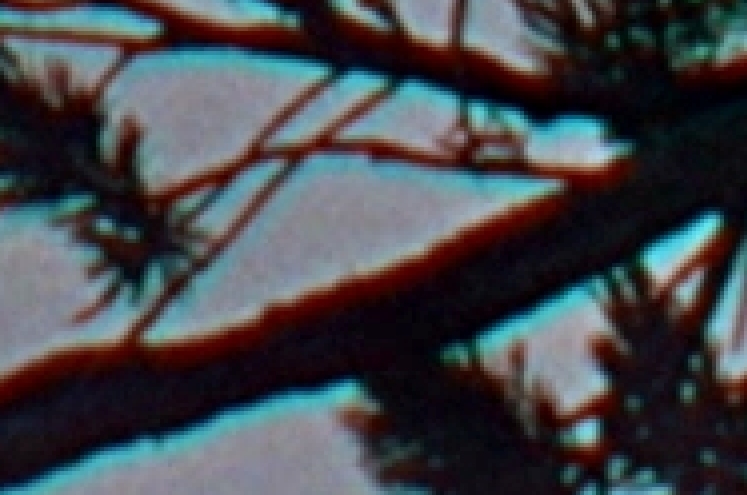 RE: Color bleeding, Simon tell us in email: "As you probably know, this is inherent in only pre-1954 3-strip Technicolor movies...... The 3 negatives shrink slightly at different rates.

The 3-strip process is a dye transfer process from 3 b/w film negs shot simultaneously thru color filters. The cameras were huge & bulky. The colors are pretty permanent, unlike post 1954 single strip color that is highly prone to fading of different colors at different rates. For some reason the 3 b/w negs are not equally stable in film dimension, although theoretically they should be.

The first time this was publicised was when MGM did their WS reissue of Gone with the Wind around 1960 or early 61..... They had to re-register the 1939 Technicolor negs---especially the yellow, as I recall reading then...... Perhaps the mis-register was more obvious because of the big blow up they gave the movie to maybe 70mm & cropping off the top & bottom to give it a WS ratio, which was so badly received critically that it was junked for subsequent reissues.

Probably itís not been as noticeable in DVD releases of older 3-strip movies because of the lower resolution.

I feel it unlikely that the Germans had access to the original U-I negatives but maybe Universal supplied them with a digital copy from the states--- I donít know... It may also be that the negs had already gone out of registration when a new Bend of the River print was pulled in the 1960s or 70s for TV consumption....anyway, U-I did not go to the cost of re-registering that MGM afforded for GWTW or more recently Warners for Wizard of Oz or any other of the pre-1954 color movies in their library, to which they gave a primo release.

Thereís probably a bunch of technical writing on this subject that Iíve not seen, & the particulars to how much which color separation negative shrinks.....but Iíve never researched.....

However, we are liable to see the color haloing from the out of register colors in any pre-1954 movie BD that has not undergone expensive restoration, or perhaps been drawn from perhaps a single color master that was made from the 3 color before they shrunk.

It was a problem with the Barefoot Contessa BD last year." (Thanks Simon!)
Discerning eyes will notice it but overall the colors are brighter and richer than the older DVDs. My preference would have been for finer, more consistent, grain - it can tend to look blotchy. Detail advances and the score by Hans J. Salter (The 5,000 Fingers of Dr. T., Man Without a Star, Cover Up, The Wolfman, The Mole People) via a lossless DTS-HD Master mono (in either English or German DUB options) - 16-bit - sounds very nice if lacking powerful depth. There are both optional English or German subtitles and the Blu-ray disc, starting with the Universal logo, is Region FREE. NOTE: the 2nd English track (4th, optional, track of the presentation) is an isolated effects and score track - also in DTS-HD Master.
Extras list a 'TV Synchro' which is the same video transfer but seem to offer an alternate German DUB (it starts with the 3rd track option - the second German track of the disc.) There is also a trailer, some artwork (mostly posters and titlecards) and another gallery with photos.
This is an imperfect video appearance - requires re-registering 3-strip - but I suspect it has more to do with the source and a restoration is required. The film, certainly warrants it, but will it ever come? I enjoyed seeing this classic on Blu-ray despite the weaknesses. A pure, Anthony Mann, western gem with a great cast. Winchester '73 and many more of the director-actor pairings need to be released on BD.
***
ADDITION: James Stewart - The Western Collection contains Destry Rides Again / Winchester 73 / Bend of the River / The Far Country / Night Passage and The Rare Breed. These two Bend of the River editions are exactly the same - same 2003-dated VOB files. The only difference is that the cover is now a transparent slimcase with black and white art.
I'd VERY high on this James Stewart - The Western Collection - we've reviewed/compared all titles now (links in paragraph above). For these six western gems the price amounts to $5 a piece which is really a ridiculous deal. Strongly recommended!
ON THE ORIGINAL RELEASE: Don't fret over the Universal screen warning "This film has been modified from its original version. It has been formatted to fit your screen." - it was shot in 1.37 and this is how it is presented on this DVD. Dark with no digital manipulation and good colors, although skin tones seem quite reddish. This is a very sharp image and Universal have got a few of these from their Westerns Collection really right. No extras save a trailer but a damn good western and an above average image - tack on decent subtitles, original audio and a reasonable price and the formula equals - must buy status!

out of