Review by Gary Tooze
Production:
Theatrical: National Cinematografica
Video:
88 Films
Disc:
Region: 'B' (as verified by the Oppo Blu-ray player)
Runtime: 1:33:45.036
Disc Size: 21,754,862,261 bytes
Feature Size: 21,599,606,784 bytes
Video Bitrate: 26.95 Mbps
Chapters: 12
Case: Transparent Blu-ray case
Release date: May 15th, 2017
Video:
Aspect ratio: 1.85:1
Resolution: 1080p / 23.976 fps
Video codec: MPEG-4 AVC Video
Audio:
LPCM Audio English 2304 kbps 2.0 / 48 kHz / 2304 kbps / 24-bit
Subtitles:
English, none
Extras:
•
Daria Nicolodi - The Dame of Delirium - booklet Notes by Calum Waddell

•
Reversible Sleeve with original LE FOTO DI GIOIA title)
DVD
Bitrate:
Description: Gloria (Serena Grandi, Antropophagus: The Beast), a model turned magazine owner, is having a terrible time keeping her buxom talent alive. A crazed fan of the ex-model is picking off her new starlets, one-by-one, and sending grotesque photographs of their bloody craftsmanship to the poor mogul. As the threats and bodies continue to mount, Gloria must discover who this madman is before she becomes the ultimate model for the lunatic s chopping block. Scored by the legendary Simon Boswell (Demons 2), Lamberto Bava s overly stylish Giallo was originally developed by none other than Dario Argento and is brimming with legendary exploitation stars like Daria Nicolodi, George Eastman and David Brandon; all of whom are draped in outlandish 80s fashion. Delirium makes it HD debut thanks to 88 Films and is a must have for any Giallo fan!
The Film:
A psycho-killer is on the loose, and detectives are trying to catch him. Meanwhile, criminals who have escaped justice are found hanged, and evidence indicates it was suicide, though in truth, they were murdered by a vigilante group. Are these incidents related?

Probably the best thing about this movie is its central premise; a psycho killer is hired by a vigilante group. While watching this movie, I found my mind playing around with the possible ways you could handle the story, especially in terms of how you would handle certain characters to make the story plausible.
Excerpt from FantasticMovieMusings located HERE
Voluptuous Italian starlet Serena Grandi stars in this uneven but memorable Giallo from director Lamberto (Demons) Bava as Gloria, a former centerfold model who inherits her dead husband's sex magazine; Pussycat. One day during a photo shoot, she receives lewd phone calls from her paraplegic teenage neighbor. Gloria dismisses his calls because she feels sorry for him, but when he calls saying that one of her models just got pitchforked to death, she calls the police. It seems that there is a lunatic on the loose that has a grudge against Gloria and is intent on murdering all of her models. The killer, we learn gets off on posing the model's dead bodies and has photo shoots with their corpses. Of course, after the killer does away with several models, the cross-dressing psycho with a helium voice comes after Gloria.
Excerpt from TheVideoVacuum located HERE

Image : NOTE: The below Blu-ray captures were taken directly from the Blu-ray disc.
Delirium gets an impressive transfer to Blu-ray from 88 Films, cited as a "New Master Restored from the Original Camera Negative". It is single-layered with a supportive bitrate for the 1.5 hour feature. The 1080P exports excellent contrast with tight lines, solid colors and depth in the, original, 1.85:1 frame. It's very clean and there are grain textures that consistently support a film-like presentation. This Blu-ray exports an exceptionally healthy HD-rendered image.
NOTE: This has the English title sequence and no photos (like the sexy cover with Grandi) as found on the cover of the BD, although it does say:

It's just a black screen with title/credits.
CLICK EACH BLU-RAY CAPTURE TO SEE ALL IMAGES IN FULL 1920X1080 RESOLUTION
Audio :
Only the English, mostly DUBB'ed, track is provided on the
88 Films
Blu-ray
of
Delirium
via a uncompressed liner PCM transfer (24-bit). The dialogue mismatches are at the usual level of Italian cinema and, frankly, add some charisma. The effects aren't overwhelming for such a film but the score credited to Simon Boswell (
Santa Sangre
,
Phenomena
) adds funky-electronic beats that help the
Giallo
labeling. There are optional English subtitles (see sample) and my
Oppo
has identified it as being a region 'B'-locked.
Extras :
Digitally bare-bones but there is an included 8-page booklet with an essay entitled 'Daria Nicolodi - The Dame of Delirium' by Calum Waddell, a reversible sleeve with the original LE FOTO DI GIOIA title (but same photo), and a second disc PAL DVD of the feature.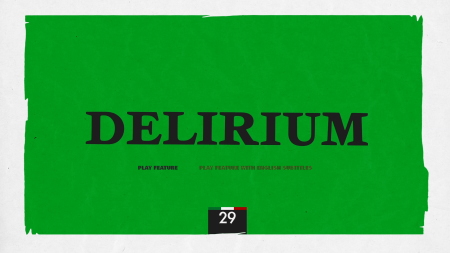 BOTTOM LINE:
Delirium has plenty of nudity. It seems every scene finds an excuse of flash some female nakedness - breasts dominating. Serena Grandi looks impressive and must have had 20 dress changes for this role. Delirium isn't classic Giallo and, I would say, sneaks into the genre classification. We do have it listed in our article HERE. The appeal is more the sexploitation-angle with the murder-mystery an excuse. It kinda works. Grandi carries the film with her serious looks and I did watch it to completion. I enjoyed the sly style incorporated by Mario's son. It elevated it beyond the sleazy. The 88 Films Blu-ray provides an excellent video and English audio presentation with the booklet essay as a lone supplement. Only hardcore Giallo lovers or those keen on the abundant nudity should consider. Those niches, probably, won't be disappointed. :)
Gary Tooze
August 17th, 2017