Review by Gary Tooze
Production:
Theatrical: Hammer Films
Video:
Indicator (Powerhouse)
Disc:
Region: FREE (as verified by the Oppo Blu-ray player)
Runtime: 1:20:04.007
Disc Size: 47,601,509,723 bytes
Feature Size: 22,907,631,168 bytes
Video Bitrate: 35.02 Mbps
Chapters: 10
Case: Transparent Blu-ray case
Release date: February 19th, 2018
Video:
Aspect ratio: 1.66:1
Resolution: 1080p / 23.976 fps
Video codec: MPEG-4 AVC Video
Audio:
DTS-HD Master Audio English 1036 kbps 1.0 / 48 kHz / 1036 kbps / 24-bit (DTS Core: 1.0 / 48 kHz / 768 kbps / 24-bit)
Commentary:
Dolby Digital Audio English 192 kbps 2.0 / 48 kHz / 192 kbps
Subtitles:
English (SDH), none
Extras:
• Audio commentary with film historian Michael Brooke and author Johnny Mains
• Undercover Killer: Inside The Snorkel (20:58)
• New interview with props master Peter Allchorne and second assistant director Hugh Harlow (7:48)
• Four Note Fear - Appreciation of composer Francis Chagrin by David Huckvale (23:18)
• Original Script Ending (9:48)
• Hammer's Women: Betta St John (2018): Diabolique magazine's editor-in-chief Kat Ellinger offers an appreciation of the American actress, singer and dancer (10:23)
• Advertising and Publicity Gallery
• Original trailer (1:55)
Bitrate:
Description:
The 1958 Hammer Film
The Snorkel
opens with one of the more memorable pre-credits sequences to be found in a thriller the viewer witnesses a "perfect murder" being committed. In a stylish European style sitting room, we see a calm, debonair sandy-haired man take a needle off a phonograph record, then use thick tape to seal the cracks of a closed window. He rolls up a rug on the floor and sets it against the bottom crack of a closed door. The man then retrieves a coil of hidden rubber hose, and moves another rug to reveal a hidden shallow under the floorboards. He crawls in the cramped space, scaring mice out of the way, and connects two pieces of the rubber hose to pipes which lead outside the upstairs section of the large brick residence. He crawls back out through the cobwebs to the room. As he lets gas escape through the room's lighting fixtures, we notice a woman shifting slightly while lying on the couch. The man sits in a chair in the room as he waits for the gas to slowly kill the prone woman. He won't be affected he has attached the other ends of the rubber hoses to a snorkel, which covers his face and provides outside oxygen. Over a close-up of the man's snorkeled head, the opening credits roll.
The Film:
Van Eyck tries his hand at committing the perfect crime in this ingenious murder mystery. In order for his wife's murder to appear a suicide, he gives her a dose of tranquilizers, locks the doors and windows from the inside, turns on all the gas, and hides in a cubbyhole underneath the floor. From there he breathes through a snorkel tube and waits until the police arrive, remove the body, and declare it a suicide before he comes out. His plan is foiled when the dead woman's daughter from a previous marriage catches on to Van Eyck's scheme. A clever film that works.
Excerpt from TVGuide located HERE

On holiday from a British boarding school, Candy Brown (Mandy Miller) visits her mother and stepfather at their villa in a Italian coastal town. To her shock, Candy learns that her mother has committed suicide by sealing herself in a room and turning on the gas. Candy immediately suspects foul play, but the police inspector insists that's impossible: the servants found Candy's mother in a locked room completely sealed from the inside.
Excerpt ClassicFilmTvCafe located HERE

Image : NOTE: The below Blu-ray captures were taken directly from the Blu-ray disc.
The Snorkel arrives on Blu-ray from Indicator in a dual-layered 1080P presentation with a max'ed out bitrate. The appealing attribute is the heavy, and consistent, grain texture - it's superior to the old DVD that we've compared some captures to below. This Blu-ray offers a solid, HD presentation without issues.
CLICK EACH BLU-RAY CAPTURE TO SEE ALL IMAGES IN FULL 1920X1080 RESOLUTION
Audio :
The audio is transferred via a
DTS-HD Master
authentically mono at
1036 kbps
(24-bit). There are no instances of aggressive effects and the film's atmosphere relies on the score by
Francis Chagrin
and it adds to the brooding suspense of whether the film's murderer can evade justice.
There are optional English (SDH) subtitles - see sample - and m
y
Oppo
has identified it as being a region FREE - playable world-wide.

Extras :
We are treated to a new audio commentary by film historian Michael Brooke and author Johnny Mains and they deeply explore The Snorkel, the performers, story and much more - predictably it is very rewarding and enjoyable. Undercover Killer: Inside The Snorkel runs 21-minutes with Jonathan Rigby, Josephine Botting, and John J. Johnston discussing The Snorkel, it's positioning in the Hammer cycle and details on production. There is an 8-minute new interview with props master Peter Allchorne and second assistant director Hugh Harlow remembering their work on the film. Four Note Fear is a 23-minute appreciation of composer Francis Chagrin by David Huckvale. There is an original script ending with the following description: "Jimmy Sangster's penultimate draft of the screenplay for The Snorkel led to what would have been the darkest conclusions to any film made in the 1950's. This ending was rejected. However, Sangster's final draft cleverly included all the elements of his original ending, whose impact was only softened by an additional scene just before the final credits. What follows in not the original ending of the film, as it was never even edited in this form, let alone released. However, this alternative edit, carried out exclusively for this Indicator Blu-ray disc, scrupulously follows the script of Sangster's preferred ending." There is another episode of Hammer's Women with Diabolique magazine's editor-in-chief Kat Ellinger offering an appreciation of the American actress Betta St John and her early roles in Destry Rides Again (1939) and the musical South Pacific. It runs 10-minutes. There is another advertising and publicity gallery and an original trailer. The package has an exclusive booklets for each film, with new essays by Kat Ellinger, Julian Upton and Kim Newman, archival interview materials, contemporary reviews, and full film credits. This Hammer Volume Two: Criminal Intent edition is limited to 6,000 copies.
| | |
| --- | --- |
| | |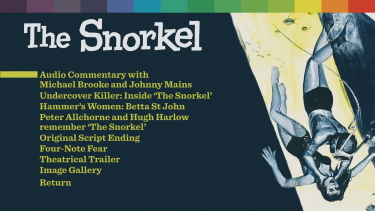 BOTTOM LINE:

The Snorkel
is an excellent thriller with a brilliant ending. The film's suspense is generated mostly through action with limited dialogue and, in that sense, could be considered Hitchcockian. The Indicator
Blu-ray
presentation is beautifully film-like and the package contains a valuable commentary and extensive extras. More of Indicator's desirable work - film fans should be very grateful. This gem is now on
Blu-ray
and, like the entire
Hammer Volume Two: Criminal Intent
package, is VERY strongly recommended!
Gary Tooze
February 28th, 2018
Released individually on Blu-ray in the UK, by Indicator, in February 2021:

or buy directly from Indicator: