Review by Gary Tooze
Production:
Theatrical: Hammer Films
Video:
Indicator (Powerhouse)
Disc:
Region: FREE (as verified by the Oppo Blu-ray player)
US Runtime: 1:20:04.007
UK Runtime: 1:06:49.672
Disc Size: 47,601,509,723 bytes
US Feature Size: 22,907,631,168 bytes
UK Feature Size: 17,429,718,144 bytes
Video Bitrate: 35.02 Mbps / 32.02 Mbps
Chapters: 10 9
Case: Transparent Blu-ray case
Release date: February 19th, 2018
Video:
Aspect ratio: 1.66:1
Resolution: 1080p / 23.976 fps
Video codec: MPEG-4 AVC Video
Audio:
DTS-HD Master Audio English 1036 kbps 1.0 / 48 kHz / 1036 kbps / 24-bit (DTS Core: 1.0 / 48 kHz / 768 kbps / 24-bit)
Commentary:
Dolby Digital Audio English 192 kbps 2.0 / 48 kHz / 192 kbps
UK Version:
DTS-HD Master Audio English 1036 kbps 1.0 / 48 kHz / 1036 kbps / 24-bit (DTS Core: 1.0 / 48 kHz / 768 kbps / 24-bit)
Subtitles:
English (SDH), none
Extras:
• Two presentations - the original UK theatrical cut, and the extended US version
• Audio commentary with film historians Jonathan Rigby and David Miller on the extended US version
• The Perfect Crime: Inside 'Cash on Demand' (18:50)
• Hammer's Women: Lois Daine (9:51)
• Theatrical Trailer (2:21)
• Advertiser and Publicity Gallery
• Press Material
Bitrate:
1) Indicator (US Version) - Region FREE - Blu-ray - TOP
2) Indicator (UK Version) - Region FREE - Blu-ray - BOTTOM
Description:
It's a plain case of cheeky André Morell's walking into the office of the manager of a provincial bank on the pretense of being an insurance inspector, putting the nasty, arrogant manager on the spot with a threat of having an accomplice kill his wife and son if he doesn't help, and then coolly lifting £93,000 out of the bank's vault. The clerks out front sit on their haunches, and he blithely drives away with his loot.
Of course it is after his departure that the unexpected occurs, but we won't go into that detail because it does provide a little surprise.
So does the rest of the picture provide a few engaging moments of suspense and some modest exchanges of obvious humor between Mr. Morell, who is casual and dry, and Peter Cushing, who is pinch-faced and nervous as the cornered bank manager.
Excerpt from theNYTimes located HERE
The Film:
Morell kidnaps the wife and son of bank manager Cushing and extorts his victim's aid in a bank robbery. When an employee of the bank figures out what is going on, Cushing, ever unpopular with his staff, must plead with them not to inform the police. They agree, but the police, working independently, capture Morell. The experience changes Cushing's attitude toward his employees. Decent melodrama and one of Cushing's few nonhorror roles.
Excerpt from TVGuide located HERE

Cash on Demand
was selected by the film historians Steve Chibnall and Brian McFarlane as one of the 15 most meritorious British B films made between World War II and 1970. They note that it also received enthusiastic reviews at the time of its release from The Monthly Film Bulletin and Kinematograph Weekly. They particularly praise Peter Cushing: "Above all, it is Peter Cushing's performance of the austere man, to whom efficiency matters most (though the film is subtle enough to allow him a certain integrity as well), and who will be frightened into a warmer sense of humanity, that lifts the film well above the perfunctory levels of much 'B' film-making.
Excerpt Wikipedia located HERE

Image : NOTE: The below Blu-ray captures were taken directly from the Blu-ray disc.
Cash on Demand arrives on Blu-ray from Indicator with the option of two presentations - the original UK theatrical cut, and the, almost 1/4 hour longer, extended US version. These are separate transfer (not seamlessly branched) but the quality is very similar. The 1080P is very impressive - extremely sharp, contrast is strong - bright and crisp frequently showing depth. This is dual-layered with a max'ed out bitrate for the US and very high for the UK - both towering above the old DVD that we've compared some captures to below. This Blu-ray offers a consistent and impressive presentation.
CLICK EACH BLU-RAY CAPTURE TO SEE ALL IMAGES IN FULL 1920X1080 RESOLUTION
Audio :
The audio is transferred via a
DTS-HD Master
authentically mono at
1036 kbps
(24-bit). There are very rare instances of aggressive effects and the film's atmosphere relies on the score by
Wilfred Josephs (
Fanatic
,
The Deadly Bees,
notable for TV series music in
I Claudius
and
The Prisoner
)
and it adds to the building tension.
There are optional English (SDH) subtitles - see sample - and m
y
Oppo
has identified it as being a region FREE - playable world-wide.

Extras :
Indicator add an informative audio commentary by film historians Jonathan Rigby and David Miller on the extended US version (only). It's pretty good and they compliment each other well identifying nuances of the story/direction. The Perfect Crime: Inside 'Cash on Demand' runs 19-minutes and has Jonathan Rigby, Josephine Botting, John J. Johnston and others talking about the film, Cushing and details of the production. Hammer's Women: Lois Daine has Becky Booth sharing some details of the actresses career including, Hell is a City, TV work (ex. Coronation Street) and her only other Hammer film Captain Kronos - Vampire Hunter running shy of ten minutes. There is also a trailer and galleries for advertising, press and promotional material. The package has an exclusive booklets for each film, with new essays by Kat Ellinger, Julian Upton and Kim Newman, archival interview materials, contemporary reviews, and full film credits. This Hammer Volume Two: Criminal Intent edition is limited to 6,000 copies.
| | |
| --- | --- |
| | |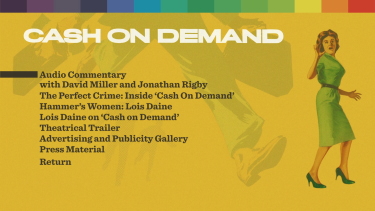 BOTTOM LINE:

Cash on Demand
is an excellent, unique, heist / getaway drama. Obviously low-budget, Peter Cushing and André Morell are excellent in their cat-and-mouse interplay. It has intelligent twists and certainly a divergence from the typical Gothic horrors of the studio. The Indicator
Blu-ray
presentation is as good as it gets in both audio and video and the package contains a valuable commentary. More of Indicator's desirable work - film fans should be very grateful. This less-discussed film is now on
Blu-ray
and, like the entire
Hammer Volume Two: Criminal Intent
package, is VERY strongly recommended!
Gary Tooze
February 26th, 2018
Released individually on Blu-ray in the UK, by Indicator, in February 2021:

or buy directly from Indicator: