Review by Gary Tooze
Production:
Theatrical: Hammer Films
Video:
Indicator (Powerhouse)
Disc:
Region: FREE (as verified by the Oppo Blu-ray player)
Runtime: 1:21:10.824 (both are 1:21:10)
Disc Size: 40,757,874,051 bytes
Feature Size: 23,092,003,968 bytes
Video Bitrate: 34.97 Mbps
Chapters: 13
Case: Transparent Blu-ray case
Release date: February 19th, 2018
Video:
Aspect ratio: 2.35:1
Resolution: 1080p / 23.976 fps
Video codec: MPEG-4 AVC Video
Audio:
DTS-HD Master Audio English 1064 kbps 1.0 / 48 kHz / 1064 kbps / 24-bit (DTS Core: 1.0 / 48 kHz / 768 kbps / 24-bit)
Subtitles:
English (SDH), none
Extras:
• Two presentations of Never Take Sweets from a Stranger: the original UK theatrical cut, containing original titles and dialogue; and the alternative US version with amended Never Take Candy from a Stranger titles and censored dialogue
• Conspiracy Theories: Inside "Never Take Sweets From a Stranger" (24:36)
• Hammer's Women: Gwen Watford (7:59)
• Interview with Janina Faye (14:24)
• An Appreciation by Matthew Holness (11:52)
• The Perfect Horror Chord (43:10)
• Us Theatrical Trailer (2:29)
• Brian Trenchard-Smith Trailer Commentary
• Advertising and Publicity Gallery
• Press Material
Bitrate:
Description:
Clarence Olderberry, a senile psychopath living in a Canadian town, is sexually attracted to little girls. High school principal Peter Carter and his wife, Sally, new arrivals from England, discover that their 9-year-old daughter Jean and her playmate Lucille have undressed in front of Olderberry in exchange for candy. Peter takes the matter to court, but the wealthy Olderberry's son, a powerful influence in the community, is able to conceal the fact that his father is a former mental patient and at the same time arouse public sentiment against the Carters. The prosecution is dropped when the defense counsel, a clever "family" lawyer, bullies and confuses Jean, and the old man is acquitted. Peter resigns his post and prepares to leave town when he discovers that Jean and Lucille have vanished, as has Clarence Olderberry.
The Film:
After a series of phenomenally successful horror films, Hammer Films took a chance and produced a serious drama dealing with a grim social problem: child molestation. The resulting film is a sincere, delicately handled work that is quite successful from a social and artistic standpoint. But Hammer could not change its bloody image with the critics overnight, and the film was savaged in the press by writers who assumed that Hammer would exploit the sensitive material. The studio did not, however, and NEVER TAKE CANDY FROM A STRANGER is one of the few films that examines this unsettling and important problem. Allen, his wife, Watford, and their young daughter, Faye, move from England to a small town in Canada so that Allen can begin his new job as the high school principal. Also in the town lives Aylmer, a senile old man with severe psychopathic problems and an
attraction to little girls.
Excerpt from TVGuide located HERE

This relevant thriller from Hammer Films tells the story of Peter Carter (Patrick Allen) and his family, who have moved to a small Canadian town where Peter's been hired as the new school principal. But the Carters are unaware there's a sexual predator on the loose in the community.
The elderly pervert Clarence Olderberry (Felix Aylmer) makes a play for Carter's young daughter Jean (Janina Faye) and her friend, by offering them sweets if they strip nude.
Carter takes legal action and demands justice. But even though rumors have long swirled about the wealthy and respected Olderberry, the odds are against the Carters.
Excerpt TheTerrorTrap located HERE

Image : NOTE: The below Blu-ray captures were taken directly from the Blu-ray disc.
Never Take Sweets From a Stranger arrives on Blu-ray from Indicator out of the UK. Firstly, we get the option for the UK or US titles (see above) but the presentation is seamlessly branched and is the same quality from then on, although the US version has some censored dialogue. The image quality is very impressive - extremely sharp, contrast is strong - sometimes quite dark with a hint of green but the visuals exhibit pleasing depth. This is dual-layered with a max'ed out bitrate - towering above the old DVD. This Blu-ray offers an impressive presentation in 1080P and kudos to the cinematography of Freddie Francis.
CLICK EACH BLU-RAY CAPTURE TO SEE ALL IMAGES IN FULL 1920X1080 RESOLUTION
Audio :
The audio is transferred via a linear PCM authentically mono at
1152 kbps
(24-bit). There are no aggressive effects and the film's tension relies solely on the excellent score by
Elisabeth Lutyens' (
The Skull, The Terrornauts
,
Paranoiac
,
The Earth Dies Screaming
) - good featurette on her in the extras - that certainly benefits from the lossless transfer heightening the
Never Take Sweets
' drama and suspense.
There are optional English (SDH) subtitles and m
y
Oppo
has identified it as being a region FREE - playable world-wide.

Extras :
Indicator add many supplement. Conspiracy Theories: Inside "Never Take Sweets From a Stranger" runs 25-minutes and has Jonathan Rigby, John J. Johnston and others talking about the film's impact and it's position in Hammer's oeuvre. It includes an archival audio interview with director Cyril Frankel. Hammer's Women: Gwen Watford spends 8-minutes with Laura Mayne discussing the actress, her theatrical and many later TV roles. There is a new 1/4 hour interview with Janina Faye and she discusses her experiences in the child role of Jean Carter and her other Hammer film Horror of Dracula (1958). I enjoyed the dozen-minute Appreciation by Matthew Holness and the extensive The Perfect Horror Chord by David Huckvale author of Hammer Film Scores and the Musical Avant-Garde. It runs a 43-minutes and is filled with interesting information. There is also a US theatrical trailer with an Trailer-From-Hell Brian Trenchard-Smith commentary as well as galleries for advertising, press and promotional material. The package has an exclusive booklets for each film, with new essays by Kat Ellinger, Julian Upton and Kim Newman, archival interview materials, contemporary reviews, and full film credits.. This edition is limited to 6,000 copies.
| | |
| --- | --- |
| | |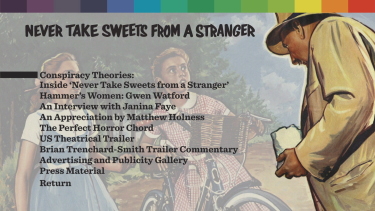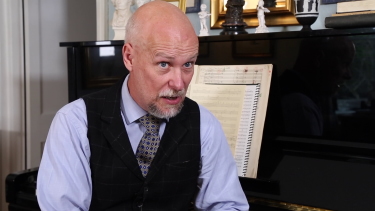 BOTTOM LINE:
Never Take Sweets From a Stranger is a Hammer effort dealing with an extremely distasteful subject. It was shunned upon initial release and as society has become increasingly sensitive to the topic - it can leave a disturbing aftertaste. But it is impressive cinema. The Indicator Blu-ray presentation is as good as it gets in both audio and video and the package contains plenty of very valuable extras - as does the entire package. More of Indicator's concise and complete work. This under-appreciated film is now on Blu-ray and, like the entire
Hammer Volume Two: Criminal Intent
package, is VERY strongly recommended!
Gary Tooze
February 25th, 2018
The Indicator is part of their 4 Blu-ray set Hammer Volume Two: Criminal Intent with Never Take Sweets from a Stranger, Cash On Demand, The Full Treatment and The Snorkel.