Review by Gary Tooze
Production:
Theatrical: Filmways Pictures
Video:
Indicator (Powerhouse)
Disc:
Region FREE (as verified by the Oppo Blu-ray player)
Runtime: 1:47:17.472
Disc Size: 24,620,099,042 bytes
Feature Size: 21,247,798,656 bytes
Video Bitrate: 21.99 Mbps
Chapters: 12
Case: Standard Blu-ray case
Release date: July 24th, 2017
Video:
Aspect ratio: 2.35:1
Resolution: 1080p / 23.976 fps
Video codec: MPEG-4 AVC Video
Audio:
LPCM Audio English 768 kbps 1.0 / 48 kHz / 768 kbps / 16-bit
DTS-HD Master Audio English 1085 kbps 4.0 / 48 kHz / 1085 kbps / 16-bit (DTS Core: 4.0 / 48 kHz / 512 kbps / 16-bit)
John Player Lecture:
Dolby Digital Audio English 192 kbps 2.0 / 48 kHz / 192 kbps
Subtitles:
English (SDH), none
Extras:
• The John Player Lecture with Burt Lancaster conducted by Joan Bakewell at the National Film Theatre, London on June 22nd, 1972 - audio only
• New interview with actor Tony Bill (2017, 18:20)
• Archival Interview with author William Eastlake (1968, 29:46)
• Original theatrical trailer (3:24)
• Limited edition exclusive booklet with a new essay by critic Brad Stevens, an overview of contemporary critical responses, and historic articles on the film
• World premiere on Blu-ray
• Limited Dual Format Edition of 3,000 copies
DVD included
Bitrate:
Description:
Sydney Pollack brought together an expert ensemble cast in
Castle Keep
(1969), an eccentric World War II film based on William Eastlake's novel. Burt Lancaster plays a one-eyed American Army major leading a small company of GIs in France near the end of the war. Hoping to catch a little R-and-R, the weary squad occupies an ancient castle in the Ardennes Forest owned by an impotent nobleman who urges Lancaster to father an heir for him. The major's men humorously find their own pleasures and distractions in Castle Keep: one moves in with the wife of an absent baker, another zealously guards the castle's art treasures, and one falls in love with the prototype of the Volkswagen Beetle. The welcome, if odd, sense of peace is disturbed when the Germans attack and the soldiers vainly try to save the Old World treasures inside.
The Film:
Once on location deep in a Yugoslavian forest, Pollack learned just what a picture of this scale meant. What was supposed to have been a three-month shoot beginning in March 1968 stretched six months through the summer. After a lot of winter footage was in the can, the weather turned unseasonably hot, melting the snow and bringing buds out on the trees. Cinematographer Henri Decae, famous for his work on Francois Truffaut's The Four Hundred Blows (1959), refused to go on, insisting the scenes wouldn't match, and had to be persuaded to shoot at night with marble dust filling in for the long-gone snow. Lee Zavits, the film's special effects director, took an intense dislike to the central set piece, a million-dollar 10th century "castle" made out of Styrofoam, and kept threatening after a few drinks to blow it up. Zavits never intentionally took that step, but while the climactic fire scene was being set up, some gasoline in the moat went up in flames and set the structure ablaze sooner than planned. Luckily, Decae captured the conflagration on film, but the castle had to be completely rebuilt to shoot two more scenes.

The film, set in the Ardennes forest during the winter of 1944, has the form and visual beauty of a dark fairy tale. A group of exhausted, slightly lunatic G.I.'s commanded by a one-eyed major who has no intimations of immortality, is billeted in a perfectly preserved, 10th-century castle, Maldorais. The aging, impotent Count of Maldorais, who sees himself as the keeper of civilization's flame, and his young countess, who also happens to be his niece, live in rococo splendor as the war rages around them, talking all the time, rather tiresomely, on two levels.

"The castle," says the count, "is always conquered from within—by the visitors within." Later, as the Germans are preparing a counterattack, which the Americans plan to repulse at the expense of the castle, the count says: "The enemy is not either side. To them the enemy is something in-between. They don't want to destroy each other—they want to destroy us—the keepers."
Excerpt from the NYTimes located HERE

Image : NOTE: The below Blu-ray captures were taken directly from the Blu-ray disc.
Castle Keep looks solid on Blu-ray from Indicator in the UK. There are some very striking sequences captured impressively in the 2.35:1 aspect ratio. This is only single-layered with a more modest bitrate but the 1080P looks fine with grain texture and pleasing depth. The army combatants drab cache greens and grays contrast dynamically to the film's richer reds, bright lime greens and yellows. This Blu-ray offers a clean, consistent and competent HD presentation. No noise, artifacts or distracting complaints.
CLICK EACH BLU-RAY CAPTURE TO SEE ALL IMAGES IN FULL 1920X1080 RESOLUTION
Audio :
Indicator use a linear PCM mono track (16-bit) and the option of a DTS-HD Master 4.0 channel (also 16-bit) - I believe the 70 mm showings of Castle Keep used 6-track audio (and was 2.2:1 AR). There was some separation in the 4.0 channel but neither track had substantial depth in the final sequence's explosions, gunfire etc. The score is by Michel Legrand (La Piscine, The Umbrellas of Cherbourg, The Young Girls of Rochefort, A Woman is a Woman, Cleo From 5 to 7, Ice Station Zebra) and has an occasional lighter tone - not one of his more memorable compositions, imo. But it does sound very clear with some buoyancy in the lossless. There are optional English (SDH) subtitles and m
y
Oppo
has identified it as being a region
FREE playable worldwide
.

Extras :
Indicator add supplements. The John Player Lecture with Burt Lancaster was conducted by Joan Bakewell at the National Film Theatre in London on June 22nd, 1972 and plays as audio only to the showing of the film with the caveat of limited quality due to the source. There is a new, 18-minute, interview with actor Tony Bill, entitled 'The Lullaby of War' - recalling the location in Yugoslavia and his part in the film playing Lt. Amberjack. Included is an archival interview, from 1968, with author William Eastlake running just shy of 1/2 hour. Lastly is an original theatrical trailer and the package contains a limited edition exclusive booklet with a new essay by critic Brad Stevens, an overview of contemporary critical responses, and historic articles on the film and a second disc DVD - this dual format edition is limited to 3,000 copies
| | |
| --- | --- |
| | |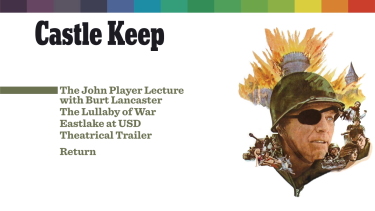 BOTTOM LINE:
I had only seen Castle Keep many years ago and had forgotten most of it. I like the concept and the film has an interesting juxtaposition of high culture, with fine art and wine, horseback riding on a palatial estate, against battle-worn soldiers, prostitutes etc. It carries through in the colors where brightness represents civilization and faded colors are destruction. I thought the film was very well shot but the languid pacing may have deterred interest for some, although the final sequence is riveting. The Indicator Blu-ray. is up to their usual very high standards - with a solid HD presentation and some keen supplements. War film fans may appreciate the cerebral aspects of Castel Keep more than the blood-and-guts content.
Gary Tooze
July 13th, 2017