(Nathan Juran, 1957)
Sony Pictures
Review by Gary W. Tooze
Video codec: MPEG-4 AVC
Video resolution: 1080p
Aspect ratio: 1.85:1

Audio: English: Dolby TrueHD 5.1, Spanish: Dolby Digital Mono

Subtitles
English SDH, English, French, Spanish, Portuguese, Chinese, Korean, Thai, none
Supplements: Feature in both original black-and-white and colorized editions, (video extras in 480i/p) audio commentary by Ray Harryhausen, Dennis Muren, Phil Tippett, and Arnold Kunert, featurette: "Remembering 20 Million Miles to Earth" (27:05), featurette on the Colorization Process (10:55), Tim Burton Interview with Ray Harryhausen (26:47), Interview with Actress Joan Taylor (17:24), Original Ad Artwork, featurette on Advertising for 20 Million Miles to Earth and Other B-movies (17:30), featurette: "David Schecter: Movie Music's Unsung Hero" (22:37), Video Photo Galleries

Disc: 50GB (dual-layered) Blu-ray Disc
Released: December 4th, 2007
Standard Blu-ray case
16 chapters
Product Description:
Special-effects legend Ray Harryhausen's stop-motion talents and "Dynamation" (rear-projection) process are the highlights of the '50s-era creature feature 20 Million Miles to Earth. An American spaceship returns to Earth after a mission to Venus and crashes into the sea near Sicily. A sole survivor (William Hopper) is rescued, along with a specimen that quickly grows into a reptilian biped called the Ymir. The being eventually grows to 20 feet high and escapes its confines, whereupon it rampages through Rome before a showdown with the military. Despite lacking much of a personality, the Ymir is a marvelous showcase for Harryhausen's skills. Unfortunately, the rest of the film does not match his level of excellence; direction by Nathan Juran is perfunctory (his later collaborations with Harryhausen, including The Seventh Voyage of Sinbad, are more lively), and performances and scripting are flat. Still, Harryhausen fans should enjoy this opportunity to see this phase of his career before he created his most enduring works.
****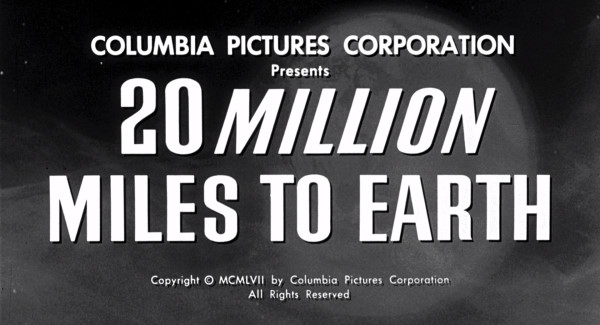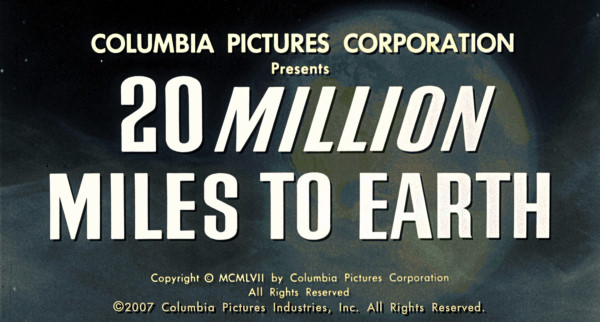 The Film:
There's nothing that brings you back to your boyhood dreams like master animator Ray Harryhausen's painstaking, frame-by-frame, stop-motion efforts. You can forgive the flawed scripting and unconvincing performances as the giant Ymir takes his justifiable fear and self-protection instincts out on Rome's Colosseum. In retrospect we too are the bad guys here as we give heavy artillery fire at one of the great architectural wonders where he is simply seeking sanctuary. My other big peeve is when Col. Robert Calder (William Hopper of
Perry Mason
fame) meets up with the two brave Italian fishermen who risked their lives dragging his unconscious body out of the rocket ship wreck before it sank to forty fathoms - he doesn't even utter a 'thank' or bother to shake their hands. "Hummpf". But boys from 4 years to 44 still watch with fascination at how we introduce earth to visiting aliens and marvel as the slimy green lizard-like (considered Harryhausen's greatest monster), with the overactive pituitary, does his stuff. Can you blame him?
Gary Tooze
Note: Mr. Harryhausen can be seen in the film in a brief cameo as the zookeeper.
Video: NOTE: The below Blu-ray captures were ripped directly from the Blu-ray disc.
The image looks fairly impressive. Just like the SD edition the colorized version translated less frequent digital artifacts - or so it appears. In direct comparison to the SD - the 1080p Blu-ray is far superior in regards to color, contrast and detail. It still shows some digital artifacts though. This package is essentially exactly the same as the 50th Anniversary Edition SD that came out in July, but it is 1080p (as opposed to 480p). The beauty is that it is the same price but obviously better in terms of the image and audio.
CLICK EACH BLU-RAY CAPTURE TO SEE ALL IMAGES IN FULL 1920X1080 RESOLUTION
Screen Captures comparing color vs. black and white versions.
Audio: With the video bumped from the SD - so is the audio as the BRD has had the Dolby TrueHD 5.1 touch. It is pretty strong, certainly eclipsing the SD. The Ymir cries still seem appropriately distant and occasionally touching while separation was noted in some of the artillery fire. The audio is supported with a host of subtitles - preparing the region 0 blu-ray disc to be sold in many countries - we have optional subs in English (CC), English, French, Spanish, Portuguese, Chinese, Korean, or Thai.
NOTE: A point off for not offering the original mono as an option.
Extras: Duplicated from the 50th Anniversary Edition SD - we are given nothing new - but still I'm not complaining about the effort put into the supplements. Firstly, we have a super entertaining audio commentary by Ray Harryhausen, Dennis Muren, Phil Tippett, and Arnold Kunert, then a nostalgic featurette: "Remembering 20 Million Miles to Earth" (27:05) with Harryhausen giving us a lot of detail of some of his other work as well as 20 Million... . There is a brief, 10 minute, featurette on the colorization process, a Tim Burton interview with Ray Harryhausen for almost a half hour and a delightful interview with actress Joan Taylor (about 20 minutes). There is some original ad artwork, another featurette - this time on Advertising for 20 Million Miles to Earth and Other B-movies (about 20 minutes and quite cool), a final featurette: "David Schecter: Movie Music's Unsung Hero" (running 22 minutes) and a video photo gallery.
Menus
BOTTOM LINE: Well, there was no way I wasn't getting this film in high-definition and the color edition is certainly enticing - even for purists. It does exactly as I was expecting - it looks and sounds superior - simply put the best way to see this film on your digital home theater. I can't help but tout the colorized but having the option is the ideal package.
More 50s + 60s science-fiction / fantasy / creature-feature films on Blu-ray (click review buttons to also see comparisons where applicable):