Review by Gary Tooze
Production:
Theatrical: Columbia Pictures Corporation
Video:
Indicator (Powerhouse)
Disc:
Region: FREE (as verified by the Oppo Blu-ray player)
Runtime: 1:50:09.978
Disc Size: 38,027,993,266 bytes
Feature Size: 32,299,871,808 bytes
Video Bitrate: 35.00 Mbps
Chapters: 12
Case: Transparent Blu-ray case
Release date: August 28th, 2017
Video:
Aspect ratio: 1.75:1
Resolution: 1080p / 23.976 fps
Video codec: MPEG-4 AVC Video
Audio:
LPCM Audio English 1152 kbps 1.0 / 48 kHz / 1152 kbps / 24-bit
Subtitles:
English (SDH), none
Extras:
• Culture Clash (2017, 19:35): a new interview with writer, journalist and broadcaster Matthew Sweet
• Memories of Marler (2017, 3:08): a new interview with actor Tom Kempinski
• On Your Marks (2017, 3:56): a new interview with second assistant director Joe Marks
• Original theatrical trailer (3:21)
• Image gallery: on-set and promotional photography
• Limited edition exclusive 32-page booklet with a new essay by Michael Pattison, Jack Gold on The Reckoning, Kenneth Tynan on actor Nicol Williamson, and an overview of contemporary critical responses
• World premiere on Blu-ray
• Limited Dual Format Edition of 3,000 copies
DVD included
Bitrate:
Description:
A ruthless business executive (an intense tour de force performance by leading man Nicol Williamson) returns home to his Liverpool roots to investigate his father's death. An unflinching exploration of the British class system, Jack Gold's penetrating, brutal drama stands alongside contemporary classics
Up the Junction
and
Room at the Top
, and pre-dates
Get Carter
by a year. Underrated and underexposed, The Reckoning may well be one of the most essential British films ever made.
The Film:
Michael "Mick" Marler has risen up through the ranks at Grenville, a large British company specializing in business machines. Despite his drive and polished air, Mick comes from a tough working-class background and has worked hard to fit into the posh world in which he and his social-climbing wife Rosemary (Ann Bell) live. His marriage consists of little more than animalistic lovemaking in between traded insults and long silences with his wife.

One morning, while Mick is trying to save his boss, John Hazlitt, from losing face in the company from mistakes and sagging sales in his division, he convinces Hazlitt to push the company board to enter the computer market, something that they had decided against in the late 1950s. After his idea is readily accepted by Hazlitt, Mick gets a call from Rosemary informing him that his father, John Joe, is near death in Liverpool. Mick wants to leave immediately, but is coerced into first completing a report for Hazlitt. Despite his new wealth, Mick has remained a tough, but sentimental, Liverpudlian of Irish descent. He then drives his Jaguar to the working class Liverpool neighbourhood where he grew up and is forced to address the sizeable chip on his shoulder.

When he gets to his father's bedside, he is shattered to discover that John Joe has died. When Mick lovingly kisses his father, he is disturbed to see several dark bruises on the body. After questioning his mother, his sister Kath, the parish priest and the family physician Dr. Carolan, Mick goes to the local Irish social hall to speak with Cocky Burke, his father's best friend. Cocky tells Mick that John Joe, who was a popular amateur Irish balladeer, had a heart attack at a pub after some English "Teddy boys" started a fight, then punched and kicked him. Mick tries to convince Cocky to go to the police, but Cocky, who hates and distrusts the English authorities, tells Mick that he must avenge his father.
Excerpt from Wikipedia located HERE

Michael Marler (Nicol Williamson), determined to leave his criminal father and his Irish past behind him, abandoned Liverpool to pursue a more respectable career path. Now he's a wealthy businessman living in London, but his father's death draws a reluctant Michael back to his hometown. When he learns his father was killed in a fight with a young delinquent, Michael teams up with an old flame (Rachel Roberts) and a friend of his father's (Paul Rogers) to avenge the death.

Image : NOTE: The below Blu-ray captures were taken directly from the Blu-ray disc.
The Reckoning arrives on Blu-ray from Indicator out of the UK. The image quality shows grain and looks heavy, almost bland, with a subtle richness. As per their usual, this is dual-layered with a max'ed out bitrate. It is neither glossy nor crisp. It shows some minor inconsistency but close-ups look detailed. Colors are solid and I would guess the 1.75:1 image is pretty close to how the film looked theatrically and any deviations from that would be the source. It looks very clean and film-like. This Blu-ray offers a pleasing, highly watchable, presentation without digital anomalies, artifacts or noise.
CLICK EACH BLU-RAY CAPTURE TO SEE ALL IMAGES IN FULL 1920X1080 RESOLUTION
Audio :
The audio is transferred via a linear PCM authentically mono at
1152 kbps
(24-bit). There is modest depth in the infrequent effects which include car engine sounds, and crowd noise in a wrestling match that breaks out into a brawl.
The
score is composed by Malcolm Arnold (
No Highway in the Sky,
The Bridge On the River Kwai, Island in the Sun, Stolen Face, Hobson's Choice) and suits the film highlighting the tension and ambivalence.
There are optional English (SDH) subtitles and m
y
Oppo
has identified it as being a region FREE - playable world-wide.

Extras :
Indicator add three new interviews as supplements. Culture Clash spends 20-minutes with writer, journalist and broadcaster Matthew Sweet discussing The Reckoning. Memories of Marler is a new, brief, interview with actor Tom Kempinski ('Brunzy' from the film). On Your Marks has second assistant director Joe Marks for only 4-minutes. There is an original theatrical trailer and an image gallery of on-set and promotional photography. The package contains a limited edition exclusive 32-page booklet with a new essay by Michael Pattison, Jack Gold on The Reckoning, Kenneth Tynan on actor Nicol Williamson, and an overview of contemporary critical responses. Being dual format a DVD is included and this edition is limited to 3,000 copies.
| | |
| --- | --- |
| | |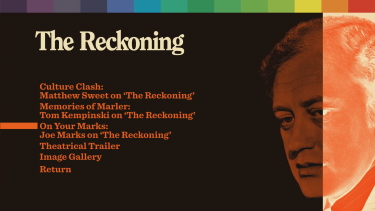 BOTTOM LINE:
The Reckoning showcases a very strong performance from Nicol Williamson. It's a keen story that reminded me briefly of Cassavetes The Killing of a Chinese Bookie with circumstances of morally wrestling with an, anonymous, forced act of murder. The character of Michael Marler certainly gets around with the women - using them as a distraction from his ills. The finale is impacting. The Indicator Blu-ray does their usual excellent job in creating a keepsake package - in this case of a less-seen film worthy of a larger audience. Recommended!
Gary Tooze
August 19th, 2017