Review by Gary Tooze
Production:
Theatrical: Columbia Pictures Corporation
Video:
Indicator (Powerhouse)
Disc:
Region: FREE (as verified by the Oppo Blu-ray player)
Runtime: 1:37:44.233
Disc Size: 35,235,595,684 bytes
Feature Size: 28,846,089,792 bytes
Video Bitrate: 35.01 Mbps
Chapters: 12
Case: Transparent Blu-ray case
Release date: August 28th, 2017
Video:
Aspect ratio: 1.75:1
Resolution: 1080p / 23.976 fps
Video codec: MPEG-4 AVC Video
Audio:
LPCM Audio English 1152 kbps 1.0 / 48 kHz / 1152 kbps / 24-bit
Commentary:
Dolby Digital Audio English 192 kbps 2.0 / 48 kHz / 192 kbps
Subtitles:
English (SDH), none
Extras:
• New audio commentary with star Jim Dale
• New interview with playwright and author Peter Nichols (2017, 23:45)
• Original theatrical trailer (3:06)
• Image gallery: on-set and promotional photography
• New English subtitles for the deaf and hard-of-hearing
• Limited edition exclusive booklet with a new essay by Laura Mayne, an overview of contemporary critical responses, and historic articles on the film
• Limited Dual Format Edition of 3,000 copies
DVD included
Bitrate:
Description:
Jack Gold's film about life and death in a shabby London hospital interweaves the story of the real hospital with a fantasy one which exists in the soap-opera world of 'Nurse Norton's Affair', where everything is fully funded and patients are miraculously cured. A darkly funny satire on the state of the nation and also a deeply prescient comment on TV's ability to turn tragedy into entertainment, The National Health sits somewhere between the bawdy antics of the
Carry On
films and the angry satire of Lindsay Anderson's Britannia Hospital, but emerges as a starkly prophetic film, more relevant now than ever.
The Film:
In fact, the impact of seeing the same performers at one moment pale, over-worked but concerned with their scruffy patients, and the next involved in an absurd six-sided romance that culminates in an interracial kidney transplant, is, if anything, intensified by the quick cuts possible only in film.

Lynn Redgrave, Eleanor Bron, Jim Dale and Donald Sinden, Sheila Scott-Wilkinson and Neville Aurelius, play the dual roles expertly. Colin Blakely is moving without seeking our sympathy as the ward's Everyman, an baffled, stubborn, unreformable working-class alcoholic.

Under Jack Gold's thoughtful direction, every part, even the bits, is firmly delineated. Mr. Nichols, properly confident of the dramatic validity of his characters and situations, has only occasionally felt it necessary to open up the action to the world outside the ward. In this concentration of unforced emotion, the rattle of the wheels of the stretchers on which the bodies of the men who die, one by one, are rolled across the yard to the hospital mortuary sounds like the drums of judgment.
Excerpt fromtheNYTimes located HERE

The British National Health System is skewered in this comedy set in a rundown London hospital. The hospital is filled with wacky staff members and patients, and the film strives to get all it can from their humorous escapades. The movie also includes a satire-within-a-satire, with "
Nurse Norton's Affair
" providing a send-up of TV hospital soap operas and giving some cast members the chance to play two roles. It tries for both comedy and social commentary but can't quite pull it off, although the competent cast does its best with the material.

Image : NOTE: The below Blu-ray captures were taken directly from the Blu-ray disc.
The National Health arrives on, Region FREE, Blu-ray from Indicator out of the UK. This is dual-layered with a max'ed out bitrate and exports flawless quality. It is neither glossy nor pristinely sharp but shows pleasing grain, a dark, presumably authentic, image and realistic, if passive, colors. There is strong detail in the film's many close-ups. The 1.75:1 image is solid, clean and consistent. This Blu-ray offers a pleasing presentation in 1080P.
CLICK EACH BLU-RAY CAPTURE TO SEE ALL IMAGES IN FULL 1920X1080 RESOLUTION
Audio :
The audio is transferred via a use a linear PCM 1.0 channel mono track at 1152 kbps sounding authentic and flat. The dialogue is all clear and audible. The Carl Davis score has plenty of Tchaikovsky (Piano Concerto No.1, Serenade for Strings, Symphony No.4 in F Minor, Symphony No.6 in B Minor, None But the Lonely Heart, Fantasy Overture: Romeo and Juliet, Marche Slav etc.) and is often used in a melodramatic soapy way. It sounds authentically flat, but still faux-serious. There are optional English (SDH) subtitles and m
y
Oppo
has identified it as being a region FREE - playable world-wide.

Extras :
Indicator add a new audio commentary with star Jim Dale (Dr. Neil Boyd) who actually started his career as a stand-up comic and was a regular member of the Carry On cast. He's still amusing and the light discussion adds value and appreciation to the viewing. There is also a new, 24-minute, interview with playwright and author Peter Nichols, also known for A Day in the Death of Joe Egg. There is an original theatrical trailer, an image gallery of on-set and promotional photography and the package contains a limited edition exclusive booklet with a new essay by Laura Mayne, an overview of contemporary critical responses, and historic articles on the film. Being dual format a DVD is included and this edition is limited to 3,000 copies.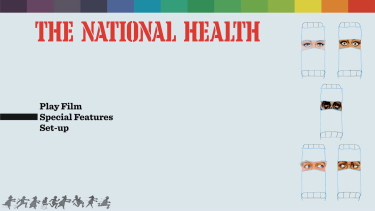 BOTTOM LINE:
The National Health is a very funny in a sly, intelligent way with few site gags and more situation and dialogue-driven. It's a step up from the Carry On hospital flics (Carry On Nurse, Carry On Doctor, Carry On, Again, Doctor) - less sexual innuendos and more the 'witty black comedy' end of the humor spectrum. Often it is tragically funny... because of its truisms. The cast is great. The Indicator Blu-ray presentation is perfect in both audio and video and the package contains valuable extras including the commentary, interview and booklet. Indicator are definitely the Gold standard of Blu-ray production. Those interested in this genre should indulge without reservations.
Gary Tooze
August 25th, 2017