Review by Gary Tooze
Production:
Theatrical: Amicus
Video:
Indicator (Powerhouse)
Disc:
Region: FREE (as verified by the Oppo Blu-ray player)
Runtime: Extended TV version: 1:40:19.471 / Original Theatrical Version: 1:33:12
Disc Size: 47,286,971,342 bytes
Feature Size: 26,501,186,496 bytes
Video Bitrate: 34.98 Mbps
Chapters: 10
Case: Transparent Blu-ray case
Release date: October 30th, 2017
Video:
Aspect ratio: 1.85:1
Resolution: 1080p / 23.976 fps
Video codec: MPEG-4 AVC Video
Audio:
DTS-HD Master Audio English 1061 kbps 1.0 / 48 kHz / 1061 kbps / 24-bit (DTS Core: 1.0 / 48 kHz / 768 kbps / 24-bit)
Subtitles:
English (SDH), none
Extras:
• The Guardian interview with Freddie Francis (77-minutes)
• Ramsey Campbell on Robert Bloch (2017, 16:37)
• Production Supervisor Ted Wallis on Torture Garden (4:15)

• Interview with Fiona Subotsky (2017, 8:19)
• Kim Newman on Torture Garden (2017, 24:53)
• Original theatrical trailer (2:37)
• Image gallery: on-set and promotional photography
• Limited edition exclusive booklet with a new essay by Laura Mayne, an overview of contemporary critical responses, and historic articles on the film
• UK premiere on Blu-ray
• Limited Edition of 3,000 copies
Bitrate:
Description:
From Hammer-rival
Amicus Productions
comes this horror anthology penned by Robert Bloch (author of
Psycho
) and directed by the great British cinematographer Freddie Francis. Genre legend Peter Cushing stars alongside Jack Palance and Burgess Meredith in an omnibus of chilling and gruesome stories, inspired by E.C. Comics'
Tales from the Crypt
comic-book series of the 1950s.
The Film:
During the '60s and '70s, when Britain's Hammer Studios was at the global forefront of horror cinema, there was an independent concern slicing a sanguine niche out of the market right in Hammer's own backyard. The Shepperton-based Amicus Productions was actually the brainchild of a pair of Yanks--producers Milton Subotsky and Max Rosenberg. A trained eye was required to distinguish their output from Hammer's, given the overlap of talent employed on both sides of the camera, and Amicus' ability to deliver shock fare on a par with the industry leader. An earmark of the Amicus style was a preference for the anthology format, and none of their films may be more exemplary than the cult-favorite fright flick Torture Garden (1967).

Although Freddie Francis, the British movie director, is no Carl Dreyer or Louis Feuillade, he has become (by default) one of the best and most prolific directors ("
Paranoiac
," "
Dr. Terror's House of Horrors
," etc.) in the horror-movie genre. His "
Torture Garden
," based on a script by Robert Bloch ("
Psycho
"), is a simple-minded forthright horror movie, made without condescension.
The melodrama, starring Jack Palance and Burgess Meredith, opened yesterday at the 42d Street New Amsterdam Theater, and other neighborhood houses, with all of the ritual required on such occasions—and that I find irresistible. Among other things, the newspaper ads promised patrons free packages of "
Fright-Seeds for your own Torture Garde
n."
Image : NOTE: The below Blu-ray captures were taken directly from the Blu-ray disc.
Torture Garden arrives on Blu-ray from Indicator out of the UK. It offers both the 1:33:12 original theatrical version and the 7-minute longer 'extended' TV version. It is seamlessly-branched (same quality for both) and the extra footage can be found at 02:45 and 45:02. The extended version was also released on Millcreek's MPEG2 Blu-ray HERE. The image quality is authentically dark but rich with warmth and partial saturation. This is dual-layered with a max'ed out bitrate. It is neither glossy nor pristinely sharp but shows lush, heavy visuals that are consistent throughout. It looks gorgeous in-motion. I would guess the 1.85:1 image is extremely accurate. It looks very clean and film-like. This Blu-ray offers a rewarding and suitably mysterious presentation in 1080P.
CLICK EACH BLU-RAY CAPTURE TO SEE ALL IMAGES IN FULL 1920X1080 RESOLUTION
Audio :
The audio is transferred via a linear PCM authentically mono at
1061 kbps
(24-bit). There is modest depth in the circus-related occasional effects. The film's music is notable for the score contributed by both
Don Banks (
The Evil of Frankenstein
,
Rasputin T
he Mad Monk,
The Mummy's Shroud, The Reptile
)
and
India-born James Bernard (
The Plague of the Zombies,
Dracula Prince of Darkness, These Are the Damned, Across the Bridge, The Curse of Frankenstein). It supports the film's ominous and shifting moods - both flat but carrying some buoyancy to add chills. There are optional English (SDH) subtitles and m
y
Oppo
has identified it as being a region FREE - playable world-wide.

Extras :
Indicator add plenty of new extras starting with 77-minute Guardian interview with Freddie Francis interviewed by Alan Jones at the National Film Theatre in the summer of 1995. He talks about starting in the 1930's, how he learned and much more. From there we get a 1/4 hour of horror writer Ramsey Campbell talking about Robert Bloch - quite fascinating. We get a short piece of production supervisor Ted Wallis on Torture Garden running less than 5-minutes, an 8-minute interview with Dr. Fiona Subotsky wife of writer/producer/Amicus-founder Milton Subotsky (The City of the Dead) and a delightful 25-minutes with the always enjoyable Kim Newman discussing Torture Garden. There is an original theatrical trailer, an image gallery: on-set and promotional photography and the package comes with a limited edition exclusive booklet with a new essay by Laura Mayne, an overview of contemporary critical responses, and historic articles on the film. This edition is limited to 3,000 copies.
| | |
| --- | --- |
| | |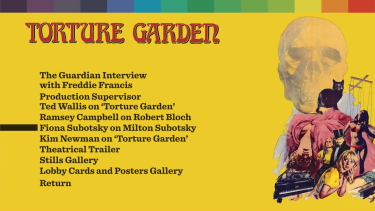 | | |
| --- | --- |
| | |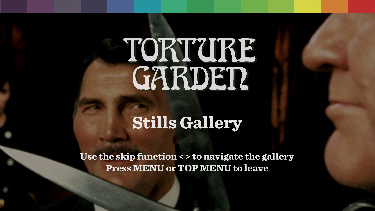 BOTTOM LINE:
Torture Garden is filled with the British horror charm that we fine so irresistible. It's a mesmerizing anthology of occult where you can't help but succumb to its dark adventure treatise. The Indicator Blu-ray presentation, offers the two cuts, and is rich, suiting the film to a 'T'. More of their amazingly competent work with a bevy of supplements to heighten appreciation. Doctor Diabolo's Carney appeal will fit the bill on some dark, foggy, Friday night - safe at home... but are you? This Blu-ray is absolutely recommended to those who have read this far!
Gary Tooze
October 24th, 2017
Amicus Productions
Amicus was another British film production company. They were based out of Shepperton Studios, and produced films from the early 60's to 1977. They specialized in Horror movies, in a similar vein to Hammer Studios (Peter Cushing often starring) but also made portmanteau films in that genre. They were revived in 2007 with Stuart Gordon's Stuck, Here are a few of their titles available on digital:
| | | | | | |
| --- | --- | --- | --- | --- | --- |
| The City of the Dead (1960) | The Deadly Bees (1965) | Dr. Terrors House of Horrors (1965) | The Skull (1965) | The Amicus Collection | Torture Garden (1967) |
| | | | | | |
| | | | | | |
| | | | | | |
| | | | | |
| --- | --- | --- | --- | --- |
| Madhouse (1974) | The Land That Time Forgot (1975) | At the Earth's Core (1976) | The People That Time Forgot (1977) | Tales From The Crypt / Vault Of Horror) |
| | | | | |
| | | | | |
| | | | | |