Review by Gary Tooze
Production:
Theatrical: Columbia Pictures Corporation
Video:
Indicator (Powerhouse)
Disc:
Region: FREE (as verified by the Oppo Blu-ray player)
Runtime: 1:43:19.651
Disc Size: 36,793,730,358 bytes
Feature Size: 30,489,658,944 bytes
Video Bitrate: 35.01 Mbps
Chapters: 12
Case: Transparent Blu-ray case
Release date: November 20th, 2017
Video:
Aspect ratio: 1.85:1
Resolution: 1080p / 23.976 fps
Video codec: MPEG-4 AVC Video
Audio:
LPCM Audio English 1152 kbps 1.0 / 48 kHz / 1152 kbps / 24-bit
Commentary:
Dolby Digital Audio English 192 kbps 2.0 / 48 kHz / 192 kbps
Subtitles:
English (SDH), none
Extras:
• Audio commentary with director Irvin Kershner
• Visions - Making of documentary (1978, 7:25)
• Eyes on Laura Mars (1999, 8:24): on-set photography with commentary by Laurent Bouzereau (different drafts that didn't make it into the film)
• The Eyes Have It - an appreciation by Kat Ellinger (13:24)
• Original theatrical trailer (3:33)
• David DeCoteau TFH commentary (2013, 3:30): a short critical appreciation
• Image gallery: on-set and promotional photography (1:09)
• Limited edition exclusive booklet with a new essay by Rebecca Nicole Williams, an overview of contemporary critical responses, and historic articles on the film

• Limited Edition of 3,000 copies
Bitrate:
Description:
Irvin Kershner's stylish, violent cult thriller – from an original screenplay by John Carpenter – stars iconic star Faye Dunaway as glamorous fashion photographer Laura Mars, who begins to experience horrific visions when she 'sees' a series of brutal murders as they happen.
***
The Eyes of Laura Mars put an original spin on the "women in peril" plot staple by giving us Faye Dunaway as a fashion photographer disturbed by visions of real violence echoed in her flashy, S&M-influenced work. The visions start coming closer to home as her woman friends are butchered and their copies of her work vandalised. Good-looking cop Neville (Tommy Lee Jones) argues that her art is responsible, but nonetheless starts an affair with her. Hints are dropped that the killer might be someone close to her, like obsessive ex-con driver Tommy (Brad Dourif) or her possessive ex-husband Michael (Raul Julia). Evocative scenes of 70s' New York nightclub excess, and the strikingly perverse photographs of Helmut Newton, now create a period 70s' flavour to this flawed psychic thriller. Dunaway's performance is suitably overwrought and the young, slimline Jones is at once attractive and off-key.
Excerpt from Amazon.UKs located HERE
The Film:
Dead men in evening clothes; supine women guarded by sleek, ferocious dogs; upside-down corpses wearing garter-belts, with their hair and makeup in exquisite disarray — these are the tricks of Laura Mars's trade, the hallmarks that have established her as the New York fashion photographer who outkinks them all. However, not everyone is a fan. Someone has gotten the notion that there's evil in Laura's work, he/ she/it has decided to wipe out the photographer plus all her super-hyper-ultra chi-chi friends.

So far, very good indeed — especially because the "Eyes of Laura Mars" audience is given ample opportunity to share the killer's pique. Laura (Faye Dunaway), being much too self-involved an artiste to worry about the implications of her work, merely thinks of herself as someone who gives "an account of the times in which I'm living," times rife with "moral, spiritual and emotional murder."

Questions about the exploitative aspects of her art merely prompt Laura to snap, "Look, does anyone have anything positive to ask?" The models she works with are even more trendily blasÚ.
Excerpt from NYTimes located HERE

A shutterbug is haunted by psychic visions of the killer who is murdering all of her friends in this hit thriller. Intense and driven, successful photographer Laura Mars (Faye Dunaway) has made a name for herself by juxtaposing sex and violence in her glamorous photos. But at the height of her success -- and just as a media backlash is brewing -- she begins to experience daydreams from the point of view of a serial killer as he relentlessly stalks and murders her associates. Her unbalanced ex-husband (Raul Julia) seems like an obvious suspect, especially when his new girlfriend is murdered and he goes on the lam. But Laura is shocked by the prospect that the killer could be somebody out to discredit her work, which she views as an artistic commentary on the degradation of the modern world. Under the protection of police detective John Neville (Tommy Lee Jones), Laura is unable to save even one of her friends from a violent end. Soon, she finds herself inside the mind of the killer as he marches down a familiar hallway: the one outside her own door. Co-written by
Halloween
director John Carpenter,
Eyes of Laura Mars
also features character actors Brad Dourif and RenÚ Auberjonois.

Image : NOTE: The below Blu-ray captures were taken directly from the Blu-ray disc.
Eyes of Laura Mars arrives on Blu-ray from Indicator out of the UK. The image quality is very impressive with consistently strong visuals and a pleasing layer of grain. This is dual-layered with a max'ed out bitrate. It is neither glossy nor soft and shows hints of green bias but generally colors seem true. There are few instances of depth. There is some pleasing detail in the film's use of close-ups. I would guess the 1.85:1 image is fairly accurate in terms of replicating the original theatrical presentation. It looks very clean, and trouble-free. This Blu-ray has Indicator's usual highly competent HD transfer.
CLICK EACH BLU-RAY CAPTURE TO SEE ALL IMAGES IN FULL 1920X1080 RESOLUTION
Audio :
The audio is transferred via a linear PCM authentically mono at
1152 kbps
(24-bit). There is modest depth in the rare effects - gunfire etc. The film's music is notable for the score by Artie Kane (Waterworld, Good Will Hunting, The Devil's Advocate) plus other songs in the film utilizing Barbra Streisand singing the 'Love Theme' (Prisoner) played at the opening and closing credits, plus some disco music like KC & The Sunshine Band's (Shake, Shake, Shake) Shake Your Booty and Heatwave's Boogie Nights. There are optional English (SDH) subtitles and m
y
Oppo
has identified it as being a region FREE - playable world-wide.

Extras :
Indicator use the audio commentary with director Irvin Kershner originally on an older DVD. He's okay - easy to listen to and not taking things too seriously. He talks about the brief use of blood in the film, the nudity and plenty of details about the production side of the film - cast etc. Visions is a 7-minute 1978 'making of documentary' and Eyes on Laura Mars is an on-set piece with commentary by Laurent Bouzereau (citing different drafts that didn't make it into the film). It was made in 1999 and runs over 8-minutes. I enjoyed the 1/4 hour The Eyes Have It - appreciation by Kat Ellinger providing her usual excellent analysis and we also get a short critical appreciation from David DeCoteau of Trailers From Hell, an image gallery: on-set and promotional photography and an original theatrical trailer. The package has a limited edition exclusive booklet with a new essay by Rebecca Nicole Williams, an overview of contemporary critical responses, and historic articles on the film. It is limited to 3,000 copies.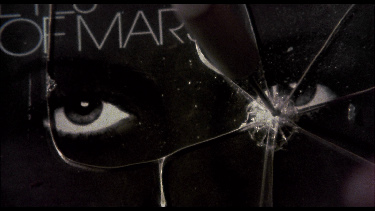 BOTTOM LINE:
Eyes of Laura Mars is an interesting serial-murder mystery - it touches upon the supernatural with the clairvoyance and seeing through the eyes of the murderer but more it is infused with suspense than the trappings of a standard horror. Dunaway and Lee Jones are two of the strong points and it has some nostalgia. Obviously it has a very dated feel with the disco music and late 70's style/fashion with the clothes and posing/nudity of the models. I'd say it has many above-average attributes although is reasonably flawed overall. The Indicator Blu-ray presentation is perfect in both audio and video and the package contains plenty of valuable extras starting with the, albeit old, commentary and Ellinger and DeCoteau pieces. This has value and a film worthy of revisitation for Dunaway and an intriguing concept. The Blu-ray is recommended to both fans of the genre and era. Great title and cool cover!
Gary Tooze
November 17th, 2017