Review by Gary Tooze
Production:
Theatrical: Hammer Films
Video:
Indicator (Powerhouse)
Disc:
Region: FREE (as verified by the Oppo Blu-ray player)
The Full Treatment Runtime: 1:49:51.334
Stop Me Before I Kill! Runtime: 1:47:42.080
Disc Size: 46,171,145,764 bytes
Feature Size: 31,223,796,096 bytes / 30,610,948,032 bytes
Video Bitrate: 34.93 Mbps (both)
Chapters: 12 / 12
Case: Transparent Blu-ray case
Release date: February 19th, 2018
Video:
Aspect ratio: 2.35:1
Resolution: 1080p / 23.976 fps
Video codec: MPEG-4 AVC Video
Audio:
DTS-HD Master Audio English 1080 kbps 1.0 / 48 kHz / 1080 kbps / 24-bit (DTS Core: 1.0 / 48 kHz / 768 kbps / 24-bit)
Subtitles:
English (SDH), none
Extras:
• Two presentations - The Full Treatment, and the censored Stop Me Before I Kill!
• Mind Control: Inside The Full Treatment (21:15)
• Hammer's Women: Diane Cilento (11:05)
• A Subject For Analysis (14:35)
• Censored Scene (4:11)
• Theatrical Trailer (1:56)
• Advertising and Publicity Gallery
• Press Material
Bitrate:
1) Indicator (The Full Treatment) - Region FREE - Blu-ray - TOP
2) Indicator (Stop Me Before I Kill!) - Region FREE - Blu-ray - BOTTOM
Description:
With a plot linking a moody young man fighting an urge to kill, his loving wife and an extremely imaginative psychiatrist, the British have concocted a snug, tautly-strung little thriller called "
Stop Me Before I Kill!
"
The Columbia release, directed and produced by Val Guest, with a small cast headed by Ronald Lewis, Claude Dauphin and Diane Cilento, opened yesterday on the circuits. The perfect title would have been "The Full treatment," the title of the novel that author Ronald Scott Thorn and Mr. Guest have adapted. To say more would be to spill the beans.
Excerpt from the NYTimes located HERE
The Film:
The Full Treatment is the story of a famous English race car driver named Alan Colby (Ronald Lewis) and his wife Denise (Diane Cilento), who on their wedding day are involved in an accident. Nearly a year later, the couple are reattempting their honeymoon in Cannes, but Colby is afraid that sexual desires seem to be manifesting in a desire to kill his wife. During their trip, they encounter Dr. David Prade (Claude Dauphin), a French psychiatrist who operates out of London, who takes a interest in the couple, an interest which unsettles Alan. However, with his violent urges growing, and a push from his wife, Alan agrees to undergo treatment with Dr. Prade, a treatment which turns out to be more than Alan and Denise ever expected as Dr. Prade's own desires come into play..
Excerpt from ExperienceCinematic located HERE

This was Ronald Lewis' first starring role in a Hammer movie. He would later also feature in
Taste of Fear
and
The Brigand of Kandahar
. None of those parts would ultimately set the world on fire but in
Stop Me Before I Kill!
he has the notable honour of arguably playing the rudest and most obnoxious leading man ever filmed in a Hammer production.
Following a car accident during his honeymoon his race car driving character is left not only physically but also mentally scarred and living in fear of wanting to murder his wife. He is compulsive, insulting, constantly flies off the handle and looks a lot like Errol Flynn.
Excerpt HammerandBeyond located HERE

Image : NOTE: The below Blu-ray captures were taken directly from the Blu-ray disc.
The Full Treatment arrives on Blu-ray from Indicator with the option of two presentations - the UK cut, and the censored , over 2-minute shorter, Stop Me Before I Kill! US cut (see comments under extras). These are seamlessly branched and the quality is the exact same. The 1080P is consistent - thicker and a shade heavy without much coarse grain. This is dual-layered with a max'ed out bitrate and is in the 2.35:1 aspect ratio - it handily advances over the old DVD that we've compared some captures to below. This Blu-ray offers a solid presentation.
CLICK EACH BLU-RAY CAPTURE TO SEE ALL IMAGES IN FULL 1920X1080 RESOLUTION
Audio :
The audio is transferred via a
DTS-HD Master
authentically mono at
1080 kbps
(24-bit). There are a few instances of demonstrative effects but is more notable for the film's jazzy score by
Stanley Black (Hammer's
Maniac, Val Guest's The Day the Earth Caught Fire,
Jacques Tourneur's
War Gods of the Deep
)
and it adds to
classy
Cote D'Azur atmosphere.
There are optional English (SDH) subtitles - see sample - and m
y
Oppo
has identified it as being a region FREE - playable world-wide.

Extras :
Mind Control: Inside The Full Treatment runs 21-minutes and has Jonathan Rigby, Josephine Botting, John J. Johnston and others talking about the film, how Val Guest bought the rights and some of the film's memorable sequences as well as actor Ronald Lewis's reported suicide. Hammer's Women: Diane Cilento has Melanie Williams discussing the Australian born actress, her Bohemian proclivities, her role in Tom Jones and her marriage to Sean Connery. It runs just over 11-minutes. A Subject For Analysis spends 1/4 hour with Vic Pratt commenting on the film with many interesting details. There is also a 4-minute censored scene stating - "Despite its more sensationalized title of Stop Me Before I Kill!, the US version of The Full Treatment ended up being more conservative thanks to differing censorship standards. Stop Me Before I Kill! includes a dissolve to Denise in the bath, framed discreetly from the neck up - but no sooner has the scene started than we cut to the bedroom. Not only has the bathroom conversation been curtailed, but the bedroom conversation seems to refer to something that has just happened. But what? The British release version reveals all. It also reveals more of Diane Cilento, which is why it fell foul of American film censors. In contrast, the British Board of Film Censors had been passing much more revealing nudist camp 'documentaries' for many years prior to the film's official submission, sometimes not even with an 'X' certificate. They were therefore unfazed by the nudity, only requesting that there be no glimpses of genitals, something that Guest ensured thanks to a combination of framing and carefully positioned bathroom furniture." There is also a theatrical trailer and galleries for advertising, press and promotional material. The package has an exclusive booklets for each film, with new essays by Kat Ellinger, Julian Upton and Kim Newman, archival interview materials, contemporary reviews, and full film credits. This Hammer Volume Two: Criminal Intent edition is limited to 6,000 copies.
| | |
| --- | --- |
| | |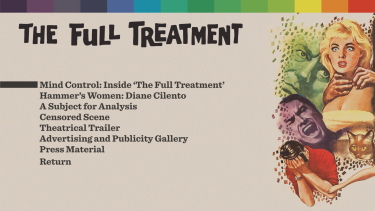 BOTTOM LINE:

The Full Treatment
is a curious Hammer entry. I remember being indifferent to it when I watched it on the Sony DVD set, but it's quite rich - in a Vertigo sort of way although the obsession angle is not fleshed out to the same degree. I think this would have benefitted the film as opposed to the mental illness themes, yet I still liked it much more in HD. It has cool twists and is another appealing divergence from the typical Gothic horrors notable from the studio. The Indicator
Blu-ray
presentation is as good as it will probably ever get and the extras really helped appreciation. More of Indicator's professional work - Hammer fans should be very grateful. This less-discussed film is now on
Blu-ray
and, like the entire
Hammer Volume Two: Criminal Intent
package, is VERY strongly recommended!
Gary Tooze
February 27th, 2018
Released individually on Blu-ray in the UK, by Indicator, in February 2021:

or buy directly from Indicator: