Review by Gary Tooze
Production:
Theatrical: Columbia Pictures Corporation
Video:
Indicator (Powerhouse)
Disc:
Region: FREE (as verified by the Oppo Blu-ray player)
Runtime: 1:27:47.303
Disc Size: 37,630,652,080 bytes
Feature Size: 27,507,963,456 bytes
Video Bitrate: 34.98 Mbps
Chapters: 12
Case: Transparent Blu-ray case
Release date: January 22nd, 2018
Video:
Aspect ratio: 2.35:1
Resolution: 1080p / 23.976 fps
Video codec: MPEG-4 AVC Video
Audio:
LPCM Audio English 1152 kbps 1.0 / 48 kHz / 1152 kbps / 24-bit
Commentary:
Dolby Digital Audio English 192 kbps 2.0 / 48 kHz / 192 kbps
Isolated Score:
LPCM Audio 1152 kbps 1.0 / 48 kHz / 1152 kbps / 24-bit
Subtitles:
English (SDH), none
Extras:
• The audio commentary with critic and film historian Nick Pinkerton
• Mike Nichols and Elaine May in Conversation (2006, 1:09:03)
• Professor Kyle Stevens on 'The Fortune' (2017, 5:28 mins)
• Isolated Music and Effects Track
• Image gallery: on-set and promotional photography
• New and improved English subtitles for the deaf and hard-of-hearing
• Limited edition exclusive 32-page booklet with a new essay by Martyn Conterio, Nichols, Beatty and Channing on The Fortune, a brief portrait of Carole Eastman, an overview of contemporary critical responses, and film credits
• UK premiere on Blu-ray
• Limited Edition of 3,000 copies
Bitrate:
Description: This high-concept, big-budget screwball comedy directed by Mike Nichols (The Graduate, Wolf) stars Warren Beatty (Mickey One, Bonnie and Clyde) as a slick con man and Jack Nicholson (One Flew Over the Cuckoo's Nest, The Border) as his dim-witted sidekick trying to get their hands on the fortune of a hapless young heiress played by Stockard Channing (Grease, The West Wing). A commercial failure on its initial release, this buoyant and beautifully staged madcap comedy is ripe for rediscovery and reappraisal.
***
In the 1920s, it is against the law to transport a woman across state lines for "immoral purposes." But Nicky (Warren Beatty) thinks he has a found a way around this by having his friend Oscar (Jack Nicholson) do the transporting for him, allowing him to later reunite with his wife, Freddie (Stockard Channing), in California. There are, however, two big problems -- Oscar falls in love with Freddie, and Freddie becomes convinced they are doing this only to get to her family money.
***
This starts promisingly as a sardonic comedy about an absurd ménage-à-trois, the mechanics of sex in the '20s, and the men's bewilderment about matters female. Beatty and Nicholson, as the sleazy lounge lizard and halfwit accomplice who conspire to run away with an heiress, send up their own images as though indulging a private joke, but still manage a couple of delirious moments. Their flight west (incognito, but with Nicholson constantly drawing attention to them) throws away its gags shamelessly, but once in California lethargy settles in. The film becomes almost static, a series of stagy, glossy tableaux: such lack of momentum may be an adequate assessment of the characters' limited capacity for development, but it has a disastrous effect on the film's pacing. Events degenerate into miscalculated farce and underline Nichols' continuing slick superficiality. Adrien Joyce's much hacked-about script sounds as though it was once excellent: a pity everyone treats it so off-handedly.
Excerpt from TimeOut located HERE
The Film:
Though it is set in the nineteen-twenties, Mike Nichols's very funny, manically scatterbrained new movie, "The Fortune," is an epic version of those old two-reel comedies that I associate with Saturday afternoon moviegoing in the thirties, with stars like the Three Stooges, Vera Vague, Ernest Truex and Charlie Chase.

It's a marvelous attempt to recreate a kind of farce that, with the notable exceptions of a handful of films by Blake Edwards and Billy Wilder, disappeared after World War II.

The characters in "The Fortune" are motivated by greed first and lust second, usually when it's inconvenient. They think big but act small, often the victims of their own short tempers. Nobody is permanently injured—neither physically, by going to sea in a leaky trunk, nor emotionally, by learning that one's lover has been plotting murder all the while.
Excerpt from The NY Times located HERE

A jazz era farce about two dim-witted conmen who plan the "Lonely Hearts" style murder an heiress for her legacy to a sanitary napkin fortune, the picture was considered a grievous misstep for all involved: for director Mike Nichols (who would not direct another film for seven years), for screenwriter Carole Eastman (an Academy Award® nominee for
Five Easy Pieces
[1970]), and for above-the-title stars Warren Beatty (who had come to this project without pause from
Shampoo
[1975]) and Jack Nicholson (whose stock was on the rise after the success of Hal Ashby's
The Last Detail
[1973]).
The Fortune
's disastrous reception was in inverse proportion to expectations that it would be a smash; Columbia had only green-lighted
Shampoo
because everyone thought
The Fortune
was a sure thing.

Image : NOTE: The below Blu-ray captures were taken directly from the Blu-ray disc.
The Fortune arrives on Blu-ray from Indicator out of the UK. The image quality is very impressive with consistently strong visuals and a pleasing layer of grain. This is dual-layered with a max'ed out bitrate. It is neither glossy nor soft and shows a consistency that connotes the strong source and support for the fine art direction. Skin tones are warmer and the outdoor scenes have a yellow/golden glow. There are few instances of depth. There is some pleasing detail in the film's use of close-ups. I would guess the 2.35:1 image is fairly accurate in terms of replicating the original theatrical presentation. It looks very clean, and trouble-free. This Blu-ray has Indicator's usual highly competent HD transfer.
NOTE: There is a Twilight Time Blu-ray Edition of The Fortune, HERE that was released in 2014.
CLICK EACH BLU-RAY CAPTURE TO SEE ALL IMAGES IN FULL 1920X1080 RESOLUTION
Audio :
The audio is transferred via a linear PCM authentically mono at
1152 kbps
(24-bit). There is modest depth in the rare effects.
The score is by David Shire (
All the President's Men
,
Zodiac
,
Farewell My Lovely,
The Conversation
) and
is available as a lossless i
solated music and effects track option. There is also some period music used; I Must Be Dreaming, Pretty Trix, Shakin' the Blues Away, My Honey's Lovin' Arms etc.
There are optional English (SDH) subtitles and m
y
Oppo
has identified it as being a region FREE - playable world-wide. It is limited to 3,000 units.

Extras :
Indicator include an audio commentary with critic and film historian Nick Pinkerton who gives the low-down on the behind-the-scenes info on the cast and crew. Pinkerton, once again proves to be a very well-informed commentator and this audio track is a welcome addition for anyone interested in the films of Nichols, Nicholson, Beatty, etc. Mike Nichols and Elaine May in Conversation (2006, 1:09:03) has the two friends and collaborators discuss many aspects of filmmaking after a screening of May's Ishtar at New York's Walter Reade Theater. The two share many revealing insider stories about working within the studio system and the troubles that ensue. It is a very funny and in-depth look at the ins and outs of moviemaking. Professor Kyle Stevens on 'The Fortune' (2017, 5:28 mins) is a new filmed appreciation by the author of Mike Nichols: Sex, Language, and the Reinvention of Psychological Realism. Stevens talks about where this film lies within Nichols's cannon of work. The film was not very well received and this clearly effected Nichols. Lastly is an image gallery of on-set and promotional photography and the package has a limited edition exclusive 32-page booklet with a new essay by Martyn Conterio, Nichols, Beatty and Channing on The Fortune, a brief portrait of Carole Eastman, an overview of contemporary critical responses, and film credits.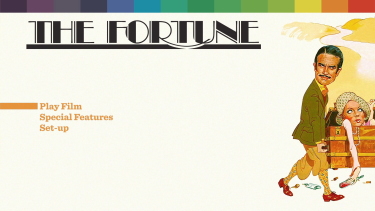 BOTTOM LINE:
The Fortune hasn't been treated well in critical circles. It has some very funny scenes but lacks cohesion although fans of screwball comedy will appreciate the homage. It has been looked at more favorably over time. The Indicator Blu-ray presentation is perfect in both audio and video and the package contains plenty of valuable extras starting with commentary and lengthy 2006 conversation. For those keen to see The Fortune this appears to be the best package available. The Blu-ray is recommended despite the film's modest reputation.
Gary Tooze
January 27th, 2018