NOTE: The below Blu-ray captures were ripped directly from the Blu-ray disc.
ADDITION Studio Canal - Region 'B' - Blu-ray - January 2015: An admittedly delayed comparison but I am, pleased to say a positive one. This Studio Canal 1080P Blu-ray presentation is derived from a recent 4K restoration from the Eclair Group. Criterion's SD transfer from 2009 was pictureboxed and is compared below. The new BD image has richer contrast - deeper black levels and is more layered. Where grain is visible on the DVD, it seems conspicuously less-textured on the Studio Canal transfer, which still looks very impressive in-motion. The still captures can look a bit waxy and they expose some minor edge-enhancement, but I don't consider it egregious. The higher resolution significantly advances when seeing on any reasonable Home Theatre. It is darker and cleaner. I expect Criterion will eventually use this same restoration for their own Blu-ray and I suspect it will look much the same.
Audio has also been restored on the Studio Canal Blu-ray and sounds surprisingly strong. Studio Canal use a DTS-HD Master 2.0 channel-mono in original French at a healthy 1970 kbps (there is also a similarly robust German DUB and a DTS French Descriptive Audio Track option. Menus start with the choice of France, Germany of the United Kingdom and send you to 'friendly' menus with the corresponding option. Of course there are still weaknesses - part of the original production but generally sounds quite a bit better than the SD. The score is by Maurice Jaubert (L'Atalante, Drole de Drame, Port of Shadows, Truffaut's The Green Room) and is really a wonderful part of the atmosphere when heard through the lossless and restored transfer. There are optional subtitles for the three languages and the Blu-ray disc is region 'B'-locked.
Extras include 3 featurettes - all in French with optional subtitles. There is a 15-minute piece on the new restoration - it has Ronald Boullet, Charlotte Quemy and others discussing the challenges that were overcome during the restoration of Carne's 75-year old Le Jour se Leve. There is a substantial 1.5 hour documentary, transferred in 1080i, entitled Last Assault of the Popular Front and it focuses on the political climate of the time of production, audience reaction and public opinion as well as much more. It is excellent - a real education. Lastly we have 2-minutes of scenes that were censored by the Vichy Government.
Fabulous value here. This is a timeless film that holds up well today. Certainly I consider it a cinephile essential and we are happy to report this Studio Canal Blu-ray gets our strongest recommendation!
***
NOTE: As the other single-disc Essential Art releases have been duplicates of those found in the Essential Art package - we will assume the same here.
***
Wow!! - Christmas came a little early - this is yet another stupendous film - a crime, drama, thriller from late 30's French cinema. Using flashbacks we are shown a decent fellow (Jean Gabin) resigned to his fate while the surrounding intense performances echo his lament. Chilling and outstanding!
THIS DVD: Firstly, this image is pictureboxed (see our description of 'pictureboxing' in our Kind Hearts and Coronets review) - a standard practice by Criterion for 1.33 aspect ratio films - aspiring to eliminate overscan on standard production television tubes. Contrast is still good but perhaps a notch below current Criterion standards. The progressive transfer shows inescapable digital artifacts (for a film of this age), and expected wear and tear from the print with light scratches and marks. None of the negative's inferiorities diminish the film's impact though. Audio is correspondingly weak - but consistent. There are no digital supplements on this dual layered disc.
ON THE ESSENTIAL ART HOUSE COLLECTION:
THE COLLECTION: This is like nothing ever seen before - accurately described as:
'Packaged in a heavy slipcase binder (remember, lift with your legs, not your back), one volume contains the DVDs in sturdy cardboard pages; the other volume is a hardback book with introductory essays and essays about each of the films.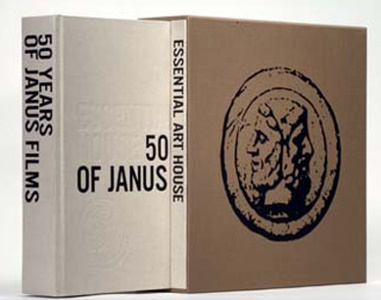 Janus Films is the precursor to the Criterion Collection, and this set is far and away the most beautiful art object the company has ever created. The substantial and subdued packaging is meant to stand the test of time, as are the films immortalized within. From The Seventh Seal to Jules And Jim to M and Pygmalion and The 39 Steps, this exquisite set is the art house DVD release of 2006, if not the decade.
The 200-page book provides context for the films and is worth reading in its own right. Martin Scorcese offers a brief and celebratory introduction, reminiscing about the thrill of seeing the antiquated Janus Films logo when attending a movie in one of New York City's art house theaters. Film historian Peter Cowie's essay about the history of art house cinema in America casts light on how films by directors like Akira Kurosawa and Ingmar Bergman first found American audiences. These days it's easy to take for granted our access to films from around the globe, but in the early 20th century it was only due to the efforts of a passionate few that these great films found theatrical life in the United States. Many of these films, particularly those from Europe, boasted more liberal attitudes about such things as sex and war, facing the threat of censorship and hostility from Hollywood-fed audiences who weren't accustomed to considering films as works of art. Janus Films evolved as a way to bridge these cultural gaps, introducing Americans to foreign sensibilities and big-screen stories that transcended language. '
NOTE: None of the discs in the collection have extras - all supplements from the individual Criterions have been stripped.
Now the logistics of buying this set can be greatly determined by how many of these Criterion DVDs that you already own... and how much you might value the remaining ones. If you consider the book itself to be in the neighborhood of $60-$100 then you can get a fair estimation of what the remaining discs would be valued at - BUT on the positive - you would still be getting 2nd copies of the duplicates. These could simply kept as back-ups (trust me - this is not such a crazy idea).
Waxing somewhat philosophically I can personally state that certain films in this collection (ex. L'avventura , Ikiru, Pandora's Box, The Rules Of The Game, Seven Samurai, The Seventh Seal, The Spirit Of The Beehive, La Strada, Ugetsu, Umberto D. ) have altered not only my perception of cinema, but of life as well - making them virtually priceless. This collection is the single greatest purchase a cineophile could possibly make. Regardless of it being the Holidays, I encourage you to treat yourself to this gift of timeless art and beauty - it will last you a lifetime.