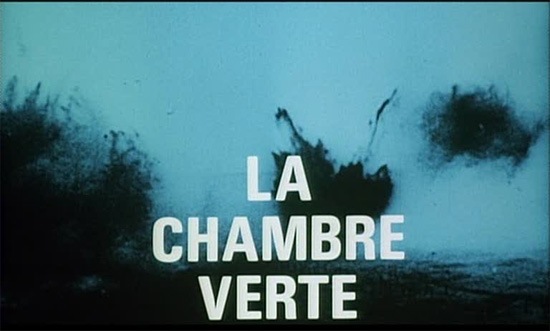 (aka "The Green Room" or "The Vanishing Fiancée")
78
The Green Room is a thoughtful, reverent adaptation of Henry James' The Altar of the Dead. Julien Davenne (François Truffaut) is a lonely, disillusioned widower who writes for The Globe, an obsolete, nearly defunct newspaper (with a target audience of elderly people, its subscription base is literally dying). From his methodical, dispassionate demeanor, it is obvious that he is sleepwalking through life. He is, in fact, emotionally dead (Truffaut's cold, deadpan performance is intriguing to watch). He spends his evenings looking at slides of war casualties, and sitting alone in a green room, where he has carefully assembled his late wife's possessions. He attempts to console his recently widowed friend, Gerard, by telling him to channel his grief into serving his wife's memory: "The dead only belong to us if we agree to belong to them." He is later appalled to learn that Gerard has become involved with another woman. When Julien meets a pensive, charming auction secretary named Cecilia Mandel (Nathalie Baye) who has experienced a similar loss, they decide to build a memorial in the bombed ruins of an abandoned church to honor their lost loved ones (note the effect of a similar act in Rene Clement's Forbidden Games). The haunting tragedy of the story lies in the characters' motives for the shrine. Cecilia envisions the memorial as a means of achieving healing and closure. To Julien, it is the culmination of his dedicated service to the memory of the dead. Having completed his life's work, his reason for existence is lost. The Green Room is a touching, cerebral film about grief, guilt, and survival.
Excerpt from Strictly Film School located HERE
Theatrical Release: France 5 April 1978
Reviews More Reviews DVD Reviews
DVD Review: MGM (Europe) - Region 2 - PAL
Big thanks to Per-Olof Strandberg for the Review!
DVD Box Cover

CLICK to order from:

Note: The French DVD is an exact copy, only the DVD cover is different.

Distribution

MGM (Europe)

Region 2 - PAL

Runtime
1:30:57 (4% PAL speedup)
Video

1:1.33 Aspect Ratio
Average Bitrate: 6.36 mb/s
PAL 720x576 25.00 f/s

NOTE: The Vertical axis represents the bits transferred per second. The Horizontal is the time in minutes.

Bitrate

Audio
French (Dolby Digital 2.0), Spanish (Dolby Digital 2.0), Italian (Dolby Digital 2.0), German (Dolby Digital 2.0)
Subtitles
English, Spanish, Dutch, French, German, Italian, None
Features
Release Information:
Studio: MGM (Europe)

Aspect Ratio:
Fullscreen - 1:1.33

Edition Details:
• None
• DVD-5 (SS-SL)

DVD Release Date: 07/08/2007
Keep Case

Chapters 11
Comments:

NOTE: this is the Spanish sold DVD although it is exactly the same (except for the cover) as the one sold in France.

I'm very sad that the later work by Francis Truffaut, produced for United Artist, is for the moment owned by people who don't care for his art, even though he is one of the most beloved directors in cinema history. It seems that MGM (Europe) is in it's present state run by faceless businessmen. The disc has forced warnings and logos, but at the same time they haven't even bothered to make menu pages. They warn people not to steal other peoples movies, but at the same time they rob customers money with poor quality DVD's. I don't know who could possibly want to duplicate this DVD.

The title sequence, and the end credits, are in a 1:1.66 ratio. The material there between is cropped to 1:1.33. Here's recycled an old print made for cinema purpose. There's dirt, scratches, and compression artifacts. The black levels are blocked and many dark scenes are almost total black. I have made two screen-caps from an old television broadcast to show the cropped image. I'm afraid that this disc is exact same DVD that they are selling in France under the label: FOX PATHE EUROPA, and sooner or later also by MGM (UK). The Spanish DVD cover wrongly states that the disc is in 1:1.66.

You if aren't offended by the dark cropped image, this DVD is recommended for tube televisions only.
---

DVD Menus

---
Screen Captures
Subtitle sample
---
Television broadcast to compare ratio's (what is missing)
---
Television broadcast to compare ratio's (what is missing)
---
DVD Box Cover

CLICK to order from:

Note: The French DVD is an exact copy, only the DVD cover is different.

Distribution

MGM (Europe)

Region 2 - PAL