NOTE: This is now available individually from Criterion and reviewed HERE
Another absolute gem presently only available in The Essential Art House - 50 Years of Janus Films collection (like both Fires on the Plain and Le Jour Se Leve). A bona-fide masterpiece based on the work of one of Sweden's greatest writers. A film highly deserved of the shared Palm D'or and the many journalist accolades that you will find praising it...
THIS DVD: Firstly, this image is pictureboxed (see our description of 'pictureboxing' in our Kind Hearts and Coronets review) - a standard practice by Criterion for 1.33 aspect ratio films - aspiring to eliminate overscan on standard production television tubes. Overall the progressive transfer shows some minor damage (scratches and frequent marks) and occasional digital noise - the un-manipulated captures give a good representation of what to expect. Contrast, detail and subtitles are all at Criterion's high level. There are no digital supplements on this dual layered disc.
THE COLLECTION: This is like nothing ever seen before - accurately described as:
'Packaged in a heavy slipcase binder (remember, lift with your legs, not your back), one volume contains the DVDs in sturdy cardboard pages; the other volume is a hardback book with introductory essays and essays about each of the films.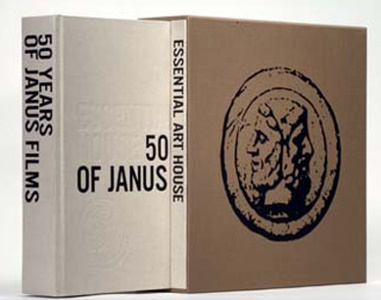 Janus Films is the precursor to the Criterion Collection, and this set is far and away the most beautiful art object the company has ever created. The substantial and subdued packaging is meant to stand the test of time, as are the films immortalized within. From The Seventh Seal to Jules And Jim to M and Pygmalion and The 39 Steps, this exquisite set is the art house DVD release of 2006, if not the decade.
The 200-page book provides context for the films and is worth reading in its own right. Martin Scorcese offers a brief and celebratory introduction, reminiscing about the thrill of seeing the antiquated Janus Films logo when attending a movie in one of New York City's art house theaters. Film historian Peter Cowie's essay about the history of art house cinema in America casts light on how films by directors like Akira Kurosawa and Ingmar Bergman first found American audiences. These days it's easy to take for granted our access to films from around the globe, but in the early 20th century it was only due to the efforts of a passionate few that these great films found theatrical life in the United States. Many of these films, particularly those from Europe, boasted more liberal attitudes about such things as sex and war, facing the threat of censorship and hostility from Hollywood-fed audiences who weren't accustomed to considering films as works of art. Janus Films evolved as a way to bridge these cultural gaps, introducing Americans to foreign sensibilities and big-screen stories that transcended language. '
NOTE: None of the discs in the collection have extras - all supplements from the individual Criterions have been stripped.
Now the logistics of buying this set can be greatly determined by how many of these Criterion DVDs that you already own... and how much you might value the remaining ones. If you consider the book itself to be in the neighborhood of $60-$100 then you can get a fair estimation of what the remaining discs would be valued at - BUT on the positive - you would still be getting 2nd copies of the duplicates. These could simply kept as back-ups (trust me - this is not such a crazy idea).
Waxing somewhat philosophically I can personally state that certain films in this collection (ex. L'avventura , Ikiru, Pandora's Box, The Rules Of The Game, Seven Samurai, The Seventh Seal, The Spirit Of The Beehive, La Strada, Ugetsu, Umberto D. ) have altered not only my perception of cinema, but of life as well - making them virtually priceless. This collection may be the single greatest purchase that any cineophile could possibly ever make. Regardless of it being the Holidays, I encourage you to treat yourself to this gift of timeless art and beauty - that will last you a lifetime.
NOTE: This is now available individually from Criterion and reviewed HERE