Review by Gary Tooze
Production:
Theatrical: Nuova Dania Cinematografica
Video:
88 Films
Disc:
Region: 'B' (as verified by the Oppo Blu-ray player)
Runtime: 1:35:46.323
Disc Size: 37,718,490,918 bytes
Feature Size: 28,083,462,144 bytes
Video Bitrate: 34.99 Mbps
Chapters: 12
Case: Transparent Blu-ray case
Release date: April 10th, 2017
Video:
Aspect ratio: 1.85:1
Resolution: 1080p / 23.976 fps
Video codec: MPEG-4 AVC Video
Audio:
LPCM Audio English 2304 kbps 2.0 / 48 kHz / 2304 kbps / 24-bit
Subtitles:
English, none
Extras:
•
After The Fall: an interview with Sergio Martino (33:23)

•
The Art of the Fall: The Magic of Antonello Gelleng (9:43)

• Liner notes by
Calum Waddell -
All the Colours of Martino: one of Italy's more revered genremakers gives a frank interview about his wild and wonderful career

•
Reversible Sleeve with alternative art
Bitrate:
Description: After the bomb drops, the world is divided into two fractions; on the one side are the evil Euracs, and on the other, the Pan-American Confederacy. Parsifal (Michael Sopkiw, Massacre in Dinosaur Valley) is sent by the President of the Confederacy (Edmund Purdom, Pieces) into the wasteland that was once New York; in an effort to rescue the last fertile female on the planet, the beautiful Giara (Valentine Monnier, Monster Shark). Extracting the key to mankind's survival will not be easy; as they battle mutants, treacherous Confederacy personnel and the lethal Euracs that infest the barren and brutal landscape.

Sergio Martino (All the Colours of the Dark) delivers one of Italian exploitation cinema's fi nest post-apocalyptic entries with 2019: After the Fall of New York. A gung-ho, blood-splattered tale of one man's quest for humanity's Holy Grail. Discover this gem, in pristine HD, thanks the trash-loving 88 Films!
***
In 2019 the world is devastated by an infection that prevents men from procreating. A group of survivors find that in New York there is a community of humans who for some reason has remained immune to contamination. So the soldier Parsifal is sent on a reconnaissance to send out the mission of saving the entire human race.
The Film:
I've seen the future, at least 16 years from now and all of mankind has been reduced to horrible wardrobe and lousy special effects make-up. At least that's the future in the 1983 Italian film by director Sergio Martino 2019: After the Fall of New York, which by no coincidence appears to be a knock off of John Carpenter's 1981 Escape From New York.

The opening shot of 2019 is actually photographed quite nicely. A sequence of long shots manages to capture a believable post-apocalyptic environment in ruin. It's dark, dreary and morbid, until you begin to notice the obvious miniature models of buildings that make up the city. This is your first reminder that you are watching a low budget sci-fi action film. A mixture of genres difficult to pull off and this film fails in doing so.
Excerpt from FilmMonthly located HERE
One of many thousands of Italian Road Warrior/Escape From New York rip-offs, After the Fall stands out by being not only hellishly entertaining, but for featuring a character named "Big Ape." It's 20 years after the nuclear holocaust, and the "Pan American Confederacy" is hot to breed up a new batch of citizens. Black-clad "Eurac" soldiers on horseback battle survivors in an attempt to round up subjects for experimentation, while "handsome, virile actor" (so sez the box) Michael Sopkiw (as Parsifal) takes part in some kind of hot rod demolition derby. Punk rock chicks shriek from the hilltops as Parsifal rains destruction on his foes, culminating in a bare-knuckle brawl and the approval of a weird clown robot. Parsifal rides off with his hot Italian girlfriend (who says "You're too much, Master--and you're going to make great love"), but is waylaid by members of the Pan Am Confederacy.
Excerpt from Filmvault located HERE

Image : NOTE: The below Blu-ray captures were taken directly from the Blu-ray disc.
2019: After the Fall of New York gets an impressive transfer to Blu-ray from 88 Films, cited as "Brand New High Definition Restoration from the Original Negative". It is dual-layered with a max'ed out bitrate for the hour 35-minute feature. It offers only the English track. The 1080P supports a consistent image - solid contrast and grain textures. It's quite clean and I have no reason to believe that it's not a strong replication of the film's original appearance. This Blu-ray exports a pleasing HD presentation.
CLICK EACH BLU-RAY CAPTURE TO SEE ALL IMAGES IN FULL 1920X1080 RESOLUTION
Audio :
Only the English track is provided on the
Blu-ray
of
2019: After the Fall of New York
transferred via a, robust, uncompressed liner PCM 2.0 channel (24-bit). The DUB'ing mismatches are acceptable. The film's meage effects have some hollow depth. The score by Guido and Maurizio de Angelis (
Torso
) is fitting to the film and benefits from the lossless rendering. There are optional English subtitles and my
Oppo
has identified it as being a region 'B'.
Extras :
There are some good 'in-house' produced extras. After The Fall is a 1/3 hour interview with Sergio Martino (in Italian with English subtitles ) and he is very upfront about his intent (wanting to look like Bladerunner) and being strong influenced by John Carpenter's 1981 Escape From New York, but working within a budget. There is also The Art of the Fall: The Magic of Antonello Gelleng - a 10-minute interview with the production designer about the film's intended look. The package has a loner notes leaflet with notes by Calum Waddell - All the Colours of Martino: one of Italy's more revered genremakers gives a frank interview about his wild and wonderful career and there is 88 Films usual reversible sleeve with alternative art.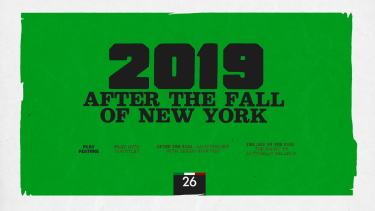 BOTTOM LINE:
By no stretch of the imagination would you say that 2019: After the Fall of New York is a great film... but it is an entertaining one. A modest budget but seriously produced effort imitating some similar future-esque apocalypse genre Hollywood flics. Less typical of Sergio Martino although not unique exporting some proficiency in bringing together a project. You have to appreciate the sincerity. The 88 Films Blu-ray provides an excellent, and accurate, a/v presentation with appreciated and worthwhile supplements. Fans keen on this genre should be happy to snap this 'little gem' up although the Italian-language option would have been appreciated. Michael Sopkiw is a leading-man treasure for these genre popcorners.
Gary Tooze
July 31st, 2017
More Apocalypse-related films on Blu-ray and DVD reviewed (click review buttons to also see
comparisons where applicable) from our article Films From The End of the World: