| | |
| --- | --- |
| | S E A R C H D V D B e a v e r |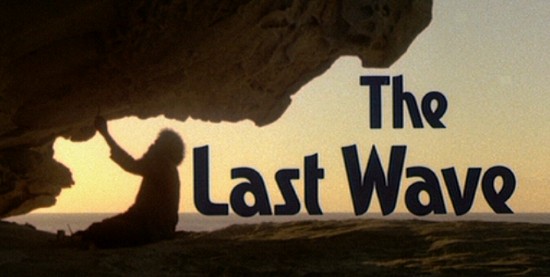 directed by Peter Weir
Australia 1977
Occult Aboriginal mysticism. Dreams . Reality. Conflict.

In 1977, Australian director Peter Weir made a haunting film dealing with central themes of cultural understanding, tolerance and man's communication with the natural world. As a follow up to the critical success of his 1975 film Picnic at Hanging Rock, The Last Wave was able to generate a similar foreboding presence of the unknown. Both films deal with mans' compelled acceptance of the spiritual forces that modern society has alienated itself from, all presented within a penetrating atmosphere of suspenseful mystery.

Right from the very first scene, the story intimates a parallel to the unusual weather circumstances that are occurring throughout Sydney at the time of the ongoing trial. Large hail falls violently on one day, blotchy mud from the sky's on another. The subtle background sounds of radio broadcasts detail proposed scientific explanations for the events. The plot thickens.
Poster
Theatrical Release: October 1977 - Australia
Reviews More Reviews DVD Reviews
More Apocalypse-related films on Blu-ray and DVD reviewed (click review buttons to also see
comparisons where applicable) from our article Films From The End of the World:
DVD Comparison:
Criterion - Region 1 - NTSC vs. Gaumont Boxset (France) CTHV - Region 2 -PAL
(Criterion - Region 1 - NTSC LEFT vs. Gaumont Boxset (France) CTHV - Region 2 -PAL - RIGHT)
DVD Box Covers

Distribution

Criterion Collection - Spine # 142

Region 1 - NTSC

Gaumont - Columbia Tri-Star HV
Region 2 - PAL
Runtime
1:45:40
1:41:09 (4% PAL speedup)
Video

1.78:1 Original Aspect Ratio

16X9 enhanced
Average Bitrate: 8.69 mb/s
NTSC 704x480 29.97 f/s

1.78:1 Original Aspect Ratio

16X9 enhanced
Average Bitrate: 5.83 mb/s
PAL 720x576 25.00 f/s

NOTE: The Vertical axis represents the bits transferred per second. The Horizontal is the time in minutes.

Bitrate:

Criterion

Bitrate:

Gaumont

Audio
English (Dolby Digital 5.1), English (Dolby Digital 2.0 Dolby)

English (Dolby Digital 2.0 Dolby)

Subtitles
English, and none
French, and none
Features
Release Information:
Studio: Criterion / Home Vision

Aspect Ratio:
Widescreen anamorphic - 1.78:1



Edition Details:
• Theatrical trailer
• 2001 interview (specially made by Criterion) with director Peter Weir

DVD Release Date: January 13, 2004
Keep Case

Chapters 24


Release Information:
Studio: Gaumont -CTHV

Aspect Ratio:
Widescreen anamorphic - 1.78:1



Edition Details:
• Boxset includes 3 other Peter Weir films on separate DVDs - Picnic at Hanging Rock, The Plumber, The Cars that Ate Paris
• Feaurette on 'history' - (1:07:06) in English with non-removal French subtitles

• Trailer (same as Criterions)
• 5 Filmographies of cast and crew (moving text screens)

• Bibliography (moving text screens)

DVD Release Date: March 10th, 2004
2 double Keep Cases inside Box
Chapters: 12
| | |
| --- | --- |
| Comments: | The Gaumont doesn't look bad considering it is from a low definition source. We can categorically state here that the French subtitles are removable. There is a little bit of cropping at the bottom edge of the French DVD. The French has some unclean frame shifts (see very last capture). The Criterion is sharper with better skin tones and an obvious HD sourced tape was used. Criterion's 5.1 mix is marvelous, and also added an original option (but no menu option for it - must do it 'on the fly'). Extras go to the French with over an 1 hour long featurette, trailer and filmographies. Subtitles look well done on both, but the overall winner here is Criterion, unless you are keen on the Gaumont Extra featurette (more about history than the film). The Weir interview is more fitting. |
---


DVD Menus
(Criterion - Region 1 - NTSC LEFT vs. Gaumont Boxset (France) CTHV - Region 2 -PAL - RIGHT)
| | |
| --- | --- |
| | |
| | |
| | |
| | |
| | |
---
Subtitle Sample
(Criterion - Region 1 - NTSC TOP vs. Gaumont Boxset (France) CTHV - Region 2 -PAL - BOTTOM)
---
Screen Captures
(Criterion - Region 1 - NTSC TOP vs. Gaumont Boxset (France) CTHV - Region 2 -PAL - BOTTOM)
---
(Criterion - Region 1 - NTSC TOP vs. Gaumont Boxset (France) CTHV - Region 2 -PAL - BOTTOM)
---
(Criterion - Region 1 - NTSC TOP vs. Gaumont Boxset (France) CTHV - Region 2 -PAL - BOTTOM)
---
(Criterion - Region 1 - NTSC TOP vs. Gaumont Boxset (France) CTHV - Region 2 -PAL - BOTTOM)
---
(Criterion - Region 1 - NTSC TOP vs. Gaumont Boxset (France) CTHV - Region 2 -PAL - BOTTOM)
---
(Criterion - Region 1 - NTSC TOP vs. Gaumont Boxset (France) CTHV - Region 2 -PAL - BOTTOM)
---
NOTE: Many loose frame shifts on the Gaumont (see below)
---
Report Card:
| | |
| --- | --- |
| Image: | Criterion |
| Sound: | Criterion |
| Extras: | Gaumont |
| Menu: | Criterion |
DVD Box Covers

Distribution

Criterion Collection - Spine # 142

Region 1 - NTSC

Gaumont - Columbia Tri-Star HV
Region 2 - PAL
More Apocalypse-related films on Blu-ray and DVD reviewed (click review buttons to also see
comparisons where applicable) from our article Films From The End of the World: