| | |
| --- | --- |
| | Also released on Blu-ray by Shout! factory in September 2018: |
More Apocalypse-related films on Blu-ray and DVD reviewed (click review buttons to also see
comparisons where applicable) from our article Films From The End of the World:
Review by Gary Tooze
Production:
Theatrical: TriStar Pictures
Video: Madman (Australia)
Disc:
Region: FREE (as verified by the Oppo Blu-ray player)
Runtime: 1:36:58.562
Disc Size: 19,635,140,019 bytes
Feature Size: 19,559,768,064 bytes
Video Bitrate: 24.99 Mbps
Chapters: 24
Case: Transparent Blu-ray case
Release date: December, 2016
Video:
Aspect ratio: 2.35:1
Resolution: 1080p / 23.976 fps
Video codec: MPEG-4 AVC Video
Audio:
Dolby Digital Audio English 640 kbps 2.0 / 48 kHz / 640 kbps / DN -4dB
Subtitles:
• None
Extras:
•
None
Bitrate:
Description: Prior to his death on the crucifix, Jesus Christ (Jürgen Prochnow) was offered a drink of water, a kind act turned away by a Roman soldier. These events play a profound role in occurrences during modern times, which some construe as signs of Christ's return and the apocalypse. While Abby Quinn (Demi Moore) believes the end is coming and that her unborn child may be in danger as a result, Father Lucci (Peter Friedman), a Vatican agent, is doubtful no matter what evidence she presents.
The Film:
An apocalyptic thriller which focuses on an intimate familial dilemma, this should find favour among those who prefer supernatural disquiet to visceral shocks. A young mother-to-be (Moore) suffers recurring nightmares. Disturbed by these fragmentary premonitions, she begins to imagine that the fate of her child is somehow bound up with a series of strange natural phenomena which, some say, herald the end of the world: the sea around a Haitian island boils, an Israeli desert village freezes over, the sun is eclipsed, the moon glows red. Her nightmares also seem to be linked to a mysterious stranger (Prochnow), who moves into an adjoining apartment, and whose silent brooding and unnatural interest in the unborn child she interprets as a diabolical threat. Schultz's stylish visuals and sympathetic handling of the actors creates an unsettling atmosphere of understated menace; and the unfolding mystery (drawing upon both the Book of Revelations and ancient Jewish mythology) generates a tremendous cumulative tension, the climactic scene working all the better for being staged on a human scale.
Excerpt from TimeOut located HERE
Still, what is effective about the plot depends upon the viewer's need to figure out the story as it unfolds, so I don't want to give too much away. I will only reveal that The Seventh Sign is about a lawyer (Michael Biehn) concerned with a murder trial, his very pregnant wife Abby (Demi Moore), and the mysterious stranger named David (Jurgen Prochnow) who rents a room in their house. David is a strange fellow with icy eyes and a calm, thoughtful persona, and he seems to know more about Moore than she does about herself. Eventually, Moore comes to realize that she and her unborn child play a part in the coming of the apocalypse, and that she must make a choice if she is to prevent the end of the world.
Excerpt from FilmAsArt located HERE

Image : NOTE: The below Blu-ray captures were taken directly from the Blu-ray disc.
The Seventh Sign comes to Blu-ray from Madman in Australia. It seems a reasonable single-layered transfer - occasionally looking impressive. I see no evidence of manipulation or noise, contrast is adept and there are instances of depth. Colors have a richness and advance beyond SD's capabilities. This Blu-ray gives a good presentation in the original 2.35:1 aspect ratio - as far as I know - the only 1080P available for this film.
CLICK EACH BLU-RAY CAPTURE TO SEE ALL IMAGES IN FULL 1920X1080 RESOLUTION
Audio :
Sadly, only a lossy, Dolby audio track. The film has some effects but they are only modestly exported by the 2.0 channel transfer. The score by Jack Nitzsche (The Crossing Guard, One Flew Over the Cuckoo's Nest, Personal Best, 9 1/2 Weeks) is excellent here with a sense of noble, holy, grandeur and mysterious doom pervading the appropriate scenes. There are no subtitles, only one menu screen,
and m
y
Oppo
has identified it as being a region FREE (despite what Amazon says.)

Extras :
Nada.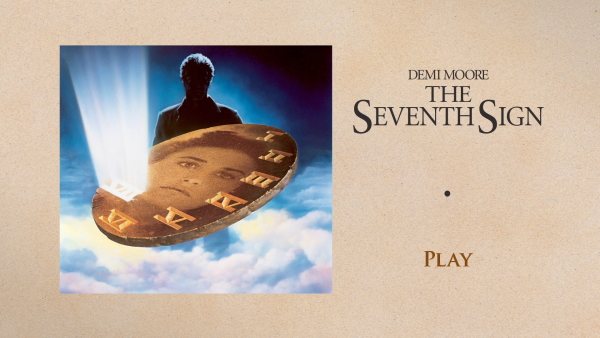 BOTTOM LINE:
Fess' up time. Yes, The Seventh Sign is on my re-watchable list. I was doing some research for the article on 'Apocalypse Films' (The Movies From "The End of the World") and I had forgotten about The Seventh Sign and how much I had enjoyed it. This is how I came across this Blu-ray. Sure enough - many critics disliked the film and found plenty of reasons to pick it apart. But I was gratified to find such a positive comment from TimeOut - see the top of the page. Yes, I do liken the biblical-horror aspects to The Omen (another on my re-watchable shelf.) Mulling it over, parts of The Exorcist, The Da Vinci Code / Angels & Demons, even Constantine and plenty of modern films use the darker aspects of ancient religious dogma as central to their plot. This, apparently, appeals to me. The Madman Blu-ray is bare-bones, and un-exceptional but it offers a darn-sight better visuals than the old DVD and I will reach for it next time I indulge (once every couple of years.) Let's hope a superior edition comes along, one day, soon.
Gary Tooze
January 23rd, 2017
| | |
| --- | --- |
| | Also released on Blu-ray by Shout! factory in September 2018: |
More Apocalypse-related films on Blu-ray and DVD reviewed (click review buttons to also see
comparisons where applicable) from our article Films From The End of the World: