| | |
| --- | --- |
| | There is a European Blu-ray available here: |
More Apocalypse-related films on Blu-ray and DVD reviewed (click review buttons to also see
comparisons where applicable) from our article Films From The End of the World:
Review by Gary Tooze
Production:
Theatrical: Mr. Yellowbeard Productions Limited & Company
Video:
Film Movement
Disc:
Region: 'A' (as verified by the Oppo Blu-ray player)
Runtime: 1:31:02.665
Disc Size: 32,439,903,618 bytes
Feature Size: 29,738,956,800 bytes
Video Bitrate: 34.98 Mbps
Chapters: 13
Case: Transparent Blu-ray case
Release date: December 6th, 2016
Video:
Aspect ratio: 1.85:1
Resolution: 1080p / 23.976 fps
Video codec: MPEG-4 AVC Video
Audio:
DTS-HD Master Audio English 3587 kbps 5.1 / 48 kHz / 3587 kbps / 24-bit (DTS Core: 5.1 / 48 kHz / 1509 kbps / 24-bit)
LPCM Audio English 2304 kbps 2.0 / 48 kHz / 2304 kbps / 24-bit
Commentary:
Dolby Digital Audio English 448 kbps 5.1 / 48 kHz / 448 kbps
Subtitles:
None
Extras:
•
Commentary by acclaimed astrophysicist, Neil deGrasse Tyson, and film critic, Odie Henderson
• Trailer (1:00)
• Other Film Movement Trailers
Package includes: Collector's Booklet with film essay by academic/film critic, Teresa Heffernan; cast and crew credits; chapter breaks; stills
Bitrate:
Description: Beautifully restored in HD, this classic film is now released for the first time in North America!

In this sci-fi cult classic, Zac Hobson, a mid-level scientist working on a global energy project, wakes up to a nightmare. After his project malfunctions, Zac discovers that he may be the last man on Earth. As he searches empty cities for other survivors, Zac's mental state begins to deteriorate - culminating in the film's iconic and hotly debated ending.
***
In a tour-de-force sci-fi story with only three main characters, Kiwi director Geoffrey Murphy creates an interesting dynamic nuanced with shades of mysticism. When scientist Zac Hobson (Bruno Lawrence) experiments with a radical new power source -- a band of energy that would circle the planet -- the project goes awry and apparently wipes out all living creatures (they vanish without a trace). At first Zac adjusts by indulging himself in some of his materialistic desires, but he soon starts a serious search for other signs of human life. He discovers it in New Zealand in the form of Joanne (Alison Routledge), with whom he falls in love, and Api (Peter Smith), a Maori. The challenges the three face in order to survive, as well as their personal interactions, keep this human drama engrossing.
The Film:
When everyone around him vanishes overnight, scientist Zac Hobson (Bruno Lawrence) finds himself seemingly the only person on the planet. The isolation initially drives him to the brink of suicide, but eventually Zac adapts to a day-to-day routine. After meeting two other survivors, Joanne (Alison Routledge) and Api (Pete Smith), a Maori, the trio roams New Zealand trying to understand what caused everyone else to disappear, why they remained behind -- and whether disaster will strike again.
MRQE
'THE QUIET EARTH'' is New Zealand's contribution to the last-man-on-earth genre, or to be precise, the last-two-men-and-one-woman genre. It has the usual huggermugger about tremors and grids and the sun acting peculiarly, plenty of computer screens and significant beeps and colorful special effects signifying commotion in the universe, some cautionary words about the dangers of man playing God and no noticeable psychological sense, but it's easy to watch most of the time and never positively painful. This relatively lighthearted exercise in apocalypse opens today at the New Carnegie.

Bruno Lawrence, whom we first encounter naked except for his I.D. card, plays a scientist who finds himself apparently alone on earth, or at least in the city of Auckland, and gradually figures out that he is partly responsible for his own predicament, not to mention the condition of all his fellow former human beings, wherever they may be. Something called Operation Flashlight, masterminded by the United States, seems to have gone awry.
Excerpt from the NY Times located HERE

Image : NOTE: The below Blu-ray captures were taken directly from the Blu-ray disc.
The Quiet Earth is transferred to a dual-layered Blu-ray from Film Movement. It has a max'ed out bitrate. The 1.5 hour feature, in the original 1.85:1 aspect ratio, looks quite strong in 1080P. The HD exports bright colors and keen detail in the film's close-ups. I saw one untoward instance of 'thinness' and there may be a couple of others scattered in the presentation but it was minor. There is some green overcast in a few of the indoor sequences - but this may well be authentic to the original production and not a product of the transfer. This Blu-ray is very pleasing in its visual appearance. Without being too picky, I think most will be highly appreciative of the image quality.
CLICK EACH BLU-RAY CAPTURE TO SEE ALL IMAGES IN FULL 1920X1080 RESOLUTION
Audio :
Film Movement use a DTS-HD Master 5.1 surround - with minor separations - or the option of a linear PCM 2.0 channel - both 24-bit and both in the original English language. Dialogue is clean and audible although with the Kiwi accents - optional subtitles might have been a good idea. The uplifting score is by John Charles - which he adapted this inspiring main theme into a concert piece entitled "Sunrise for Orchestra". It's quite majestic, and rousing, sounding delightful and strong via the lossless. M
y
Oppo
has identified it as being a region 'A' disc.
Extras :
Film Movement include a commentary by acclaimed astrophysicist, Neil deGrasse Tyson, and film critic, Odie Henderson and it has some merit - especially for science-fiction/apocalypse fans who appreciate the film. There is also a short trailer for The Quite Earth and some Film Movement trailers. The package itself has a hefty collector's booklet with film essay by academic/film critic, Teresa Heffernan; cast and crew credits; chapter breaks; stills etc. .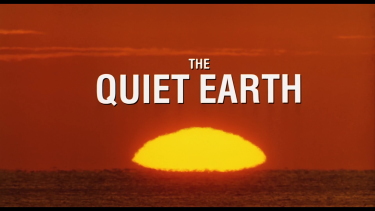 BOTTOM LINE:
Yes, The Quiet Earth is a modest budget apocalypse film - and that genre continues to be one of my favorite. I really enjoyed it. With two very different guys and a cute gal as, potentially, the lone survivors - I was wondering if the 2015 film Z for Zachariah with Chris Pine and Chiwetel Ejiofor (that I haven't reviewed but did put on my top Blu-rays of 2015 listing) was somehow a reference to the Bruno Lawrence's Zach character in The Quiet Earth. The Film Movement Blu-ray has plenty of value with the solid a/v, commentary, booklet and a cool film to boot! I strongly recommend!
Gary Tooze
December 22nd, 2016
| | |
| --- | --- |
| | There is a European Blu-ray available here: |
More Apocalypse-related films on Blu-ray and DVD reviewed (click review buttons to also see
comparisons where applicable) from our article Films From The End of the World: