Review by Gary Tooze
Production:
Theatrical: DMV Distribuzione
Video:
88 Films
Disc:
Region: FREE (as verified by the Oppo Blu-ray player)
Runtime: English - 1:27:31.621 / Italian - 1:26:30.602
Disc Size: 44,697,925,322 bytes
English-language feature size: 20,142,090,240 bytes
Italian-language feature size: 18,566,080,512 bytes
Video Bitrate: 29.96 Mbps / 24.98 Mbps
Chapters: 12
Case: Standard Blu-ray case
Release date: March 13th, 2017
Video:
Aspect ratio: 1.85:1
Resolution: 1080p / 23.976 fps
Video codec: MPEG-4 AVC Video
Audio:
LPCM Audio English 2304 kbps 2.0 / 48 kHz / 2304 kbps / 24-bit
LPCM Audio Italian 2304 kbps 2.0 / 48 kHz / 2304 kbps / 24-bit
Subtitles:
None / Non-removable English on the Italian Language version
Extras:
•
Location, Location, Cannibalization (20:41)

•
Deleted Scenes (10:49)

• Original trailer (2:05)
Bitrate:
1) 88 Films (English-language) - Region 'B' - Blu-ray - TOP
2) 88 Films (Italian-language) - Region 'B' Blu-ray - BOTTOM
Description: When their plane crashes in the dense Amazon jungle, anthropologist, and all-round ladies man, Kevin Hall (Michael Sopkiw, Blastfighter), is left to protect a bevy of model bombshells who were along for the ride; including the gorgeous Eva (Suzane Carvalho, Women in Fury). On their journey back to civilization, they battle the harsh elements of the Amazon and clash with terrifying jungle creatures, not to mention a run in with local slave traders. They eventually find themselves deep in cannibal territory and fighting to save their skins.

Formally known as Cannibal Holocaust 2 during the VHS era, Michele Massimo Tarantini's rip-roaring riot of Italian exploitation finally arrives in pristine HD and is ripe for re-discovery via this blistering new transfer thanks to the flesh-hungry fiends at 88 Films!
***
1980s Italian action adventure written and directed by Michele Massimo Tarantini. When their plane crashes on a South American expedition deep in the heart of the Amazon rainforest, Kevin Hall (Michael Sopkiw) tries to lead his group of scientists and models to safety. To get back to civilization he must first fight his way through hostile slave traders, bloodthirsty cannibals and a variety of the jungle's monsters.
1) 88 Films (English-language) - Region 'B' - Blu-ray - TOP
2) 88 Films (Italian-language) - Region 'B' Blu-ray - BOTTOM
The Film:
Michael Sopkiw (2019: After The Fall of New York) stars as Kevin Hall, a bone hunter from the Boston Institute of Paleontology who is able to tag along on a plane that is making a side trip to the cursed 'valley of the dinosaurs' where there is supposedly a huge number of bones, fossils, and footprints to examine. After a quick bar fight between Kevin and a couple of oiled-up muscle dudes, the plane is soon bound for the forbidden zone. Along for the ride are a Vietnam vet and his bickering over the hill Marilyn Monroe wannabe wife, a photographer with a couple of models, and an older professor with his hot daughter. The plane crashes and Kevin finds himself trying to lead the passengers to safety through the cannibal-infested jungles while also contending with quicksand, snakes, crocodiles, piranhas, slave labour, and a power struggle with the army guy.
Excerpt from TheVideoGraveyard located HERE
Yes, it's another 'b' movie jungle flick featuring cannibalistic natives, acres of naked female flesh ("Are you sure this shouldn't be called Breast Night" - Zomblee), leeches, quicksand and severed heads. Although obviously a cheaper production than the first film of the night, Massacre… is just as much fun, as our intrepid plane crash survivors search for a way out of the cursed Valley of the Dinosaurs (don't get too excited and make the same mistake as me though, there aren't actually any real dinosaurs in the film).

Along the way the two girls have a waterfall wet T-shirt competition, Robbie has his leg gnawed to the bone by piranhas, John has his heart ripped out and eaten and Eva and Belinda are kidnapped by the natives before being stripped...
Excerpt from EatMyBrains located HERE

Image : NOTE: The below Blu-ray captures were taken directly from the Blu-ray disc.
Massacre in Dinosaur Valley aka "Nudo e selvaggio" gets a solid transfer to Blu-ray from 88 Films in the UK. Both the English and Italian versions get separate transfers "Restored in 2K from the Original Camera Negative". The 1.5 hour film get a supportive bitrates and the visual quality can impress looking far superior than one might anticipate. The English version is slightly superior but it is negligible. The modest production has layered contrast and frequent depth. Colors are true without unnatural embellishment and the source is clean without major blemishes. It's in the original 1.85:1 aspect ratio without compression artifacts or digital noise and grain textures are prevalent. This dual-layered Blu-ray higher resolution does expose some of the low-budget effects - the plane crash is particularly transparent as are the brief viewing of a piranha attack. This 1080P exports the original film expertly.
CLICK EACH BLU-RAY CAPTURE TO SEE ALL IMAGES IN FULL 1920X1080 RESOLUTION
1) 88 Films (English-language) - Region 'B' - Blu-ray - TOP
2) 88 Films (Italian-language) - Region 'B' Blu-ray - BOTTOM
1) 88 Films (English-language) - Region 'B' - Blu-ray - TOP
2) 88 Films (Italian-language) - Region 'B' Blu-ray - BOTTOM
1) 88 Films (English-language) - Region 'B' - Blu-ray - TOP
2) 88 Films (Italian-language) - Region 'B' Blu-ray - BOTTOM
Audio :
88 Films use linear PCM mono tracks at 2304 kbps that export the film's modest production expressions easily in both English and Italian languages - DUBs fairly transparent. There are effects but any audio depth seems superficial - even in carrying some weight. the uncredited score is a bit redundant and generic in buoying the action. There are non-removable English subtitles on the Italian-language version, none offered on the English, and my
Oppo
has identified it as being region FREE - playable worldwide.
Extras :
Dr.
Calum Waddell is a
film critic, British writer and the director of the 2015 documentary Eaten Alive! The Rise and Fall of the Italian Cannibal Film. As part of a 20-minute video supplement entitled Location, Location, Cannibalization he discusses the appeal, value and attraction of Cannibals in film and relays information on Cannibalizing cultures. It's relevant, interesting and... excellent. There are also almost 11-minutes worth of deleted scenes plus an original trailer. The package offers a revisable sleeve (see bottom cover art.)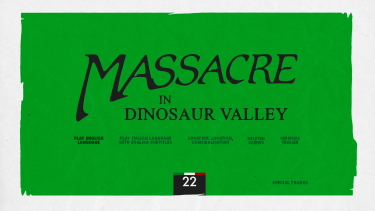 BOTTOM LINE:
Massacre in Dinosaur Valley is quite a modest adventure with exploitation at every turn from scantily clad ladies to grotesque blood gore. These films are fun for the seriousness the cast puts into the production. I was, surprisingly, very entertained - having my expectations rather low. Like many I was expecting a dinosaur to surface - it wouldn't have worked as well if they had. The 88 Films Blu-ray provides a good presentation, for both versions, with the educational piece by Waddell. Nice package - perhaps better than the film deserved but I love the idea of being exposed to these cheesy, Ital-sploitation, efforts with, appealing, one-dimensional characters bound together fighting for their lives. Perfect! I doubt anyone keen on Massacre in Dinosaur Valley is expecting a masterpiece - it's grassroots expression is actually part of the film's charismatic appeal. How cool is this to have it on Blu-ray? Nice cover(s) too. Recommended to the right crowd.
Gary Tooze
March 20th, 2017