| | |
| --- | --- |
| | S E A R C H D V D B e a v e r |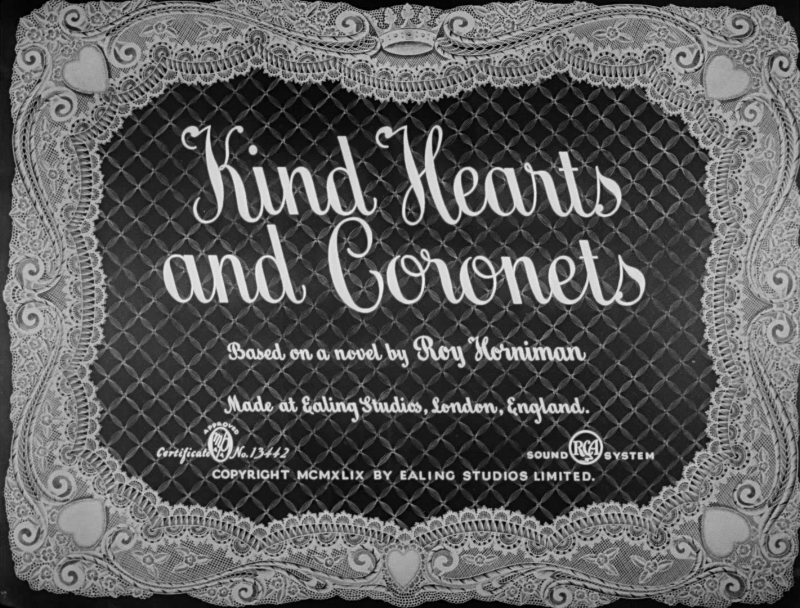 directed by Robert Hamer
UK 1949
Director Robert Hamer's fiendishly funny Kind Hearts and Coronets stands as one of Ealing Studios' greatest triumphs, and one of the most wickedly black comedies ever made. Dennis Price is sublime as an embittered young commoner determined to avenge his mother's unjust disinheritance by ascending to the dukedom. Unfortunately, eight family members—all played by the incomparable Alec Guinness—must be eliminated before he can do so.
****
This is a very special film - one I remember very fondly viewing in my childhood. What with my Anglo background I was lucky enough to see many Guinness/Ealing comedies, of which Kind Hearts and Coronets was my favorite (although they are all very good!). We enter the plot to learn about Louis Mazzini's (Dennis Price plays with a perfect disconcerted fashion) mother (Audrey Fildes) who frequent tells tales of how her titled D'Ascoyn family shunned her after she eloped with an Italian commoner which caused a simmering resentment in her son. Louis has never forgotten his heritage nor his unjust shunning. He later blames his lack of social position on being spurned by his sweetheart Sibella (Joan Greenwood) and meticulously Louis decides to permanently remove all the D'Ascoyns standing between him and the Dukedom. He murders them one by one and the dark comedy is only emphasized by the brilliant acting of Alecx Guinness who plays... all of them - Duke Etherel/The Banker/Reverend Lord Henry d'Ascoyne/General Lord Rufus D'Ascoyne/Admiral Horatio d'Ascoyne/Young Henry d'Ascoyne/Lady Agatha d'Ascoyne/ and Lord Ascoyne d'Ascoyne. This is a brilliant comedy/suspense that remains consistently stayed till the films exciting conslusion. Easily one of my favorite films of all time.
Posters
Theatrical Release: January 20th, 1950
Reviews More Reviews DVD Reviews
Comparison:
Anchor Bay - Region 1- NTSC vs. Criterion - Region 1- NTSC vs. Optimum - Region 'B' - Blu-ray
1) Anchor Bay - Region 1 - NTSC LEFT
2) Criterion - Region 1- NTSC MIDDLE
3) Optimum - Region 'B'- Blu-ray RIGHT
Box Covers

Also as part of the Ealing Studios Blu-ray package Vol. 1:

Distribution

Anchor Bay

Region 1 - NTSC

Criterion Collection - Spine # 325

Region 1 - NTSC

Optimum
Region 'B' - Blu-ray

The Anchor Bay boxset contains The Ladykillers, Kind Hearts and Coronets, The Lavender Hill Mob, The Man in the White Suit and The Captain's Paradise. These are considered Ealing Studio's greatest comedies. NOTE: The Captain's Paradise is not available individually but the other 4 are.

(click titles for DVDBeaver reviews)

Criterion (without any extras) also available in The Essential Art House - 50 Years of Janus Films - a 50-disc celebration of international films collected under the auspices of the groundbreaking theatrical distributor. It contains Alexander Nevsky (1938), Ashes And Diamonds (1958), L'avventura (1960), Ballad Of A Soldier (1959), Beauty And The Beast (1946), Black Orpheus (1959), Brief Encounter (1945), The Fallen Idol (1948), Fires On The Plain (1959), Fists In The Pocket (1965), Floating Weeds (1959), Forbidden Games (1952), The 400 Blows (1959), Grand Illusion (1937), Häxan (1922), Ikiru (1952), The Importance Of Being Earnest (1952), Ivan The Terrible, Part II (1958), Le Jour Se Lève (1939), Jules And Jim (1962), Kind Hearts And Coronets (1949), Knife In The Water (1962), The Lady Vanishes (1938), The Life And Death Of Colonel Blimp (1943), Loves Of A Blonde (1965), M (1931), M. Hulot's Holiday (1953), Miss Julie (1951), Pandora's Box (1929), Pépé Le Moko (1937), Il Posto (1961), Pygmalion (1938), Rashomon (1950), Richard III (1955), The Rules Of The Game (1939), Seven Samurai (1954), The Seventh Seal (1957), The Spirit Of The Beehive (1973), La Strada (1954), Summertime (1955), The Third Man (1949), The 39 Steps (1935), Ugetsu (1953), Umberto D. (1952), The Virgin Spring (1960), Viridiana (1961), The Wages Of Fear (1953), The White Sheik (1952), Wild Strawberries (1957), Three Documentaries By Saul J. Turell plus the hardcover, full color 240-page book.

Runtime
1:35:45 (4% PAL speedup)
1:40:03
1:46:10.072

Video

1.33:1 Original Aspect Ratio

16X9 enhanced
Average Bitrate: 5.54 mb/s
PAL 720x576 25.00 f/s

1.33:1 Original Aspect Ratio

16X9 enhanced
Average Bitrate: 7.86 mb/s
NTSC 720x480 29.97 f/s

1080P Dual-layered Blu-ray

Disc Size:

36,107,331,752 bytes

Feature: 24,128,704,512 bytes

Video Bitrate:

24.79 Mbps

Codec: MPEG-4 AVC Video

NOTE: The Vertical axis represents the bits transferred per second. The Horizontal is the time in minutes.

Bitrate: Optimum

Bitrate: Criterion

Bitrate: Blu-ray

Audio
English - 2.0 Dolby Digital
English - 1.0 Dolby Digital Mono
LPCM Audio English 2304 kbps 2.0 / 48 kHz / 2304 kbps / 24-bit
Commentary: LPCM Audio English 1536 kbps 2.0 / 48 kHz / 1536 kbps / 16-bit
Subtitles
None
English, None
English, None
Features
Release Information:
Studio: Anchor Bay

Aspect Ratio:
Original aspect ratio - 1.33:1

Edition Details:
• Theatrical trailer

• Guinness Bio (text)

DVD Release Date: September 10th, 2002
Keep Case

Chapters 28

Release Information:
Studio: Criterion

Aspect Ratio:
Original aspect ratio - 1.33:1

Edition Details:
• Feature-length BBC documentary on the history of Ealing Studios (1:15:27)
• Rare, 70-minute talk show appearance by Alec Guinness, from 1977 (1:08:21)
• Gallery of archival production and publicity photographs
• Original theatrical trailer
• Liner notes essay by film critic and historian Philip Kemp

DVD Release Date: February 28th, 2006
Double thick keep case

Chapters 19

Release Information:
Studio: Optimum

Aspect Ratio: 1.33:1

1080P Dual-layered Blu-ray

Disc Size:

36,107,331,752 bytes

Feature: 24,128,704,512 bytes

Video Bitrate:

24.79 Mbps

Codec: MPEG-4 AVC Video

Edition Details:
• Audio Commentary with Peter Bradshaw, Terence Davies and Matthew Guinness

• John Landis Introduction (2:50)

• Dennis Price: Those British Faces (25:52)

• BBC Radio Essay (14:26)

• Alternative American Ending (2:41)

• Restoration Comparison (5:48)




Blu-ray Release Date: September 5th, 2011
Thick Blu-ray case

Chapters 12
Comments

NOTE: The below Blu-ray captures were obtained directly from the Blu-ray disc.

ADDITION: Optimum - Region 'B' Blu-ray - March 2014 - Optimum describe this restoration process as

'Kind Hearts and Coronets was scanned at 2K on a Northlight 2 film scanner from the original 35mm negative elements and restored in High Definition. The picture was restored using Film Master D.V.O. Restoration tools and PFClean software systems, removing dirt, scratches, warps, torn or replacing torn or missing frames and improving stability issues.' I realize I am the dissenting voice (everyone seems to love this a/v) but it can tend to look over-processed at times to me. Yes, it is very smooth, but also flat, a bit waxy and characters can look like cardboard cutouts. I only real noticed this as much when I zoomed-in so I doubt most would be bothered, but I thought I should point it out. The cleanliness and lack of artifacts, as found on both DVDs, is significant enough for many to forgive any visible, impinging, digitizing but grain is not there. This is dual-layered with a middling bitrate. It is brighter than the SDs and black levels are improved.

Audio is linear PCM 2.0 channel at 2304 kbps. It's more of a handful than you might anticipate - easily handling the film's sound with impressive depth exported. Ernest Irving (Whiskey Galore!) did the score and it's perfect aside Wolfgang Amadeus Mozart's Don Giovanni with Irving's conducting The Philharmonic Orchestra. No complaints at all and Optimum gratefully add optional subtitles as the dialogue can seem prosaic in its high culture and not always easy to decipher. The Blu-ray disc is region 'B'-locked.

All-around pleasing audio commentary with Peter Bradshaw, Terence Davies and Matthew Guinness (son of Alec!) is included, as well as a short John Landis Introduction, a 1993 TV documentary entitled Dennis Price: Those British Faces running 26-minutes focusing on the English actor best remembered for his role Louis Mazzini in Kind Hearts and Coronets. There is also a BBC Radio Essay lasting almost 15-minutes, the inferior-quality, 2 3/4 minute Alternative American Ending and a split-screen Restoration Comparison shy of 6-minutes.

I recommend, despite my minor reservations on the Blu-ray image (perhaps I am too picky), simply because this is probably my favorite Ealing comedy - I've seen it almost a dozen times. The Blu-ray and its bountiful extras (including appreciated commentary) is well in advance of the other digital edition presentations. Another film with multiple revisitation strength. Recommended!

***

ON THE DVDs: I'm afraid there is much to discuss about this particular comparison. As with the Forbidden Games, The Virgin Spring and La bête humaine releases by Criterion (as well as Nanook of the North) the image has been 'pictureboxed' to overcome 'overscan' on commercially made tube television sets (can be up to a 15% loss of image and this is significant!). Pictureboxing leaves a black border around the edge of the image and most players automatically zoom-in to fill the screen - it limits resolution making the image slightly less detailed than it might be able to achieve. The benefit of pictureboxing is that it adds more visible viewing area so that the majority of DVD purchasers (most people own and watch through tubes) can see even more of what is on the negative - the way the film was meant to be viewed. DVDBeaver feels that equipment invariably improves at a much lower price and much faster these days and catering to people with inferior equipment can easily come back and haunt you when the hardware climate advances (it is doing so monthly). I'll wager that tube TV's are selling at at much lower rate than other viewing systems these days. We feel you will own your DVDs (especially your Criterion DVDs) much longer than you will own your current viewing system - I say this is true for myself having just purchased a plasma TV today! (I will still own my Criterion DVDs long after this brand new television is in the trashcan). The overscan problem associated with tube TVs can be corrected relatively inexpensively (incremental zoom DVD players, HTPC viewing, even some TVs now can zoom out to compensate etc.). In the early days of DVD, Criterion justified issuing non-anamorphic DVD editions feeling that player down-conversion was poor. DVDBeaver also feel this was an error on their part although this new issue has many sides - it is still up for debate and we welcome opinions.

Okay, on to this comparison - firstly this Criterion is a fairly expensive DVD - in the upper tier and hence it is stacked. I also like the Anchor Bay edition which came out in 2002. Criterion have done their magic with removing some minor debris and scratches from the negative and the black-levels have been slightly boosted creating a marginally sharper appearance. This gives the Criterion deep penetrating blacks. Overall the images look fairly similar but Criterion is the obvious better. Expectantly, the Criterion extras (2nd disc too) are superior - I particularly liked the Guinness interview from 1970 and the liner notes essay. The Criterion has well-appointed removable English subtitles - the Anchor Bay has none - if this is an issue for you. So our opinion is:

1) If you are prone to overscan with your system - and it is an issue for you - or you wish to own the best version of this marvelous film - or you enjoy extra features (although no commentary) - or you want subtitles - or price is not a strong consideration when it comes to your cinema on DVD - then the Criterion is for you.

2) If you are familiar with the quality of Guinness/Ealing comedies - or interested in discovering them - have a system to correct overscan (or will eventually get one) - make DVD purchasing decisions of a relatively financially sound nature - then we suggest the Anchor Bay boxset.

In fact, I am very glad I own the Criterion but I personally suggest the Anchor Bay boxset at this stage. It is less than 1 lower tier Criterion more than their Kind Hearts DVD and you can get 4 more biting, sometimes dark, yet always refreshingly elegant Ealing studio comedies.

NOTE: I really like the Anchor Bay menus that move around a family tree listing comparative to the D'Ascoyn mapping that Louis uses. Nice touch!
---
Menus

(Anchor Bay - Region 1- NTSC LEFT vs. Criterion - Region 1- NTSC RIGHT)
Criterion (Disc 2)
Optimum - Region 'B'- Blu-ray
---
CLICK EACH BLU-RAY CAPTURE TO SEE ALL IMAGES IN FULL 1920X1080 RESOLUTION
Subtitle Sample (Anchor Bay does not offer subtitles)
1) Criterion - Region 1- NTSC TOP
2) Optimum - Region 'B'- Blu-ray BOTTOM
Screen Captures
1) Anchor Bay - Region 1- NTSC TOP
2) Criterion - Region 1- NTSC MIDDLE
3) Optimum - Region 'B'- Blu-ray BOTTOM
---
1) Anchor Bay - Region 1- NTSC TOP
2) Criterion - Region 1- NTSC MIDDLE
3) Optimum - Region 'B'- Blu-ray BOTTOM
---
1) Anchor Bay - Region 1- NTSC TOP
2) Criterion - Region 1- NTSC MIDDLE
3) Optimum - Region 'B'- Blu-ray BOTTOM
---
1) Anchor Bay - Region 1- NTSC TOP
2) Criterion - Region 1- NTSC MIDDLE
3) Optimum - Region 'B'- Blu-ray BOTTOM
---
1) Anchor Bay - Region 1- NTSC TOP
2) Criterion - Region 1- NTSC MIDDLE
3) Optimum - Region 'B'- Blu-ray BOTTOM
---
1) Anchor Bay - Region 1- NTSC TOP
2) Criterion - Region 1- NTSC MIDDLE
3) Optimum - Region 'B'- Blu-ray BOTTOM
---
1) Anchor Bay - Region 1- NTSC TOP
2) Criterion - Region 1- NTSC MIDDLE
3) Optimum - Region 'B'- Blu-ray BOTTOM
---
1) Anchor Bay - Region 1- NTSC TOP
2) Criterion - Region 1- NTSC MIDDLE
3) Optimum - Region 'B'- Blu-ray BOTTOM
Report Card:
| | |
| --- | --- |
| Image: | Blu-ray |
| Sound: | Blu-ray |
| Extras: | Blu-ray |