NOTE: The below Blu-ray captures were taken directly from the Blu-ray disc.

ADDITION: Severin Blu-ray (February 2023): Severin have transferred five 70's Umberto Lenzi / Tomas Milian Poliziotteschi films to individual Blu-ray plus their are 3 CDs of soundtracks. The films are Almost Human (1974,) Syndicate Sadists (1975,) Free Hand For a Tough Cop (1976,) The Cynic, The Rat and the Fist (1977,) and Brothers Till We Die (1978). The CD soundtracks are for Almost Human, Syndicate Sadists and The Cynic, The Rat and the Fist. It is called "Violent Streets: The Umberto Lenzi / Tomas Milian Collection".

Firstly we had already reviewed four of the films on UK-released Blu-rays. Our review/comparisons for each title; Almost Human on DVDs and Shameless Blu-ray HERE - Syndicate Sadists on DVD and 88 Films Blu-ray HERE - Free Hand For a Tough Cop on a Fractured Vision Blu-ray HERE and Brothers Till We Die on an 88 Films Blu-ray HERE.

Bottom line on the video is that the Severin (often sited as "scanned uncut in 2K from the original negative") are all superior from mildly to dramatically. They are all on dual-layered discs with max'ed out bitrates and the improvement shows in more authentic flesh tones, some of the UK 1080P transfers look horizontally stretched, have a greenish dull haze and less layered contrast. The Severin image colors are far more nuanced and balanced with even grain - notable in all the comparison captures below.

NOTE: We have added 166 more large resolution Blu-ray captures (in lossless PNG format) for DVDBeaver Patrons HERE

On their Blu-ray, Severin offer DTS-HD Master 2.0 channel tracks (24-bit) in the original Italian with optional English language DUBs of varying quality (Henry Silva actually did his own on Almost Human!) Dialogue is clear and the films have plenty of gunfire and egregious violence that includes slaps, knifings, beatings and John Saxon driving golf balls off a tied-down miscreant. Sound is typically hollow with a modicum of bass. Notably the score for Almost Human was by the iconic Ennio Morricone (A Bullet for the General, Tie Me Up! Tie Me Down!, Investigation of a Citizen Above Suspicion, U Turn, Stay As You Are etc. etc.) in the stylistic manner we hear in other Poliziotteschi, or Giallo, Spaghetti westerns etc. Kind of repetitious but still addictive and expanding the film's mid 70's milieu and atmosphere. It's discussed in the Thompson / Howarth commentary.

Scores for Syndicate Sadists, The Cynic, The Rat and the Fist and Brothers Till We Die are by Franco Micalizzi (The Tough Ones, The Visitor, and known for some music on Grindhouse releases Planet Terror and Death Proof - as well as Tarantino's Django Unchained) with some drama in the action-based sequences and a funky cool vibe. There is an interview with him in the extrs. The score for Free Hand For a Tough Cop is by Bruno Canfora - who had done similar genre films in the 60's and 70's including Stelvio Massi's Destruction Force that also has Tomas Milian. The audio is authentic sounding mostly flat with instances of buoyancy. Severin offer optional English (translated and DUB) subtitles on their Blu-rays.

NOTE: Almost Human + Free Hand For a Tough Cop are Region 'A' / Syndicate Sadists / The Cynic, The Rat and the Fist and Brothers Till We Die are Region FREE!

The Severin Blu-ray

offers many extra features. Some of the supplements are repeated from the UK Blu-rays but I had never heard the two audio commentaries on Almost Human - first with screenwriter Ernesto Gastaldi in Italian with optional English subtitles. Sample: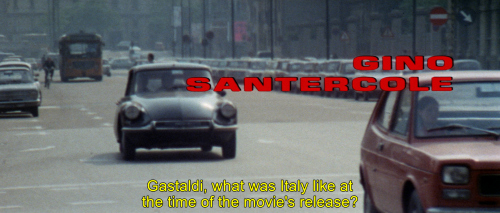 The second commentary on Almost Human is by Mondo Digital's Nathaniel Thompson and Troy Howarth, author Of Make Them Die Slowly: The Kinetic Cinema of Umberto Lenzi. They discuss everything from Lenzi's career, Milian, Morricone, Ray Lovelock, the variety of names of the film, the Poliziotteschi genre, music also used in Revolver and so much more. It is as excellent as all of their work together or separately. A pleasure. There are hours of interviews with Umberto Lenzi, actor Tomas Milian, writers Ernesto Gastaldi + Dardano Sacchetti, actors Henry Silva + John Saxon, actress Ida Galli, actors Alessandro Cocco + Bruno Di Luia, cinematographer Nino Celeste, producer Ugo Tucci, editor Eugenio Alabiso, composers Franco Micalizzi + Antonello Venditti, a look at the career of Corrado Solari (notable to many for Sergio Leone's Duck, You Sucker!) and trailers for each film. There are 3 CDs of soundtracks

for Almost Human, Syndicate Sadists and The Cynic, The Rat and the Fist. 'Stacked' seems an understatement here.

Severin's "Violent Streets: The Umberto Lenzi / Tomas Milian Collection" 8-disc set with 5 Blu-rays offers the definitive package for these Lenzi-Milian Poliziotteschi efforts. They offer the best HD presentations to date, two reveling commentaries and hours of interviews with the participants plus 3 CD soundtracks. It's going to be seen as one of the best Blu-ray packages of the year. These Euro-crime films were at the height of their popularity at this time and, debatably, these are some of the best of this sub-genre. Favorites in this boxset include Almost Human, The Cynic, The Rat and the Fist and Brothers Till We Die. There is frequent brutal violence and multi-faceted institution corruption often present with Milian occasionally representing the working class hero type existing within the system. Severin's Blu-ray

(and CDs) package represents a must-own for fans of 70's films - specifically Italian society commentary within exciting action-crime dramas. Strongly recommended!