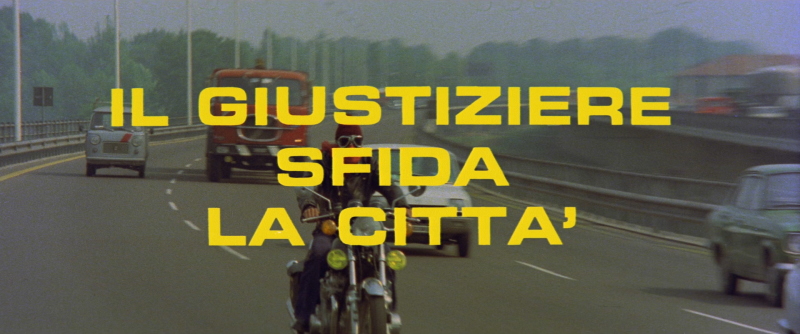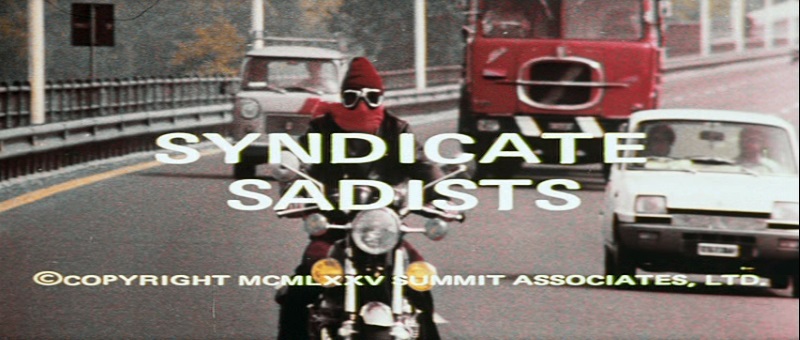 (88 Films - Region FREE - Blu-ray TOP vs.Shriek Show/Media Blasters - Region 1 - NTSC - BOTTOM)
(aka "Il giustiziere sfida la cittą" or "Final Payment" or "One Just Man" or "Rambo's Revenge" )
directed by Umberto Lenzi
Italy 1975
Severin's Blu-ray package of Violent Streets: The Umberto Lenzi / Tomas Milian Collection is compared to this Blu-ray HERE
Mention the name Umberto Lenzi, and chances are folk'll rattle off the flesh-ripping frenzy of NIGHTMARE CITY or CANNIBAL FEROX. But for Lenzi himself, there was no genre that proved too much for his directorial prowess, not least the distinctly Italian-style of crime flick - the Poliziotteschi.Boasting a taut script by Vincenzo Mannino (HOUSE ON THE EDGE OF THE PARK), and featuring Hollywood icon Joseph Cotten (NIAGARA) as a scheming Mafioso, Lenzi's SYNDICATE SADISTS is a potent example of the dexterous Tuscan journeyman's compelling thriller work; a fabulous concoction of eye-watering violence and white-knuckle thrills, as an ex-cop (Thomas Milian, THE CYNIC, THE RAT AND THE FIST) seeks retribution against two warring mafia families after his brother is killed during a kidnap investigation. With hints of THE GODFATHER, YOJIMBO and even RAMBO (Milian had picked up a copy of David Morrell's novel in an airport), SYNDICATE SADISTS finally makes its UK bow on a lip-smackingly gorgeous Blu-ray from 88 Films, whose Italian Collection is your first stop for classic Euro capers that demand rediscovery.
Posters
Theatrical Release: April 1976 (USA)
Reviews More Reviews DVD Reviews

Comparison:
Shriek Show/Media Blasters - Region 1 - NTSC vs. 88 Films - Region FREE - Blu-ray
Big thanks to Eric Cotenas for the Shriek Show/Media Blasters Screen Caps!
(Shriek Show/Media Blasters - Region 1 - NTSC - LEFT vs. 88 Films - Region FREE - Blu-ray - RIGHT)
Box Covers

Distribution

Shriek Show/Media Blasters

Region 1 - NTSC

88 Films - Region FREE - Blu-ray
Runtime
1:30:09
1:30:27.422
Video

2.34:1 Original Aspect Ratio

16X9 enhanced
Average Bitrate: 6.61 mb/s
NTSC 720x480 29.97 f/s

2.39:1 Disc Size: 32,400,403,676 bytes

Feature Size: 26,122,063,872 bytes

Total Bitrate:

34.99 Mbps

Dual-layered Blu-ray MPEG4 - AVC

NOTE: The Vertical axis represents the bits transferred per second. The Horizontal is the time in minutes.

Bitrate:

Shriek Show/Media Blasters

Bitrate:

88 Films Blu-ray

Audio
English Dolby Digital 2.0 mono

LPCM Audio English 1536 kbps 2.0 / 48 kHz / 1536 kbps / 16-bit

Subtitles
none
English, none
Features
Release Information:
Studio: Shriek Show/Media Blasters

Aspect Ratio:
Widescreen anamorphic - 2.34:1

Edition Details:
� Audio commentary with director Umberto Lenzi
� Interview with director Umberto Lenzi (4:3; 8:10)
� Photo Gallery
� Previews

DVD Release Date: 12 April 2005
Amaray

Chapters 12

Release Information:
Studio: 88 Films

2.39:1 Disc Size: 32,400,403,676 bytes

Feature Size: 26,122,063,872 bytes

Total Bitrate:

34.99 Mbps

Dual-layered Blu-ray MPEG4 - AVC

Edition Details:
• Remembering Rambo: An Interview with Umberto Lenzi (21:44)
• Mike Malloy on Syndicate Sadists (9:19)
• Reversible Sleeve with original IL GIUSTIZIERE SFIDA LA CITTĄ artwork

Blu-ray Release Date: March 27thth. 2017

Black Blu-ray Cover

Chapters

Comments

Severin's Blu-ray package of Violent Streets: The Umberto Lenzi / Tomas Milian Collection is compared to this Blu-ray HERE

NOTE: The below Blu-ray captures were taken directly from the Blu-ray disc.

ADDITION: 88 Films - Region FREE- Blu-ray - March 17':

The BD is cited as "Restored from the Original Camera Negative" and is in the 2.39:1 aspect ratio showing the 2005 DVD it be cropped on the bottom and on the side edges. The SD looks poor by comparison - waxy, interlaced, artifacts - while the 1080P shows warmer skin tones, tightens up significantly and, hence, detail increases and we get some depth to the image.

88 Film use a linear PCM transfer - 1536 kbps/16-bit - in DUBB'ed English for the audio and dialogue sounds acceptable for the sync (well, I've heard much worse) and even in the score by Franco Micalizzi (The Visitor, also known for some music on Grindhouse releases Planet Terror and Death Proof - as well as Taratino's Django Unchained) moves the film along nicely being strong supporter of the heavy, kinetic, style. There are optional English subtitles and the 88 Films Blu-ray is region FREE.

We don't get the Lenzi commentary found on the DVD but we do get two good video pieces; Remembering Rambo is a 22-minute interview with Umberto Lenzi discussing his career and the state of cinemsa when he made Syndicate Sadists - in Italian with English subtitles. We also get Mike Malloy extolling Syndicate Sadists, Thomas Milian etc, and giving a reasonable background to this genre - for a shade over 9-minutes. The package has a reversible sleeve with original IL GIUSTIZIERE SFIDA LA CITTĄ artwork.

Syndicate Sadists is a quintessential example of the Poliziotteschi genre of film and is not any where near as brurtal as the title might suggest, although - of course - there is plenty of violence. It's well-made, very machismo and I enjoyed my viewing! Sure, - recommended!

-Gary and Eric
---
Menus
(Shriek Show/Media Blasters - Region 1 - NTSC - LEFT vs. 88 Films - Region FREE - Blu-ray - RIGHT)

| | |
| --- | --- |
| | |
| | |
| | |
| | |
| | |
---
CLICK EACH BLU-RAY CAPTURE TO SEE ALL IMAGES IN FULL 1920X1080 RESOLUTION
Subtitle Sample 88 Films - Region FREE - Blu-ray
(Shriek Show/Media Blasters - Region 1 - NTSC - TOP vs. 88 Films - Region FREE - Blu-ray - BOTTOM)
---
(Shriek Show/Media Blasters - Region 1 - NTSC - TOP vs. 88 Films - Region FREE - Blu-ray - BOTTOM)
---
(Shriek Show/Media Blasters - Region 1 - NTSC - TOP vs. 88 Films - Region FREE - Blu-ray - BOTTOM)
---
(Shriek Show/Media Blasters - Region 1 - NTSC - TOP vs. 88 Films - Region FREE - Blu-ray - BOTTOM)
---
(Shriek Show/Media Blasters - Region 1 - NTSC - TOP vs. 88 Films - Region FREE - Blu-ray - BOTTOM)
---
(Shriek Show/Media Blasters - Region 1 - NTSC - TOP vs. 88 Films - Region FREE - Blu-ray - BOTTOM)