Review by Leonard Norwitz
Studio:
Theatrical: ABBA Movies Co. & 1618 Action Limited
Blu-ray: Deltamac (Hong Kong)
Disc:
Region: All
Runtime: 93 minutes
Chapters: 20
Size:
Case: Standard Blu-ray case
Release date: July 31, 2008
Video:
Aspect ratio: 1.85:1
Resolution: 1080p
Video codec: AVC
Audio:
Cantonese DTS-HD Master Audio 7.1; Cantonese Dolby TrueHD 7.1; Mandarin Dolby Digital-EX 6.1
Subtitles:
Feature: Traditional Chinese & English
Extras:
• The Making of SPL (10:05) - no subtitles
The Film:
As with so many great Hong Kong films, Sha Po Lang is a gritty crime drama. Simon Yam is Detective Chan, the head of an anti-gang police squad intent on bringing down Wong Po, the powerful local crime lord played by Hong Kong icon Sammo Hung. While transporting a witness and his family to trial to testify against Po, Chan's car is broadsided, killing everyone in it with the exception of Chan himself and his witness's young daughter. Though the head wound Chan suffers in the crash heals soon enough, he is discovered to have a malignant brain tumor during the course of his treatments. With seemingly nothing left to lose, he swears to take care of the young girl and bring down Po no matter what the cost. Jump forward three years. Po is stronger than ever, Chan's health is failing and he is due to retire any day. Desperation has driven Chan and his unit to the edge of corruption and the unit has been assigned a new commanding officer in Ma (Donnie Yen), a driven man known for once beating a suspect into brain damage. Chan will do anything to bring down Po before his retirement and the two sides prepare for the inevitable, bloody face off.

SPL is just a tour-de-force on every level. Yip is a stylish, assured director who gives his film a gritty noir edge. Moral lines are blurred as Chan pursues ever more extreme courses of action and Po tries to juggle his criminal activities against his love for his young family. Family is a major thread throughout the film, actually, as Yip gives all of his characters significant depth and back story and looks fairly seriously at the damage a policeman's life can do to his family. The interactions between the members of Chan's squad ring absolutely true and the entire cast is solid from top to bottom. – Todd Brown
The martial arts choreography by Donnie Yen is brilliant – the fights grow naturally out of the situations and enhance the characters rather than seem staged for the purpose of showing off. Keep your eye on the assassin in white played by Wu Jing (known in the West as Jacky Wu). "Dazzling" understates the case. Oh – by the way – Donnie Yen tells us that "SPL" stands for Sha Po Lang, which in Chinese astrology represent Power, Destruction and Greed – forces that can come together in one person: good or bad, cop or gangster. Most of the action takes place on a single Father's Day, an auspicious occasion for such a confluence.
Image: 8/9
The first number indicates a relative level of excellence compared to other Blu-ray video discs on a ten-point scale. The second number places this image along the full range of DVD and Blu-ray discs.

OK, the image is a little oversharpened, and there's some serious fringing in one scene (see cap) that is not typical and is just as bad on the DVD - and I took off a point or two for these transgressions - but the overall impression of this Blu-ray is fairly spectacular, if not realistic. The oversharpening does prevent the image from becoming completely coherent, however, but things were no better on the DVD. But, then, I don't think realism exactly is the objective here. A glowing neon translucence alternates with saturated blues, golds and greens that is absolutely eye-popping. It's like Miami Vice transposed to Hong Kong – and it bloody well works. Bit rates are in the 20s and low 30s, so despite its being single-layered I think we're getting what's expected from the source. Edge enhancement was the bane of the DVD, but is scarcely in evidence here. Contrast and color intensity are both high. A fine grain that pervades. Blacks are deep, yet with plenty of light in what would otherwise be the shadows. This is not a movie that keeps secrets. It's bold and in your face, and the image supports that idea perfectly.
DVD TOP vs. Blu-ray BOTTOM (Click to enlarge)
DVD TOP vs. Blu-ray BOTTOM (Click to enlarge)
More Blu-ray images
Audio & Music: 7/8
Would that the audio were as boggling as the image. While there is no evidence of an analogous manipulation, the audio here is just a little better than serviceable for a well-made modern HK gangster movie, though the Dolby TrueHD mix is an improvement over the pretty good DVD. The music is sometimes front-directed, sometimes opened up in the surrounds; sometimes dynamic, sometimes noticeably less so. Dialogue on the Cantonese Dolby TrueHD mix is uniformly clear and well-balanced but not especially crisp. The martial arts effects are likewise solid, with some variety in the timbre of the kicks and punches, but it's not rockmsockm dynamic, which was actually a relief for a change. Car crashes (there aren't many) and other metallic sounds come off very well, and the surrounds recreate some nice ambiance: as for example when a crowd of punks gathered to threaten a cop and when one of the detectives is cornered in a garage.
Operations: 7
SPL is quick to load, with the usual warnings and a BIG logo for Deltamac, but no promotional theatrical or video previews. Menu operation is in Chinese and English and easy to navigate. English translation for the feature film is pretty much error-free and idiomatic. The readable subtitles are white with thin black borders – more subtle than on the DVD.

Extras: 3
Even though the all too brief "Making of" featurette has no English subtitles (unlike Deltamac's 2-disc DVD), it is a must see. The letterboxed 480p image here is very good and takes us behind the scenes as the principal cast members introduce their characters. We see them in action with and without wires: be prepared to be knocked out by Jacky Wu; and the huge Sammo Hung is – how shall I say this – even bigger – without his shirt on, making his ability to move the way he does all the more astonishing. Much of this featurette concentrates on the action scenes so it makes some sense even without subtitles.
| | |
| --- | --- |
| | |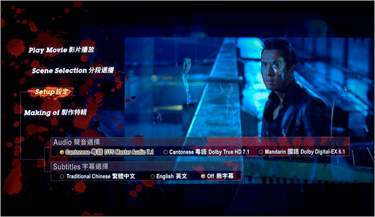 Bottom line: 8
Despite the lightweight Extra Feature and some manipulation of the image, this is one knockout movie and the Blu-ray brings it to life in ways that are only hinted at in Deltamac's 2-disc All-Region DVD set, reviewed by contributor Jayson Kennedy HERE. (I have to say that I don't quite see the "Shaw Bros." connection that Jayson suggests. SPL strikes me as more in the mold of John Woo, Ringo Lam, and Johnny To - but without his sense of humor.) Wilson Yip's direction underscores the passion and sensitivity that makes his characters come alive. These are no cardboard cutouts waiting for instructions on how to punch, kick and die. Strongly Recommended – with the caveat about the image. But if you have the DVD you might want to first check out its extra extra subtitled features before giving it to a friend who needs a little action in their life.
Leonard Norwitz
March 4th, 2009