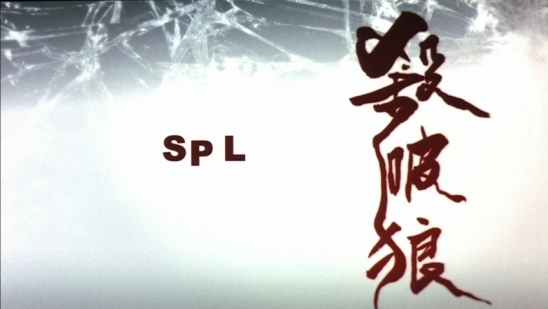 (aka "SPL" or "Saat po long")
directed by Wilson Yip
Hong Kong 2005
Hong Kong martial arts superstars Donnie Yen and Sammo Hung star in this explosive crime thriller from director Wilson Yip. Inspector Chan (Simon Yam) has a grudge to bear and a personal vendetta against local mob boss Wong Po (Sammo Hung). Seemingly untouchable and surrounded by an army of faceless young hoodlums, Wong Po holds the city in a vice-like grip.
It is 1997 and in anticipation of Hong Kong's imminent handover back to Mainland China, Inspector Ma (Donnie Yen) is sent in to take over Chan's unit. Chan has just three days to bring Ma up to speed before he retires, but not just letting him in on Wong Po and his dealings, but also making sure Ma understands the Hong Kong way of doing things. The virtuous, crusading Ma, however, is determined to play by the book, but equally committed to bringing Wong Po and his empire crashing to the ground.

Slick, stylish and uncompromising, SPL is without doubt one of the best Hong Kong movies of the new millennium, harking back to the glory days of the 1980s with its themes of loyalty, honor and duty, as well as its flashy action sequences and staggering fight choreography. Yen, who also served as action director on the film, saves all of the film's best moments for himself, namely a double bill of ferociously violent encounters. Firstly the already infamous alleyway knife fight against Wong Po's top henchman, played by the dazzling Wu Jing, leading up to the film's explosive finale as Donnie and Sammo square off in one of the most eagerly-anticipated match-ups of this, or any, year.

For any discernible fan of action, Asian or martial arts movies, cop thrillers, bullet ballets or heroic bloodshed operatics, SPL is the movie you have been waiting for.
Poster
Theatrical Release: November 18th, 2005
Reviews More Reviews DVD Reviews
DVD Review: Deltamac (2-disc) - Region 0 - NTSC
Big thanks to Jayson Kennedy for the Review!
DVD Box Cover

CLICK to order from:

Thinking of buying from YesAsia? CLICK HERE and use THIS UPDATED BEAVER PAGE to source their very best...

Distribution

Deltamac

Region 0 - NTSC

Runtime
1:32:43 (4% PAL speedup)
Video

1.85:1 Original Aspect Ratio

16X9 enhanced
Average Bitrate: 9.18 mb/s
NTSC 720x480 29.97 f/s

NOTE: The Vertical axis represents the bits transferred per second. The Horizontal is the time in minutes.

Bitrate

Audio
Cantonese (DTS-ES Discrete 6.1), Cantonese (Dolby Digital 5.1 EX), Mandarin (Dolby Digital 5.1 EX)
Subtitles
English, Chinese, None
Features
Release Information:
Studio: Deltamac

Aspect Ratio:
Widescreen anamorphic - 1.85:1

Edition Details:
• Making-of Featurette (with English subs)
• Press Conference Featurette (with English subs)
• Theatrical Trailer
• TV Spots
• Photo Gallery

DVD Release Date: January 11th, 2006
Double slim keep case

Chapters 12
| | |
| --- | --- |
| Comments | This is a very good DVD transfer - anamorphic, progressive - great detail - a 2nd disc of extras with English subtitles. Color and contrast are excellent and the main feature subtitles seem relatively complete and very non-intrusive. Overall, I am very impressed with the offering from Deltamac and the film harkens back to the early days of Shaw Bros. - those keen on the genre will definitely find this a worthy disc at an very reasonable price. |
---




DVD Menus

Disc 2
---
Screen Captures
Subtitle Sample














DONATIONS Keep DVDBeaver alive:
Mail cheques, money orders, cash to: or CLICK PayPal logo to donate!
Thank You!
Wilson Yip's - Saat po long - Sha po lang - SPL DVD Review Wilson Yip Saat po long - Sha po lang SPL DVD Review Wilson Yip Saat po long - Sha po lang SPL DVD Review Wilson Yip Saat po long - Sha po lang SPL DVD Review Wilson Yip Saat po long - Sha po lang SPL DVD Review Wilson Yip Saat po long - Sha po lang SPL DVD Review Wilson Yip Saat po long - Sha po lang SPL DVD Review Wilson Yip's - Saat po long - Sha po lang - SPL DVD Review Wilson Yip Saat po long - Sha po lang SPL DVD Review Wilson Yip Saat po long - Sha po lang SPL DVD Review Wilson Yip Saat po long - Sha po lang SPL DVD Review Wilson Yip Saat po long - Sha po lang SPL DVD Review Wilson Yip Saat po long - Sha po lang SPL DVD Review Wilson Yip Saat po long - Sha po lang SPL DVD Review Wilson Yip's - Saat po long - Sha po lang - SPL DVD Review Wilson Yip Saat po long - Sha po lang SPL DVD Review Wilson Yip Saat po long - Sha po lang SPL DVD Review Wilson Yip Saat po long - Sha po lang SPL DVD Review Wilson Yip Saat po long - Sha po lang SPL DVD Review Wilson Yip Saat po long - Sha po lang SPL DVD Review Wilson Yip Saat po long - Sha po lang SPL DVD Review Wilson Yip's - Saat po long - Sha po lang - SPL DVD Review Wilson Yip Saat po long - Sha po lang SPL DVD Review Wilson Yip Saat po long - Sha po lang SPL DVD Review Wilson Yip Saat po long - Sha po lang SPL DVD Review Wilson Yip Saat po long - Sha po lang SPL DVD Review Wilson Yip Saat po long - Sha po lang SPL DVD Review Wilson Yip Saat po long - Sha po lang SPL DVD Review Wilson Yip's - Saat po long - Sha po lang - SPL DVD Review Wilson Yip Saat po long - Sha po lang SPL DVD Review Wilson Yip Saat po long - Sha po lang SPL DVD Review Wilson Yip Saat po long - Sha po lang SPL DVD Review Wilson Yip Saat po long - Sha po lang SPL DVD Review Wilson Yip Saat po long - Sha po lang SPL DVD Review Wilson Yip Saat po long - Sha po lang SPL DVD Review Wilson Yip's - Saat po long - Sha po lang - SPL DVD Review Wilson Yip Saat po long - Sha po lang SPL DVD Review Wilson Yip Saat po long - Sha po lang SPL DVD Review Wilson Yip Saat po long - Sha po lang SPL DVD Review Wilson Yip Saat po long - Sha po lang SPL DVD Review Wilson Yip Saat po long - Sha po lang SPL DVD Review Wilson Yip Saat po long - Sha po lang SPL DVD Review Wilson Yip's - Saat po long - Sha po lang - SPL DVD Review Wilson Yip Saat po long - Sha po lang SPL DVD Review Wilson Yip Saat po long - Sha po lang SPL DVD Review Wilson Yip Saat po long - Sha po lang SPL DVD Review Wilson Yip Saat po long - Sha po lang SPL DVD Review Wilson Yip Saat po long - Sha po lang SPL DVD Review Wilson Yip Saat po long - Sha po lang SPL DVD Review Wilson Yip's - Saat po long - Sha po lang - SPL DVD Review Wilson Yip Saat po long - Sha po lang SPL DVD Review Wilson Yip Saat po long - Sha po lang SPL DVD Review Wilson Yip Saat po long - Sha po lang SPL DVD Review Wilson Yip Saat po long - Sha po lang SPL DVD Review Wilson Yip Saat po long - Sha po lang SPL DVD Review Wilson Yip Saat po long - Sha po lang SPL DVD Review Wilson Yip's - Saat po long - Sha po lang - SPL DVD Review Wilson Yip Saat po long - Sha po lang SPL DVD Review Wilson Yip Saat po long - Sha po lang SPL DVD Review Wilson Yip Saat po long - Sha po lang SPL DVD Review Wilson Yip Saat po long - Sha po lang SPL DVD Review Wilson Yip Saat po long - Sha po lang SPL DVD Review Wilson Yip Saat po long - Sha po lang SPL DVD Review Wilson Yip's - Saat po long - Sha po lang - SPL DVD Review Wilson Yip Saat po long - Sha po lang SPL DVD Review Wilson Yip Saat po long - Sha po lang SPL DVD Review Wilson Yip Saat po long - Sha po lang SPL DVD Review Wilson Yip Saat po long - Sha po lang SPL DVD Review Wilson Yip Saat po long - Sha po lang SPL DVD Review Wilson Yip Saat po long - Sha po lang SPL DVD Review Wilson Yip's - Saat po long - Sha po lang - SPL DVD Review Wilson Yip Saat po long - Sha po lang SPL DVD Review Wilson Yip Saat po long - Sha po lang SPL DVD Review Wilson Yip Saat po long - Sha po lang SPL DVD Review Wilson Yip Saat po long - Sha po lang SPL DVD Review Wilson Yip Saat po long - Sha po lang SPL DVD Review Wilson Yip Saat po long - Sha po lang SPL DVD Review Wilson Yip's - Saat po long - Sha po lang - SPL DVD Review Wilson Yip Saat po long - Sha po lang SPL DVD Review Wilson Yip Saat po long - Sha po lang SPL DVD Review Wilson Yip Saat po long - Sha po lang SPL DVD Review Wilson Yip Saat po long - Sha po lang SPL DVD Review Wilson Yip Saat po long - Sha po lang SPL DVD Review Wilson Yip Saat po long - Sha po lang SPL DVD Review Wilson Yip's - Saat po long - Sha po lang - SPL DVD Review Wilson Yip Saat po long - Sha po lang SPL DVD Review Wilson Yip Saat po long - Sha po lang SPL DVD Review Wilson Yip Saat po long - Sha po lang SPL DVD Review Wilson Yip Saat po long - Sha po lang SPL DVD Review Wilson Yip Saat po long - Sha po lang SPL DVD Review Wilson Yip Saat po long - Sha po lang SPL DVD Review Wilson Yip's - Saat po long - Sha po lang - SPL DVD Review Wilson Yip Saat po long - Sha po lang SPL DVD Review Wilson Yip Saat po long - Sha po lang SPL DVD Review Wilson Yip Saat po long - Sha po lang SPL DVD Review Wilson Yip Saat po long - Sha po lang SPL DVD Review Wilson Yip Saat po long - Sha po lang SPL DVD Review Wilson Yip Saat po long - Sha po lang SPL DVD Review Wilson Yip's - Saat po long - Sha po lang - SPL DVD Review Wilson Yip Saat po long - Sha po lang SPL DVD Review Wilson Yip Saat po long - Sha po lang SPL DVD Review Wilson Yip Saat po long - Sha po lang SPL DVD Review Wilson Yip Saat po long - Sha po lang SPL DVD Review Wilson Yip Saat po long - Sha po lang SPL DVD Review Wilson Yip Saat po long - Sha po lang SPL DVD Review