Review by Gary Tooze
Production:
Theatrical: Union Film Company
Video: Eureka - Masters of Cinema - Spine #129
Disc:
Region: 'B'-locked (as verified by the Oppo Blu-ray player)
Runtime: 1:51:18.797
Disc Size: 37,595,524,669 bytes
Feature Size: 32,605,474,176 bytes
Video Bitrate: 34.98 Mbps
Chapters: 11
Case: Standard Blu-ray case
Release date: October 26th, 2015
Video:
Aspect ratio: 2.35:1
Resolution: 1080p / 23.976 fps
Video codec: MPEG-4 AVC Video
Audio:
LPCM Audio Mandarin 1152 kbps 1.0 / 48 kHz / 1152 kbps / 24-bit
Subtitles:
English (SDH), none
Extras:
•
Archival newsreel footage from the film's première (1:45)

•
Trailer (1:53)

•
Hostel Forces, a new video essay by critic David Cairns (15:21)

•
36-PAGE BOOKLET featuring vintage writing on the film by critic Tony Rayns; a testimonial about King Hu by Tsui Hark; an analysis of Hu's style by Edmond Wong; the eight characteristics of "the inn" in King Hu's films and archival images
DVD included
Bitrate:
Description:
A quintessential entryway into the highly stylized, tightly choreographed wuxia genre of martial arts cinema, Dragon Inn was a global breakthrough for the form's greatest practitioner, King Hu. Its influence remains incalculable, from its annihilation of traditional expectations of what kind of role an actress should inhabit (also chipped away at by Hu's previous masterpiece
Come Drink with Me
), to the formation of many of the genre's archetypes - such as the Eunuch, the Swordswoman, and the Family of Murdered Loyal Officials - that are still recognizable in the martial arts films of today.
It's the middle of the Ming Dynasty. The powerful eunuch Cao (Pai Ying) has killed the Loyal Minister Yu, and Yu's children are exiled to the border, whereupon Cao undertakes efforts to massacre the remnants of the family. As Yu's children take refuge in the Dragon Gate Inn, Xiao the righteous swordsman (Shih Jun) and the surviving loyalists of Minister Yu engage in a series of battles to the death against the forces of the blood thirsty eunuch.
After having returned to the spotlight in 2003 as the backdrop for Tsai Ming-liang's modern classic
Good Bye Dragon Inn
, Hu's film is again resurrected by way of the dazzling 2014 4K restoration presented here. The Masters of Cinema Series is proud to present
Dragon Inn
for the first time in the UK in a Dual Format special edition.
The Film:
1967's "Dragon Inn" ("Long men kezhan" in Mandarin, also known as "Dragon Gate Inn") is kind of a big deal. It's the first film that director King Hu did in Taiwan after leaving Shaw Brothers, in many ways jump-starting that country's film industry. It's been remade and referenced, and its DNA shows up in many movies beyond Hu's "inn films". And most importantly, it's a terrific wuxia film in it's own right.

Minister of Defense Wu Chien has just been executed, thanks in part to lies spread by eunuch Tsao Shao-chin (Bai Ying), who controls both the secretive Eastern Agency and Palace Guards. The Emperor has allowed Wu's family to live in exile, but Tsao figures this will just lead to revenge, and when the first attempt to assassinate them fails, he dispatches the agencies' top swordsmen, Pi Hsiao-tang (Miao Tien) and Mao Tsung-hsien (Han Ying-chieh) to Dragon Gate, when the Wus will cross into Mongolia. They commandeer the local inn, but others also arrive ahead of the Wus: Hsiao Shao-tzu (Shih Chun), a friend of innkeeper Wu Ning (Cho Kin) is first, and then travelers Mr. Chu (Hsieh Han) and Ms. Chu (Polly Shang-kuan) - and the more justice-minded new arrivals have considerable skills with the sword themselves.
Excerpt from eFilmCritic located HERE
When it comes to martial arts films, 1967 was a huge, formative year. The first mega-hit of the genre, The One-Armed Swordsman, made Jimmy Wang Yu a star and cemented director Chang Cheh as the genre's leading visionary. Just a few months after the release of that film, director King Hu, having recently left the Shaw Brothers after creative differences on Come Drink with Me, unleashed Dragon Inn. As an independent film out of Taiwan it may not have had the budget or the clout of the Shaw Brothers studio behind it, but Dragon Inn is arguably more well-known than almost all the 1960s martial arts films from the Shaw studio. I knew all this going into Dragon Inn, and even with an incredible amount of historical hype behind it, Dragon Inn wowed me with its cinematic artistry and an ahead-of-its-time ability to craft thrilling martial arts sequences through editing.

The story of Dragon Inn is a well-known one, but that doesn't impede the film's ability to enthrall. The government is corrupt and controlled by devious eunuchs, and our story begins as Zhao Shao Qin, a eunuch with unparalleled power, orders the execution of General Yu, a good man who was framed. Yu's family is sent to the remote outpost of Dragon Gate, where Zhao has plans to murder them far from the watchful eyes of civilization. He sends a delegation of his most powerful soldiers to await the family's arrival at the inn, but thankfully there's a few people at Dragon Gate still loyal to General Yu and his resilient spirit.
Excerpt from Silver Emulsion located HERE

Image : NOTE: The below Blu-ray captures were taken directly from the Blu-ray disc.
King Hu's Dragon Inn is sweeeeet on Blu-ray from The Masters of Cinema group in the UK. The restoration of this film is part of the "Taiwan Film Classics Digital Restoration and Value-Adding Project" commissioned by the Ministry of Culture to Chinese Taipei Film Archive in 2013. The 1080P transfer is dual-layered with a max'ed out bitrate and supports the film's textures beautifully in the original 2.35:1 aspect ratio. Colors are deep and tight and depth is frequently apparent. This Blu-ray offers a rich, mesmerizing 1080P presentation with exceptional contrast. I was thrilled with the presentation!
CLICK EACH BLU-RAY CAPTURE TO SEE ALL IMAGES IN FULL 1920X1080 RESOLUTION
Audio :
The audio is transferred via a linear PCM 1.0 channel mono channel track at 1152 kbps. The film's sounds are a unique blend - but common, I suppose, to the Wuxia genre with smashing cracks of violent kicks and punches and a dynamic score by Lan-Ping Chow and, un-credited, Ta Chiang Wu. It is very Spaghetti western-esque at times. In David Cairns Hostel Forces video essay supplement he appropriately remarks that the music occasionally sounds like "a needle dropping on vinyl - paving the way for Quentin Tarantino's mashups." It is odd, but no doubt accurate to the film's original production - even the squeaky high-end must surely be part of the presentation. There are optional English subtitles and m
y
Oppo
has identified it as being a region 'B'-locked.

Extras :
There is some poor quality archival newsreel footage from the film's première in Taipei and a new MoC trailer but the best digital supplement is a 15-minute video essay, entitled, Hostel Forces, by critic David Cairns. He gives a brief history of Hu's work evoking Sergio Leone, Hitchcock, Charlton Heston's entrance in El Cid etc. finding supportive references in Dragon Inn. He talks about the camera angles, one-dimensional characters and is amused by the frequent conflict set-ups and facial expressions. It's wonderful and I only wish it was longer. The package contains a 36-page liner notes booklet featuring vintage writing on the film by critic Tony Rayns; a testimonial about King Hu by Tsui Hark; an analysis of Hu's style by Edmond Wong; the eight characteristics of "the inn" in King Hu's films and archival images. Being dual-format we also get a, second disc, DVD.
| | |
| --- | --- |
| | |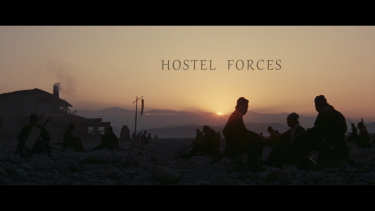 BOTTOM LINE:
Dragon Inn is a film that added respectability to the Wuxia genre. King Hu is remarkable and his direction alone makes this a rewarding viewing. The film hardly needs my endorsement - this is a classic - looking and sounding as good as it ever will in digital - and the Masters of Cinema extras add even more value. This Blu-ray gets our highest recommendation! Don't miss this!
Gary Tooze
October 21st, 2015