---
( Studio Canal (sound)- Region 2 - PAL - TOP vs. Kinowelt (sound)- Region 2 - PAL -BOTTOM)
---
---
---
---
---
( Studio Canal (sound)- Region 2 - PAL - TOP vs. Kinowelt (sound)- Region 2 - PAL -2nd vs. Laserlight - Region 0 - NTSC 3rd vs. Kinowelt (silent) - Region 2 - PAL - BOTTOM)
DVD Box Cover

CLICK to order from:

Distribution
Studio Canal (2-disc) - Region 2 - PAL
Made for British International Pictures, The Skin Game (1931) was adapted by Hitchcock himself, with a scenario by Alma Reville, from the successful stage play by John Galsworthy. A melodrama of rural class conflict, the film has been dismissed by some as too theatrical, and the work of a Hitchcock disengaged from his subject matter. Certainly, by this stage in his career, Hitchcock was becoming frustrated at the number of stage adaptations he had to take on.

The Skin Game has been criticized for an over-reliance on dialogue and performance and a lack of Hitchcock's usual visual flair. Others however have praised the film for its powerful and convincing portrayal of industrial encroachment on the rural gentry, noting also the confident mix of long-take dialogue scenes and montage.

According to biographer Donald Spoto, Hitchcock was thoroughly bored by the project, but entertained himself with one particular shot. In the climactic scene, Chloe, played by Phyllis Konstam (who had previously starred in Murder! (1930)), attempts to drown herself in a garden pond. Hitchcock, with characteristic cruelty, made the actress shoot the scene - and be thrown into the water by his stage hands - a full ten times. In the end, the shot didn't even make it into the completed film.

Hitchcock cast two actors from the preceding stage and screen versions: Edmund Gwenn as the industrialist Hornblower, and Helen Haye as Mrs Hillcrist. Hitchcock made further use of Gwenn in Waltzes from Vienna (1934), and in two Hollywood films, Foreign Correspondent (1940) and The Trouble with Harry (1956), while Haye appears in The 39 Steps (1935).
Theatrical Release: February 26th, 1931
Reviews More Reviews DVD Reviews
DVD Review: Studio Canal (2-disc) - Region 2 - PAL
DVD Box Cover

CLICK to order from:

Distribution
Studio Canal (2-disc) - Region 2 - PAL
Runtime
1:18:57
Video
1.33:1 Original Aspect Ratio
Average Bitrate: 6.26 mb/s
PAL 720x576 25.00 f/s
Audio
English (Dolby Digital 2.0)
Subtitles
French (non-removable but player generated)
Features
Release Information:
Studio: Studio Canal

Aspect Ratio:
Original aspect Ratio 1.33:1

Edition Details:

• An introduction (in French - no subtitles) by Noel Solo

• Picture Gallery (11 stills)

DVD Release Date: October 3rd, 2005
Thick dual-holding cardboard book-style case
Chapters: 12
Comments:

Another great transfer - there were a few very inferior quality DVD releases of this film in NTSC, being that the film was Public Domain but this is the best I have seen the film look digitally. Audio is not at modern standards but surprisingly good. Again, the French subtitles are player generated and mandatory on most DVD playback units, but easily removable on all computers with DVD burners (see

HERE

). There is a Photo Gallery of 11 high quality images as an extra along with the French language introduction. We strongly recommend, but the DVD loses a half point for the mandatory French subtitles.

out of
DVDs of Blackmail are compared to the Blu-ray HERE
DVDs of Murder are compared to the Blu-ray HERE
The Blu-ray of The Skin Game is compared to this DVD HERE
---

DVD Menus
Screen Captures
---
---
---
---
---
---
---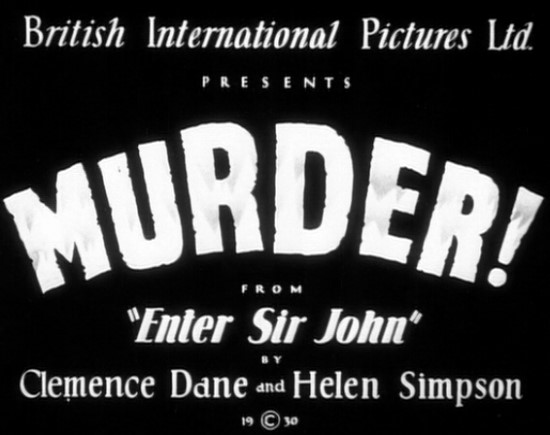 DVDs of Blackmail are compared to the Blu-ray HERE
DVDs of Murder are compared to the Blu-ray HERE
The Blu-ray of The Skin Game is compared to this DVD HERE
Hitchcock uses sound imaginatively in one of his earliest talkies, making the most of Marshall's mellifluous voice. Marshall plays an actor-playwright on a jury who undertakes an investigation on his own when he believes the girl on trial to be innocent of murder. At one point we hear Marshall's thoughts as he looks in the mirror while Wagner's Liebestod plays in the background. However, the denouement of the intriguing plot is pretty distasteful by today's standards. Percy, a transvestite trapeze artist, is obviously gay, but he murders before it is revealed that he is a half-caste.
Theatrical Release: July 31st, 1930
Reviews More Reviews DVD Reviews
DVD Review: Studio Canal (2-disc) - Region 2 - PAL
DVD Box Cover

CLICK to order from:

Distribution
Studio Canal (2-disc) - Region 2 - PAL
Runtime
1:37:56
Video
1.33:1 Original Aspect Ratio
Average Bitrate: 6.75 mb/s
PAL 720x576 25.00 f/s
Audio
English (Dolby Digital 2.0)
Subtitles
French (non-removable but player generated)
Features
Release Information:
Studio: Studio Canal

Aspect Ratio:
Original Aspect Ratio 1.33:1

Edition Details:

• An introduction (in French - no subtitles) by Noel Solo

• Alternate ending (9:40)
• Featurette on Hitchcock's early films (52:02)
• Picture Gallery (11 stills)

DVD Release Date: October 3rd, 2005
Thick dual-holding cardboard book-style case
Chapters: 12
Comments:

Another solid transfer - fairly consistent with moments of great clarity - again, the French subtitles are player generated and mandatory on most DVD playback units, but easily removable on all computers with DVD burners (see

HERE

). Audio has a few weak moments but is otherwise excellent - with quite clear and consistently audible dialogue. It occasionally seems slightly out of sync. There is a Photo Gallery of 11 high quality images as an extra along with the French language introduction. We strongly recommend, but the DVD loses a half point for the mandatory French subtitles.

out of
---



DVD Menus
Screen Captures
---
---
---
---
---
---
DVD Box Cover

CLICK to order from:

Distribution
Studio Canal (2-disc) - Region 2 - PAL
---