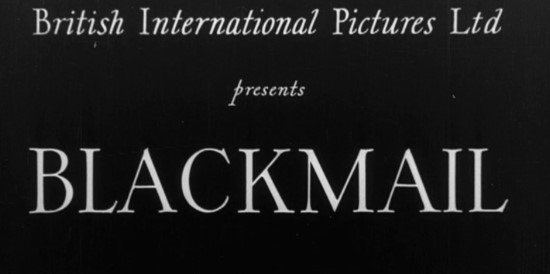 (aka "La muchacha de Londres" or "Erpressung")

This was the first sound film to be produced in Britain, making it also Hitchcock's first sound film. Originally completed as a silent film, as the times shifted and audio became the new craze, production had to start all over again including talking parts and new scenes included. Hitch bore up with one towering stumbling block - his protagonist heroine, Anny Ondra, had a most pronounced Czech accent forcing one of the initial innovations of the 'voice-over' (simultaneously recorded off-camera by actress Joan Barry).

Hitchcock's Blackmail is a dark tale of forced sexual advances, murder and deception where the fiancÚ of a Scotland Yard detective is blackmailed when she kills an playboy/artist in self defense. Steeped in first-rate suspense Hitch's British Museum chase-sequence is unforgettable... and the film a must-see for those seeking the primordial soup of thriller-cinema from The Master himself.

out of

Posters
Theatrical Release: June 30th, 1929 - UK
Reviews More Reviews DVD Reviews
DVD Review: Kinowelt / Arthaus - Region 2 - PAL
DVD Box Cover

CLICK to order from:

Distribution
Kinowelt / Arthaus - Region 2 - PAL
Runtime
1:21:44
Video
1.11:1 Original Aspect Ratio
Average Bitrate: ? mb/s
PAL 720x576 25.00 f/s
Audio
English (Dolby Digital 2.0) , Music in silent edition in 2.0
Subtitles
German, Spanish, Italian, Portuguese, None (Intertitle cards for Silent Version are in English)
Features

Release Information:
Studio: Arthaus

Aspect Ratio:
Original aspect Ratio 1.11:1

Edition Details:

• Complete Silent Version of the film
• Screen Test with Anny Ondra (:50)
• Picture Gallery (11 stills)

DVD Release Date: March 27th, 2002
Keep Case
Chapters: 20
Comments:

This is an amazing DVD!. I recall it being one of our first comparisons HERE, but after watching it again I really felt it deserved its own review and possible inclusion into the Essential DVDs listing.

As well as this magnificently ancient film by the master in a barely worn and excellent image included at the proper pillar-boxed aspect ratio, we also get the silent version of the film as an extra. Contrast and grayscale are above reproach - marginally weaker in the silent edition which does appear darker. The silent version also appears to have some minor ghosting (see image comparison below), but this is one fascinating part of cinema history that transports one back to the film projections of 1930. We strongly recommend! out of
---



DVD Menus
---
Subtitle Sample
Intertitle from Silent version...
Screen Captures
---
---
Silent version - TOP vs. Sound Version - BOTTOM
(NOT EXACT FRAME)
---
(Laserlight - Region 0 - NTSC - TOP vs. - Kinowelt (sound)- Region 2 - PAL - MIDDLE vs. Kinowelt (silent) - Region 2 - PAL - BOTTOM)
DVD Box Cover

CLICK to order from:

Distribution
Kinowelt / Arthaus - Region 2 - PAL
---






Alfred Hitchcock's Blackmail DVD Review Alfred Hitchcock Blackmail DVD Review Alfred Hitchcock Blackmail DVD Review Alfred Hitchcock Blackmail DVD Review Alfred Hitchcock Blackmail DVD Review Alfred Hitchcock Blackmail DVD Review Alfred Hitchcock Blackmail DVD Review Alfred Hitchcock Blackmail DVD Review Alfred Hitchcock Blackmail DVD Review Alfred Hitchcock Blackmail DVD Review Alfred Hitchcock's Blackmail DVD Review Alfred Hitchcock Blackmail DVD Review Alfred Hitchcock Blackmail DVD Review Alfred Hitchcock Blackmail DVD Review Alfred Hitchcock Blackmail DVD Review Alfred Hitchcock Blackmail DVD Review Alfred Hitchcock Blackmail DVD Review Alfred Hitchcock Blackmail DVD Review Alfred Hitchcock Blackmail DVD Review Alfred Hitchcock Blackmail DVD Review Alfred Hitchcock's Blackmail DVD Review Alfred Hitchcock Blackmail DVD Review Alfred Hitchcock Blackmail DVD Review Alfred Hitchcock Blackmail DVD Review Alfred Hitchcock Blackmail DVD Review Alfred Hitchcock Blackmail DVD Review Alfred Hitchcock Blackmail DVD Review Alfred Hitchcock Blackmail DVD Review Alfred Hitchcock Blackmail DVD Review Alfred Hitchcock Blackmail DVD Review Alfred Hitchcock's Blackmail DVD Review Alfred Hitchcock Blackmail DVD Review Alfred Hitchcock Blackmail DVD Review Alfred Hitchcock Blackmail DVD Review Alfred Hitchcock Blackmail DVD Review Alfred Hitchcock Blackmail DVD Review Alfred Hitchcock Blackmail DVD Review Alfred Hitchcock Blackmail DVD Review Alfred Hitchcock Blackmail DVD Review Alfred Hitchcock Blackmail DVD Review Alfred Hitchcock's Blackmail DVD Review Alfred Hitchcock Blackmail DVD Review Alfred Hitchcock Blackmail DVD Review Alfred Hitchcock Blackmail DVD Review Alfred Hitchcock Blackmail DVD Review Alfred Hitchcock Blackmail DVD Review Alfred Hitchcock Blackmail DVD Review Alfred Hitchcock Blackmail DVD Review Alfred Hitchcock Blackmail DVD Review Alfred Hitchcock Blackmail DVD Review Alfred Hitchcock's Blackmail DVD Review Alfred Hitchcock Blackmail DVD Review Alfred Hitchcock Blackmail DVD Review Alfred Hitchcock Blackmail DVD Review Alfred Hitchcock Blackmail DVD Review Alfred Hitchcock Blackmail DVD Review Alfred Hitchcock Blackmail DVD Review Alfred Hitchcock Blackmail DVD Review Alfred Hitchcock Blackmail DVD Review Alfred Hitchcock Blackmail DVD Review Alfred Hitchcock's Blackmail DVD Review Alfred Hitchcock Blackmail DVD Review Alfred Hitchcock Blackmail DVD Review Alfred Hitchcock Blackmail DVD Review Alfred Hitchcock Blackmail DVD Review Alfred Hitchcock Blackmail DVD Review Alfred Hitchcock Blackmail DVD Review Alfred Hitchcock Blackmail DVD Review Alfred Hitchcock Blackmail DVD Review Alfred Hitchcock Blackmail DVD Review Alfred Hitchcock's Blackmail DVD Review Alfred Hitchcock Blackmail DVD Review Alfred Hitchcock Blackmail DVD Review Alfred Hitchcock Blackmail DVD Review Alfred Hitchcock Blackmail DVD Review Alfred Hitchcock Blackmail DVD Review Alfred Hitchcock Blackmail DVD Review Alfred Hitchcock Blackmail DVD Review Alfred Hitchcock Blackmail DVD Review Alfred Hitchcock Blackmail DVD Review Alfred Hitchcock's Blackmail DVD Review Alfred Hitchcock Blackmail DVD Review Alfred Hitchcock Blackmail DVD Review Alfred Hitchcock Blackmail DVD Review Alfred Hitchcock Blackmail DVD Review Alfred Hitchcock Blackmail DVD Review Alfred Hitchcock Blackmail DVD Review Alfred Hitchcock Blackmail DVD Review Alfred Hitchcock Blackmail DVD Review Alfred Hitchcock Blackmail DVD Review Alfred Hitchcock's Blackmail DVD Review Alfred Hitchcock Blackmail DVD Review Alfred Hitchcock Blackmail DVD Review Alfred Hitchcock Blackmail DVD Review Alfred Hitchcock Blackmail DVD Review Alfred Hitchcock Blackmail DVD Review Alfred Hitchcock Blackmail DVD Review Alfred Hitchcock Blackmail DVD Review Alfred Hitchcock Blackmail DVD Review Alfred Hitchcock Blackmail DVD Review Alfred Hitchcock's Blackmail DVD Review Alfred Hitchcock Blackmail DVD Review Alfred Hitchcock Blackmail DVD Review Alfred Hitchcock Blackmail DVD Review Alfred Hitchcock Blackmail DVD Review Alfred Hitchcock Blackmail DVD Review Alfred Hitchcock Blackmail DVD Review Alfred Hitchcock Blackmail DVD Review Alfred Hitchcock Blackmail DVD Review Alfred Hitchcock Blackmail DVD Review Alfred Hitchcock's Blackmail DVD Review Alfred Hitchcock Blackmail DVD Review Alfred Hitchcock Blackmail DVD Review Alfred Hitchcock Blackmail DVD Review Alfred Hitchcock Blackmail DVD Review Alfred Hitchcock Blackmail DVD Review Alfred Hitchcock Blackmail DVD Review Alfred Hitchcock Blackmail DVD Review Alfred Hitchcock Blackmail DVD Review Alfred Hitchcock Blackmail DVD Review