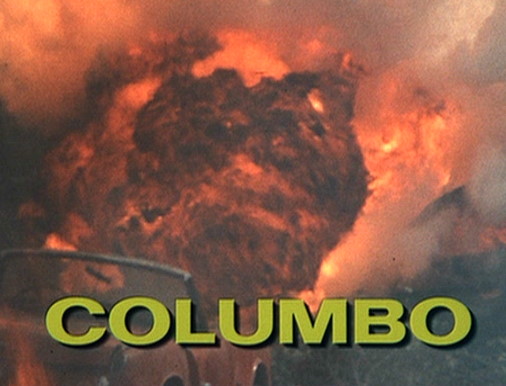 (aka 'Columbo: The Complete Third Season')
directed by Jeannot Szwarc, Leo Penn, Boris Sagal, Richard Quine, Robert Butler, Alf Kjellin, Nicholas Colasanto, and Ben Gazzara
USA 1973 - 74
In the detective series that inspired them all, acclaimed actor Peter Falk returns in his four-time Emmy-winning role as the wry and ruffled police lieutenant in Columbo Season Three.
Each episode in Season 3 of Columbo had a different director. It only proved that the strength of the TV movie series lay solely in the hands of the writers and the wonderful character acting of Peter Falk. The substantial cast support including far too many to name (I have attempted to include screen shots of most of them below, ex. Martin Sheen, Vincent Price, Robert Culp, Jackie Cooper, Donald Pleasance etc.) was another viable bonus, but Falk's enduring portrayal of slovenly Detective Lieutenant Columbo, would rise to become one of the most beloved and appealing characters in network television history. With the pattern of success aptly initiated by Season 1 and 2, the series simply continued to fine-tune and produce some of the best television of the 70's. Continually intriguing the series developed a devout and loyal following. This was intelligent and well-acted - and in comparison to today's sensational broadcast TV, filled with realty and further mind-rotting trash, Columbo represents part of the golden-age that I fear we will never see again.

out of

Television Premiere: February 20th, 1968 - USA and Canada
DVD Review: Universal (2 double sided discs) - Region 1- NTSC
DVD Box Cover

CLICK to order from:

Recommend:

DVDBeaver strongly recommends all three of the Universal Columbo Complete Season Boxsets:

Distribution
Universal - Region 1- NTSC
Runtime
Each episode is around 1 hour 20 minutes each = over 14 hours of "Columbo" the Bonus of Mrs. Columbo was about 45 minutes long. About 15 hours in total.
Video
1:33:1 Original Aspect Ratio
Average Bitrate: 5.82 mb/s (sample)
NTSC 720x480 29.97 f/s

NOTE: The Vertical axis represents the bits transferred per second. The Horizontal is the time in minutes.

Bitrate:

Audio
English (Dolby Digital 2.0 Dolby)
Subtitles
English (close captioned), Spanish, None
Features

Release Information:
Studio: UMVD

Aspect Ratio:
Original Aspect Ratio 1.33:1

Edition Details:

• 'Mrs. Columbo' episode

• 8 Episode Indices
• 8 Episode Summary

DVD Release Date: August 9th, 2005
2 Keepcases inside VHS sized case
Chapters: 4 in each episode X 9 = 36 in total
| | |
| --- | --- |
| Comments: | Like the previous two Boxsest (Season 1 + 2) this is devoid of extras (interviews etc.) but this one does include a kind of 'bonus' with the short-lived 'Mrs. Columbo' experiment (Mrs. Kate Columbo - Kate Mulgrew - follows in her husbands footsteps... as a reporter.). Unlike Season 1 + 2, these are on opposite sides of a dual layered DVD where before they were on single-sided discs (2 episodes each disc). On this set the optional French subtles have been removed. Image quality may be slightly ahead of the other two releases - quite sharp with two of the episodes being a little darker than the rest. All are progressively transferred, except the bonus which shows some 'combing'. The DVD contains some of my favorite episodes including 'Swan Song', 'Candidate for Crime' and 'Mind Over Mayhem'. These are great for repeat viewing every year or so - they never seem to lose their appeal. The best thing about them is the price - you are getting 15 hours of entertainment here for less than $30 US. We strongly recommend! -out of |
---

Sample DVD Menus
---
Episodes

---
Subtitle Sample
Screen Captures Samples
---
---
DVD Box Cover

CLICK to order from:

Recommend:

DVDBeaver strongly recommends all three of the Universal Columbo Complete Season Boxsets:

Distribution
Universal - Region 1- NTSC
---





DONATIONS Keep DVDBeaver alive and advertisement free:
Mail cheques, money orders, cash to: or CLICK PayPal logo to donate!
Gary Tooze

Mississauga, Ontario,

CANADA
Columbo - The Complete 3 Season - Peter Falk Columbo DVD Review Columbo - The Complete Third Season Peter Falk Columbo DVD Review Columbo - The Complete Third Season Peter Falk Columbo DVD Review Columbo - The Complete Third Season Peter Falk Columbo DVD Review Columbo - The Complete Third Season Peter Falk Columbo DVD Review Columbo - The Complete Third Season Peter Falk Columbo DVD Review Columbo - The Complete Third Season Peter Falk Columbo DVD Review Columbo - The Complete Third Season Peter Falk Columbo DVD Review Columbo - The Complete Third Season Peter Falk Columbo DVD Review Columbo - The Complete Third Season Peter Falk Columbo DVD Review Columbo - The Complete Third Season - Peter Falk Columbo DVD Review Columbo - The Complete Third Season Peter Falk Columbo DVD Review Columbo - The Complete Third Season Peter Falk Columbo DVD Review Columbo - The Complete Third Season Peter Falk Columbo DVD Review Columbo - The Complete Third Season Peter Falk Columbo DVD Review Columbo - The Complete Third Season Peter Falk Columbo DVD Review Columbo - The Complete Third Season Peter Falk Columbo DVD Review Columbo - The Complete Third Season Peter Falk Columbo DVD Review Columbo - The Complete Third Season Peter Falk Columbo DVD Review Columbo - The Complete Third Season Peter Falk Columbo DVD Review Columbo - The Complete Third Season - Peter Falk Columbo DVD Review Columbo - The Complete Third Season Peter Falk Columbo DVD Review Columbo - The Complete Third Season Peter Falk Columbo DVD Review Columbo - The Complete Third Season Peter Falk Columbo DVD Review Columbo - The Complete Third Season Peter Falk Columbo DVD Review Columbo - The Complete Third Season Peter Falk Columbo DVD Review Columbo - The Complete Third Season Peter Falk Columbo DVD Review Columbo - The Complete Third Season Peter Falk Columbo DVD Review Columbo - The Complete Third Season Peter Falk Columbo DVD Review Columbo - The Complete Third Season Peter Falk Columbo DVD Review Columbo - The Complete Third Season - Peter Falk Columbo DVD Review Columbo - The Complete Third Season Peter Falk Columbo DVD Review Columbo - The Complete Third Season Peter Falk Columbo DVD Review Columbo - The Complete Third Season Peter Falk Columbo DVD Review Columbo - The Complete Third Season Peter Falk Columbo DVD Review Columbo - The Complete Third Season Peter Falk Columbo DVD Review Columbo - The Complete Third Season Peter Falk Columbo DVD Review Columbo - The Complete Third Season Peter Falk Columbo DVD Review Columbo - The Complete Third Season Peter Falk Columbo DVD Review Columbo - The Complete Third Season Peter Falk Columbo DVD Review Columbo - The Complete Third Season - Peter Falk Columbo DVD Review Columbo - The Complete Third Season Peter Falk Columbo DVD Review Columbo - The Complete Third Season Peter Falk Columbo DVD Review Columbo - The Complete Third Season Peter Falk Columbo DVD Review Columbo - The Complete Third Season Peter Falk Columbo DVD Review Columbo - The Complete Third Season Peter Falk Columbo DVD Review Columbo - The Complete Third Season Peter Falk Columbo DVD Review Columbo - The Complete Third Season Peter Falk Columbo DVD Review Columbo - The Complete Third Season Peter Falk Columbo DVD Review Columbo - The Complete Third Season Peter Falk Columbo DVD Review Columbo - The Complete Third Season - Peter Falk Columbo DVD Review Columbo - The Complete Third Season Peter Falk Columbo DVD Review Columbo - The Complete Third Season Peter Falk Columbo DVD Review Columbo - The Complete Third Season Peter Falk Columbo DVD Review Columbo - The Complete Third Season Peter Falk Columbo DVD Review Columbo - The Complete Third Season Peter Falk Columbo DVD Review Columbo - The Complete Third Season Peter Falk Columbo DVD Review Columbo - The Complete Third Season Peter Falk Columbo DVD Review Columbo - The Complete Third Season Peter Falk Columbo DVD Review Columbo - The Complete Third Season Peter Falk Columbo DVD Review Columbo - The Complete Third Season - Peter Falk Columbo DVD Review Columbo - The Complete Third Season Peter Falk Columbo DVD Review Columbo - The Complete Third Season Peter Falk Columbo DVD Review Columbo - The Complete Third Season Peter Falk Columbo DVD Review Columbo - The Complete Third Season Peter Falk Columbo DVD Review Columbo - The Complete Third Season Peter Falk Columbo DVD Review Columbo - The Complete Third Season Peter Falk Columbo DVD Review Columbo - The Complete Third Season Peter Falk Columbo DVD Review Columbo - The Complete Third Season Peter Falk Columbo DVD Review Columbo - The Complete Third Season Peter Falk Columbo DVD Review Columbo - The Complete Third Season - Peter Falk Columbo DVD Review Columbo - The Complete Third Season Peter Falk Columbo DVD Review Columbo - The Complete Third Season Peter Falk Columbo DVD Review Columbo - The Complete Third Season Peter Falk Columbo DVD Review Columbo - The Complete Third Season Peter Falk Columbo DVD Review Columbo - The Complete Third Season Peter Falk Columbo DVD Review Columbo - The Complete Third Season Peter Falk Columbo DVD Review Columbo - The Complete Third Season Peter Falk Columbo DVD Review Columbo - The Complete Third Season Peter Falk Columbo DVD Review Columbo - The Complete Third Season Peter Falk Columbo DVD Review Columbo - The Complete Third Season - Peter Falk Columbo DVD Review Columbo - The Complete Third Season Peter Falk Columbo DVD Review Columbo - The Complete Third Season Peter Falk Columbo DVD Review Columbo - The Complete Third Season Peter Falk Columbo DVD Review Columbo - The Complete Third Season Peter Falk Columbo DVD Review Columbo - The Complete Third Season Peter Falk Columbo DVD Review Columbo - The Complete Third Season Peter Falk Columbo DVD Review Columbo - The Complete Third Season Peter Falk Columbo DVD Review Columbo - The Complete Third Season Peter Falk Columbo DVD Review Columbo - The Complete Third Season Peter Falk Columbo DVD Review Columbo - The Complete Third Season - Peter Falk Columbo DVD Review Columbo - The Complete Third Season Peter Falk Columbo DVD Review Columbo - The Complete Third Season Peter Falk Columbo DVD Review Columbo - The Complete Third Season Peter Falk Columbo DVD Review Columbo - The Complete Third Season Peter Falk Columbo DVD Review Columbo - The Complete Third Season Peter Falk Columbo DVD Review Columbo - The Complete Third Season Peter Falk Columbo DVD Review Columbo - The Complete Third Season Peter Falk Columbo DVD Review Columbo - The Complete Third Season Peter Falk Columbo DVD Review Columbo - The Complete Third Season Peter Falk Columbo DVD Review Columbo - The Complete Third Season - Peter Falk Columbo DVD Review Columbo - The Complete Third Season Peter Falk Columbo DVD Review Columbo - The Complete Third Season Peter Falk Columbo DVD Review Columbo - The Complete Third Season Peter Falk Columbo DVD Review Columbo - The Complete Third Season Peter Falk Columbo DVD Review Columbo - The Complete Third Season Peter Falk Columbo DVD Review Columbo - The Complete Third Season Peter Falk Columbo DVD Review Columbo - The Complete Third Season Peter Falk Columbo DVD Review Columbo - The Complete Third Season Peter Falk Columbo DVD Review Columbo - The Complete Third Season Peter Falk Columbo DVD Review Columbo - The Complete Third Season - Peter Falk Columbo DVD Review Columbo - The Complete Third Season Peter Falk Columbo DVD Review Columbo - The Complete Third Season Peter Falk Columbo DVD Review Columbo - The Complete Third Season Peter Falk Columbo DVD Review Columbo - The Complete Third Season Peter Falk Columbo DVD Review Columbo - The Complete Third Season Peter Falk Columbo DVD Review Columbo - The Complete Third Season Peter Falk Columbo DVD Review Columbo - The Complete Third Season Peter Falk Columbo DVD Review Columbo - The Complete Third Season Peter Falk Columbo DVD Review Columbo - The Complete Third Season Peter Falk Columbo DVD Review Columbo - The Complete Third Season - Peter Falk Columbo DVD Review Columbo - The Complete Third Season Peter Falk Columbo DVD Review Columbo - The Complete Third Season Peter Falk Columbo DVD Review Columbo - The Complete Third Season Peter Falk Columbo DVD Review Columbo - The Complete Third Season Peter Falk Columbo DVD Review Columbo - The Complete Third Season Peter Falk Columbo DVD Review Columbo - The Complete Third Season Peter Falk Columbo DVD Review Columbo - The Complete Third Season Peter Falk Columbo DVD Review Columbo - The Complete Third Season Peter Falk Columbo DVD Review Columbo - The Complete Third Season Peter Falk C