Review by Gary Tooze
Production:
Theatrical: Toei Tokyo
Video: Ar
row Video
Disc:
Region: FREE (as verified by the Oppo Blu-ray player)
Runtime: 1:25:57.152
Disc Size: 28,537,522,536 bytes
Feature Size: 21,428,514,816 bytes
Video Bitrate: 30.00 Mbps
Chapters: 12
Case: Transparent Blu-ray case
Release date: May 22nd - 23rd, 2017
Video:
Aspect ratio: 2.35:1
Resolution: 1080p / 23.976 fps
Video codec: MPEG-4 AVC Video
Audio:
LPCM Audio Japanese 768 kbps 1.0 / 48 kHz / 768 kbps / 16-bit
Subtitles:
English
, none
Extras:
•
New video interview with actor Sonny Chiba (14:31)

•
New video interview with director Kazuhiko Yamaguchi (10:31)

•
New video interview with producer Tatsu Yoshida (17:30)
• Trailer (2:55)
Reversible sleeve featuring original and newly commissioned artwork by Wes Benscoter
FIRST PRESSING ONLY: Illustrated collector's booklet featuring new writing on the film by Patrick Macias and a history of Japanese monster movie mashups by Jasper Sharp
DVD
Bitrate:
Description: Shinichi 'Sonny' Chiba is a martial arts ''manimal'' in the ultra-70's, 100% bizarre mixture of horror, action and sci-fi that is Wolf Guy, one of the rarest and most sought-after cult films produced by Japan's Toei Studio. Based on a manga by Kazumasa Hirai (creator of 8 Man), and never before released outside of Japan, it's a genre film classic waiting to be discovered and a completely unclassifiable trip into phantasmagoric funk.

Chiba stars as Akira Inugami, the only survivor of a clan of ancient werewolves who relies on his supernatural powers to solve mysterious crimes. After a series of bloody killings perpetrated by an unseen force, Inugami uncovers a conspiracy involving a murdered cabaret singer, corrupt politicians, and a plot by the J-CIA to harvest his blood in order to steal his lycanthropic powers! At the same time, Inugami also discovers the truth behind his family heritage, and that he may not be the last of his kind.

Directed by B-movie genius Kazuhiko Yamaguchi (Sister Streetfighter, Wandering Ginza Butterfly, Karate Bear Fighter), Wolf Guy truly is one-of-a-kind, with Chiba in full effect as the part-man, part-wolf, all-karate action hero and a collection of familiar 1970's Toei actors in support. Violence, action, nudity, real surgical footage, and a psychedelic musical score all work together to create an unforgettable trip to the heights of Japanese cinematic weirdness.
The Film:
Just to keep it entirely honest, I didnít know much about Wolf Guy prior to checking it out. In fact, I knew four things: itís a Japanese exploitation flick from the Ď70s based on a popular manga piece. That was the extent of my knowledge in advance of screening the flick. Now I realize that, for damn near 40 years (I wasnít born in 1975, when the flick was originally released stateside) Iíve missed an absolutely masterful display of over the top ass kicking and pure pimp smack, bat-shit crazy cinema. This movie is balls to the wall madness in every way you hope to the good lord your exploitation adventure will be.

The story centers on Akira, the lone surviving member of an age-old clan of werewolves who prefers to do good, but just so happens to discover a covert organization with designs on getting their grubby mitts on his blood. They, of course, want those lycanthropic powers. Who wouldnít? The weird ass tiger thatís superimposed over the film during key moments of conflictÖ yeah, that beast definitely wants some werewolf skills, too!
Excerpt fromAddictedToHorrorMovies located HERE

A movie with Sonny Chiba as a werewolf crime fighter, that also involves the Yakuza and a supernatural tiger? Uh, yes please. Wolf Guy promises a wild ride and it delivers, with outlandish moments and just over the top craziness. The story starts out simple enough, with people being murdered by an invisible tiger and a werewolf looking into the case, but, wait what? As off the rails as that sounds, that is just the start of this movie and trust me, it gets even wilder. Sonny Chiba is at the epicenter of this madness, being his usual bad ass self. He kicks ass, tracks down important leads, and bangs chicks, even offering his services to a syphilitic girl to earn her trust. I should also mentioned that while he is a werewolf, Chiba never transforms, he just gains power during the full moon. While the lack of transformation might seem weak in some films, it is never missed here in the least. Wolf Guy piles up the bloodshed, violence, fights, sex, nudity, and outrageous story elements, all while Sonny Chiba swaggers on screen and presses his face into tits that remind him of his mother. For anyone interested in the offbeat cinema realm, this is a must see movie.
Excerpt from MarcFusion located HERE
Image : NOTE: The below Blu-ray captures were taken directly from the Blu-ray disc.
This is the another Arrow Blu-ray release that is being simultaneously released in both region 'A' (US) and 'B' (UK). It is the exact same package on both sides of the pond to the best of our knowledge.
NOTE: As Michael Brooke informs us on Facebook in regards to
Day of Anger
: '
As the producer of Arrow's release, I can confirm first hand that the UK and US discs are absolutely identical: we only paid for one master, so there's no doubt about this at all! Which means that no matter which package you buy, the discs will play in any Region A or B setup (or Region 1 or 2 for DVD - and in the latter case the video standard is NTSC, to maximise compatibility). The booklets are also identical, but there are minor cosmetic differences on the disc labels and sleeve to do with differing copyright info and barcodes, and the US release doesn't have BBFC logos
.'
Wolf Guy
is a similar situation.
Wolf Guy gets a dual-layered transfer to Blu-ray from Arrow with a high bitrate. For the most part the image is not remarkable but is consistent and I believe a faithful representation of the original. The quality is thick with frequent adjustment of the film's focus and kinetic camera for action sequences exporting, occasional, softer visuals, frequent close-ups and the film is chock-full of exploitive nudity and gore (7 NSFW captures at the bottom). There are some flashback sequences in Wolf Guy that are monochrome looking a shade greenish. The 1080P reproduces a typically heavy presentation in the 2.35:1 frame (we find this similar to many Japanese films of this time period.) It's very clean with infrequent depth. This Blu-ray probably looks just like the theatrical version of the film - which is all we, ever, ask for.
CLICK EACH BLU-RAY CAPTURE TO SEE ALL IMAGES IN FULL 1920X1080 RESOLUTION
Audio :
Audio is transferred via a faithful linear PCM mono track at 768 kbps (16-bit) in the original Japanese.
The, predictable, effects are present with crashing kicks and explosive gunfire. I don't know who did the score but it moves right along with the action in a typical fashion for the genre. There are optional English subtitles and my
Oppo
has identified it as being region FREE.
Extras :
Arrow add some great extras including three new video interviews. The first runs 13-minutes with director Kazuhiko Yamaguchi, recorded in September 2016 in Tokyo (as were all 3), where he reminisces about his long career as a genre movie specialist at Toei, and he shares memories of making Wolf Guy with Sonny Chiba. The next runs 18-minutes with producer Tatsu Yoshida who discusses his long career at the studio, including his work on Wolf Guy, and other genre films. The last new interview spends 1/4 hour with martial arts movie star Shin'ichi "Sonny" Chiba who discusses his start in action films and his significant role in educating future generations of action stars. There is also a trailer for Wolf Guy and the package has a reversible sleeve featuring original and newly commissioned artwork by Wes Benscoter and for the first pressing there is an illustrated collector's booklet featuring new writing on the film by Patrick Macias and a history of Japanese monster movie mashups by Jasper Sharp. It includes a second disc DVD.
| | |
| --- | --- |
| | |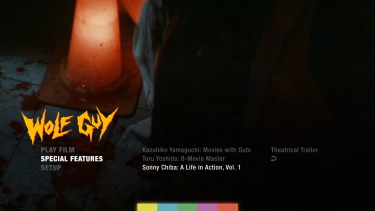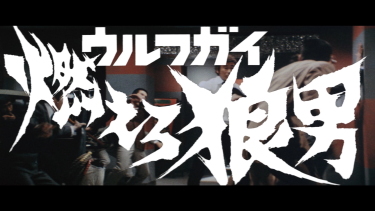 BOTTOM LINE:

I loved
Wolf Guy
!
What unabashed exploitation - with blood and/or nudity every few minutes! This is a hoot. It's so over-the-top it almost deserves its own genre - 'action-horror-sexploitation'? It's filled with macho-grimacing heroes and villains plus more than its fair share of cute, and not so glamorous, Asian gals. The Arrow
Blu-ray
provides the best way to see this, almost underground, classic plus some keen extras. Those keen at all shouldn't hesitate - strongly recommended!
Gary Tooze
May 20th, 2017