Review by Gary Tooze
Production:
Theatrical: Edward L. Alperson Productions
Video: Kino Lorber
Disc:
Region: FREE (as verified by the Oppo Blu-ray player)
Runtime: 1:31:50.171
Disc Size: 42,911,064,395 bytes
Feature Size: 26,225,958,912 bytes
Video Bitrate: 22.88 Mbps
Chapters: 8
Case: Standard Blu-ray case
Release date: March 28th, 2017
Video:
Aspect ratio: 2.39:1
Resolution: 1080p / 23.976 fps
Video codec: MPEG-4 AVC Video
Audio:
DTS-HD Master Audio English 1625 kbps 2.0 / 48 kHz / 1625 kbps / 16-bit (DTS Core: 2.0 / 48 kHz / 1509 kbps / 16-bit)
Subtitles:
• None
Extras:
•
2017 interview by 3-D SPACE with September Storm co-star Asher Dann (15:05)

•
Color theatrical trailer for the flat 1960 release (2:02)

•
Black and white 60 second TV spot for the 1960 3-D release (1:02)

•
The Adventures of Sam Space, aka Space Attack, a comedy short originally rased with September Storm (9:12)

•
Harmony Lane, a previously lost British short from 1953 (28:08)

•
1995 interview by Tony Sloman with Harmony Lane director Lewish Gilbert (2:31)
Bitrate:
Description: A rediscovered gem newly restored by the 3-D Film Archive, September Storm is a CinemaScope Stereovision adventure that plunges the viewer into the depths of the Balearic Sea, off the coast of Spain. Mark Stevens stars as a treasure-hunter who convinces a yacht hand (Asher Dann) to take him and his cohort (Robert Strauss) on a quest for gold doubloons. They encounter many spectacles along the way: a violent storm, man-eating sharks, a deadly man o' war, but perhaps the most stunning sight of all is the bewitching model (Joanne Dru) who embarks on the journey with them. Director Bryan Haskin (The War of the Worlds, Robinson Crusoe on Mars) uses the 3-D camera to maximum effect, while hardboiled writer W.R. Burnett (The Asphalt Jungle, Little Caesar) injects the screenplay liberal doses of seduction and betrayal.
The Film:
September Storm is a 1960 American adventure film directed by Byron Haskin. It stars Joanne Dru and Mark Stevens. Filmed in 3-D and DeLuxe Color and presented in CinemaScope, it is notable as the only U.S. feature film made in 3-D between Revenge of the Creature, which was released in the spring of 1955 and marked the end of the 1950s 3-D movie fad in the U.S., and The Bubble, which premiered in late 1966 and introduced the economical "over-and-under" single-strip format used by most of the 3-D films of the 1970s and 1980s. Like the feature-length 3-D films of the 1950s when they were originally released, it was projected by the polarized light method and viewed through gray Polaroid filters in viewers which, according to the film's poster, were "scientifically designed by master craftsmen!" Most theaters, however, presented it "flat", in 2-D. Although it is widely believed to have been filmed in Stereovision, Bob Furmanek, who oversaw the 2016 restoration, says this is a myth. It was shot full-frame with the original NaturalVision cameras used on Bwana Devil. The center of the image was then extracted to create a 2.35:1 aspect ratio, in the manner of the then-current Superscope process. Unfortunately, it was poorly done, resulting in a large number of badly-framed shots; for example, the scene with the Flamenco dancers has a huge amount of headroom while their feet are cut off.
Excerpt from Wikipedia located HERE
SEPTEMBER STORM is considered one of the "lost" 3-D features of the golden age of 3-D cinema. Shot in 1959, it was the last of the 3-D movies to be filmed in the 1950s, and is most notable for being filmed in Stereo-Vision (utilizing the Natural Vision 3-D camera rig) and in CinemaScope. SEPTEMBER STORM hasn't been seen in it's intended 3-D and widescreen format since it's initial theatrical release in 1960, and the surviving film elements are deteriorating. If a digital restoration of the stereoscopic anamorphic version isn't done soon, it is at risk of being lost forever. Your donation to this campaign will help save this important motion picture so that it can be seen by future generations of movie fans.
Excerpt from The Blu-rays kickstarter campaign located HERE

Image : NOTE: The below Blu-ray captures were taken directly from the Blu-ray disc.
Firstly, this Kino Lorber Blu-ray package offers both the 3D and 2D (Standard) versions of the film, September Storm. We will only review the 2D version here.
NOTE: The menu offers an option for both 3-D and 2-D playback, but when this disc is viewed on a regular 2-D monitor and 2-D Blu-ray player, the 3-D version is prohibited showing this screen:

The
Blu-ray
image has issues in that it is quite inconsistent - sometimes looking acceptably crisp and bright and others times clunky and hazy. Of course part of this could be that, as Bob Furmanek tells us, it was shot full-frame with the original NaturalVision cameras and was then, poorly, extracted to create a 2.35:1 aspect ratio. Colors, especially in exterior lighting can look very pleasing. There is occasional depth - the underwater sequences aren't fatally poor with some decent shots. There are marks here are there but they are usually frame-specific and minor. If not for the inconsistent, poor, caliber shots - it looks acceptable enough but the artefact-y surfacing of them can be distracting.
CLICK EACH BLU-RAY CAPTURE TO SEE ALL IMAGES IN FULL 1920X1080 RESOLUTION
Flamenco dancers referenced by Bob Furmanek about the poor extraction to create a 2.35:1 aspect ratio frame
Audio :
Audio in the form of a DTS-HD Master stereo track at 1625 kbps (16-bit). It is fairly unremarkable and occasionally rough with effects limited to the modest budget. The annoying and inappropriate score is by the team of Edward L. Alperson Jr. - more notable as the film's producer - and versatile journeyman Raoul Kraushaar (often as Ralph Stanley) who is credited with scores for 1953's Invaders from Mars, Fritz lang's The Blue Gardenia and, the immortal, Billy the Kid Versus Dracula. It's awful and the lossless transfer doesn't help it's unsuitable-ness or irritating repetition throughout the film. There are no subtitles and m
y
Oppo
has identified it as being a region FREE - playable on Blu-ray machines worldwide.

Extras :
There are supplements including a 2017 interview by 3-D SPACE with September Storm co-star Asher Dann (who played Manuel del Rio Montoya in the film) running over 1/4 of an hour available in both 2D and 3D! There is a short 1995 interview by Tony Sloman with Harmony Lane director Lewish Gilbert. We get 2 other shorts - both with the optional of 2D or 3D presentation - the 10-minute comedy originally released with September Storm entitled The Adventures of Sam Space, aka Space Attack plus Harmony Lane, a previously lost British short from 1953. Harmony Lane was filmed in 1953 and sat on the shelf until late 1954. By that time, exhibitors in the UK had stopped running 3D films and it was only shown flat. For that reason the segment with the juggler Jack Kelly playing to the camera was deleted. It has been restored here to its original place within the film but the footage doesn't survive in 3D - those 2-minutes are presented here flat. There is a color theatrical trailer for the flat 1960 release and a shorter 4:3 black and white 60 second TV spot for the 1960 3-D release.
| | |
| --- | --- |
| | |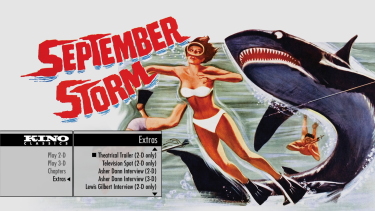 BOTTOM LINE:

Once again, I was able to watch the 3-D on a friend's system but the effects don't help the film's effectiveness as a thriller aptly described by Bosley Crowther of the NY Times as an "
inept, sluggish, adventure-romance. The whole thing is as fatuous and phony as that hoard of ancient Spanish coins
". I like the plot of
September Storm
and the 3D feature can add some fun but the film's poster doesn't fulfill it's promise... by a long shot.
It's low budget and late to capitalize on the 3D phenomenon. It hints at coming together but never achieves that goal. The Kino
Blu-ray
is admirable in being able to bring, even these lesser caliber, 3-D flics to 1080P. I had never watched September Storm before and was thankful to actually see this but those keen on the 3-D format should be aware of the lackluster film. It might even gravitate to the 'so bad it's good' category but could be okay if not for the expectations I had. Those appreciating the nostalgia value and 3-D aficionados will get the most benefit.
Gary Tooze
March 4th, 2017